This post does not feature a book. It stars a bridesmaid dress. (Keep reading for the takeaway.) 🙂
Back in June, I posted this on Facebook: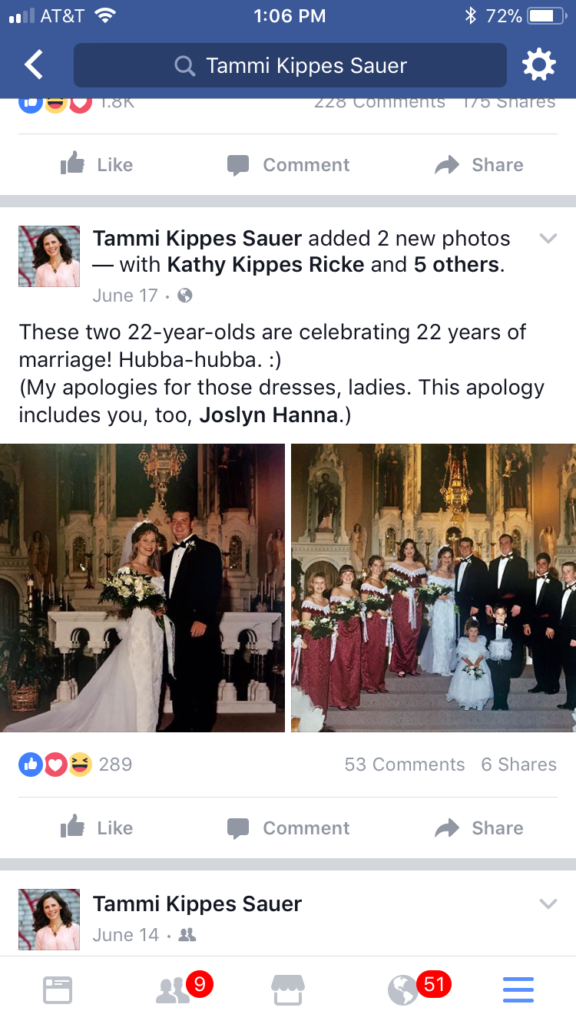 In under an hour, my bridesmaid Heidi sent a collage to me in the comments. I thought it was too good not to share, so I posted this: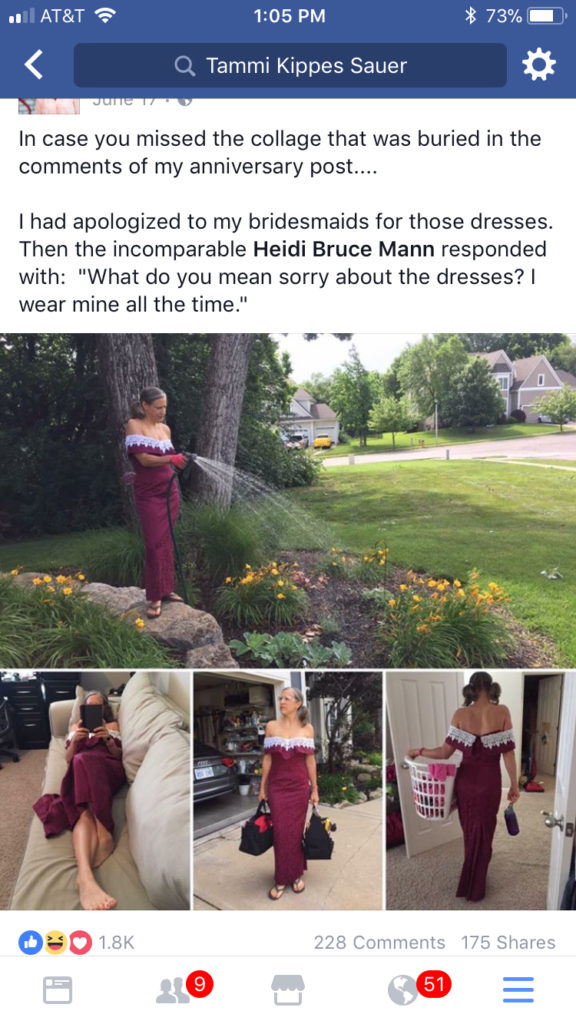 People went CRAZY over that post. Heidi and I were interviewed by tons of websites, and we both appeared on our local news stations.
BuzzFeed picked it up. Then Huffington Post. Scary Mommy. Today.com. ABC.com. The Knot. Babble. Little Things. Brides.com. Yahoo.com. Womansday.com. Countryliving.com. People I Want to Punch in the Throat. Hello Giggles. Quirky Momma. MSN.com.The TV shows Kathie Lee & Hoda and Pickler & Ben…. EVEN GEORGE TAKEI FROM STAR TREK POSTED ABOUT IT.
Before Heidi and I knew it, millions of people saw my 1995 wedding pictures and photos of present-day Heidi in her off-the-shoulder burgundy brocade gown.
And the pattern was apparently very popular in the mid-nineties because women from all over the nation soon posted pictures of their bridal parties decked out in a version of the same bridesmaid dress.
Jessica McClintock is to blame. 🙂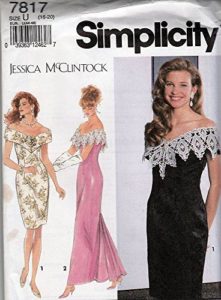 So WHY did I share this information on Picture Book Builders?
Because what Heidi did in TWO SENTENCES and FOUR PICTURES connected with people.
That should be a big goal for writers and illustrators. You should want your stories and your art to connect with others. Your job is to come up with material that resonates with readers. Make them laugh. Make them cry. Surprise them. Trigger a memory. Make your readers feel something.
They'll be glad you did.
*************************
WINNER: Tracy Hora is the winner of the Pug & Pig Trick or Treat giveaway!