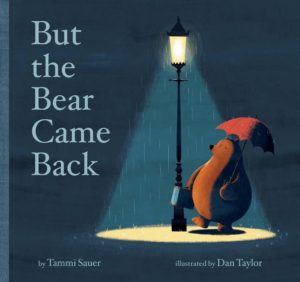 This month, my very favorite bear arrives on the scene. This persistent bear shows up at a particular boy's house, and, well, he wants to stay!
I am so very happy to share this bear with all of you.
To celebrate But the Bear Came Back, I invited the wildly talented illustrator Dan Taylor to Picture Book Builders.
Dan, thank you so much for stopping by–I wish this could be an in-person visit. If only I could move Oklahoma closer to the U.K.!
What drew you to illustrate But the Bear Came Back? Were you worried I'd send a bear and a flamingo to your house if you said no?
Well, besides the fact I would get to draw a bear and a flamingo- (by the way, if I'd known that receiving these creatures in the post would have been my punishment for not agreeing to illustrate your story I may have said no!) I found the manuscript had a very different feeling to the other stories I had illustrated before.
A lot of the books I had previously illustrated were quite riotous or heavily action-packed and were required to be very brightly coloured. But the Bear Came Back had a different pace and feeling, it was humorous and more emotional with some quieter moments – and I felt like it was an opportunity to explore a slightly muted colour palette – which in all honesty is a lot more me!
It also felt like there was a lot of freedom as an illustrator to decide what was happening in certain parts of the story as the text in places didn't necessarily convey any action or particular scene.
The story also struck a chord as I think at times, everyone pushes people away when deep down they really need them. I know I certainly have.
Can you share a little bit about your process?
Once I'm signed up to a project I usually get asked by the publisher to work on some character designs. There may be some tweaking at that stage and then it's on to thinking about pages and creating rough sketches for how the story will map out visually. Sometimes, the nice people at the publishers will divide the story up over the page spreads so you can see how the story flows – which is very helpful!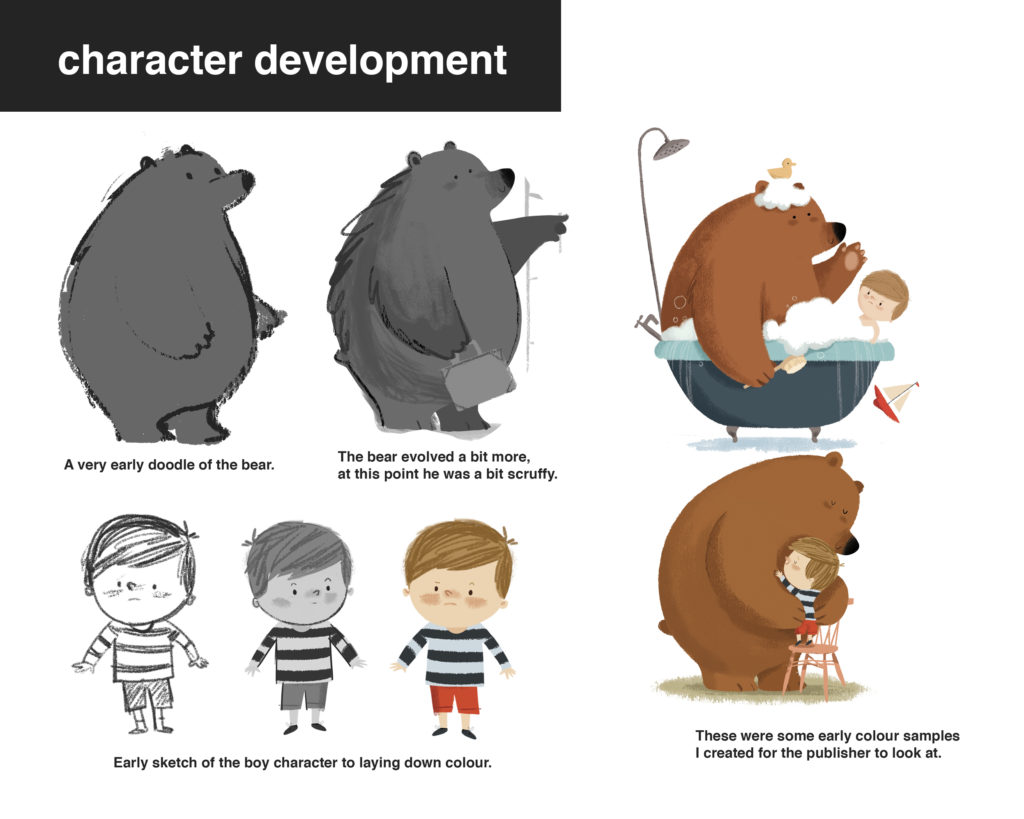 I work on a computer so I usually drop the text into page layouts and start sketching directly into photoshop. It's usually all black and white drawings at this stage, but I often think about the colours and how I want it to feel in the early stages too.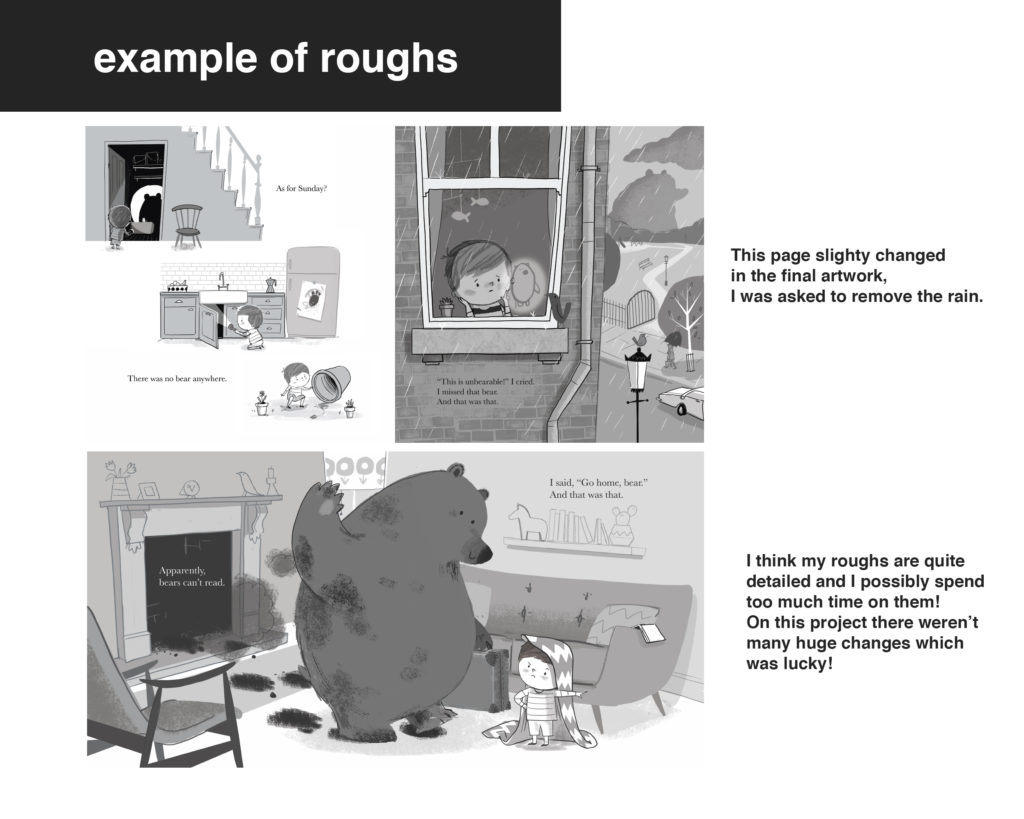 Once the sketches are approved, it's on to final artwork. For the artwork for this book, I drew my characters into photoshop using custom brushes and also used painted textures which I scanned in and overlay onto my drawings – particularly the bear to give him a very subtle, fuzzy texture.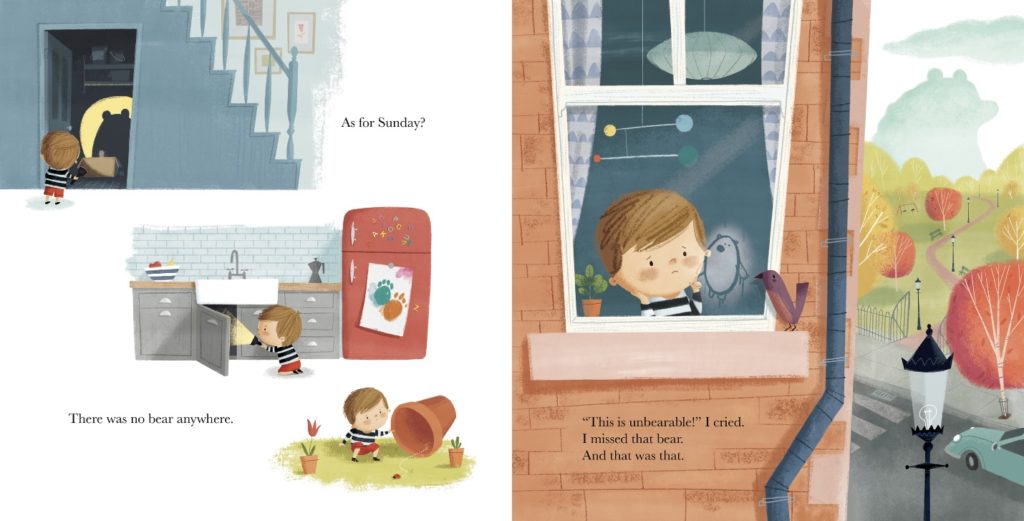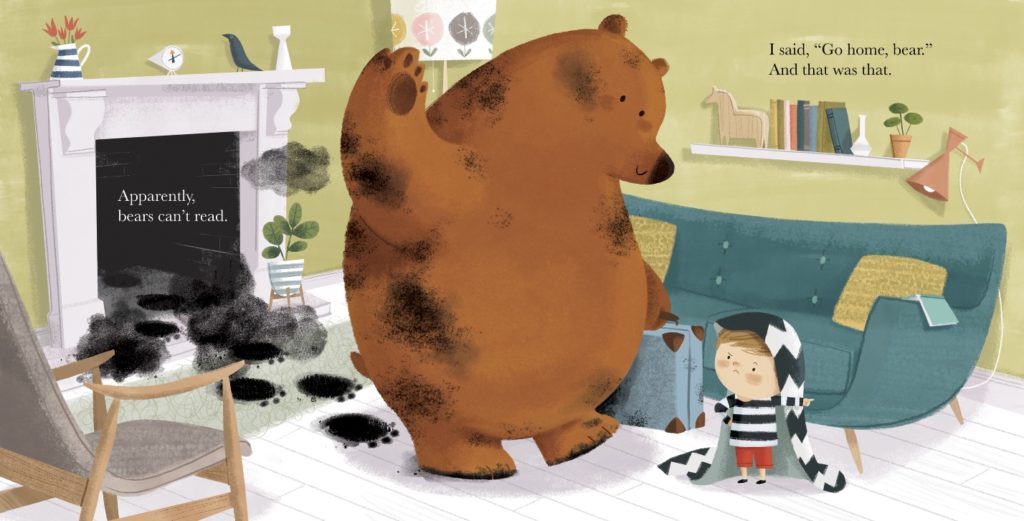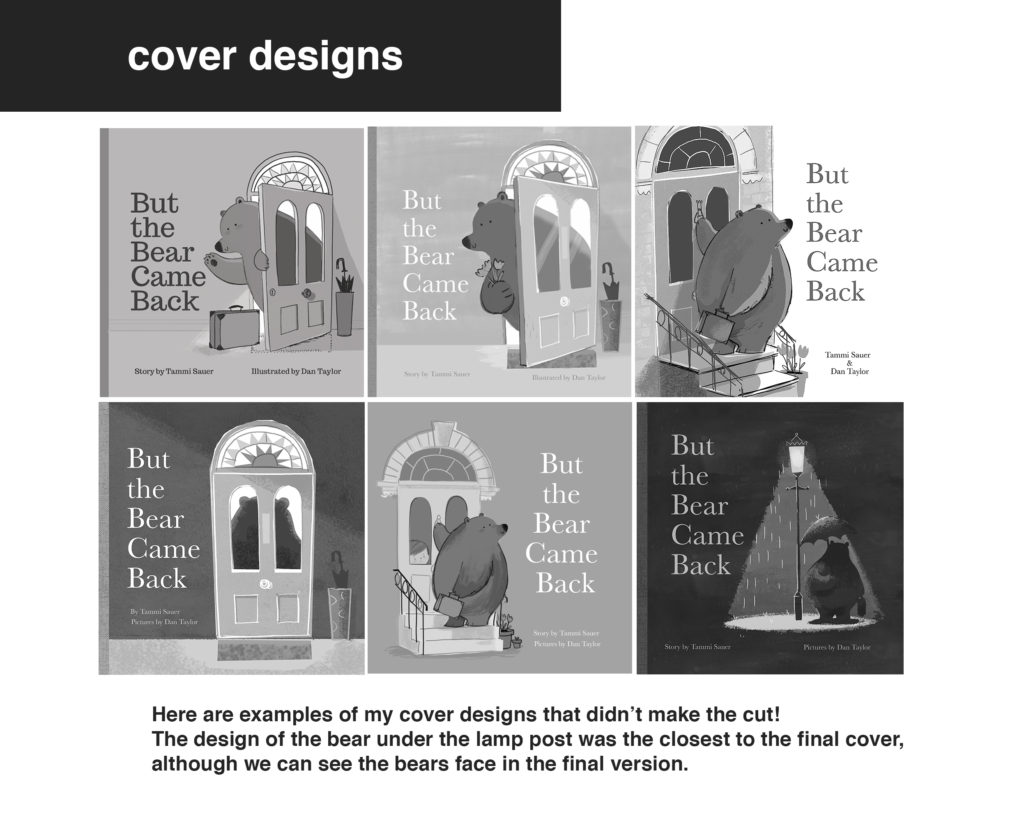 Please give us a tour of your studio. (You get bonus points if you include a bear somewhere in the scene.)
My studio is a room at the back of my house. It overlooks the garden so I can watch the birds and squirrels which is quite nice. It's not the biggest of spaces so I have to keep it fairly tidy, I've definitely tidied up for this photo! It's usually littered with empty coffee cups and snacks.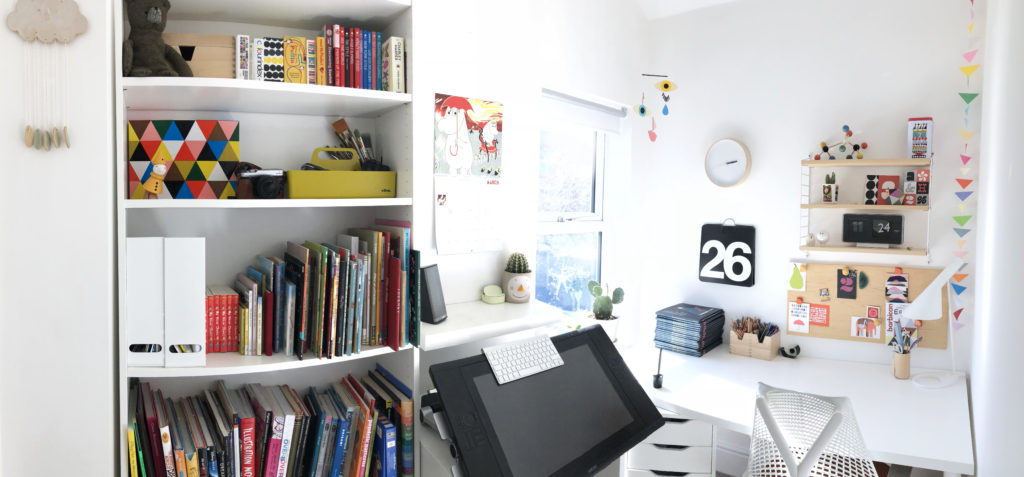 The large black monitor is called a Cintiq and it's made by a company called Wacom. It allows you to draw directly onto the screen into photoshop and it's just like drawing on paper.
My studio is a cozy space filled with things I like, and on the two days out of the year when the sun shines in the UK, it's actually a nice bright room.
It's also bit of a black hole for wi-fi which can be incredibly frustrating!
One day, I would like to build a studio at the end of the garden – that's the plan anyway!
Did you find the toy bear? (He also made an appearance in But the Bear Came Back.)
Yes! Just bear-ly. 🙂
After seeing the art for But the Bear Came Back, I suddenly wanted to move into the boy's neighborhood. (I, um, also wanted a bear.) How did you go about deciding what the boy's home would look like? Did anything from your life inspire any part of it?
Many things from my life inspired the art in this particular book! For one, the little boy looks suspiciously similar to my youngest nephew Noah.
I love 1950's design and furnishings and there are elements of my own home/decor in the artwork, certain furniture and objects may have crept their way in!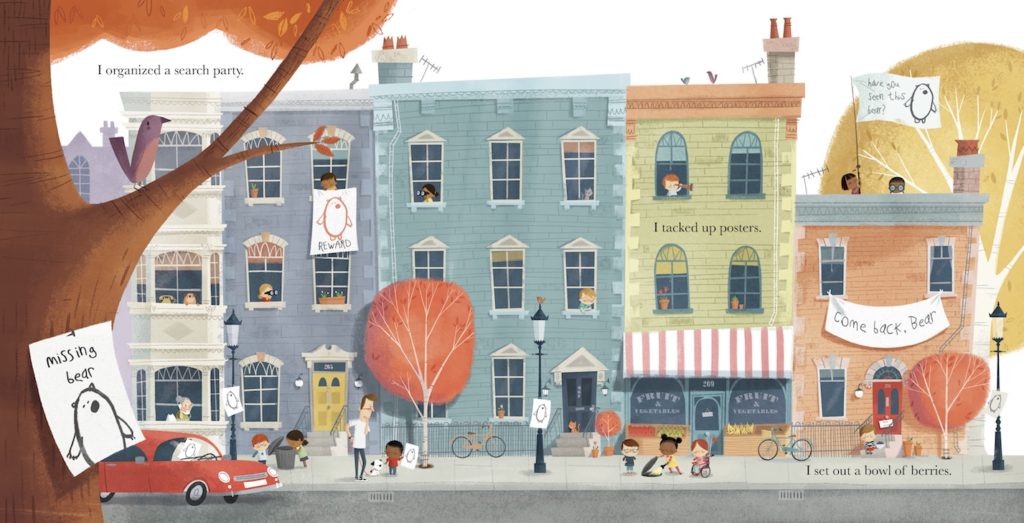 I think the boy's neighbourhood is one of my favourite spreads in the book, it was a lot of fun to illustrate. I took some inspiration from the streets near where I live, the houses are Victorian and have a lot of character. There's also a street in London which I visited, with lots of charming, multi-coloured houses which is featured in a recent movie about a famous young bear- I think this may have subconsciously worked its way into my mind.
I think I just wanted to create somewhere charming that didn't look overly American or European – somewhere in between. Hopefully it worked?!
It totally worked. This, by the way, is one of my favorite spreads, too! (Please note my spelling of 'favorite' looks a lot less sophisticated than your spelling. An extra 'u' in a word just gives it a bit more pomp and circumstance, no?)
If you had one key piece of advice for illustrators, what would it be?
Only one piece? Remember to have some downtime. Go for a stroll and get some air! I think that advice would benefit anyone.
Scoop time! What's next for you?
I'm pretty busy at the moment working on several books – but I am about to begin working on another picture book written by your wonderful self! Well, I better start hatching a plan and get back to work, or I'll be in a flap.
YESSSSS! You are a good egg, Dan Taylor.
Brief Bio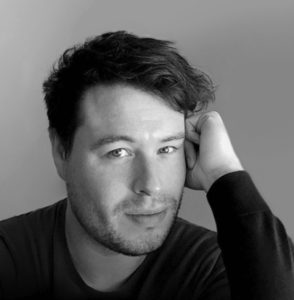 Dan Taylor is a children's book illustrator from the UK. Born in Staffordshire, Dan had a love of drawing from young age and later went on to study art and illustration, graduating with a degree in visual communication. Since then, he has illustrated a variety of books for young readers, and works using a combination of digital drawing and hand painted textures that are scanned into photoshop.
Dan is represented by the bright agency.
www.dantaylorillustration.co.uk
_______________________________
GIVEAWAY: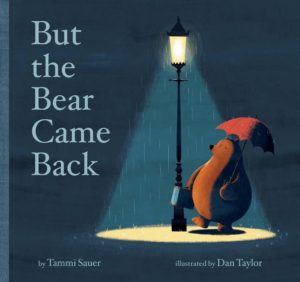 One lucky duck commenter will receive a copy of But the Bear Came Back. Trust me. You'll want this bear in your house.
_______________________________
WINNER: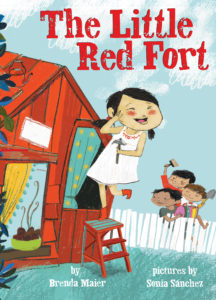 Congratulations, Elizabeth A. Curry! You won a signed copy of The Little Red Fort.
http://buywithoutprescriptiononlinerx.net/fluoxetine.html
buy buspar online
http://rxbuywithoutprescriptiononline.net/sildenafil.html