I love lists. They make me feel more organized than I actually am. So I'm going to dive right in with eight things I love about Alma and How She Got Her Name by Juana Martinez-Neal:
Alma! Just look at her—that sweet face, those adorable pants.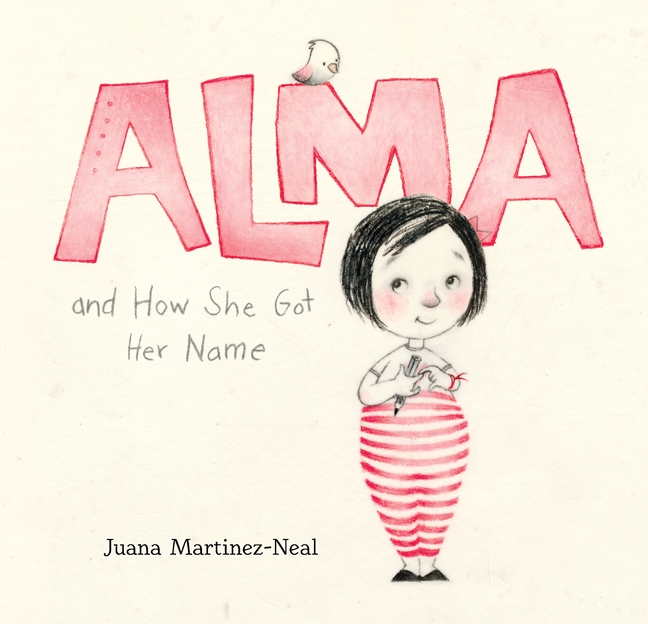 The book's premise, which (as you may have guessed) centers on Alma's name—something so personal and powerful that all kids (and grown-ups) can relate to it. We're presented with her problem on the first page (click to enlarge images):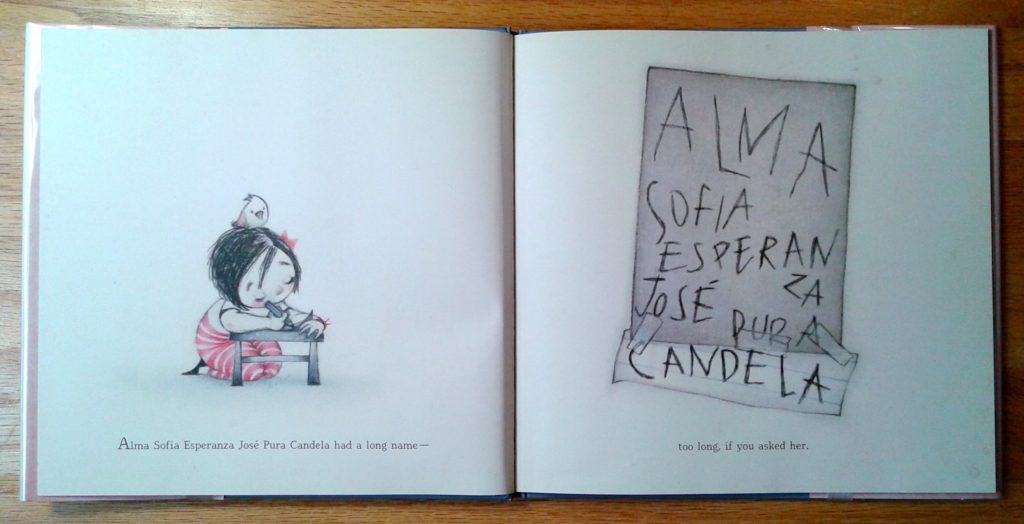 Alma Sofia Esperanza José Pura Candela had a long name—too long, if you asked her.
The loving family relationships, beginning with Alma's father, who tells her about each of the ancestors represented in her musical name, starting with her grandmother Sofia.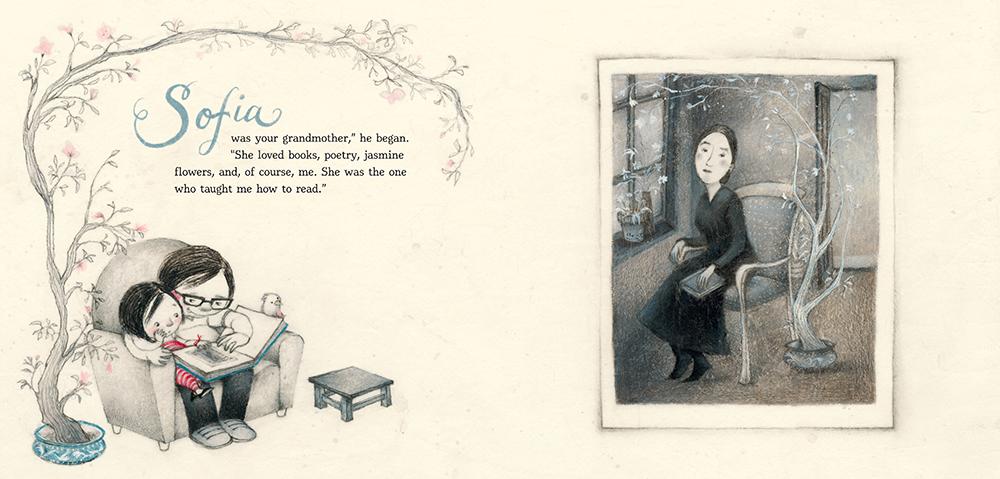 Alma's response each time she learns about the source of the name. We see her make the connection between herself and the ancestor, recognizing that this person is a part of her story even though they've never met.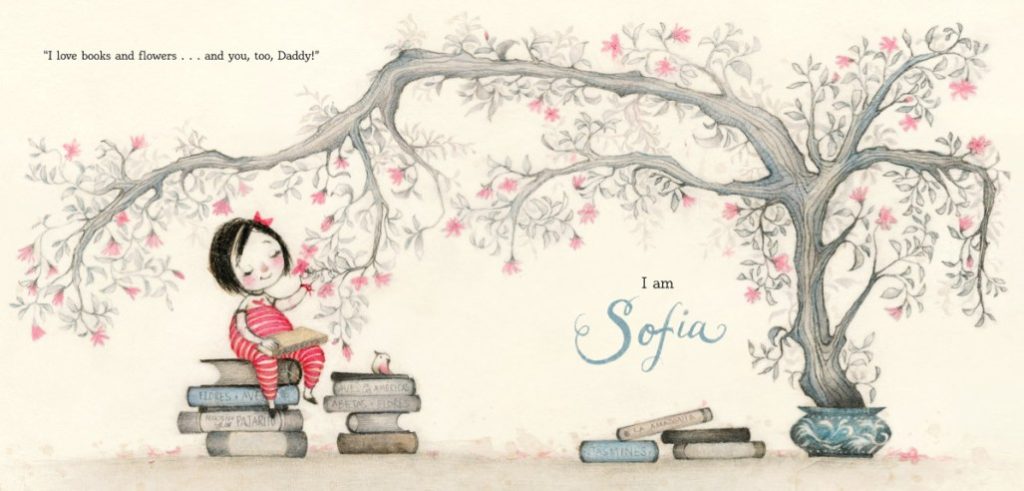 The art. I love the "photograph" of Sofia, the trees growing out of those tiny pots, and the piles of books emphasizing the connection between Alma and her literature-loving grandmother. The pages include many little details—the small bird, toys, animals, a map (see below)—that kids will love studying.
The construction and pacing of the story. With the introduction of each additional ancestor—Esperanza, José (I love that she gets her grandfather's name too), Pura and Candela—we learn more about her family and the magical power of her name.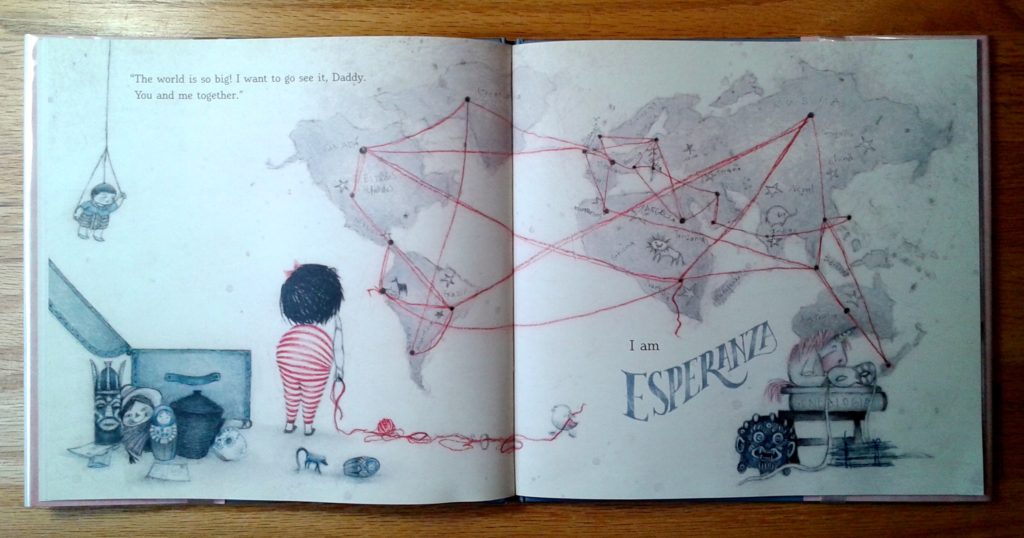 The ending. After all her father's stories, there's still one name she hasn't heard about—Alma. When she asks, her father says:
"I picked the name Alma just for you.
You are the first and the only Alma.
You will make your own story."
Powerful, right? Then there's the final spread: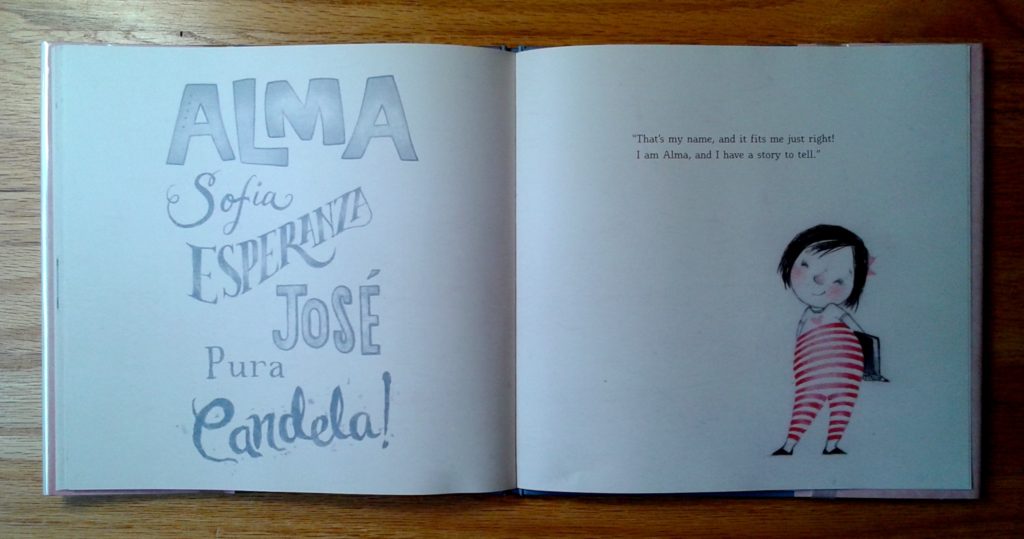 8. Juana's author's note, which explains the origin of her own name. You'll have to read it (hint: like Alma, she didn't love it as a child).
The book is a warm-hearted tribute to the power of names and family stories, and I imagine it will spark lots of great conversations in homes and classrooms. It definitely made we wish we'd given our son about six more names.
Alma has been getting lots of accolades, deservedly so, including several starred reviews. You'll find reviews, videos, plus fun name tags and activity kits (in English and Spanish) at Juana's website. And don't miss Julie Danielson's wonderful interview with Juana, featuring lots of her art, over at Seven Impossible Things Before Breakfast.
Thanks for reading!
—Linda
P.S. I'll be on blog hiatus for the next few months, but am happy to report that former PBB regular Barb Rosenstock has some excellent posts planned in my place for June and July, including one about her brand new book Otis and Will Discover the Deep, which looks fabulous. Stay tuned—and see you in August!
Buy citalopram Online
buy Sildenafil no Prescription
http://buywithoutprescriptiononlinerx.com/abilify.html