Sometimes we love a book SO much around here that two of us wind up posting about it (and sometimes one of those two—who normally is very careful to check the archives to avoid such a situation—doesn't realize she's writing about a book that's already been covered till right before press time—ack!). So in case you missed the earlier one, or need a reminder, here goes . . .
I've now read Stay: A Girl, a Dog, a Bucket List three times. And each time I've turned the page to read the last two sentences, I've choked up. Each time. Even though by the second and third reading, I knew exactly what was coming.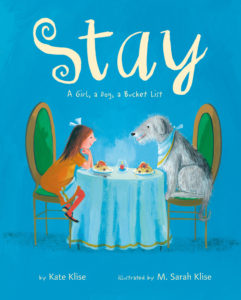 I've been trying to figure out what makes this particular ending so powerful. Here's my theory: If you've ever loved a dog, and that dog loved you back (which, by definition, most dogs do), the ending rings absolutely true.
Of course, a powerful ending really starts with the beginning. The book—written and illustrated (respectively) by super-talented sisters Kate Klise and M. Sarah Klise—begins with baby Astrid arriving home from the hospital. Eli is there to greet her.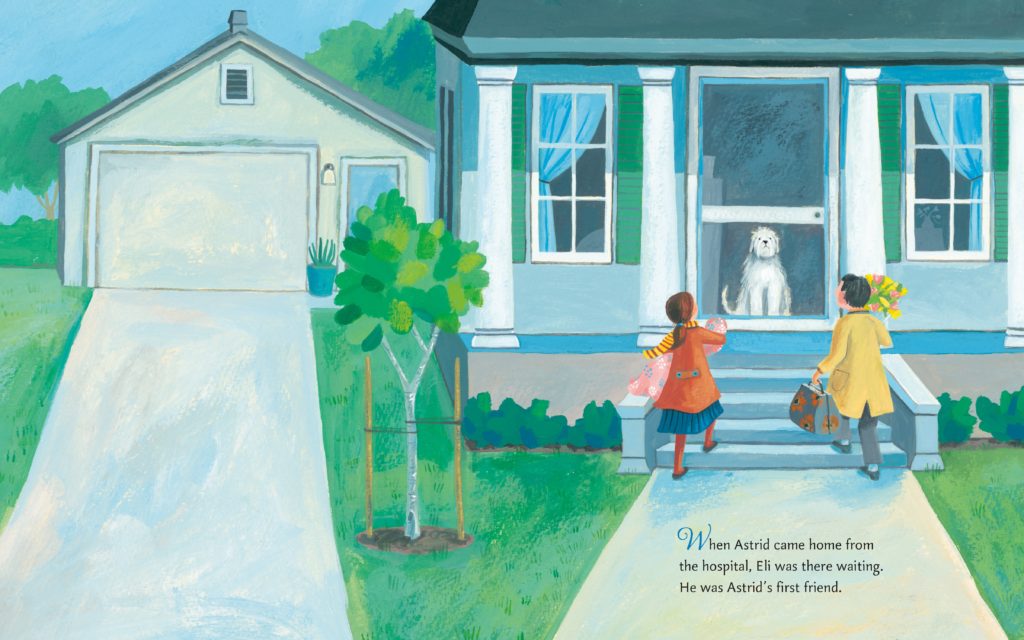 The two soon become best buddies.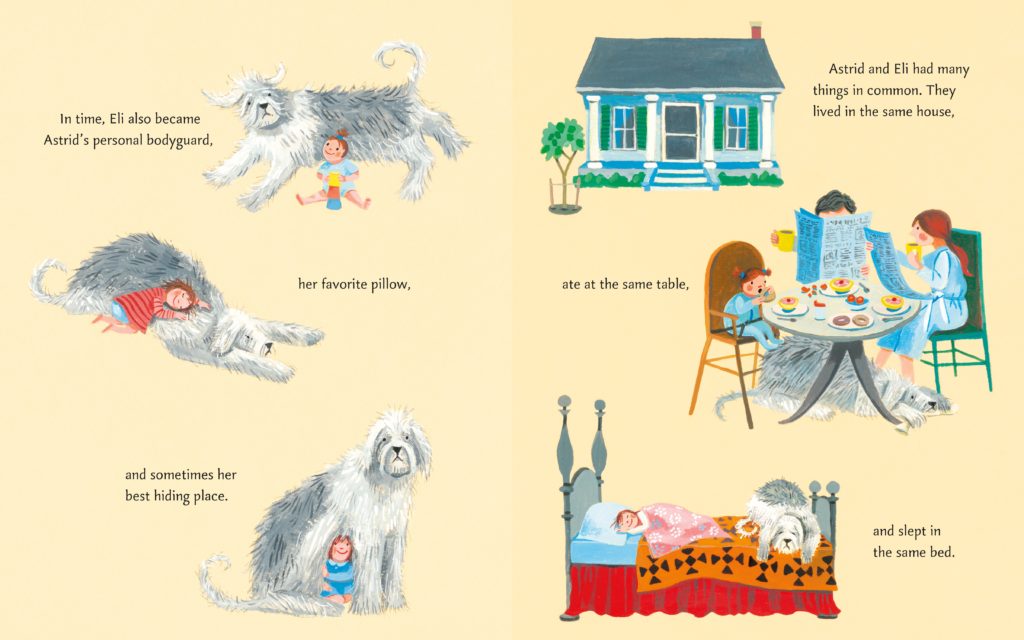 After all, they have so much in common (this spread made me laugh):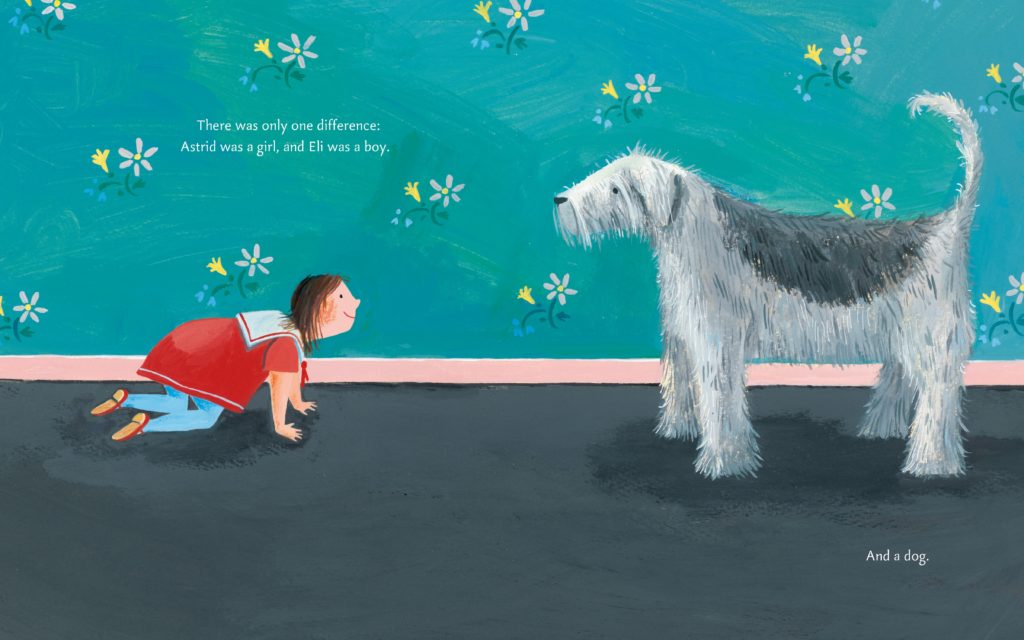 But as Astrid gets older, she realizes that she's getting bigger than Eli. And Eli is getting older much faster than she is.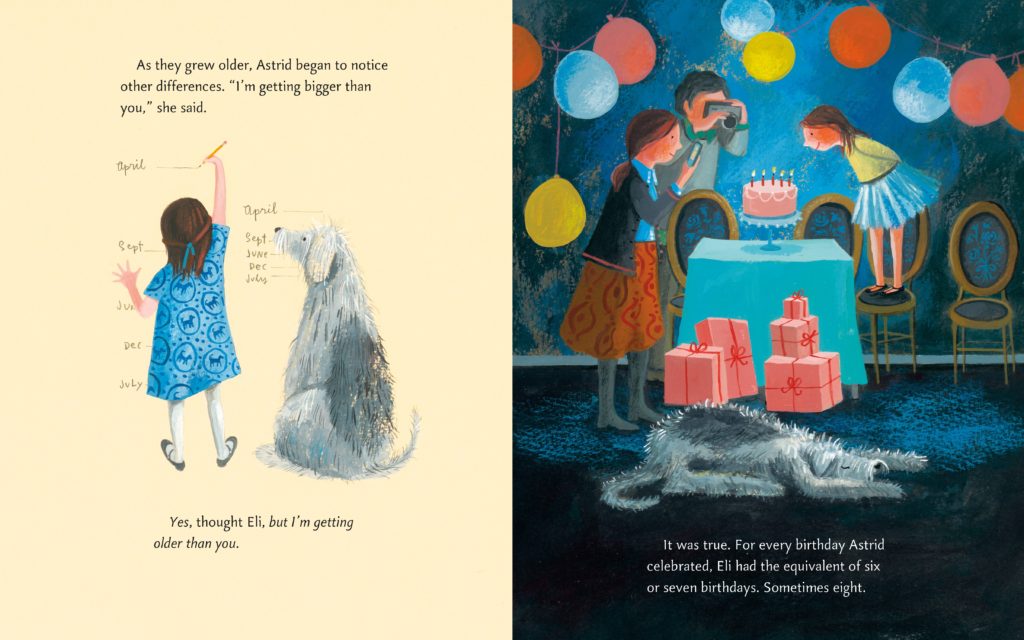 Astrid notices Eli slowing down and decides to make a list of things they should do together before Eli gets too old. Some are normal child-and-dog things like reading dog books together and sleeping under the stars. Others are more offbeat, like going down a slide and riding a bicycle.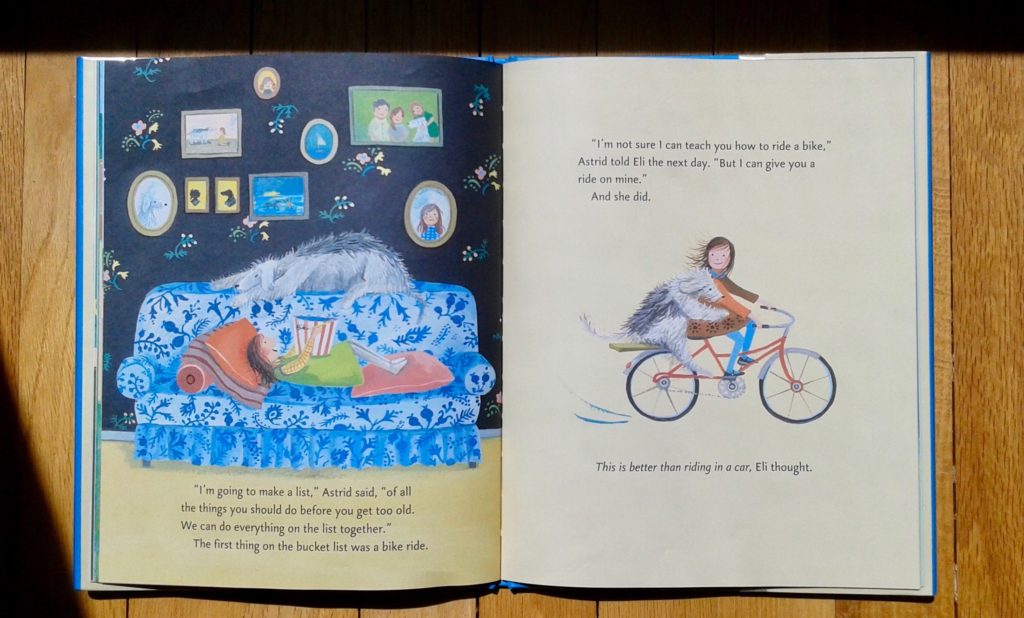 At first I wondered why the author included some activities—like the bike ride—that a dog the size of Eli would be unlikely to do. But the wackier scenarios add a note of humor to lighten things up. And, more importantly, they show just how far Astrid is willing to go to make Eli happy—setting us up for that poignant ending.
The truth is Astrid doesn't need to do any of these things—not the bike ride, the bubble bath, or the movie date. Not even the spaghetti and meatball dinner at a fancy restaurant. Sure, Eli enjoys them all. But it's not because of the thrill or novelty of the activity.
And here's where I choke up. After crossing so many things off the bucket list, Astrid asks Eli what else he'd like to do.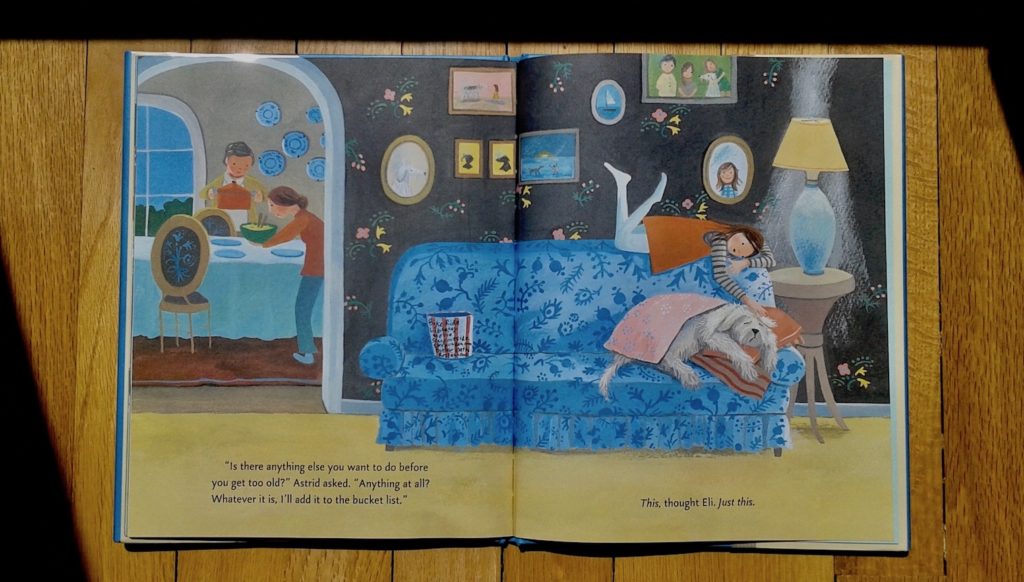 But Eli doesn't have anything to add. The last page says it all: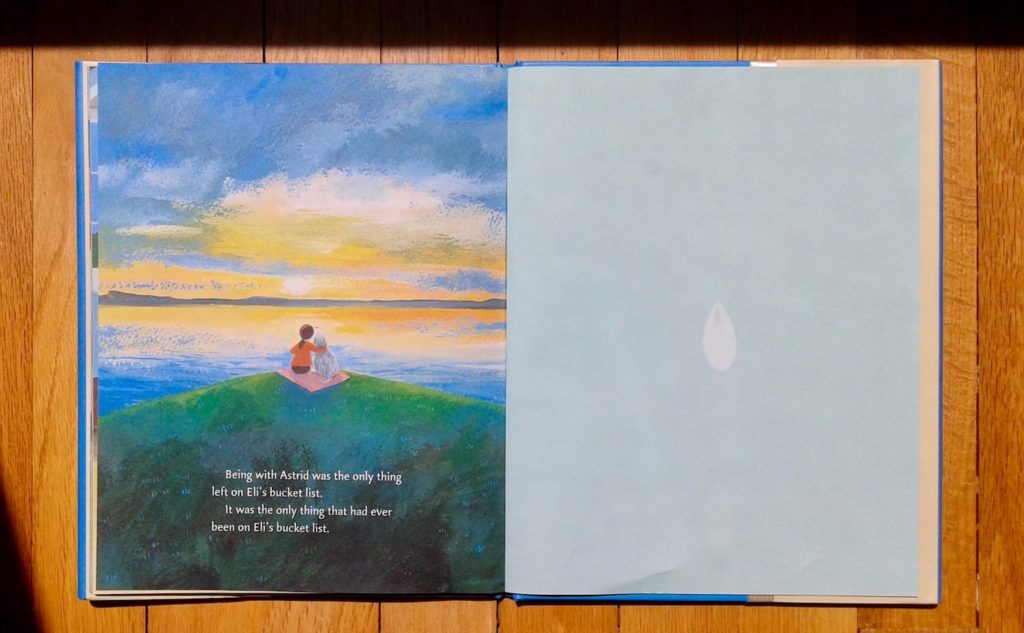 And, yep, my eyes just welled up again.
I suspect this book especially resonates with me because our son Jackson, an only child like Astrid, has grown up with four dogs in his life. Nicky and Remy greeted him when he came home from the hospital, Nicky immediately declaring herself his protector and devoted friend for life.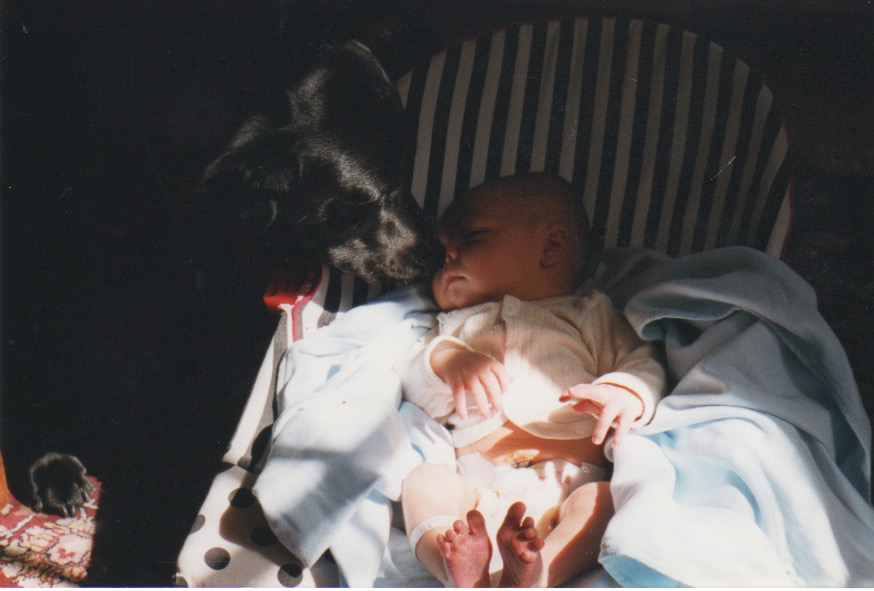 Years later, after going through the pain of saying goodbye to our beloved girls, we welcomed first Sammy (right), then Stella, to the family.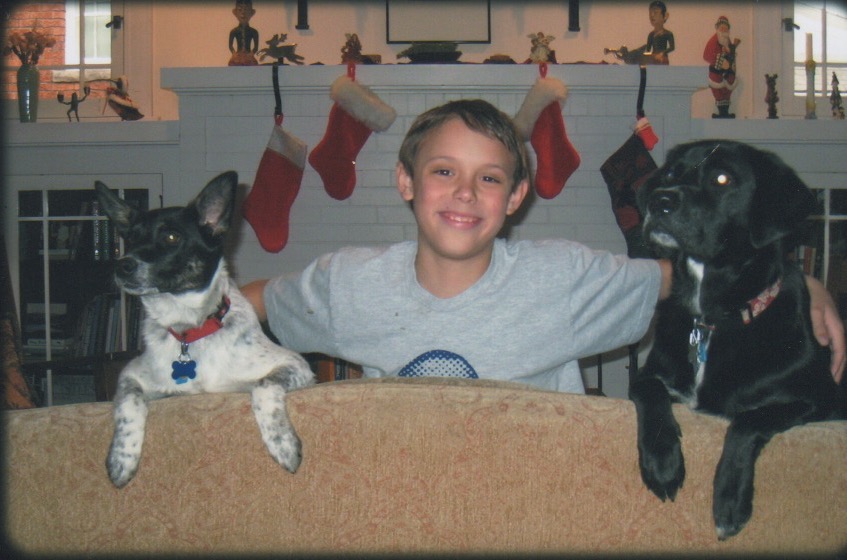 Ten years later, Jackson's wrapping up his second year of college and our two girls are showing their age. And eagerly awaiting Jackson's next visit.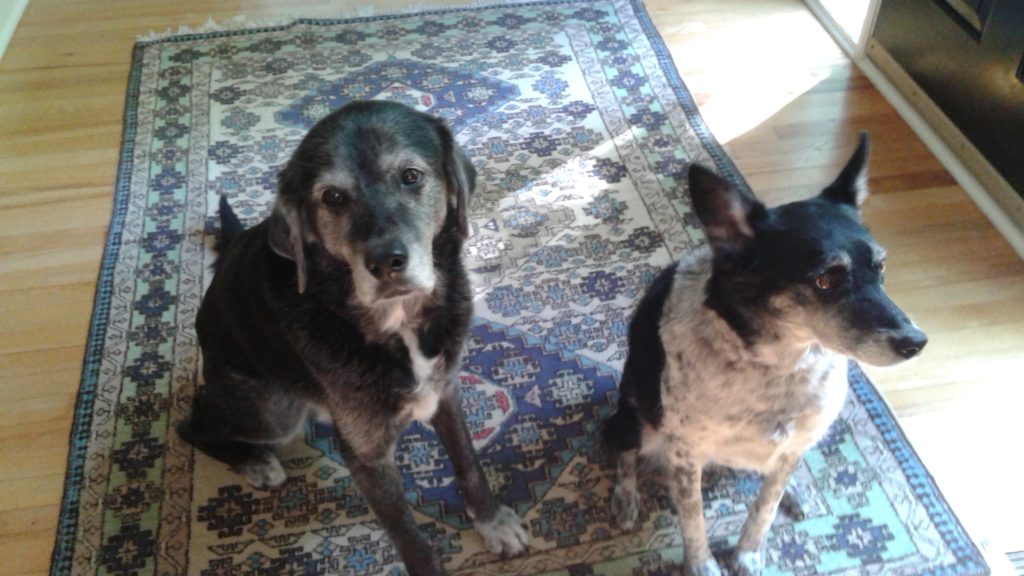 But I don't think you need to have dogs to appreciate this story and be moved by its ending. Have you read it yet? I'd love to hear your thoughts.
—Linda
P.S. The winner of Stacy McAnulty's EARTH: MY FIRST 4.54 BILLION YEARS from last month's post is Cassie Bentley. Congratulations!
buy Antabuse online
Buy Prednisone no prescription
http://rxnoprescriptionrxbuyonline.com/zovirax.html