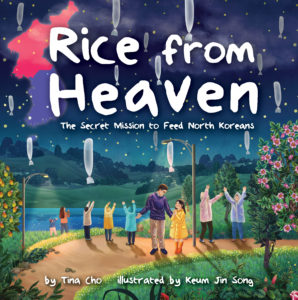 When I read RICE FROM HEAVEN — a new picture book written by Tina Cho, illustrated by Keum Jin Song and published by little bee books — I was enthralled by the story behind the story.
The book is a fictional take on a real-life event. In 2016, North Korean refugees in South Korea sent rice to hungry families in North Korea. But because of North Korea's laws, they couldn't just ship the food. They had to secretly send it over the border in large helium balloons.
The author participated in the relief effort, which sent 200 balloons carrying nearly seven pounds of rice each. The balloons traveled more than 100 miles.
It was such a compelling and unfamiliar-to-me story, that I needed to learn more. I reached out to author Tina Cho, who teaches at an international school in Korea. She graciously offered to answer some questions.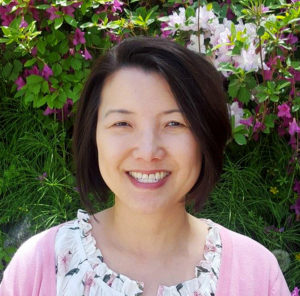 Congratulations on this book! I know it's based on a project you participated in. How did you approach writing a fictional story based on real-life events? Did that make your creation process easier or harder?
I decided to make this a fictional story to protect the names of the North Korean refugees involved in the event. At first, I was thinking of a nonfiction article for a children's magazine, but to reveal too many details of people and places wouldn't be wise. I think any time I get a picture book idea from my children's experiences, students, or some place I visited, it's hard at first to lay aside the actual details in order to fictionalize the story for the market.
I think that's one area writers need to be wary of. We hear the phrase to "kill our darlings or characters." Well, sometimes we have to "kill the actual facts," to get to that creative mindset. In RICE FROM HEAVEN, I came up with the girl character, Yoori, even though one of the actual children at the event was a boy. And the conflict that occurs in the book comes from children, but in real life, the conflict came from adults. But to keep the book child-centered, I changed them to kids. I also gave Yoori an internal problem — a little fear of helping. She says she is a "little grain of rice." How could she make a difference? I went to this event with a tiny fear in my heart being so close to the North Korean border, not completely knowing what would happen. And then to find out South Korean police were present …
Once you had the book written, how did you find a publishing home for it? Walk us through your path to publication.
My manuscript for RICE FROM HEAVEN landed me an agent. She subbed it to editors, who said they liked the premise but I needed to work on the writing. So I revised the manuscript to be more lyrical. My agent sent it out, and three days later, we had an offer from Sonali Fry at little bee. I had a phone conversation with her, and a couple months later, signed the contract. I feel that this story's path to publication was quite quick. I helped with the North Korean project May 2016 and wrote the first draft, and the book debuted August 14, 2018, two years later.
One of my favorite things in picture books are creative end papers. And I LOVE yours. What was your reaction on first seeing Keum Jin Song's art? Because the story was based on a real experience, did you provide her with any additional information?
I think Keum Jin Song was chosen as illustrator because of her gorgeous scenery. My agent and editor wanted a beautiful dreamy background, so I believe they found the perfect illustrator. Keum Jin's art is beautiful. I love the end papers of the spilled rice and the contrast between the North and South.
I'm fortunate because Sonali did ask for my input in the illustrations. For example, on the spread of the figurative North Korean rice bowl that shows Appa (the father) crossing the border, I asked to have a fence drawn, which we see in some parts close to the border here. I supplied them with my actual photos and also a confidential video of the event. Keum Jin lives in the southern part of Korea, so I hope to meet her some day!
What reactions have you received to the book? I'm guessing that the relief efforts may be something many people are not aware of. What do people want to know more about? And, is there any way readers can help North Korean families?
Some comments I've heard is that the book is beautiful and that they had no idea this goes on. Teachers want to use it in the classroom, even middle school teachers who teach about the Korean War. One art teacher friend commented that when she read the book to her students for a hero project, they gasped loudly at hearing some North Korean children ate grass and bark. My first book signing is Sept. 29, so I'll find out more reactions then.
Readers who wish to help the cause can donate money to North Korean refugee organizations such as: