Earlier this month I flew to Atlanta for a book event and had the opportunity to stop by Peachtree Publishers. A visit to a publishing house is a rare treat for me, so I thought PBB readers might enjoy a quick behind-the-scenes tour.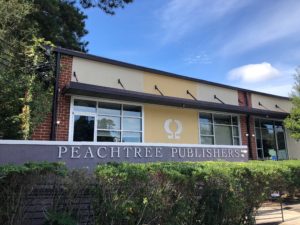 As I approached the front door, there was a lovely plant on the terrace soaking in the Georgia sun. Any guess what it was? Yes, a peach tree! (A gift sent by an admirer to Peachtree years ago.)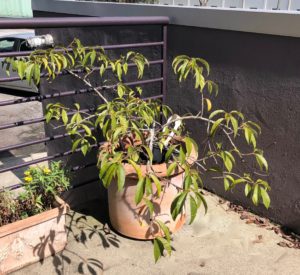 Inside, the lobby was warm and welcoming with a gorgeous display of Peachtree's latest crop of beautiful books. (I'll resist the temptation to point out Countdown on the top row, third from right. Or maybe not.)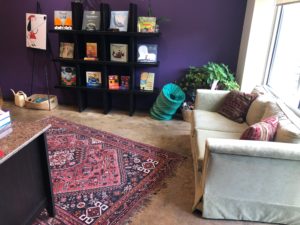 First I stopped at the office of Margaret Quinlin, President and Publisher of Peachtree, an independent woman-owned business. Margaret has been at the helm of Peachtree since 1990 (28 years!) Near as I can tell, Margaret knows everything about the book business. And as you can see by the wonderful hand-written notes on her door, she's also very connected to readers, authors, and notables in the publishing world.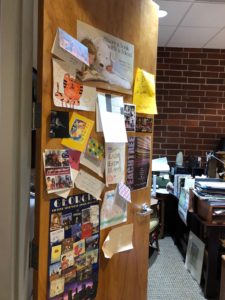 Down the hall, a purple wall filled with striking art by Michael Austin from Late for School (written by Mike Reiss) caught my eye. What an inspiring place to work!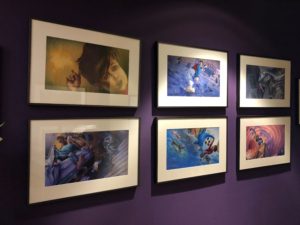 Of course, fantastic books were everywhere — in hallways and conference rooms!
Next stop was the cheery office of Emily Dowdell, Peachtree's top-notch Publicity and Marketing Associate. We've had plenty of bonding time during book events in Chicago, New York, Washington DC, and Georgia. She keeps everyone organized, including me.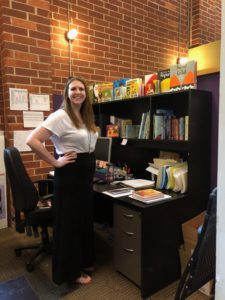 My editor Kathy Landwehr had an awesome office with lots of enticing books and projects-in-the works. My favorite find was her "Do Not Disturb" tape, which can be pulled out across her doorway so she can focus on a manuscript. I definitely need that for my home office! (Fyi – Margaret Quinlin is in Kathy's office.)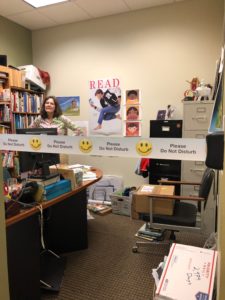 Next, I came across something very interesting — the dreaded slush pile!
Peachtree's "pile" was surprisingly small. (I've always envisioned huge, towering piles of submissions in editors' offices.) Their awaiting submissions were neatly organized by the date they were received, and would be read in the order they were received, with each one receiving a response in the mail. They receive about 200,000 manuscripts a year and publish 45 annually.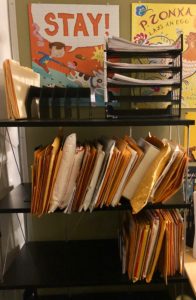 Acquired submissions eventually move into Peachtree's current books-in-progress area (below.) Each large clear envelope is filled with the latest art and story revisions so everyone can access the project quickly.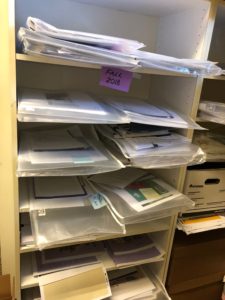 Peachtree's warehouse and shipping operations are conveniently attached to their office.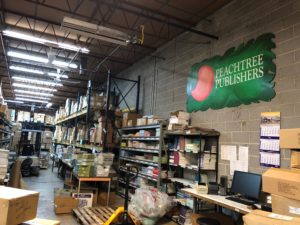 All their titles are organized on open shelving so it's easy to grab the books needed to fill each order. I never thought of a warehouse as a cozy place, but this one was beautiful and inviting with all the colorful, shiny books stacked on shelves.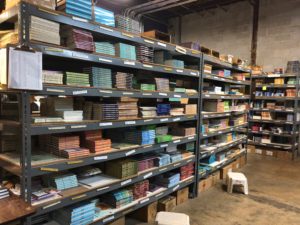 Well, that concludes the tour.
For those wondering about submissions, yes, Peachtree accepts unsolicited submissions in the following genres: picture books, early reader chapter books, middle grade, and young adult (all four genres in both fiction and nonfiction.)
Check out the Submission Guidelines on Peachtree's contact page for more details.

You can check out Peachtree's books on their blog. If you'd like to know more about the staff, here are a few interviews from their blog.
Margaret Quinlin, President/Publisher
Kathy Landwehr, Vice President/Associate Publisher
Nicki Carmack, Creative Director
Vicky Holifield, Senior Editor
Jonah Heller, Assistant Editor