Hello everyone! If you don't know me, I'm someone who enjoys a good laugh and today's book, PIG THE WINNER by Aaron Blabey, delivers more than just a chuckle. My wife and I were in a bookstore and I saw this one, read it, and had to buy it, because it was basically a biography of one of our best friends (we actually went back and bought a second copy later after we gave him the first).
Today I want to talk about humor in books, and specifically, how Aaron Blabey created a very funny book here with PIG THE WINNER.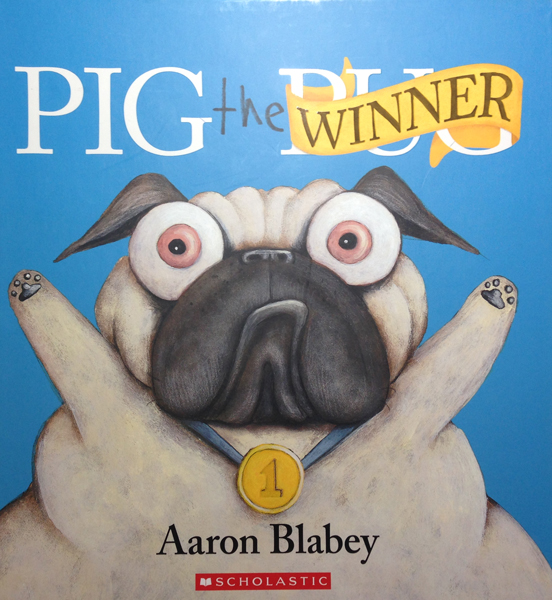 Read this first bit. I mean, I know "Pig" is already a funny name for a pug (which is also a funny dog), but most of us have known someone (maybe even ourselves) who fits the description on the first page.
But it's not just funny because of the memory of something similar. It's funny because of the combination of our memories, subject matter, the rhythm of the rhyme, AND the ridiculous image of Pig the Pug.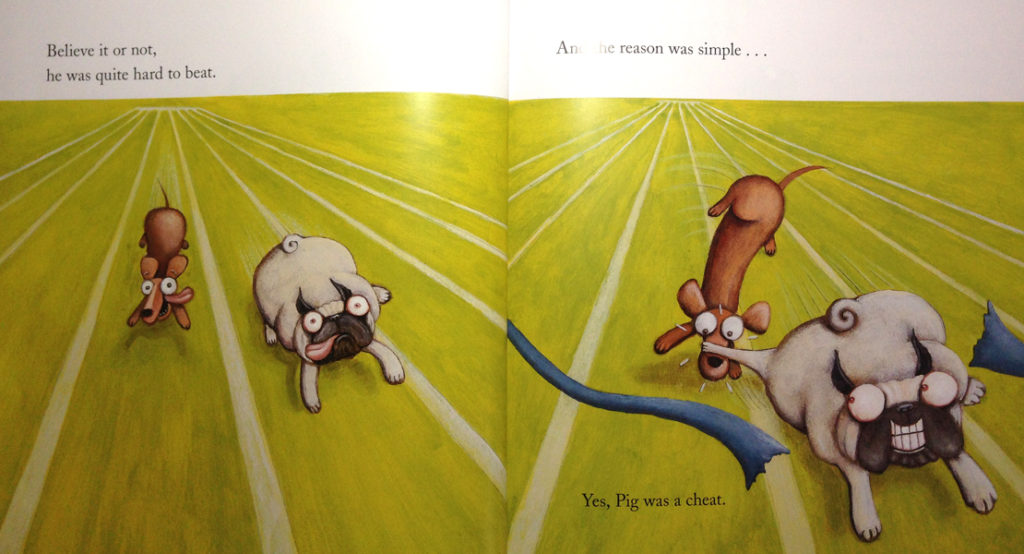 Blabey doubles down on the humor of Pig, in that he's ALL of those memories that we're identifying with, combined into one. I think this is a great too to amplify the emotion.
Normally, when any of us find ourselves in the middle of one a situation like this, it's not that funny. So I'm curious as to why it's more humorous when we look back on it. Is it because we see how ridiculous it is to be that crazy over a competition or a game? I wonder if there's something a bit therapeutic about being able to laugh (or at least snicker a little) at ourselves or those around us when we take ourselves too serious.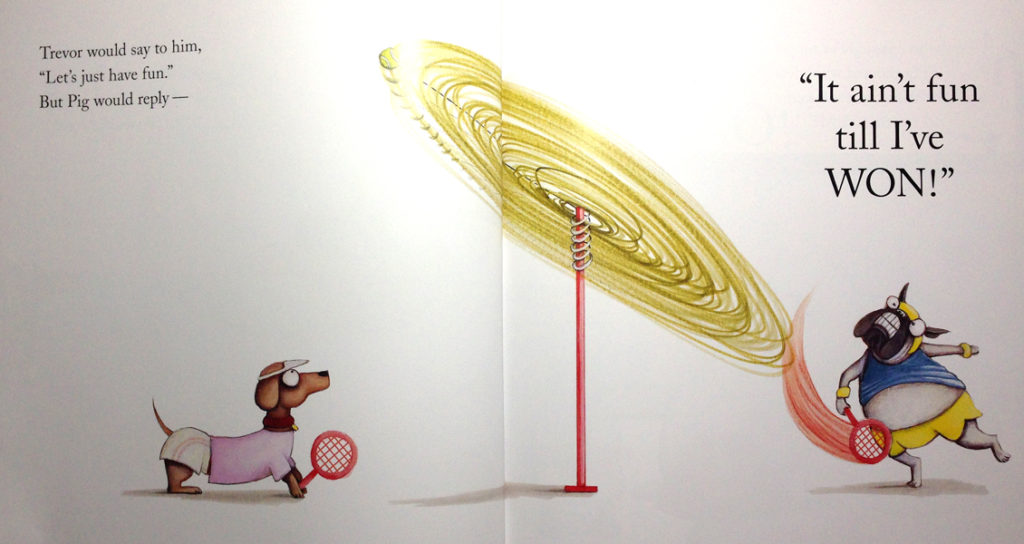 Pig's over the top actions are terrible and not something we encourage or compliment. But as with ourselves (hopefully), we learn from these situations and circumstances as life goes on. Maybe it's exactly that personal character growth in us that allows us to look at this character now and laugh.

PIG THE WINNER does have a point, and Blabey is able to transition the story so that we're able to see Pig's own "personal growth" develop. It sort of ends up the way we might expect, but how he gets there and the ending is still hilarious.
There is a distinctly relational connection we have with humor. In fact, if we can't relate or empathize with a character or situation, we often don't find it humorous at all. Aaron Blabey is clearly talented at tapping into our funny bones – and I think our ability to identify and laugh at ourselves when we're being ridiculous. And that's my takeaway. I want to make sure that the humor I try to insert into my work is relatable – and maybe a tad over the top too.
Until next time!