If you haven't read The Stuff of Stars, you must!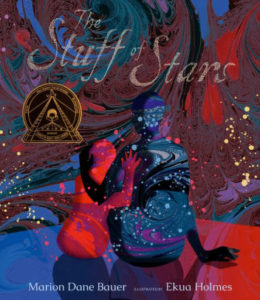 I. LOVE. THIS. BOOK!
Seriously, it is mind boggling how Marion Dane Bauer so beautifully and accurately explained the Big Bang theory with sparse, lyrical text.
But she did! Of course, if anyone could, it would be the incomparable Marion. (But oh, how I wish it had been me.)
Just listen to these incredible first few lines:
"In the dark,
in the dark,
in the deep, deep dark,
a speck floated,
invisible as thought,
weighty as God."
As a writer, I adore the delightful rhythm and marvelous word choices. (such as "scuttling", "hippopotami", "flinging")
As a scientist, it's refreshing to read a complex topic shared in a moving, meaningful way.
The illustrations of swirling colors by Ekua Holmes are the stuff of sheer magic, imagination, and inspired creativity. I can honestly say I've never seen anything like them. (No wonder it earned a 2019 Coretta Scott King Illustrator Award.)
I enjoyed this book immensely. Not sure why it took me so long to find it, but now that I have, I can't seem to put it down. And I couldn't wait to share it with all of you. I hope you enjoy The Stuff of Stars!