As fall approaches, we look forward to cooler days, brightly colored leaves, and of course, spooky stories! So I thought it would be fun to share a scary story hot off the presses, MOLDILOCKS AND THE THREE SCARES: A ZOMBIE TALE by Lynne Marie, illustrated by David Rodriguez Lorenzo.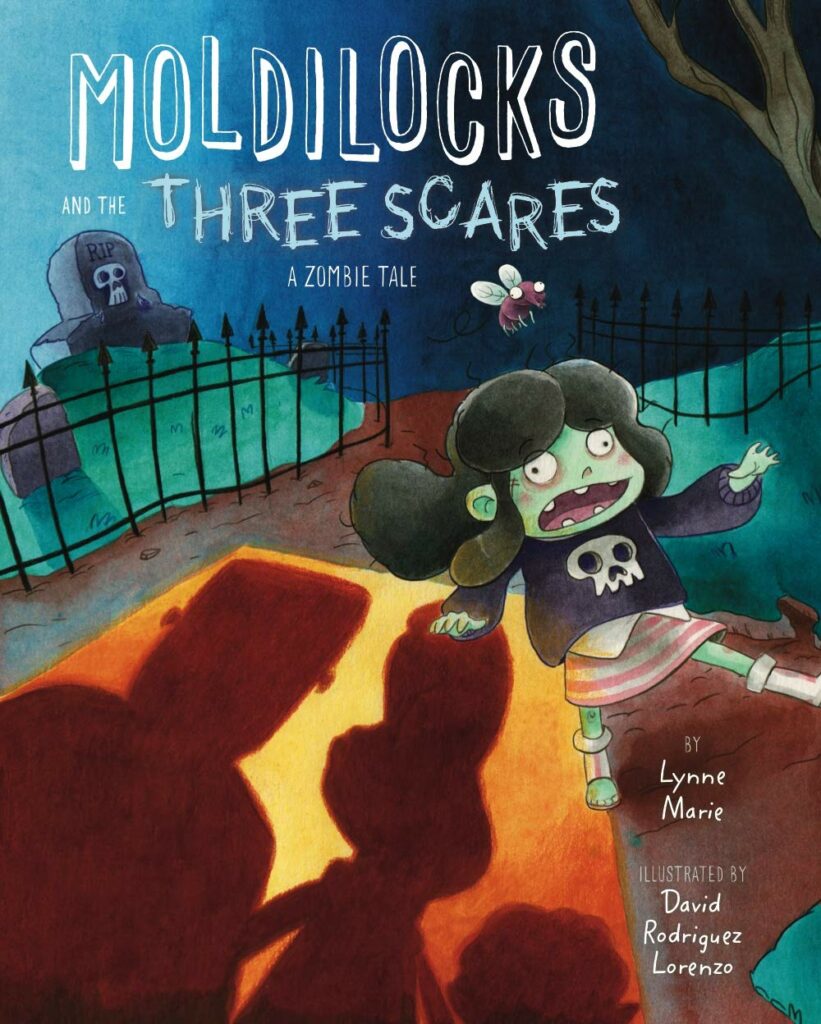 This gorgeously illustrated tale tells the story of the three scares, Papa Scare, Mama Scare, and Baby Scare, and what happens when a zombie named Moldilocks comes to visit!
Author Lynne Marie joins us to share a few insights into her wonderful new picture book.
Q. Can you tell us about the inspiration for your new picture book, Moldilocks and the Three Scares which recently released from Sterling Publishing?
It was a "Monster Mash" in the true sense of the word. I had always wanted to do a Goldilocks retelling, and as part of my research, I either bought or borrowed from the library every Goldilocks retelling I could find. I made a list of which topics had been covered. There was a pairing with dinosaurs, Goldilocks as a rockstar (Goldie Rocks), Goldilocks as a Goat (Goatilocks), Curly Locks, Goldy Luck paired with three Pandas, and many plot variations. I thought of other perennial possibilities and realized there were no monsters!
From there, there were many inspirations, mostly from my child-hood, including Bobby Pickett's The Monster Mash, The Addams Family sit-com, The Munsters sit-com, and even the Walking Dead series (which I have never watched, but heard of). And of coure there was that Scares was a good rhyme with bears, so the title would stay somewhat intact.
But I knew that just wasn't enough. My book had to have heart and at least somewhat of a narrative arc. The narrative arc was a bit tough, based upon the actual constrictions of the fairy tale, so I decided to flip the story. Instead of an intruder, I made Moldilocks the answer to the Scares nightmares (prayers). I was able to develop small character arcs for all.
Papa Scare was a stay-at-home Dad and Chef who longed for another mouth to feed.
Mama Scare was the breadwinner — a Scientist who hoped for a daughter to follow in her footsteps.
Baby Scare was a kid that had no one to share chores or playtime with and who wanted sibling.
Moldilocks was a zombie who longed for a place to call home.
You will notice some flips of stereotypes, so you can tell I had fun playing around with this story.
So as you will see, I set this story up to facilitate my last inspiration – being a child who was adopted by a family.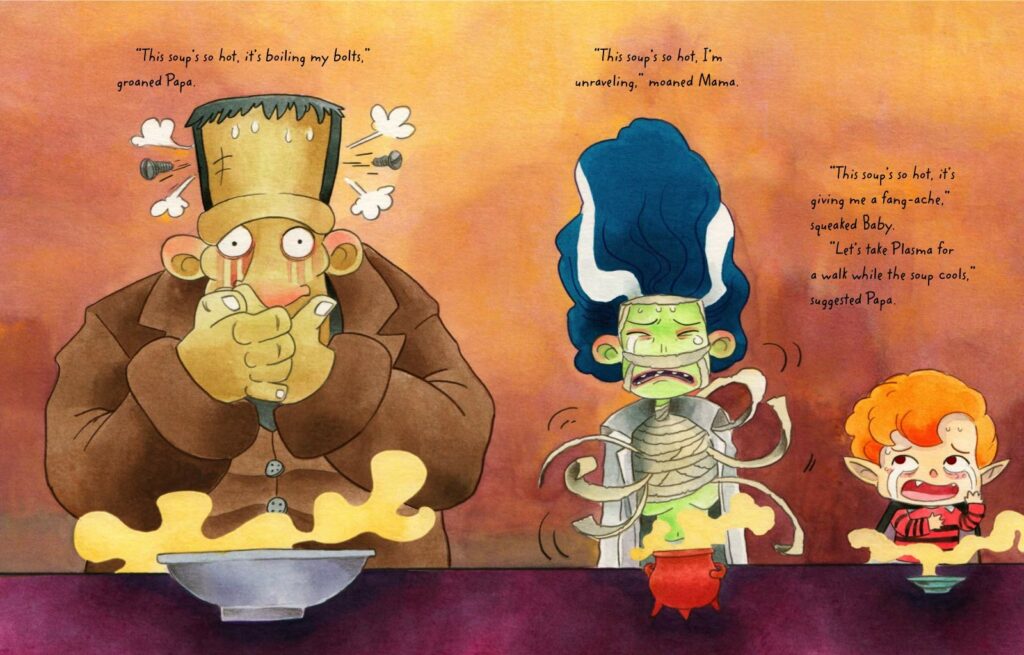 Q. There are children's books about monsters, how is your book different?
This book has a Halloween tie-in like many other monster books, certainly, but because of the fairy tale and blended family aspects, it has a perennial nature and heart. And puns in the text and art. I always consider puns a hook unless overdone. So it satisfied my formula to develop at least three good hooks for each book.

Q. Why a zombie?
Once I flipped the script and made Moldilocks NOT an intruder, I had to come up with a monster that *true to its nature* would be looking for a home. I thought of how zombies roam, and thought a little girl zombie might really facilitate the story direction. And then, thinking of that, the tentatively titled Goldilocks and the Three Scares became Moldilocks and the Three Scares.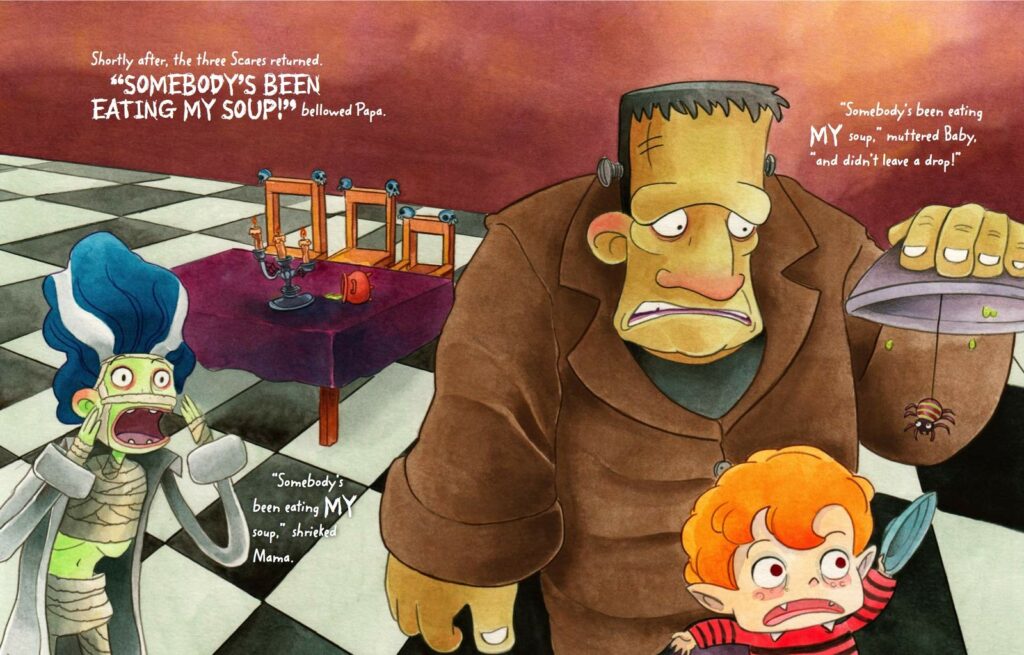 Q. Tell me a little about David Rodriguez Lorenzo, the illustrator of this book:
David Rodriguez Lorenzo is a children's illustrator and character designer who completed studies in art and illustration and currently lives in Ourense, Spain.
He did an amazing job capturing all the personalities portrayed in the book and the color palette is absolutely gorgeous. Sometimes I just open to a spread and stare at the art and my characters that he brought to life. Such awesomeness! And he even left in Moldilocks little sidekick Zom-bee (a maggot fly) who really wasn't integral to the story. So that was sweet, as well.
We hadn't ever spoken before the book was finished, but now we are long-distance friends and chat about our passion for K-Dramas and such. So it has been a fun *after-the-collaboration* friendship.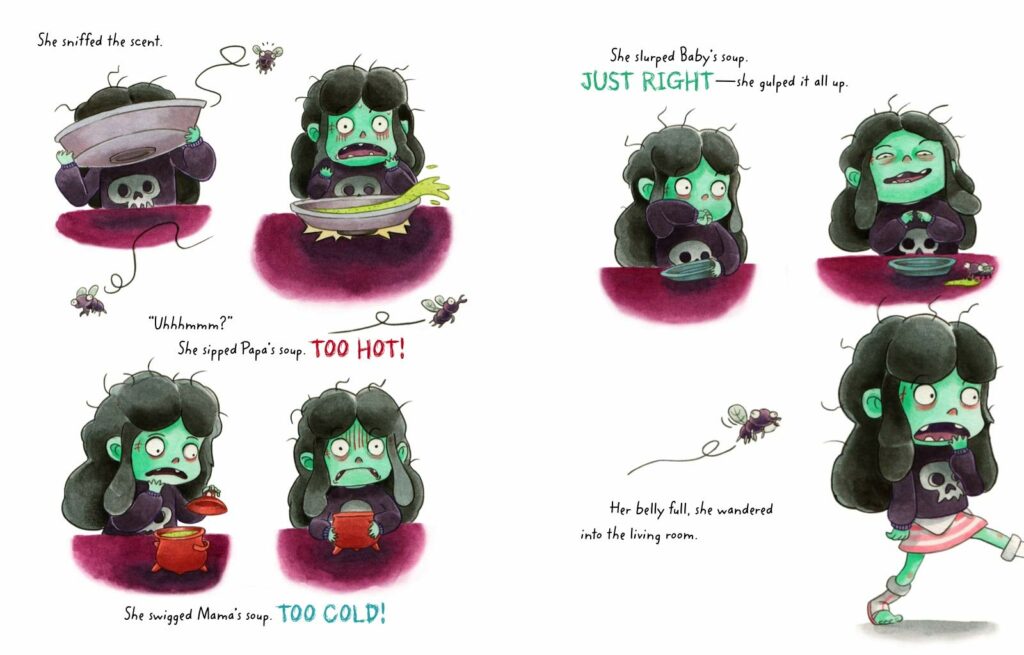 Lightning Round Questions:
1. If you were a monster, what kind would you be?
Hmmm…so hard to choose (LOL). I am somewhat drawn to vampires and bats, and I did love Bram Stoker's Dracula as well as the Twilight Series, so I would have to say a Vampiress. Or Lily Munster. I thought Yvonne DeCarlo was a fabulous actress and played that part so well.
2. Your book shares that each of your characters want something in their life. What do you want?
Hmmm…I would have to say that right now, I really want more book contracts so more of my beloved characters will come to life. There's Morty and Clay (Mummy Brothers from Tombmates), Harry (a Turkey Comedian from Fowl Humor), and so many more. It's such a magical experience.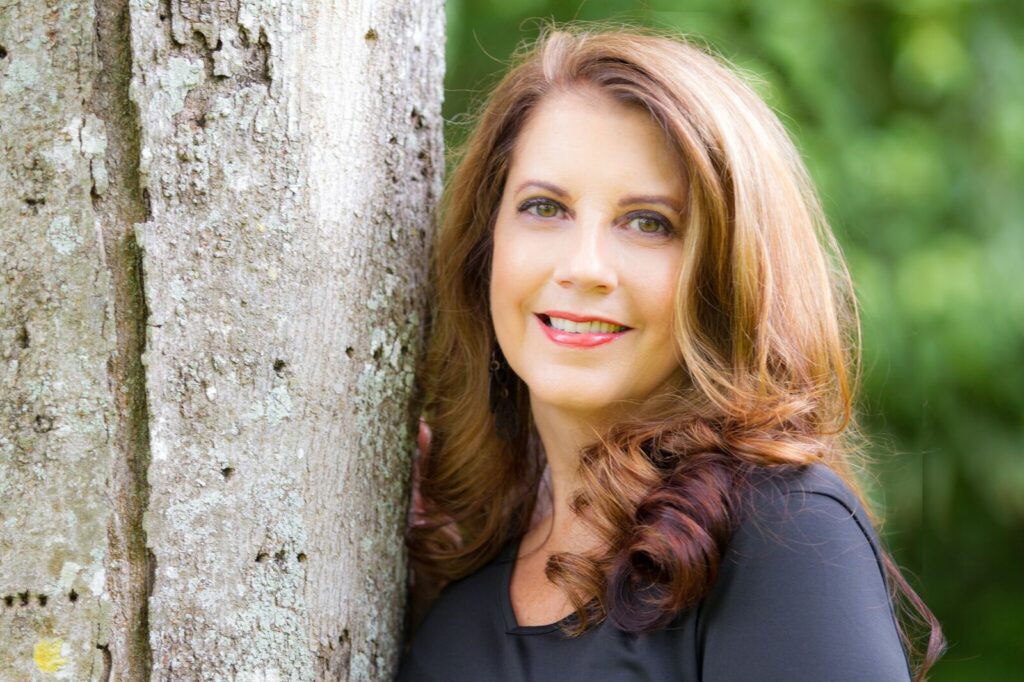 Lynne Marie is the author of Hedgehog Goes to Kindergarten – illustrated by Anne Kennedy (Scholastic, 2011), Hedgehog's 100th Day of School – illustrated by Lorna Hussey (Scholastic, January 2017), The Star of the Christmas Play — illustrated by Lorna Hussey (Beaming Books, 10/16/2018), Moldilocks and the 3 Scares — illustrated by David Rodriguez Lorenzo (Sterling, 2019) and her first non-fiction picture book, Let's Eat! Mealtime Around the World — illustrated by Parwinder Singh (Beaming Books, 2019). You can learn more about her at www.LiterallyLynneMarie.com or connect on Twitter: @Literally_Lynne.

* * * * * * GIVEAWAY! * * * * * *
One lucky winner will be selected to receive a copy of Moldilocks and the Three Scares from those who leave a comment on this post!