When you read lots of picture books, as we do around here, you can get a little jaded. Some make me laugh. A few make me tear up. But rarely do I feel surprised, as in "Whoa, I didn't see that coming."
Then I read Small in the City by Sydney Smith (Neal Porter Books/Holiday House, 2019).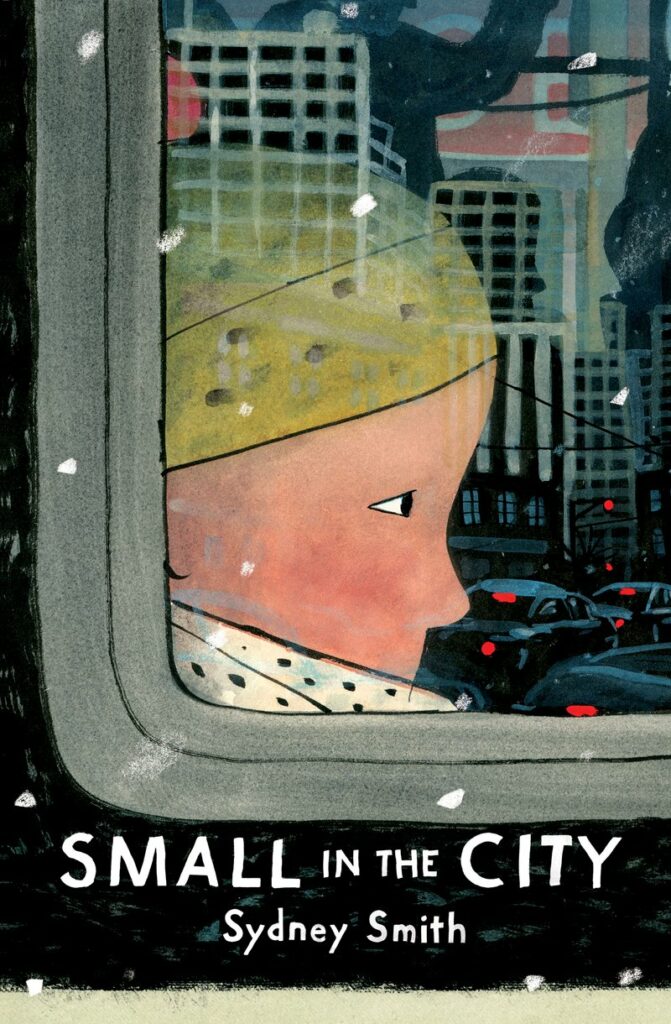 In the first few spreads, we see a child on a city bus. As she joins the throngs of people on the street, the narration begins: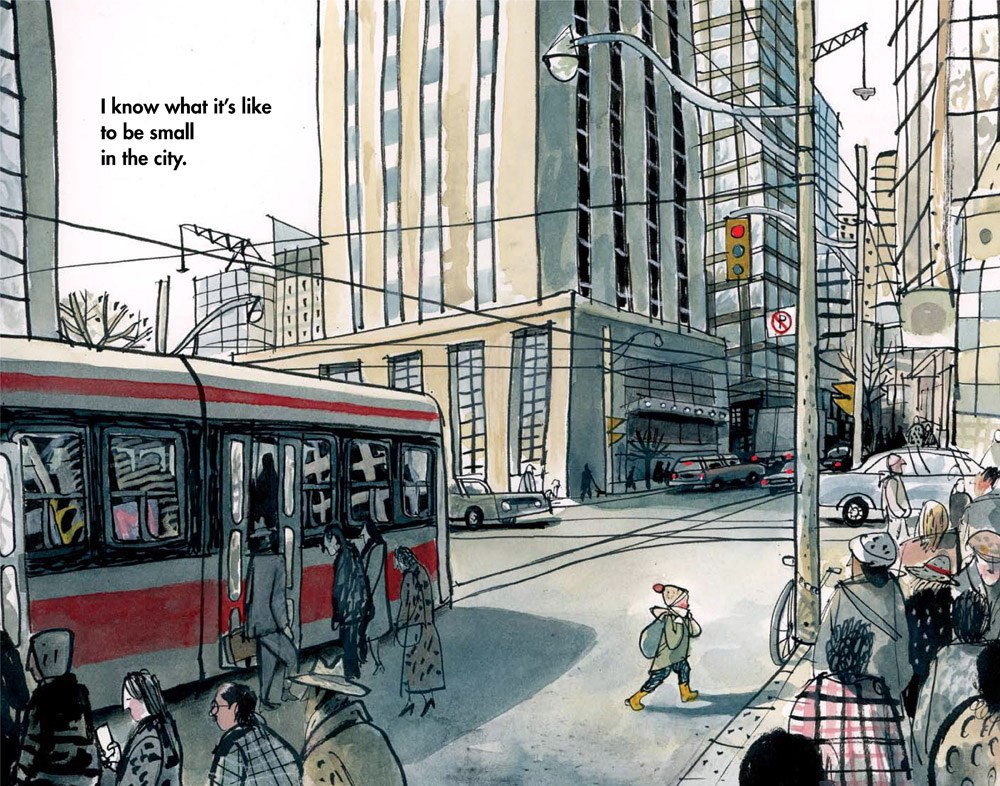 As the girl (or boy—it could be either) makes her way through dark and sometimes foreboding scenes, she describes the people "who don't see you," and the disorienting sights and sounds of the city.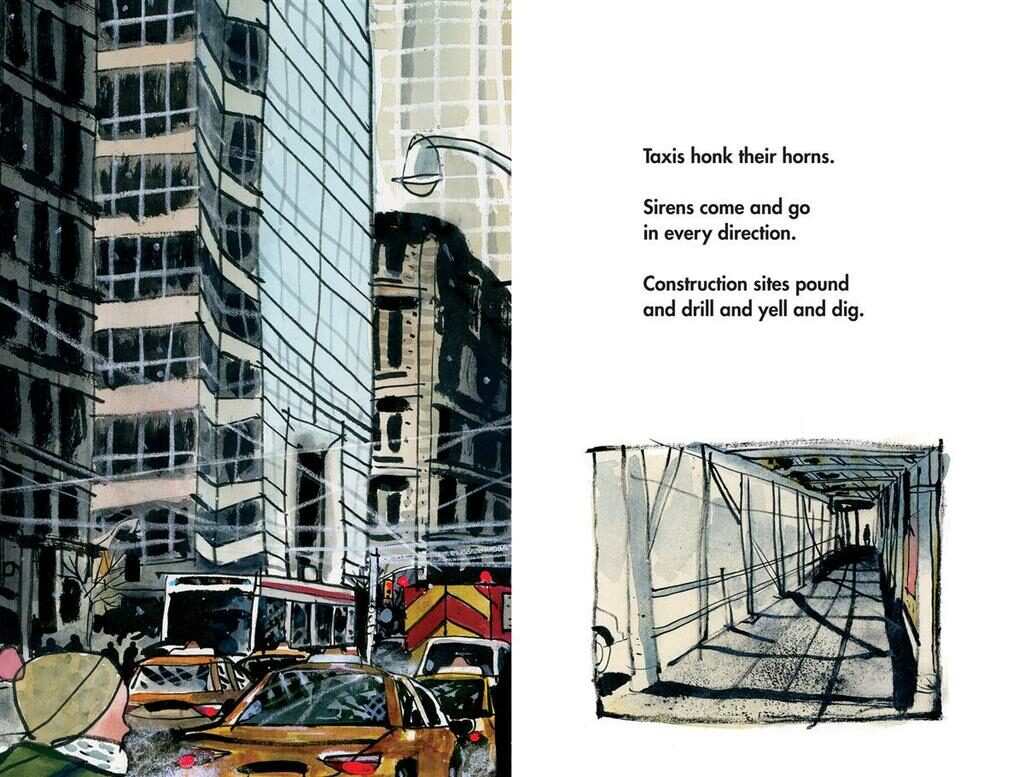 All of which leads to this:
The streets are always busy.
It can make your brain feel like there's too much stuff in it.
But I know you.
You'll be all right.
If you want, I can give you some advice.
---
Then, as snow falls around her, the girl shares her tips for navigating the city: don't cut through this alley, avoid this yard with the scary dogs, you can hide in this tree.
But who is the "you" she's advising?
Reading it the first time, I assume she's addressing a friend, a fellow small person. And, frankly, it all seems kind of menacing for a child. Then it gets a little odd.
She says the fishmongers "would probably give you a fish if you asked."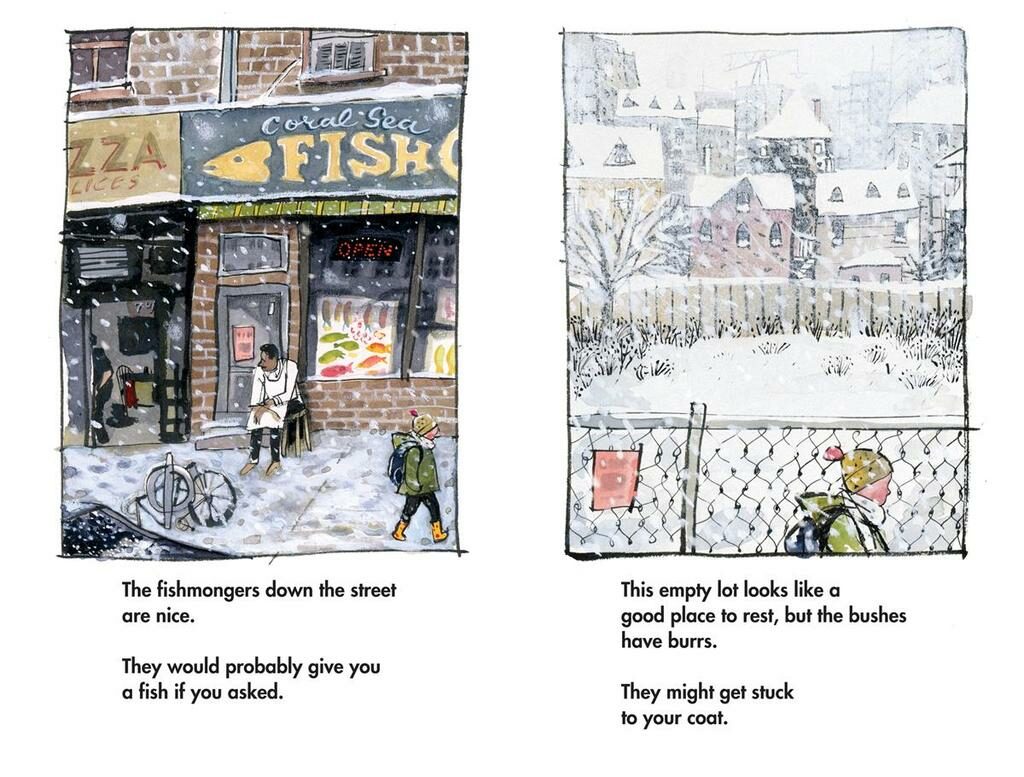 She points out some spots for listening to music, like the church where the choir practices.
You could perch on the window ledge.
She recommends a favorite park bench where her friend often sits.
If you see her, say hi.
You could sit on her lap and she will pet you.
---
Wait . . . pet you??
Ohhhhhhhhh.
This "you" she's been addressing isn't a person at all. It's a cat—as confirmed in the next spread when she tapes a LOST sign to a street lamp.
How did I miss that?
I read the book again to see if it had been obvious all along and I just hadn't been paying attention.
Nope. This was a deliberate effort to lead the reader astray.
Well done.
---
As a writer, this book got me thinking about my approach to storytelling. Is there a way to incorporate something unexpected? To surprise the reader? Have I experimented enough?
As a human, it got me thinking about the habitual thought patterns that lead us in certain directions, sometimes based on incorrect assumptions.
And it made me kiss my sweet old dog Sammy, sitting next to me on the couch.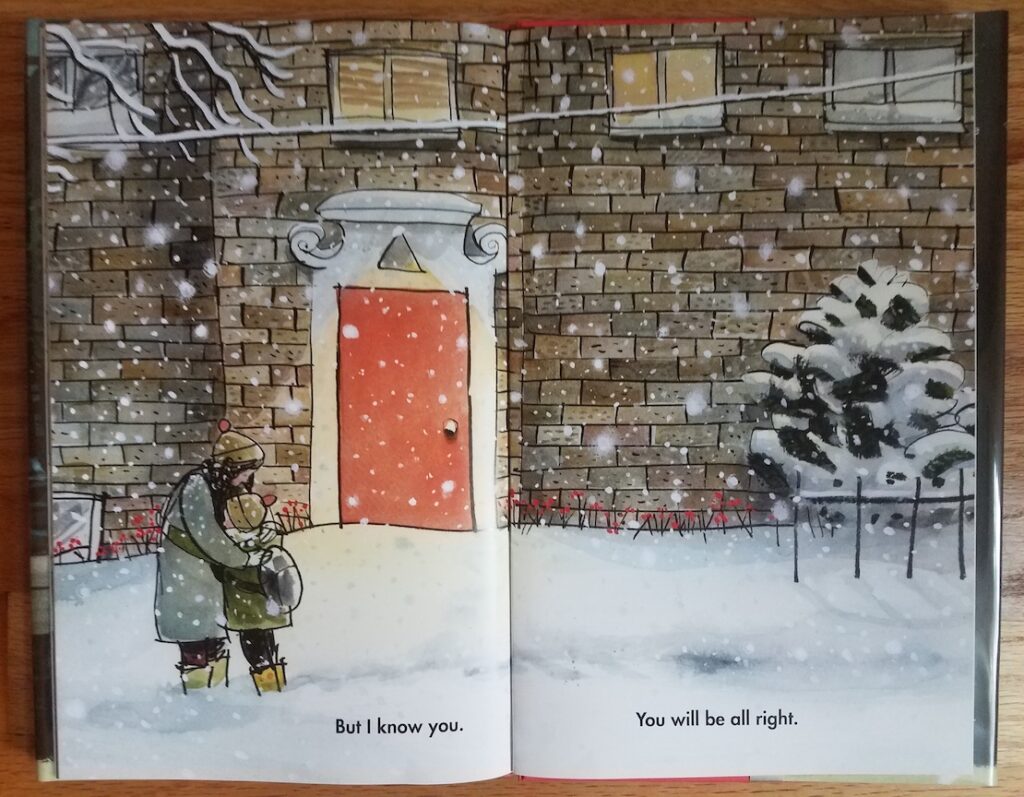 Small in the City is the first book that Sydney Smith—an acclaimed illustrator—both wrote and illustrated himself. According to this interview (well worth a listen), it's something he'd been thinking about for 12 years—but put off due to things like self-doubt and imposter syndrome (sound familiar, anyone?).
Any lingering self-doubts should be eased by all the praise heaped upon this book, including eight (!) starred reviews.
Have you read it? Or other recent books that have caught you by surprise? I'd love to hear.
Thanks, as always, for reading. And extra thanks for your comments—it's always great to hear from you!
Linda
P.S. The winner of MOON'S FIRST FRIENDS from last month's giveaway is Becky Scharnhorst. Congratulations, Becky! And many thanks again to Susanna Leonard Hill for visiting!