It's time for another periodic installment of "Picture Books I Want to Hug."™
These are books I love so much that I simply want to read them. And hug them. And re-read them. And re-hug them.
Re-lentlessly.
Re-peatedly.
Re-ally.
The last book that inspired this feeling in me — and a blog post from me — was A HOUSE THAT ONCE WAS by Julie Fogliano and Lane Smith. And, I stand by everything I wrote about that beautiful book.
And now, I have another huggable book to add to my list. This one is WINTERCAKE, written and illustrated by Lynne Rae Perkins and published by Greenwillow Books.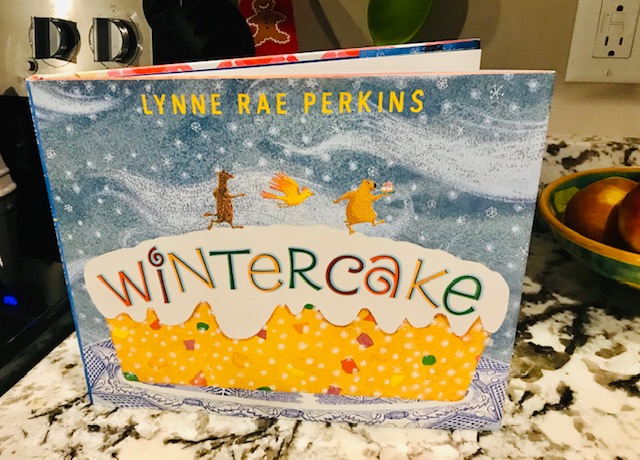 I've been thinking about how to structure this post, but all I really want to do is gush about random, disconnected parts of the book that impressed me, so I think that's what I'll do.
Brace yourself. This is going to be a long list:
The language. Well, it's divine. It has a slightly old-fashioned, British feel to it. (One character greets another by saying: "Lovely day, what?") And, Perkins isn't afraid to use words that kids may not be familiar with like "bereft," "bluster," "buoyant" and "resilient."
The humor. This is not a rib-tickling, knee-slapping kind of book. The humor is subtle and understated. As two friends go on a journey to find and thank a neighbor whose intentions they misjudged, they encounter several obstacles. As they navigate them, there are asides like: "I am stout, but nimble. " "I am buoyant, but only for a while." "Our friend must be an agile fellow. He certainly is slender."
The warmth. There's a lot of warmth in this wintery story. First, there's the friendship between the two main characters. Then, there's the worry when one misplaces a basket of dried fruit used to make wintercake. Then, there's the common problem of judging someone without knowing all the facts, the universalness of loneliness, the hope we can all be our best selves and the promise of a new friendship.
Again with the language. Did I say it's divine? The story is undoubtedly long for a picture book, with more adjectives and adverbs than you'd normally see. But everything about this story is so beautiful and lush and perfect that it matters not a whit.
The inclusivity. Anyone who celebrates any winter holiday — or none at all — can read this book and benefit from it. Making wintercake on Winter's Eve is a charming way to invite all readers in.
The cake. When I first finished the book, I was slightly saddened to see that there was no recipe for wintercake. But then, I looked under the dust jacket. There, on the back cover, were full instructions about how to make your very own wintercake — with some delightful touches of humor mixed into the batter.
The poem. The book doesn't rhyme. But the dust jacket has a lovely poem that sums up the story. It says, in part: "I took a wrong turn. I barked up the wrong tree, went out on a limb, there was nothing to see. I made a mistake, I was not even warm, I missed all the boats, I got lost in the storm. I jumped to conclusions, I misunderstood. You knocked on my door and now everything's good."
As I said, that is quite a list of things to love. And, I could keep going, believe you me. But, I hope you will acquire your own copy of WINTERCAKE, read it, admire it, hug it, and then make your own list of all the ways it is divine.