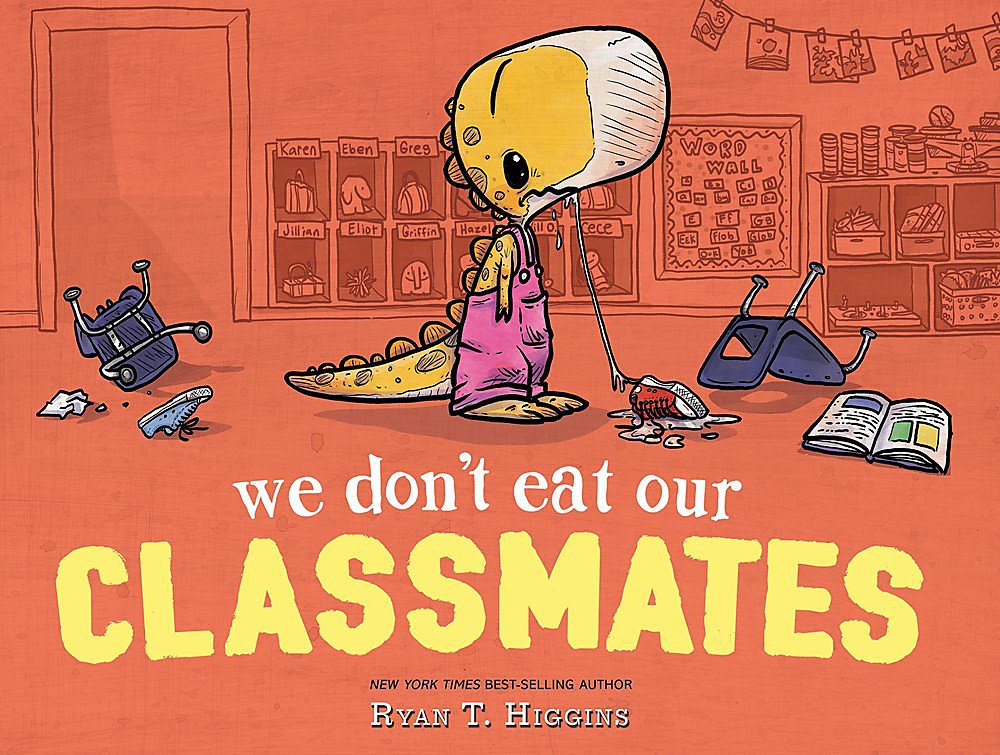 Synopsis: It's the first day of school for Penelope Rex, and she can't wait to meet her classmates. But it's hard to make human friends when they're so darn delicious!
Hello and welcome to Picture Book Builders.
If you ask me, We Don't Eat Our Classmates, by Ryan T. Higgins is wonderful in 429 different ways. One of the book's strengths is its humor.
After reading this book, I STUDIED it. I challenged myself to uncover some of the techniques that made We Don't Eat Our Classmates such an amusing read.
I hereby give you three of the ways in which Higgins incorporates some funny business in this book: the unexpected, specificity, and effective punctuation.
1–THE UNEXPECTED
Example:
Penelope's mom bought her a new backpack with ponies on it. Ponies were Penelope's favorite. Because ponies are delicious.
I am in love with that delicious line! The shock of it gets a laugh.
How We Can Apply This in Our Writing: On occasion, after conveying some fairly basic information in a story, give the reader something a bit absurd that takes her by surprise.
2–SPECIFICITY
Example:
Penelope's dad packed her a lunch of three hundred tuna sandwiches and one apple juice.
Dad doesn't just pack her lunch. We know what is being packed and how many of each thing is included. It's hilarious to know that after devouring three hundred tuna sandwiches, Penelope will be washing all that down with one apple juice.
How We Can Apply This in Our Writing: Utilize great details.
3–EFFECTIVE PUNCTUATION
Example:
She stopped eating her classmates… (Even when Cecelia Woodman spilled BBQ sauce all over herself.)
The ellipses gives the reader a moment to pause, and those parentheses offer an opportunity to share an aside.
How We Can Apply This in Our Writing: Use just the right punctuation to help maximize a line's delivery.
***Bonus humor with that particular aside–Please note the specific details that were used. Higgins doesn't just say 'a girl', he gives her the real deal name 'Cecelia Woodman'. Also, he doesn't just say she spilled 'something' all over herself, he says 'BBQ sauce'.***
He's a total picture book writing/illustrating genius, no?
Oh, and brace yourselves for more Penelope! We Will Rock Our Classmates debuts this July.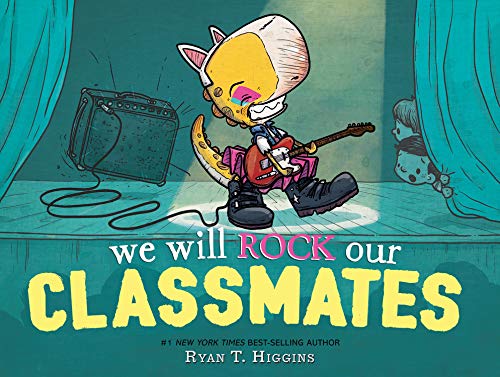 WINNER:
Me-YOW! Cathy Ballou Mealey is the winner of a signed copy of Emergency Kittens by Jody Jensen Shaffer.