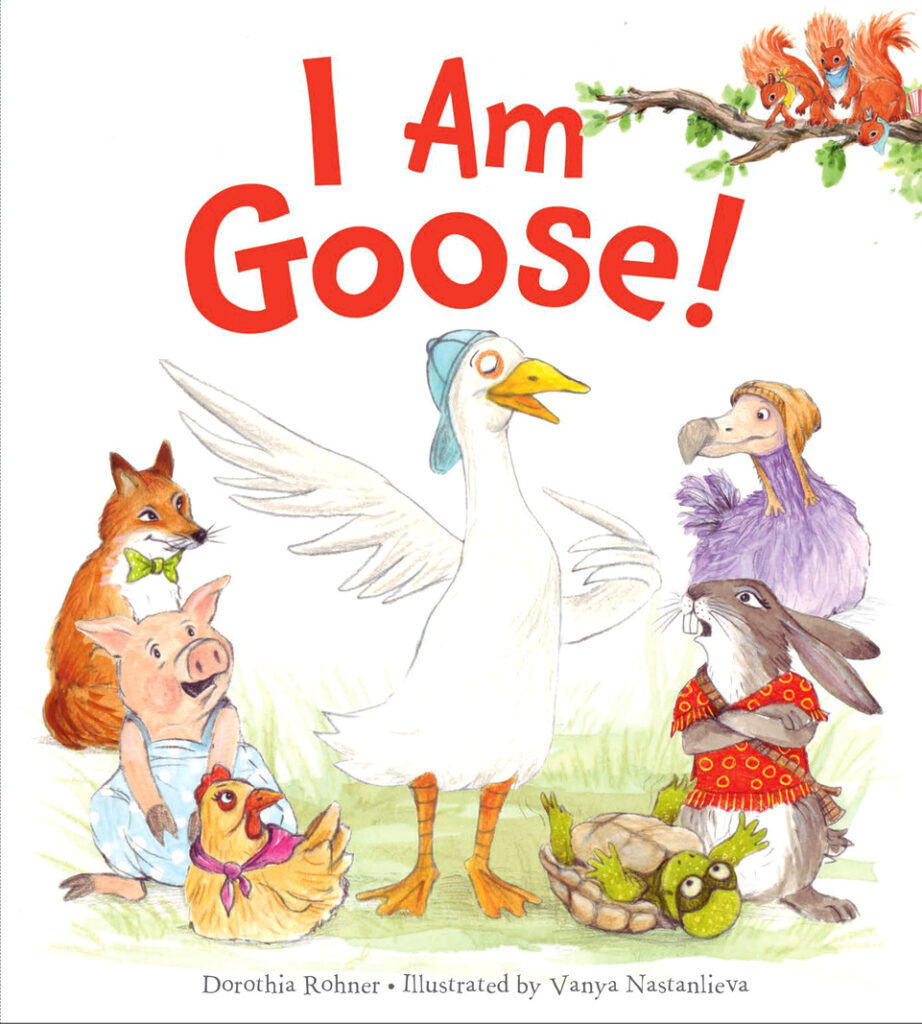 Gifted illustrator Dorothia Rohner has been my friend for a long time, and I couldn't be happier to showcase her debut book, I AM GOOSE! (Clarion).
From the publisher: "A simple, friendly game of Duck, Duck, Goose goes off the rails in giggle-inducing confusion when a silly goose tries to make it all about him."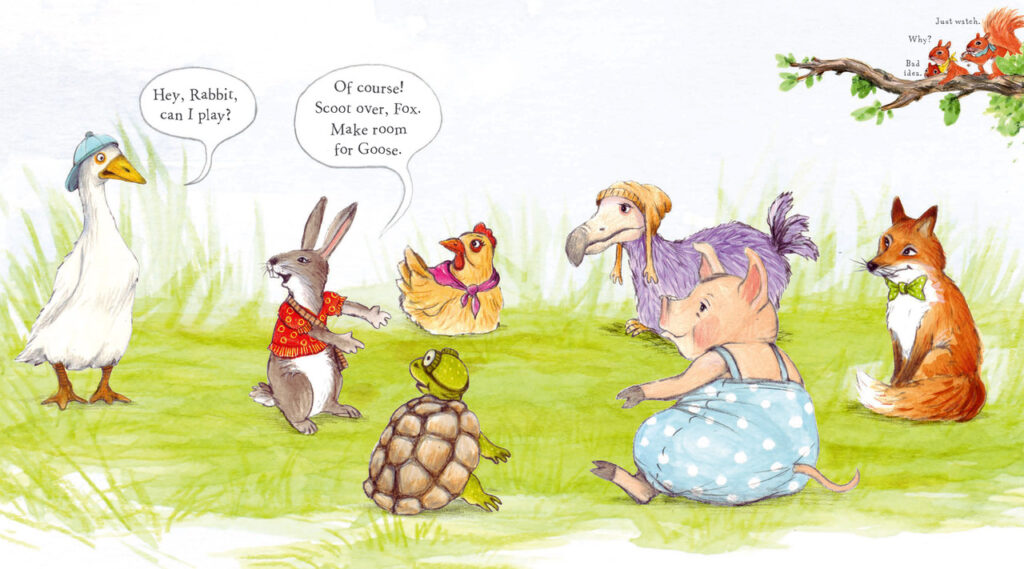 That's the story, in its nuttiest of nutshells. But it's also detail-rich, both in story and art, and has an extra layer of observational humor–thanks to two squirrelly wise-crackers hanging out in a nearby tree. See them on the cover and on this opening spread?
Anyway, what I like about this book is that the "problem" arises from something so simple and obvious that you'll wonder why you didn't think of it yourself. Or maybe that's just me. But I didn't. Dorothia DID. So let's find out what got this one percolating for her. As an added bonus, illustrator Vanya Nastanlieva is joining us, too!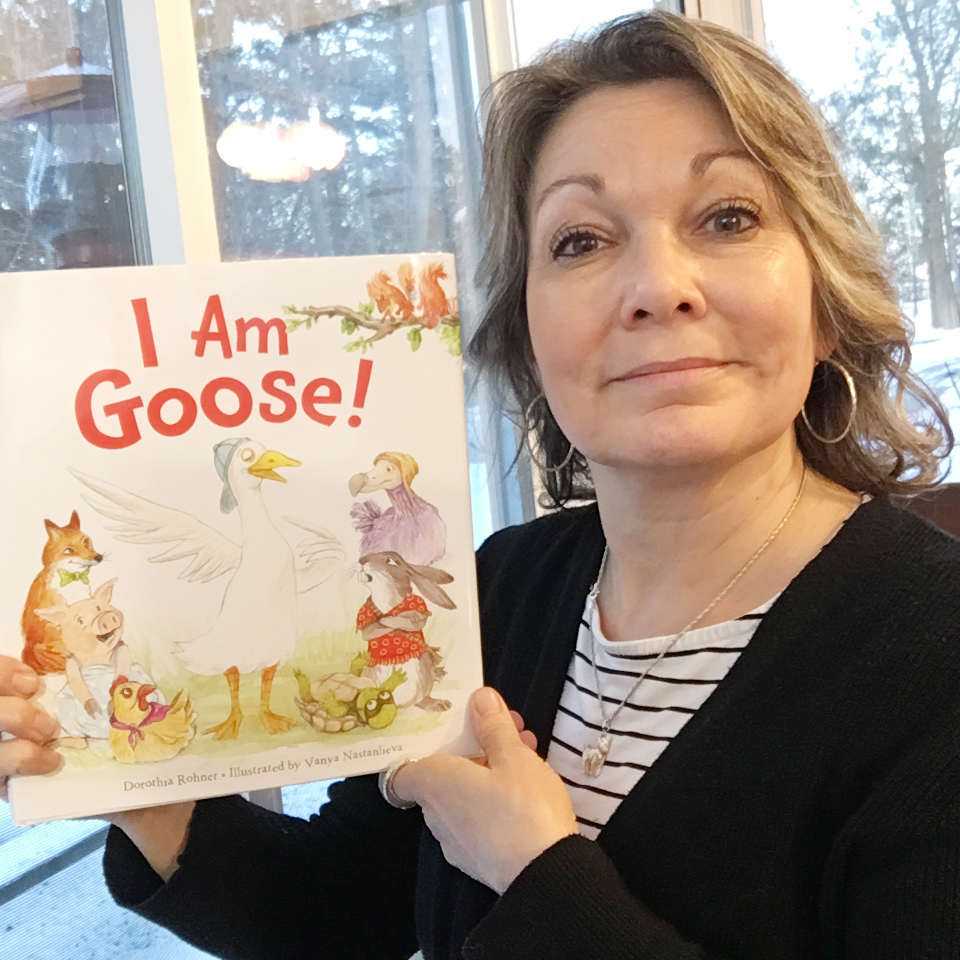 JE: Welcome, Dorothia! Okay, so what impresses me about this book is that the concept is so relatable to kids. They all know the game (or should!), so the main story — and Goose's confusion — will engage them. But then you added the snarky squirrels, which gives adults something to chuckle about, too. (I love that they're so very Statler and Waldorf!) Can you recall what sparked this story and tell us about any frustrations along the way, story-wise?

Dorothia: Hi Jill. Thank you so much for inviting us to talk about I Am Goose! Picture Book Builders is one of my favorite picture book blogs! The idea for this story came from my interaction with children at Head Start. I've been a volunteer in the Ankeny classroom for several years now. So, it's no surprise that I've engaged in countless games of Duck, Duck, Goose!
Based on watching the children as we played, I knew there was a story hidden somewhere. Usually, each game would spin out of control due to all of the children's different personalities. Some would follow the rules, some wouldn't. One child would want to be It all the time. There would be hungry ones, impatient ones, and kids who would have no clue what was going on. I found the interactions really funny. The seed of the story went through many iterations including title changes and characters. Slowly the cast of unique animals developed so that their varied personalities would help to build tension throughout the game. I've always loved the wise-cracking Muppets, so I'm sure that they were an influence to help spice up the adult humor. And the idea of Duck, Duck, Goose being a spectator sport made me smile.
The most challenging part of this manuscript was building tension and dialogue between the characters without slowing the pacing of the story. The aside comments from the squirrels had to be short and focused on the main plot to keep the story moving along. Also, the dialogue of each animal had to be unique in order to relay their distinct personalities. My critique group and my then-agent were a great help with the revisions.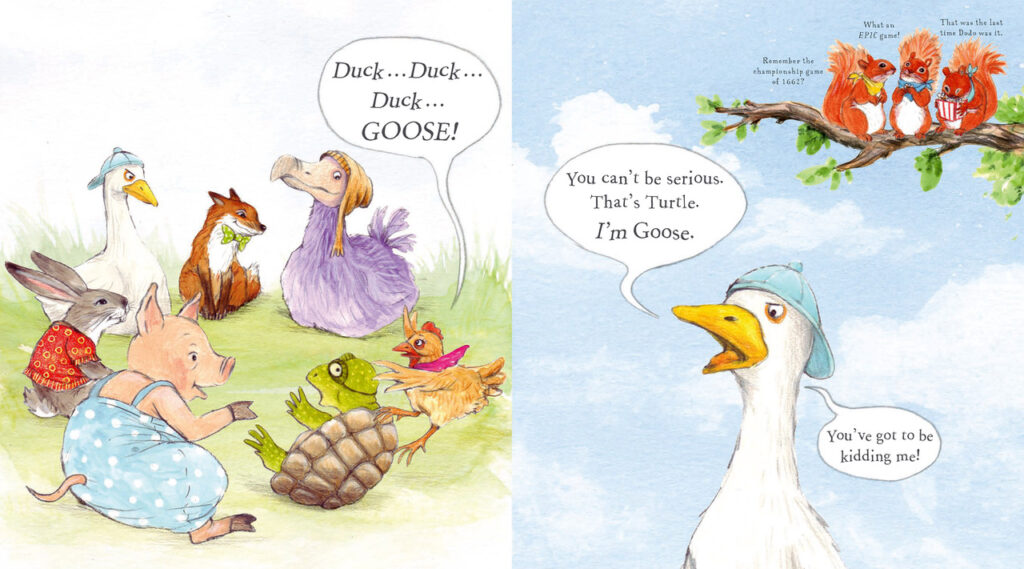 JE: Vanya, these illustrations capture the spirit of the game and each animal beautifully. Could you talk about how you began brainstorming sketches and any challenges you had envisioning this book and its characters?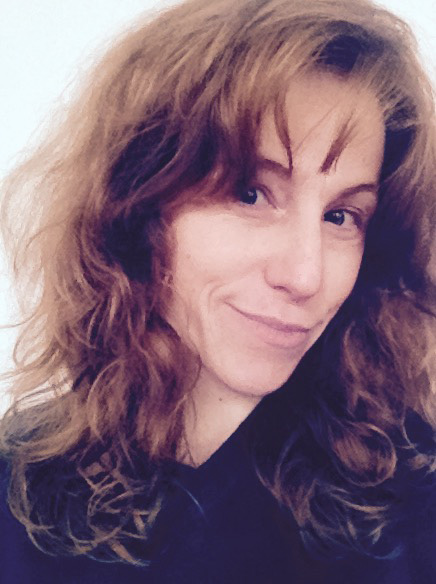 Vanya:  The moment I was reading, getting to know the text and the story of I AM GOOSE, I was working on the characters in my mind. I did some sketches (lots of them), sent them onto the publisher and waited for feedback. I needed to get as close as possible to the publisher's original vision of the characters. After every piece of feedback I was adjusting, adding or removing things. The time when all the characters are emerging is my favorite time of the whole process. It involves lots of drawing but with freedom to imagine and create anything. With a simple sketch you can take yourself to a whole new world.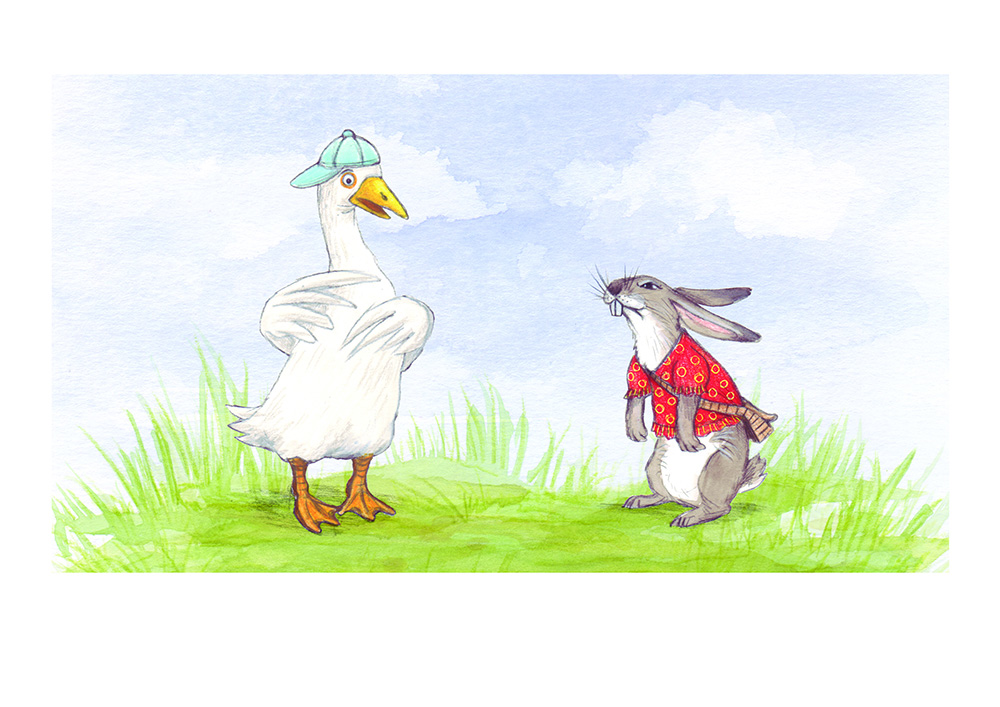 It took some time to reach the point where I was happy with the characters I had created. I adapted the drawings and compositions of some of the animals, changing their size several times.
One of the challenges for me was working with some of the planned compositions that I had been given because of how I imagined the game itself and how it would flow. But, through discussion with the publisher and the designer, I was able to convince them that some of the characters were not in the right place. Once they saw and realized that, they were happy for me to change some of the planned compositions to make it work better.
The other thing that was challenging was that the book is unlike a usual picture book. With lots of action, expressions and dialogue on one spread it was similar to a comic book. On every page I had to be aware of maintaining the consistency in the look of the characters, making sure that every time they appeared they retained their identity. The ten characters that appear in the book often appear together, on almost every spread, and Goose appears 30 times in the whole book. Having worked in an animation studio in the past I was able to use some techniques I had learnt there to ensure I was able to keep the consistency in the characters.
I was battling to lose the speech balloons ……but in the end the decision was to keep them. As a whole I did enjoy working on the book enormously!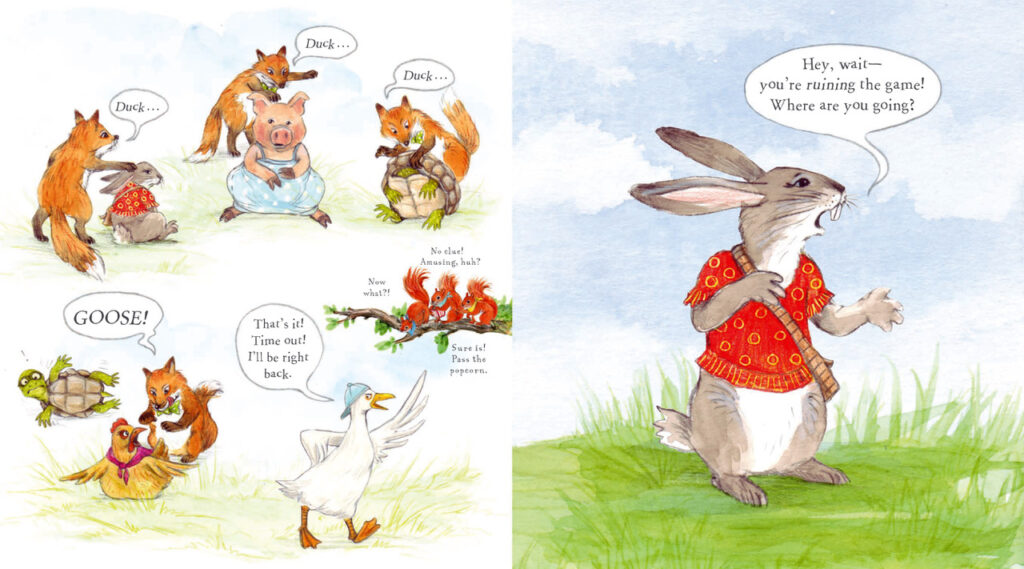 JE: Dorothia, if you feel comfortable about this … would you be willing to talk about the fact that you had planned to do the art yourself and talk about why that didn't work out?
Dorothia: I'd be happy to share this part of my publication journey. As an illustrator, I was initially disappointed that the art we submitted didn't fit my editor's vision for the manuscript. I had been trying out several different styles of art while I was revising the manuscript. So when we received two offers, but neither editor thought the art fit, it was tough. After we signed with Clarion, I asked for one more chance to redo the art. That too was declined.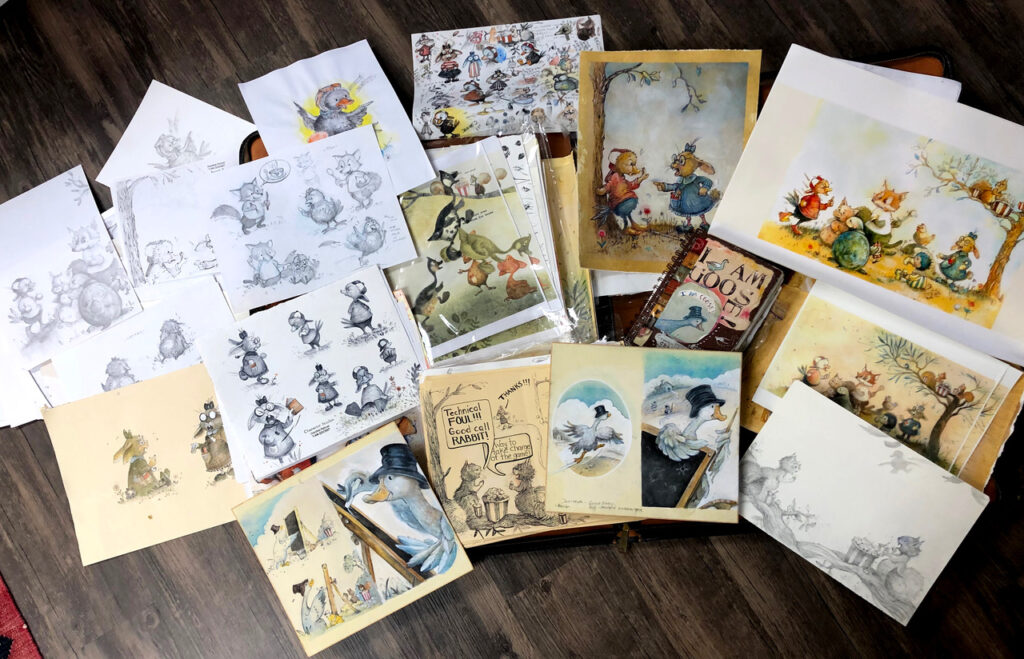 Even though none of the art ended up in this story, it was a great learning experience to practice character expressions, design, and different techniques. Practicing art is never a waste of time. Who knows, someday one these characters might show up in another story!
Clarion is such a wonderful publisher and, in the end, I trusted their vision. I learned from some of my illustrator friends and my agent that this happens from time to time in kidlit publishing.
When the editor suggested Vanya as the illustrator, I immediately fell in love with her work. I am thrilled at how she brought all of the characters to life! That's the alchemy of picture books!

JE: Vanya, did you feel any extra pressure knowing the author was also an illustrator?

Vanya: Oh yes, of course! When I checked Dorothia's work I was so impressed by her art, the colors and atmosphere in her illustrations. I was puzzled as to why she was not illustrating her own story.
How it came about was that my agent, Frances, who was presenting my work for the first time at the Bologna Book Festival in Italy, met with Dinah the publisher. Dinah liked my illustrations, particularly my animal characters, and said she had a text that would suit my style. After a while the publisher sent the story text and asked if I liked it and whether I had a vision for it. I do love to draw animals and this story was full of them so I was thrilled to start working on it.
I admire Dorothia's art and I feel so honoured to be chosen to illustrate her story.

JE: Readers, Dorothia was kind enough to send a photo of her new studio (see below). Gorgeous! Dorothia, the twist ending (the ducks showing up) still makes me chuckle. It's PERFECT. Did that come to you right away, or did it show up out of the blue at some point?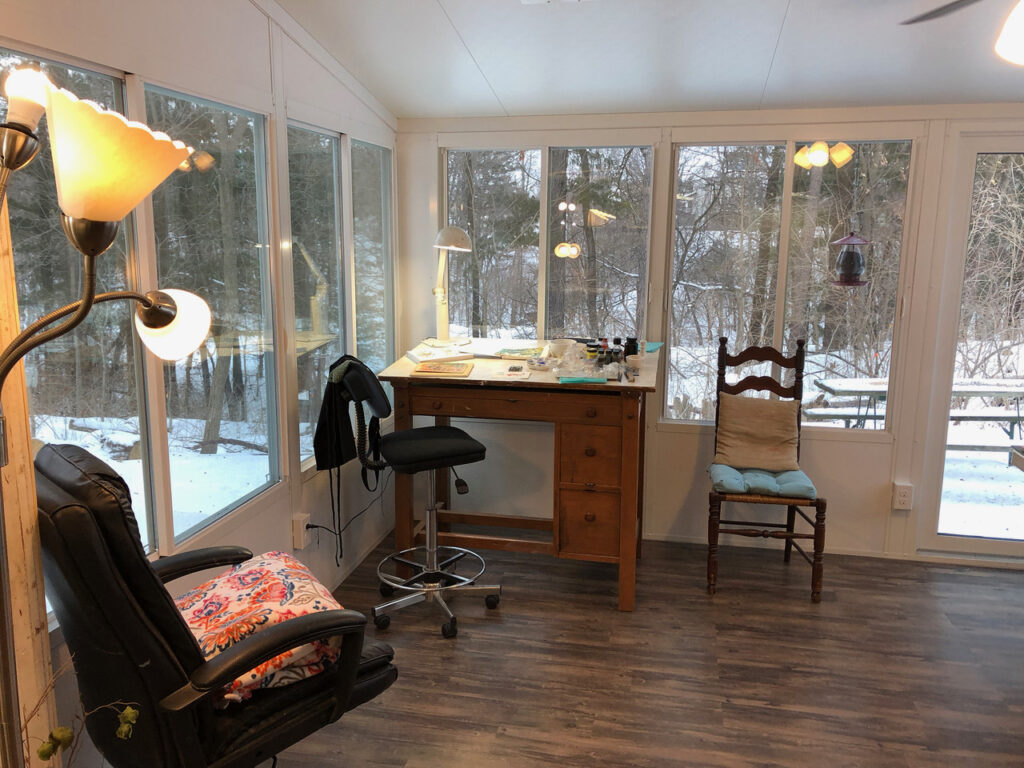 Dorothia: The ducks were always in the back of my mind as the twist, but I wasn't sure how it would all unfold. I wanted there to be a surprise ending without being predictable. I write intuitively by starting with a concept, connection, pattern or idea. In this case, the game of duck, duck, goose. I use my subconscious to find connections and figure out the details of the story. At some point, I discovered how to connect the dots and have the ducks fly in at the end.

JE: When does your book launch? Are you planning any events? Where can we find more information about both of you?

Dorothia: Thank you for asking. I Am Goose! will be released in a one week, on February 18, 2020. We will be having a book launch party at:
Beaverdale Books 2629 Beaver Avenue, Suite 1 Des Moines, IA Feb 18th at 6:30 PM

All future events will be posted at my website
Follow: @dorothiar IG and Twitter
See Vanya's website here. And don't miss the trailer for I AM GOOSE! It's HERE.
GIVEAWAY! Dorothia will send an autographed copy of I AM GOOSE! to one lucky winner, chosen randomly from those of you who leave a comment below! Contest ends Feb. 21st. U.S. residents only, please.
---
WINNERS! We have winners! In my last post I introduced my new book, WE LOVE BABIES! and invited you all to comment for the chance to win one of three copies. Those randomly drawn winners are: Linda Dryfhout, Ashley Congdon, and Norene Paulson! Congrats, ladies, and THANKS for entering!