Carrie Finison is here to talk with us about writing her debut picture book, DOZENS OF DOUGHNUTS – coming from Putnam on July 21, 2020!
With an irresistible refrain and cozy illustrations by Brianne Farley, this fun picture book celebrates friendship, sharing, and math – covering all three successfully in one picture book is impressive.
A bear named LouAnn is baking a doughnut feast to get ready for her long winter's nap. But just before she takes a bite: DING DONG!
Friends keep coming, and LouAnn keeps dividing up the doughnuts. Kids will love counting the doughnuts and turning the page to see who's coming next.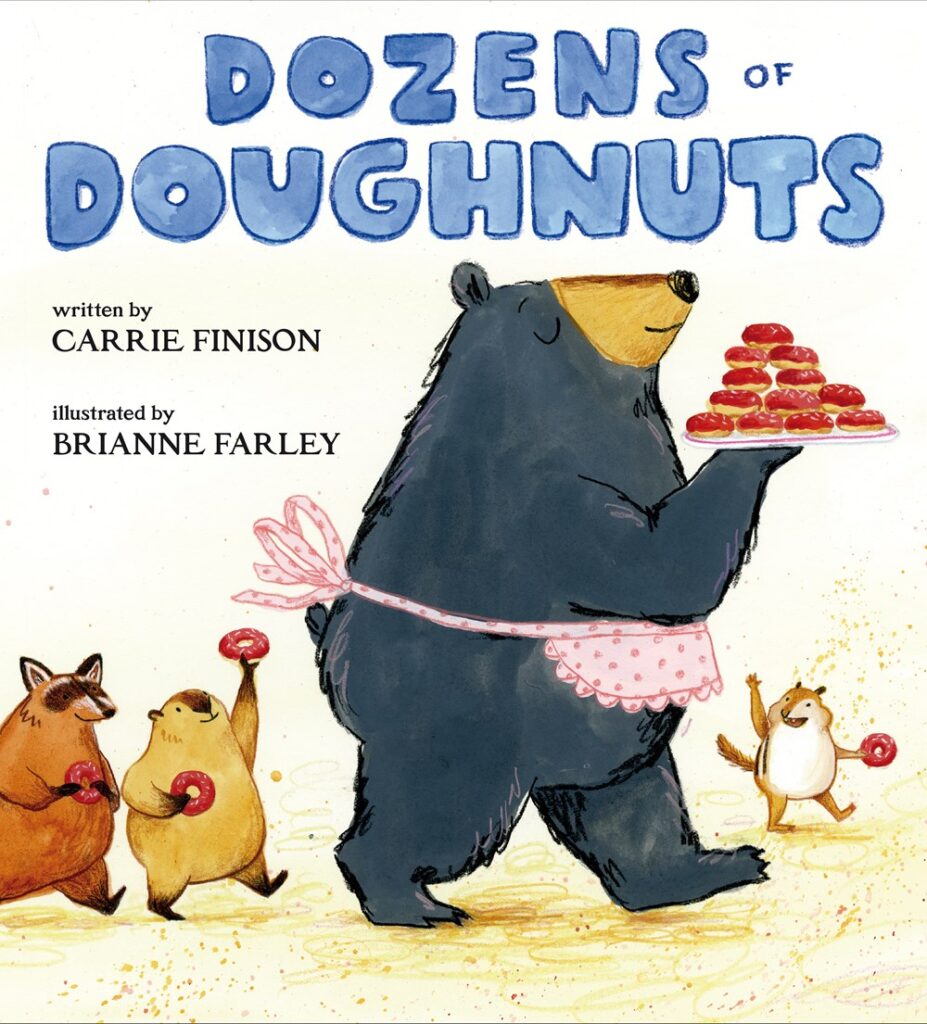 Now let's hear from Carrie!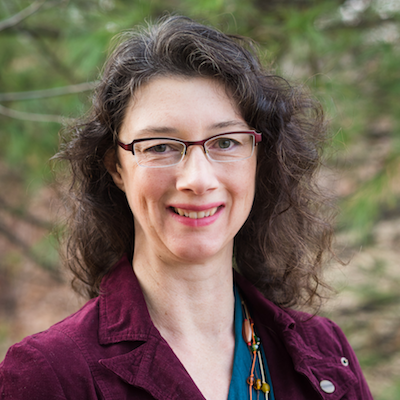 Tell us about your writing process. How did you get started with writing this story?
DOZENS OF DOUGHNUTS is written in rhyme. When I write in rhyme, I generally need a 'spark' to begin – a strong couplet, an opening stanza, or a refrain that I can build the story around.
In this instance, I had been mulling over the idea for the story for a while, so when the spark finally came in the form of the opening lines, I had a good idea of where I wanted to go with it. Of course, those opening lines eventually changed. But they served their purpose and launched me into writing.
Drafting a story in rhyme takes a bit more time than writing a first draft in prose, but I'm impatient! Usually I have rhymes piling up in my brain, and I just need to get them down, so I don't always write the story "in order." I may jump from scene to scene and spread to spread as thoughts occur to me. I may write down a bunch of rhyming pairs that I think will work somewhere in the story without any place to put them (yet). If I'm stumped, I may write a scene in prose and move on, then go back and fill in the rhyme later.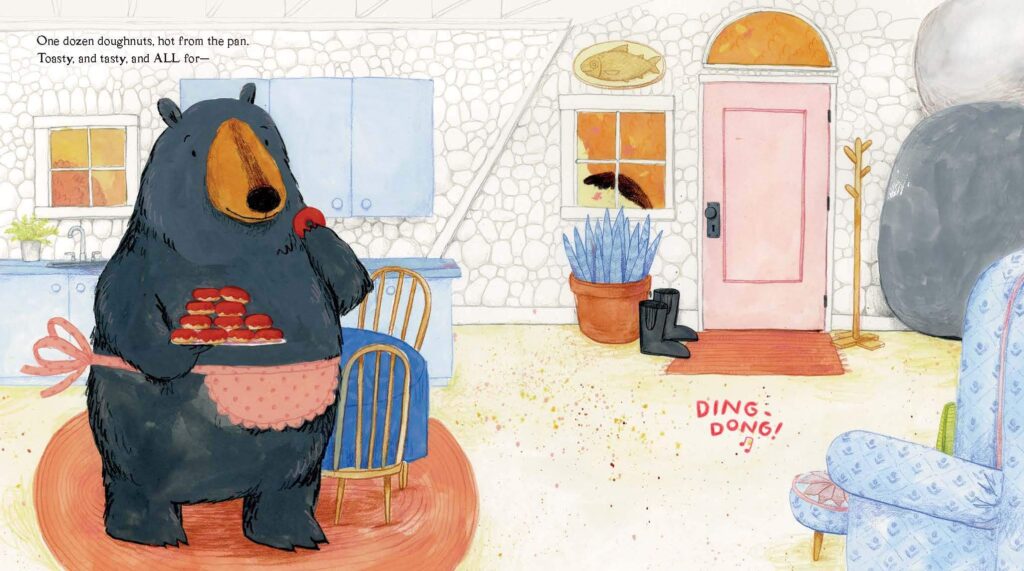 And how did your story transform over time? Did you get feedback from a critique group?
DOZENS OF DOUGHNUTS went through many drafts and many trips through my critique groups, even though the basic premise of the story — a bear who is making doughnuts and sharing them with woodland friends — didn't change all that much.
Along the way, I brought it to a conference for peer critique where one of the other writers (a teacher) made a great suggestion. In that draft, the bear's doughnuts were divided first by two friends, then three, and then four. She suggested adding two more friends, so that teachers could use the story to show 12 divided by all of its factors – 2, 3, 4, and 6. That change gave the story a STEM hook, and my final two characters, a pair of rascally chipmunks, were born.
So clever!
I also had a critique from an editor at a conference who suggested naming my main character something other than "Bear" to help the story stand out in a marketplace crowded with bears. That revision was a tough one as I went through many possible names, finally settling on LouAnn. Of course, then it didn't make sense that none of the other characters had names, so I named them all!
The animals' names are so unique. Here's LouAnn with Woodrow at the table. And I love the tail in the window.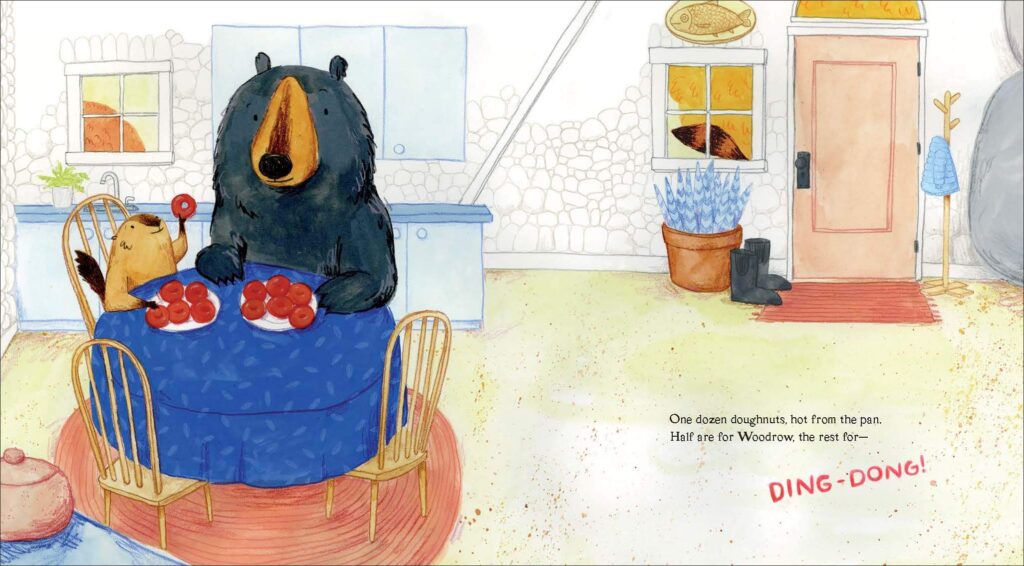 Did you envision from the beginning which animals would be the bear's friends? Or did the decision about which animals were knocking on the door come later – like from the editor or illustrator?
My final assortment of animal friends – a bear, woodchuck, raccoon, opossum, skunk, and two chipmunks — is a long way from where the story started. In the beginning the animals were completely different, and they weren't friends! In the very first draft, animals such as squirrels, crows, an owl, and a fox arrived and stole each batch of the bear's doughnuts as they cooled.
As the story evolved, I experimented with other woodland creatures — and different numbers of animals as the math element developed. In one version, all the animals went to sleep together at the end of the story, which takes place just as winter's first snow begins.
My astute agent tossed out a suggestion that I focus on animals that hibernate during the winter like bears do. Except I found out while researching that bears aren't actually true hibernators! Instead, they go into a state called 'torpor,' sometimes called 'light hibernation.' That sent me down a rabbit hole, researching the different ways animals cope with winter. Some, like chipmunks and woodchucks, are true hibernators. Others, like bears, skunks, and raccoons, go into torpor and are able to wake up to forage frequently. Opossums have the worst of it and must go out frequently to look for food, even in the coldest weather. Their bare tails and feet often get frostbitten.
I know this rabbit hole! I went down this same rabbit hole for my picture book, HIBERNATION STATION. The science behind light sleepers and deep sleepers can get quite complex.
Tell us about working with your editor.
Stephanie Pitts at Putnam was the editor who acquired DOZENS OF DOUGHNUTS. Her first suggestion, even before purchasing the story, was to cut about half the words. She showed where she thought the cuts could be made and asked if I'd be interested in working with her. There were a LOT of "darlings" left on the cutting room floor, but ultimately she was right. It was a great lesson in paring down a text to the essentials and leaving much of the story to the illustrator.
Besides being an excellent and careful editor, Stephanie has a gift for pairing a text with exactly the right illustrator. When she sent me Brianne Farley's name and I looked at her portfolio online, full of adorable and expressive animals, I knew she'd do an AMAZING job with this story. And she absolutely did!
Yes, she did an amazing job. What are your top tips for writing picture books?
Here are some picture book writing tips that have been an important part of my process:
• Read. You cannot write for the current market if you're not reading the current market. Read picture books as they were intended: aloud – preferably to kids, your own or someone else's – as often as you can.
• Type out picture book texts. I got this tip from WRITING PICTURE BOOKS by Ann Whitford Paul. It helps me see how much (or little) text is on the page, hone in on patterns in the text, notice what is in the text and what's left to the illustrations, and understand how page turns are used. It's also a great way to ease into a writing session if I'm feeling blocked or unmotivated.
• Make a dummy. Even though I'm not an illustrator, I always make a paper dummy when I'm working on a book – to help me envision the illustrations and how the page turns will flow. For me, this is an essential step. (Then I hide it in a folder so no one ever has to see my terrible illustrations!)
• Find a good critique group. From the outside, writing seems like a solitary pursuit but there's actually a lot of collaboration and learning from others. Find people who will cheer you on, but who will also tell you the truth about your stories. Since many beginning writers have this question, I've created a list of ways to find or form a critique group on my website. https://www.carriefinison.com/how-to-find-a-critique-group
What can we look forward to next?
I'm thrilled to have several more picture books in the works! Next up is DON'T HUG DOUG, illustrated by Daniel Wiseman, about an ordinary kid who doesn't happen to like hugs. My aim with this book was to spark discussions about bodily autonomy and consent, to empower kids to speak up when they don't want a hug, and to encourage adults to listen to them. Stephanie Pitts edited this one as well, and it was a lot of fun to work with her again, this time on a very different type of story. DON'T HUG DOUG will release in Spring 2021 – right around the corner in publishing time.
Subscribe to my newsletter to find out about events, giveaways, and more! https://www.carriefinison.com/contact
This is all so exciting, Carrie – now I need a doughnut!
Congratulations on your forthcoming picture books and thanks for visiting Picture Book Builders.
Connect with Carrie online:
Website: https://www.carriefinison.com
Twitter: @CarrieFinison
Instagram: @carriefinison
***GIVEAWAY***
For a chance to win a copy of DOZENS OF DOUGHNUTS, leave a comment by June 8. I'll announce the randomly selected winner in my next post.
Thanks for reading & see you next time!