I'm very happy to report it's pub day for When the Storm Comes, and even happier that the book's super-talented illustrator Taeeun Yoo is here for a chat. (And you can win a copy! See below . . .)
Taeeun is the author and illustrator of You Are a Lion! and the illustrator of many other books we love as well, like Strictly No Elephants (written by Lisa Mantchev) and Round (by Joyce Sidman). Her books have twice been included on the New York Times Best Illustrated Books list.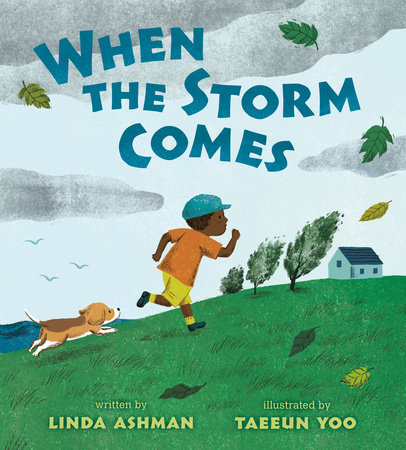 First, a quick summary: When the Storm Comes (Nancy Paulsen Books) is a series of questions posed to animals and humans as they prepare for, then wait out and recover from, a thunderstorm. Here's how it starts: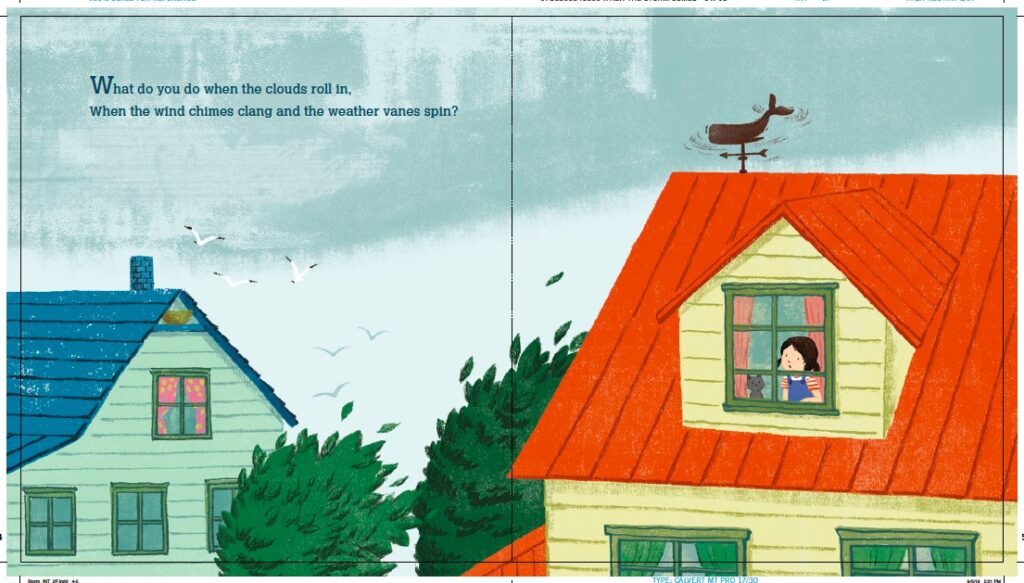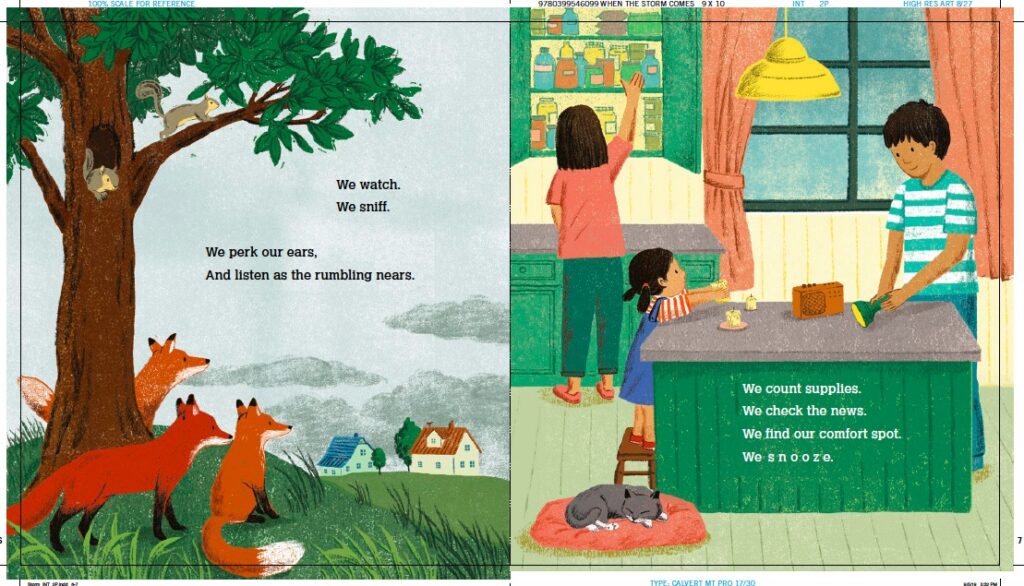 In addition to the storm element, I wanted to convey a sense of connection between people, the landscape, and the animals and humans who share it. (For more on the backstory — and a peek at some VERY rough drafts — read this post). Here's an excerpt from the Kirkus review:
"Yes [the] rhythmic couplets are about a literal thunderstorm bearing down upon a coastal community, but it could well be read metaphorically as it depicts the strength found in facing challenges together. . . . Picture perfect whatever the weather."
And now, let's visit with Taeeun . . .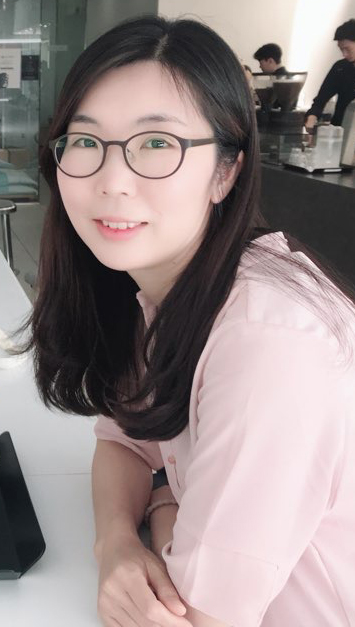 LA: Welcome, Taeeun! Let's start with a pandemic check-in. Where are you? How are you doing?
TY: I live in Seoul, Korea. I have been staying at home for about three and half months now. Mostly I spend a day with my daughter. We turn on music as soon as we get up in the morning so that we feel more cheerful. Then our day fills with lots of cooking, eating, drawing, cutting papers, reading books, block building, and cooking, eating, drawing…goes another cycle.
LA: You've illustrated so many beautiful books. How do you choose which projects to work on?
TY: Mostly there are stories that I can imagine scenes naturally and easily. Just the images keep coming in my mind and I want to draw them. Or there are particular characters or themes that I feel very attach then I know I want to work on it. When I receive the manuscript, sometimes I know if I would like to illustrate on the story very quickly. And some other times I have to let it sit in my mind and spend some time to know if I like to work on it. For When the Storm Comes, I liked it right away and wanted to jump into the illustration for the story.
LA: Was there an aspect of this book that was especially fun and/or challenging? And can you share some sketches to show how your illustrations evolved?
TY: Beginning is always hard as I have to start from empty page. I have to just keep drawing whatever comes up in my head and filled sketchbook with random drawings, character studies. Then slowly things shaping up as story board.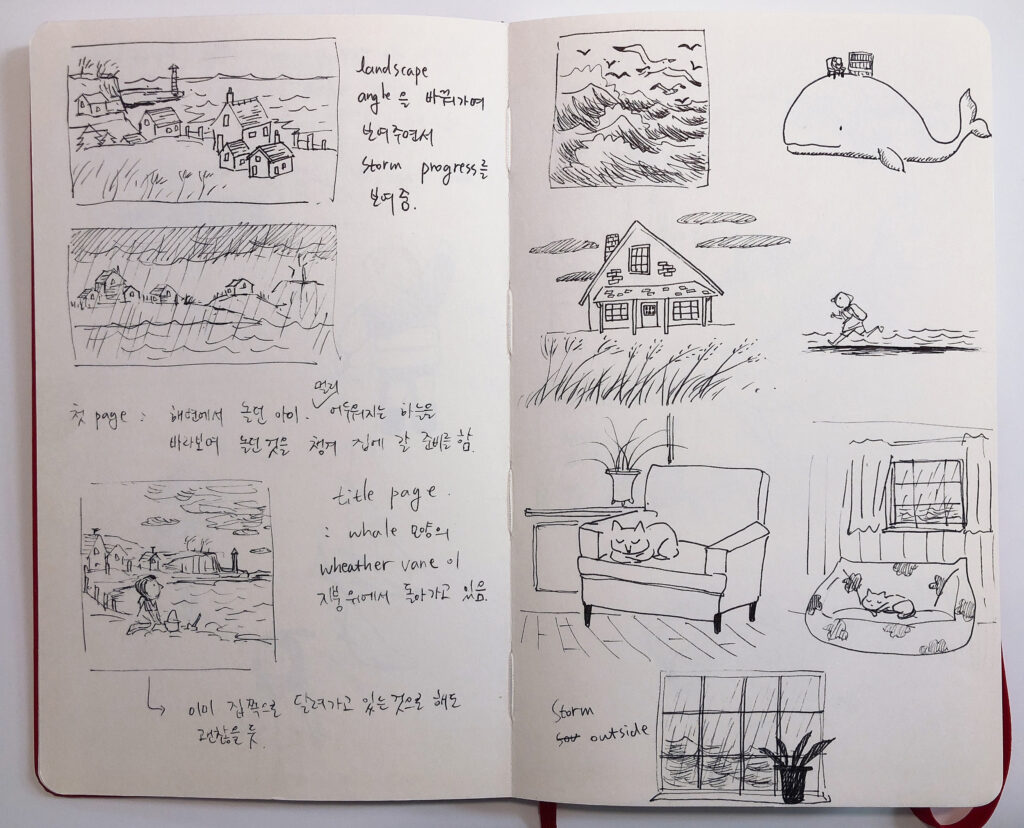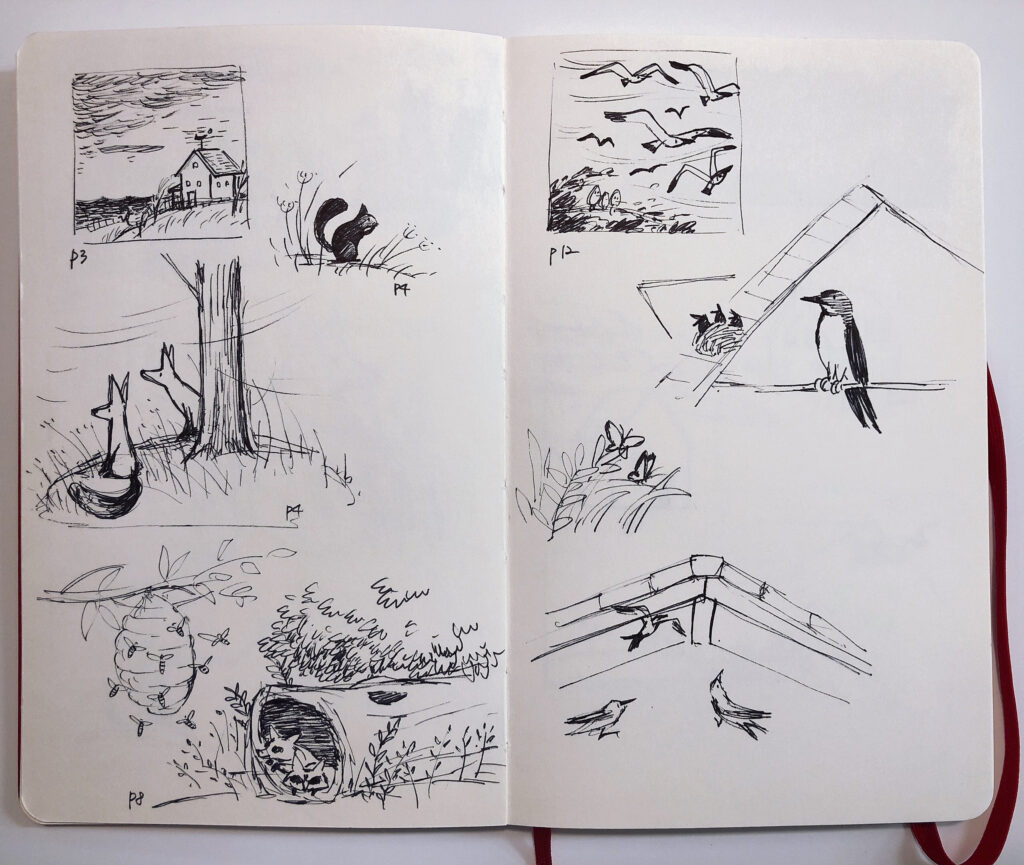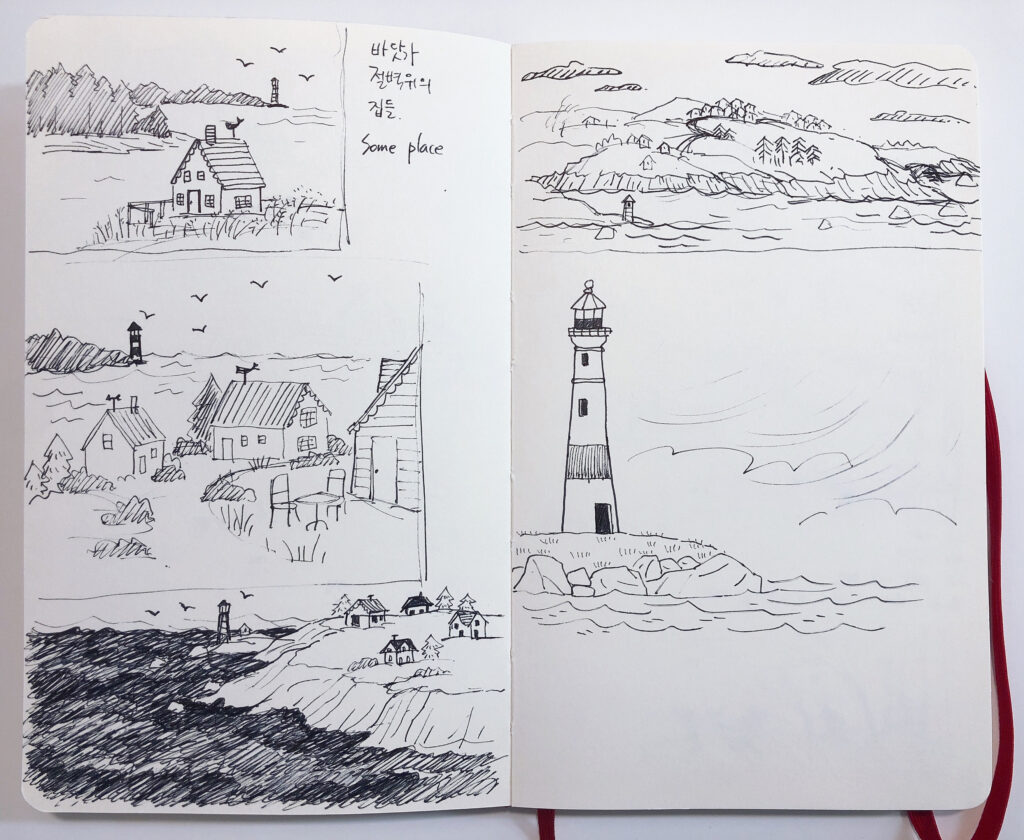 I specially had fun working on page 12-13 where the text says "What do you do when the buoys rock, when the waves crash hard against the dock?"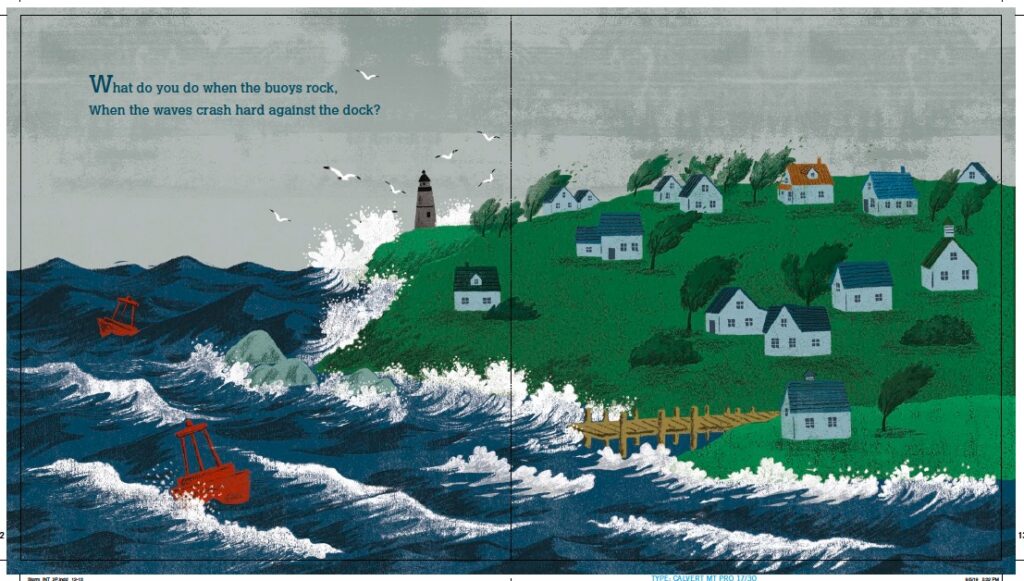 I love drawing houses and wave. You can see the final image was from one of the sketches in my sketchbook.
And here is the progress of p18-19 from rough sketch to the final.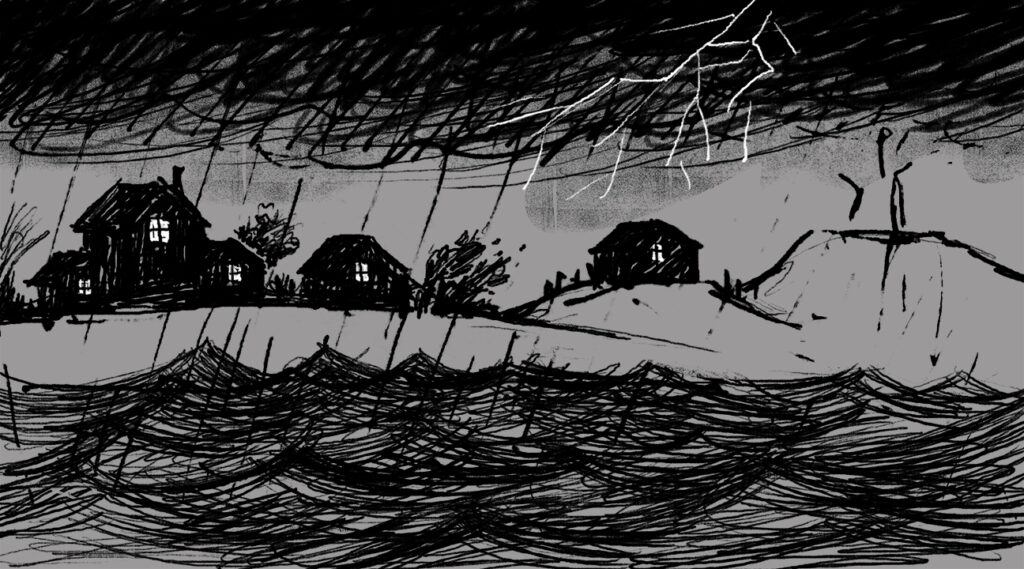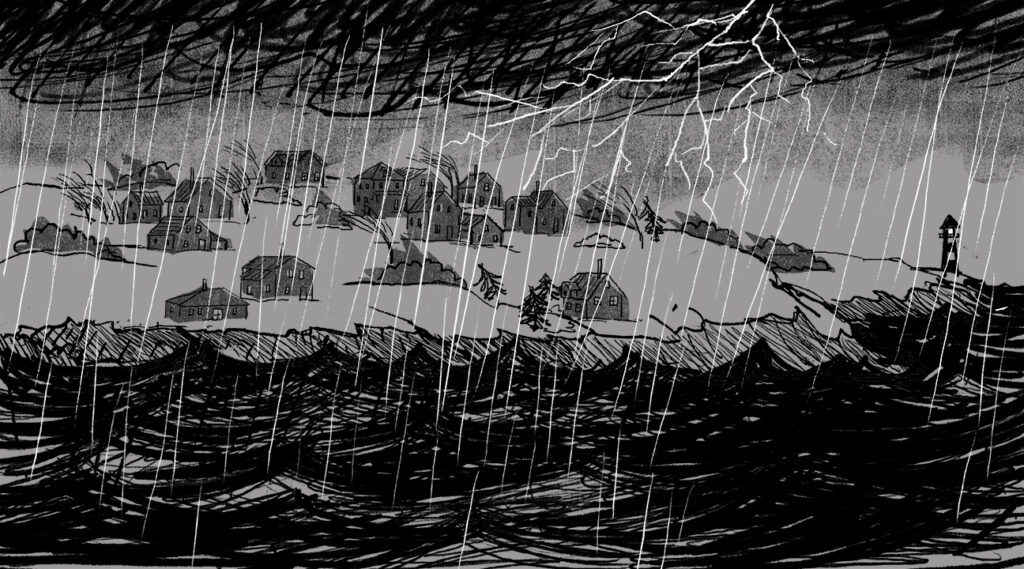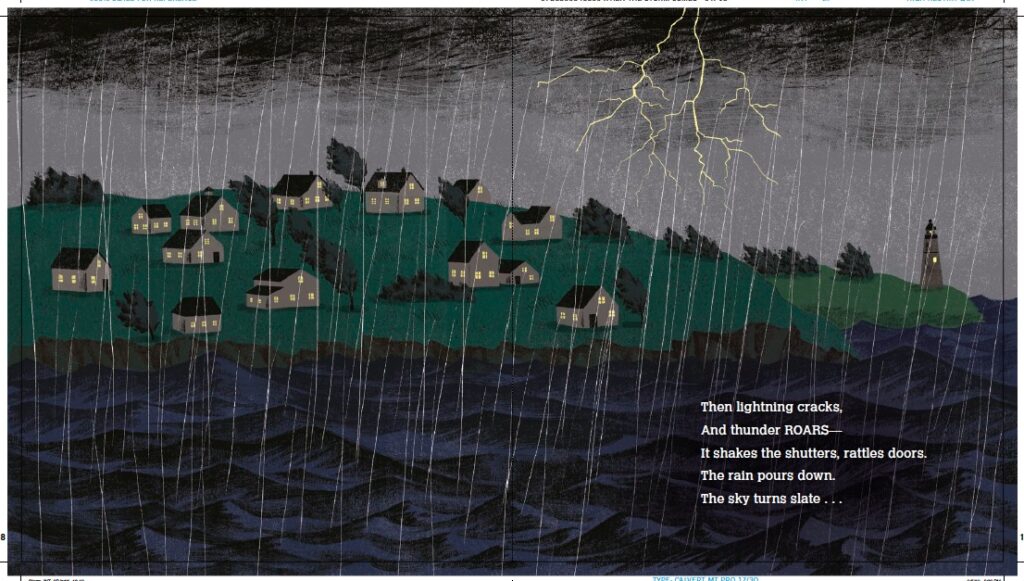 [LA: I love this spread! But just so y'all know the town hasn't washed away, here are a few scenes from near the end of the book . . . ]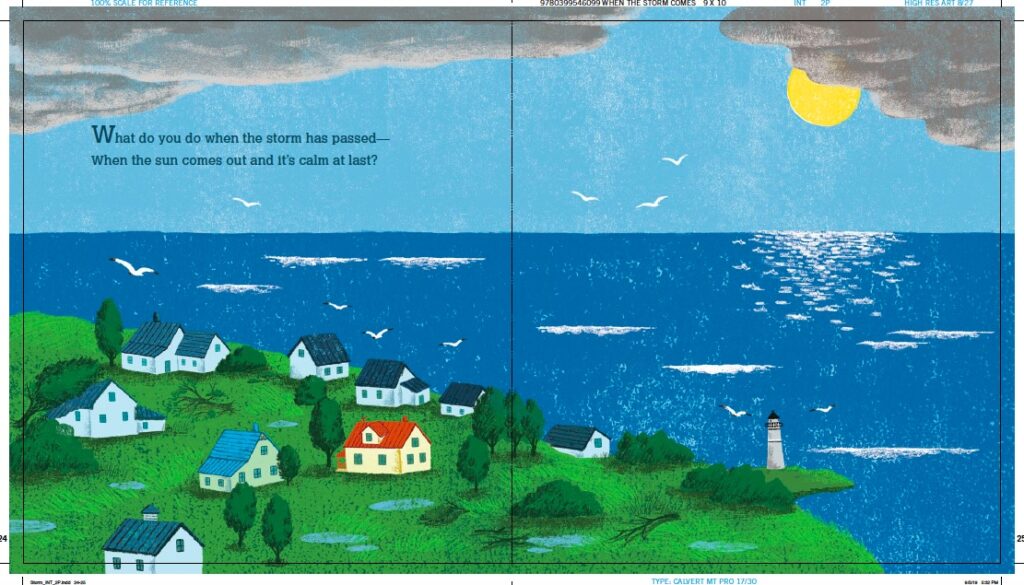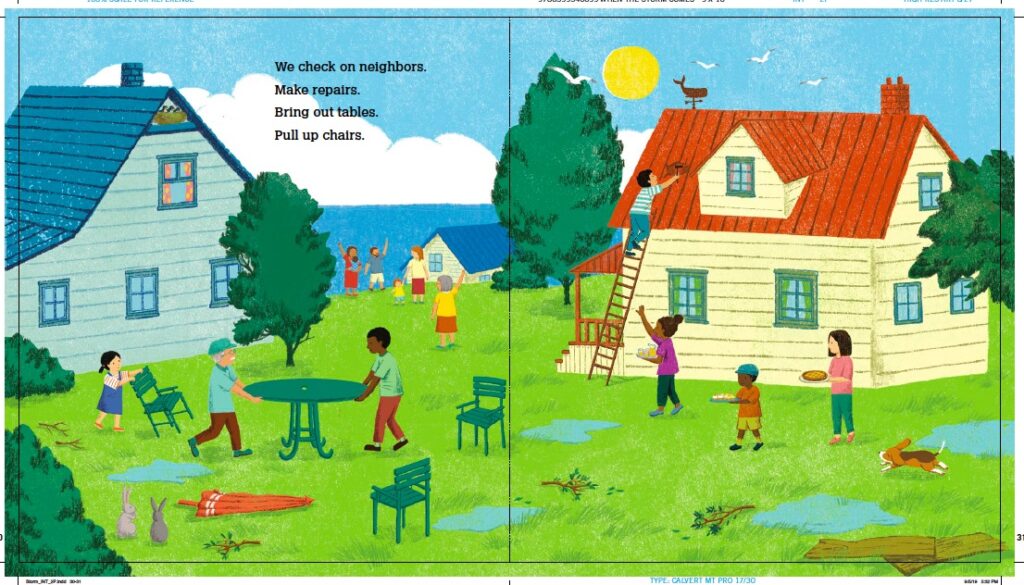 LA: The story is set near an unspecified seaside village. I love the one you created. Can you tell us about it?
TY: When I read the story, it reminded me Nantucket island where I visited in my first year of school. It was my first trip in U.S and the island was beautiful and very inspiring. I thought it would be nice to picture the place in Nantucket or somewhere near.
I loved I could see whale images everywhere in Nantucket. That's why I included whale here and there in this book like whale shaped weather vane . . .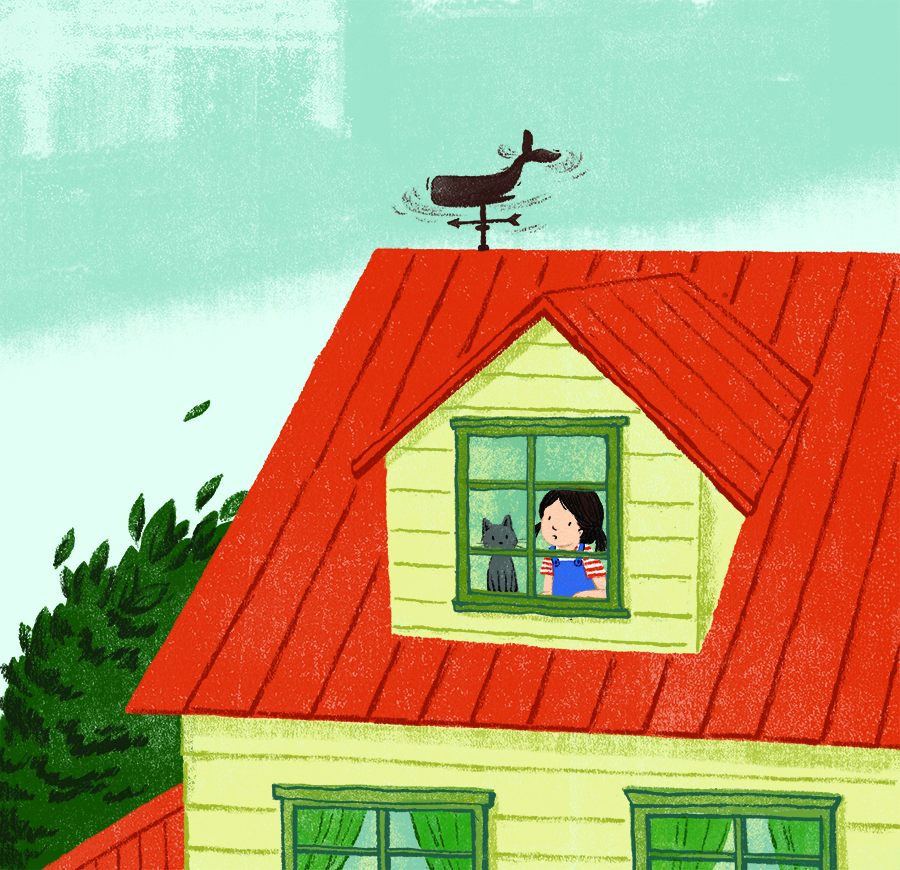 and whales swimming down deep to avoid the storm.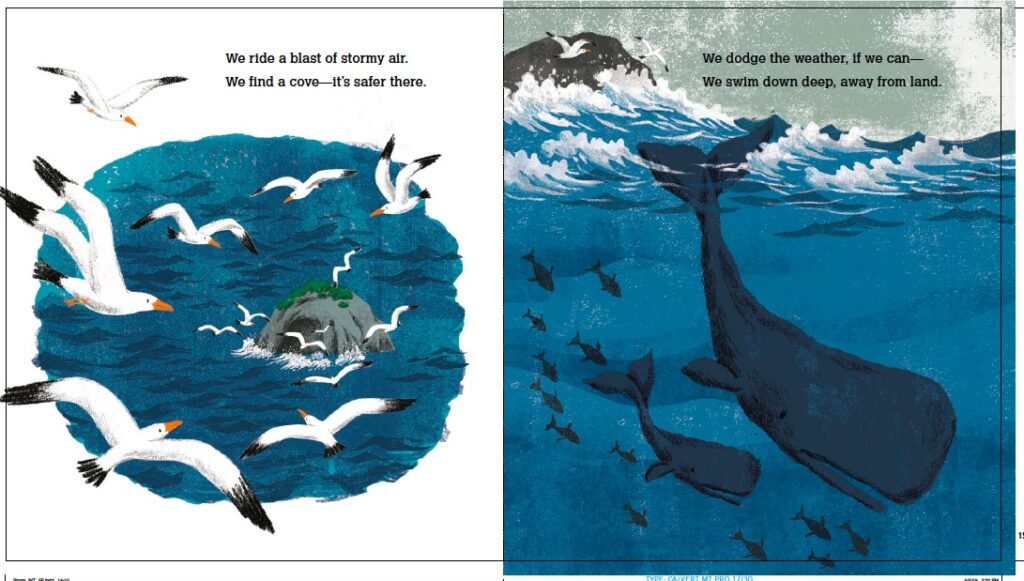 My illustration does not show the exact place of Nantucket as I simplified as developing images. But it was nice to keep somewhere in my mind as I work.
LA: Your illustrations have such a classic feel to them. Is there a particular artist or artistic style that inspires you? Can you talk a bit about your process and materials?
TY: I love Evaline Ness, Tove Jansson, Ezra Jack Keats…I like 50's picture books with limited color palette and retro style of design. Those limited color printed books inspired me to work on linoleum block print. I print the color part of image with linoleum block print and draw lines with pencil and charcoal on a separate paper. Then I put them together with photoshop. For When the Storm Comes I used printed textures and mostly worked with photoshop.
LA: We love seeing artists' work spaces. Can you share a photo?
TY: I work at home studio. There is mountain right next to my place and I can see the beautiful trees through my studio window.
I like to clean and keeping things organized but when I start to print, it's hard to keep things clean.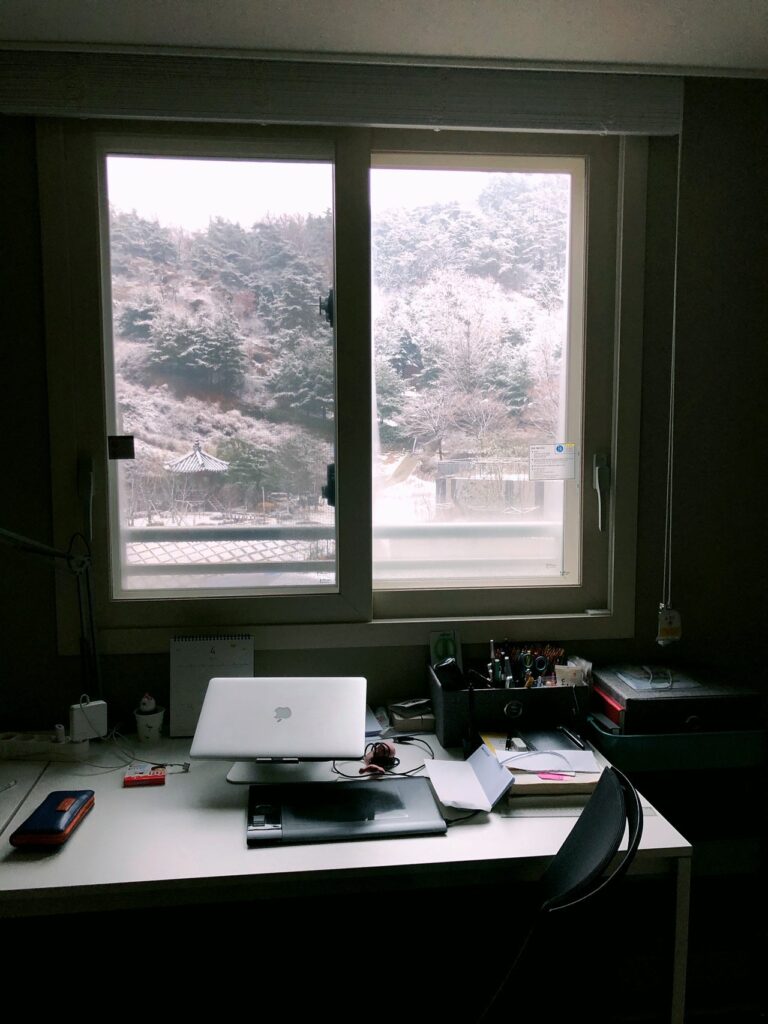 LA: What's up next for you?
TY: I am working on my own book that I wrote. It's about my grandfather and his garden house where I grew up. This quarantine made me hard to secure my own work time so I am very behind of schedule. But I want to move forward slowly but surely.
LA: Slowly but surely sounds about right these days. Thanks so much for visiting, Taeeun!
You can find Taeeun online at her website and on Instagram: @yooillustration
---
BOOK GIVEAWAY!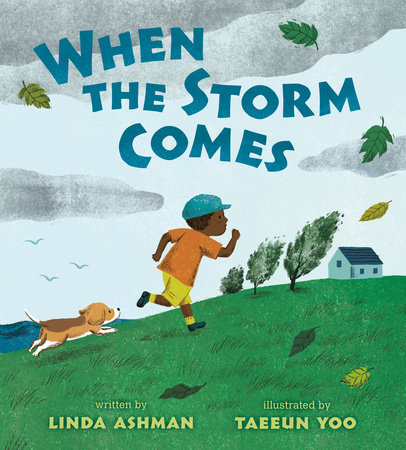 To win a copy of When the Storm Comes, leave a comment below by June 15th.
"This engaging picture book describes the reactions of the denizens, human and otherwise, of a small seaside community as a storm approaches, rages, and abates." The Horn Book
---
One more note: The winner of Beth Ferry's Swashby and the Sea from last month's post was Janet Frenck Sheets.
Wishing everyone comfort and connection (albeit at a healthy distance) during the current storm. Thanks, as always, for reading!
Linda