I always find it interesting when similar picture books are released by different authors working with different publishers around the same time.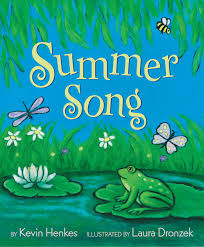 So much of writing and book creating is solitary, so it's kind of remarkable when different bookmakers end up making similar stories with similar themes — even though the authors are many miles apart and may not even know each other.
This has happened to me.
Deborah Underwood and I have had a few books come out the same season with parallel themes. Like my BE KIND and her FINDING KINDNESS. And my MY BROTHER THE DUCK and her DUCKS! None of this was planned or discussed. It just happened.
Serendipitously.
There are two terrific titles out now that have a lot in common, but are also wonderful in separate ways.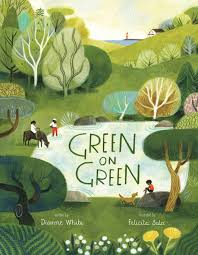 I'm talking about SUMMER SONG by Kevin Henkes and Laura Dronzek (Greenwillow) and GREEN ON GREEN by Dianne White and Felicita Sala (Beach Lane Books).
I read SUMMER SONG first. It's the final book in a series on the seasons created by Kevin and Laura. (The other titles are WHEN SPRING COMES, IN THE MIDDLE OF FALL and WINTER IS HERE.)
The book is an unrhymed, lyrical ode to summer. It has a similar tone to STARS by Mary Lyn Ray and Marla Frazee.
Kevin addresses the reader directly with a pure, child-centered view of the world and what's in it. And, it's a joy to read out loud. It begins:
The Summer sun is a giant flower, and the flowers are like little suns.
Little suns of different colors.
But if I had to pick one color, I'd say Summer is green.
Green on green on green.
Summer is a green song.
The rest of the book celebrates all the wonderful greenness of summer — leaves, trees, weeds, grass, frogs, hoses. The art is saturated and deep with some of the best endpapers I've seen — spot art of summer images in the front and fall images in the back.
When I first read the book and reached the "green on green on green" line. I paused. Because I knew Dianne White had a book coming out called GREEN ON GREEN that's a follow up to her beautiful BLUE ON BLUE, which is illustrated by Beth Krommes.
"What are the odds of that?" I asked myself.
"Maybe green on green is a well-known phrase that I've just missed out on," I answered myself.
So I did some Googling, and no — other than a reference to two inexperienced pilots working together and an Urban Dictionary definition I didn't fully understand — green on green does not seem to be commonly used.
But … both Kevin and Dianne thought of it and used it wonderfully.
Dianne's book, GREEN ON GREEN, is about all the seasons — not just summer — and how they flow into each other seamlessly with blending colors as a contrast to the constant green.
Besides being the title, the words "green on green" don't appear in her book until the end — after a full year has passed and winter is, once again, turning into spring. She writes:
Winter the sparkle.
Winter the chill.
Winter the season of hope and goodwill.
Perfect the evening.
Pine between.
Evening and pine and green …
on green.
This book is a rhyming poem that reads out loud with an ease and fluidity that is hard to find (and even harder to create). The art follows a family through a year of reveling in the outdoors and expecting a new addition of their own. And, this book also has remarkable endpapers — the same tree changing for each of the four seasons.
Even though these books have similarities, this isn't a case of choosing one or the other. You want both if you can swing it.
The titles complement each other well and would be great for teaching younger kids about the seasons and having older kids talk about similarities and differences and why the authors and artists might have made the choices they did. You could even give a class one phrase, like "green on green" and see all the various ways your students interpret it.
And, these books are both a master class in lyrical picture book writing:
The simple, but lovely language that is so easy to read but so hair-pullingly hard to write.
The text that leaves SO MUCH ROOM for the illustrator.
How there's not a classic character or traditional plot, but each book has a theme and an arc that satisfy the reader.
How well each book fits next to other books by the same author.
So start your summer off the right way by adding these books to your collection or giving them to a child in your life or community.
All the links in this post are to Book Shop, an online book seller that shares its profits with independent bookstores nationwide. Or, you can contact an independent bookstore you admire and order from them.
If you want signed copies, Changing Hands bookstore can hook you up with signed GREEN ON GREEN books. And, Mystery to Me bookstore can send you signed SUMMER SONG books. Email or call the stores to place your order.
Happy reading!