When I saw Sue Lowell Gallion's new book, OUR WORLD (Phaidon), illustrated by Lisk Feng, I knew I had to share it here.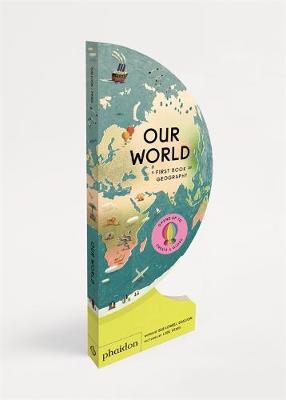 For the youngest readers, OUR WORLD is an easy-to-read, rhyming introduction to Earth's various features and habitats. But it also works with older kids who want a bit more information. Take a peek at a couple of random spreads.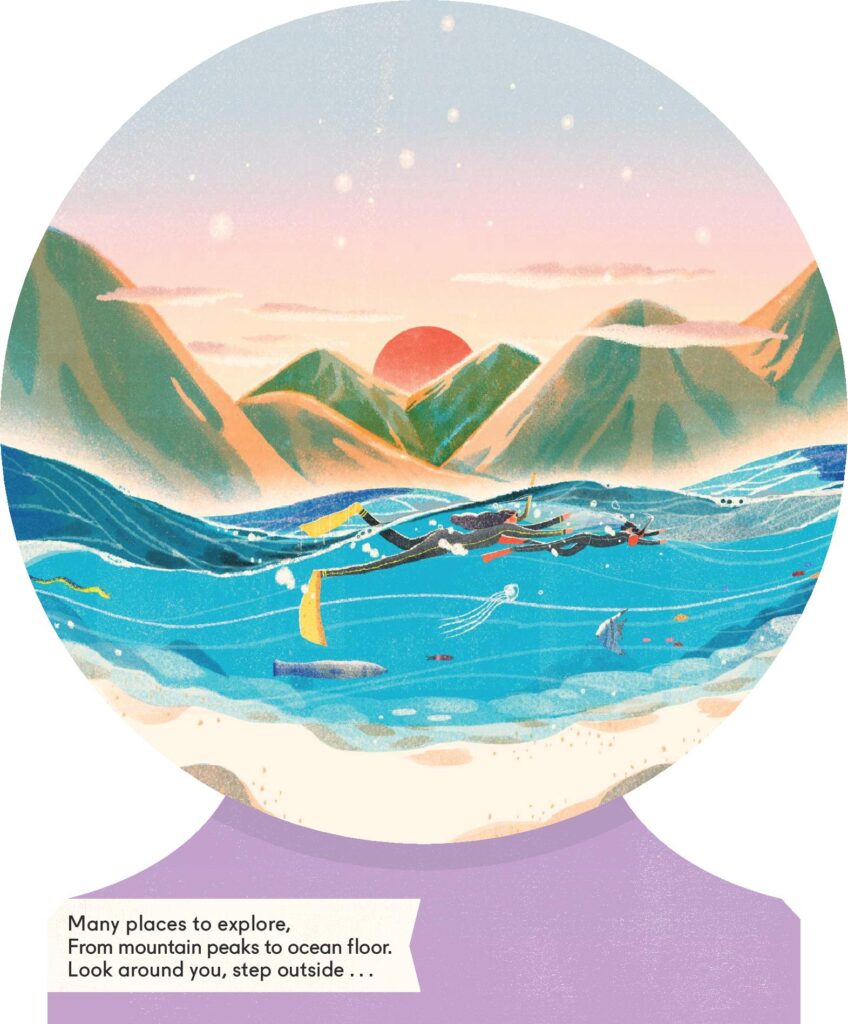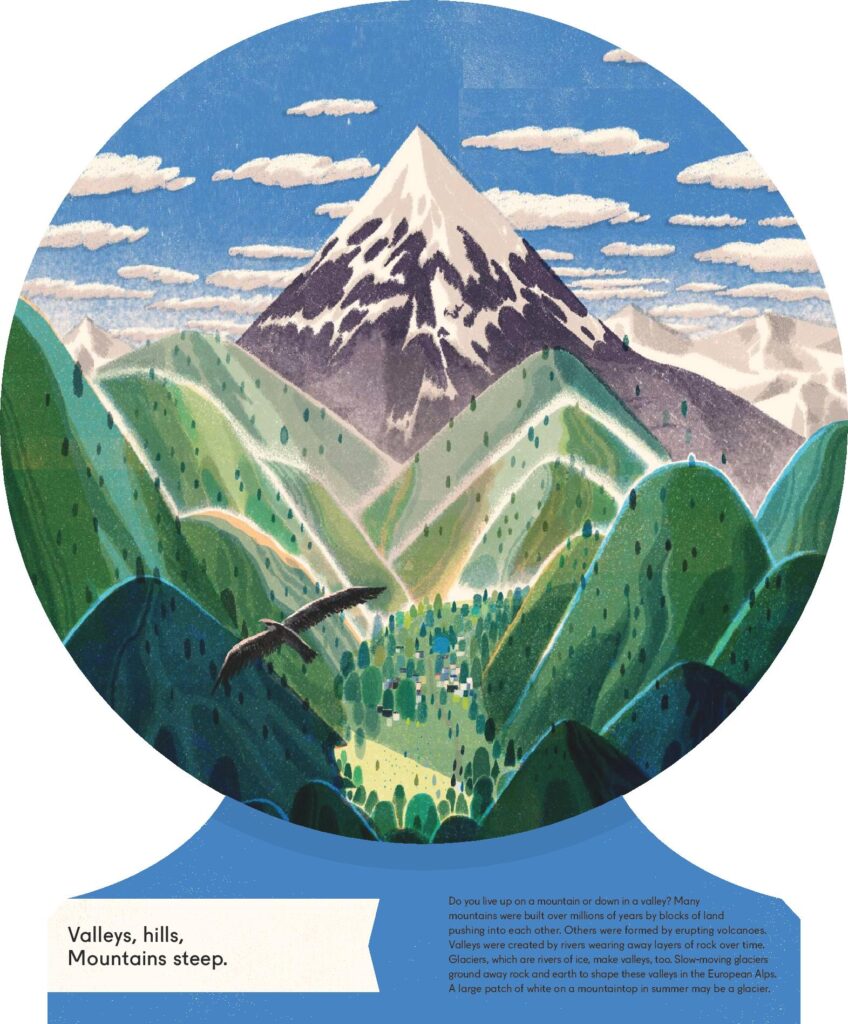 Okay, so it's a shape book, as you can see. But the COOL thing is that there's a magnet–you can't see or feel it–that snaps together when you fan the book open to create a freestanding globe suitable for display. Is that brilliant, or what?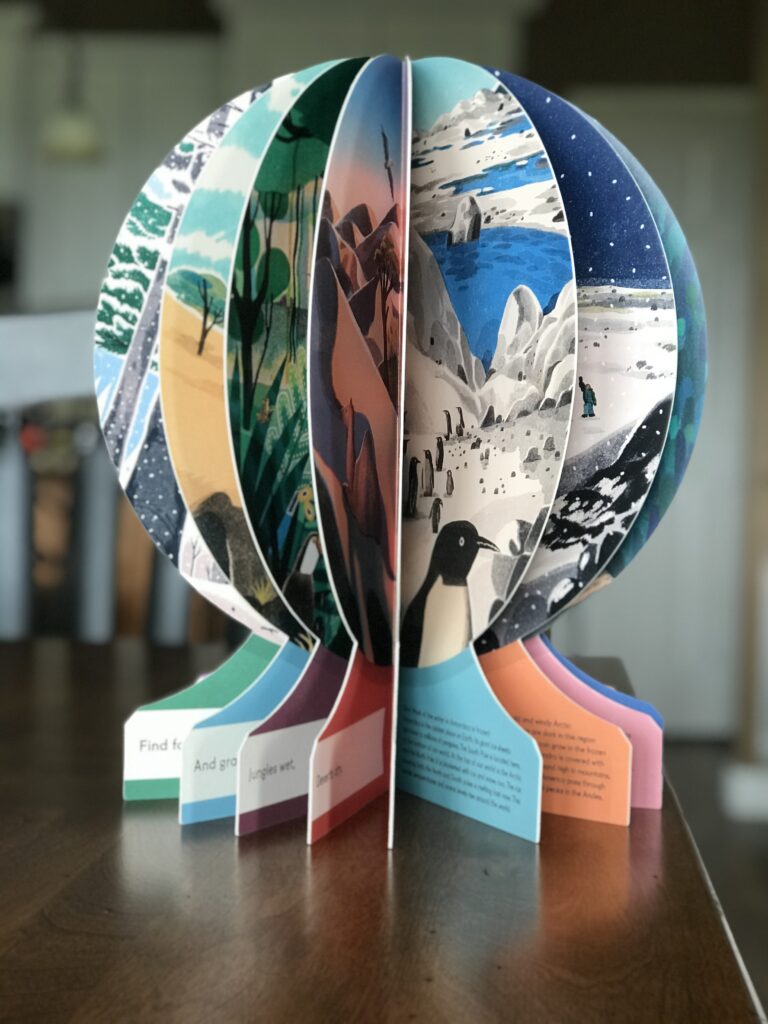 I had to know how this book came to be, so I went straight to the source.
JE: Welcome, Sue! Grab a cuppa….What made you want to write about Earth's geography/habitats for kiddos?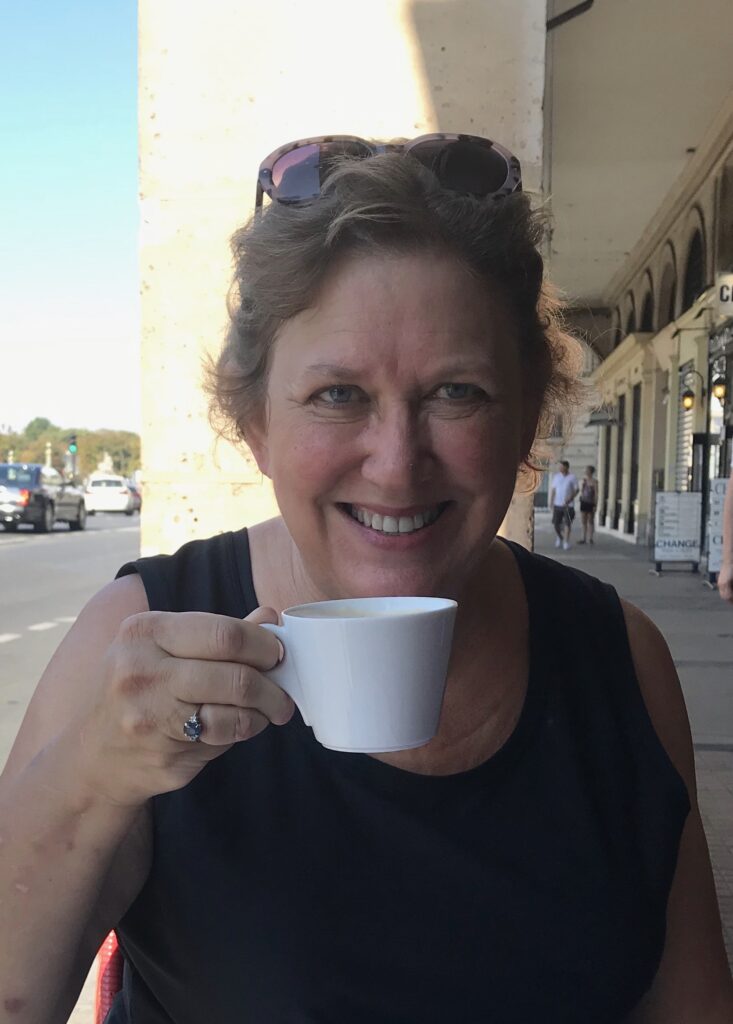 SLG: I was a geology major for awhile in college, until I accepted the fact that I was much more of a word person than a math person. One semester of trigonometry did me in. I changed my major to journalism and history.
But the environment, travel, wildlife, exploring nature (and of course rocks!) are still some of my passions. I grew up taking road trips to national parks across the U.S. with my family, drawing that imaginary line in the back seat so my sister stayed on her side. Those 3-week car trips didn't stop until we were teenagers and refused to get out at every scenic overlook. My husband and kids and I traveled to national parks on both coasts, plus Alaska and Hawaii. Those are some of our favorite memories. When you live in the middle of the country (I live in Kansas City), you can go any direction, right?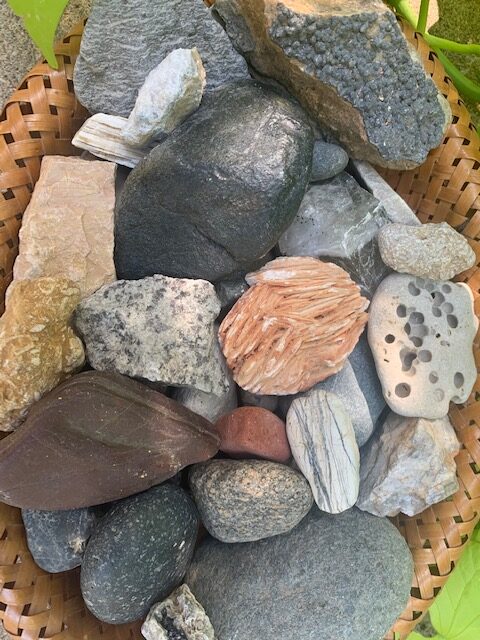 But this book didn't start out as a first book of geography. It began as a poem about our interconnected world. I'd been thinking about how people live in such different landscapes but are so much alike. The concept was much more general and message-y. The Phaidon editorial team suggested I focus the manuscript on geography, so I did some significant revisions before they bought the manuscript.
JE: Did you envision this 3D format from the beginning?
SLG: Yes, I thought of the 3-D globe format before I wrote a word of this. I was at an SCBWI regional conference session on novelty board books here taught by Ariel Richardson of Chronicle, and during the brainstorming time, I came up with the idea of a board book shaped like a globe. I miss those in-person events so much! They are such a place of inspiration and encouragement and focus.
I've been slightly obsessed with board books for several years. It started with the arrival of my first grandchild. Scroll through the online catalogs of publishers like Phaidon, Chronicle, Abrams Appleseed, Barefoot Books, Nosy Crow, Candlewick, Charlesbridge, French publisher Marcelet Joachim, and there are plenty more. The European publishers do amazing board books. I follow a lot of illustrators who do board books on Instagram, too. Take a look and I can about guarantee you'll be hooked too.
Original board books are a growing market and there is opportunity here for authors as well as author/illustrators. The durability of board books is appealing to parents and they're usually sold at a lower price than a picture book. There's so much enjoyment (and learning, of course) possible with something that easily fits in a diaper bag. OUR WORLD, however, is a large format board book. When it's open to 360 degrees, it's about 12 inches tall and 12 inches wide. It costs the same amount as the average picture book.
But thinking back on the format – it was harder for me to imagine what a concept like this would look and feel like as a physical object. All the way through the editorial and production process, of course, I saw 2-D images. I was truly speechless when my actual author copies arrived. Other bloggers have said that it is one of those books that you need to hold in your hands to experience. I still can't quite believe this concept turned into a book. The Phaidon team is incredible and I feel so lucky.

JE: I love when something we hear at a conference sparks a book idea! You mentioned "significant revisions." Tell us about that.
SLG: I did more revision on this book than anything else I've ever done. The idea to add nonfiction secondary text on the stand of the globe came from the Phaidon team when they asked for several revisions before they acquired the book. I can't imagine the book without that added text now. It adds so much substance and broadens the age range of the audience. I really enjoyed all the research.
Revision of this book was especially tricky because the poem part is in rhyme. I'm NOT an expert rhymer like you and Linda Ashman and many of the other Picture Book Builders bloggers, Jill! The order of spreads changed at times, spreads were combined, and stanzas were added or deleted, so that all affected the rhyming text. The final book is 13 spreads. I also revised to make the secondary text fit the available space on the globe stand. This book came out in as both U.K. and North American editions, so the word choices had to work for both audiences. We exchanged autumn for fall, for example. I learned a lot! 
JE: Sounds like an education, all right! (Also, thanks so much, Sue.) What can we look forward to next?
SLG: The third book in the Pug and Pig series with Beach Lane Books/Simon & Schuster, PUG & PIG AND FRIENDS, comes out in spring 2021. I've seen the pencil sketches, and I can't wait to see Joyce Wan's final artwork. I think this one is my favorite of the series so far, and I can't wait to get back to in-person school and library visits with it.
After that? We'll see what sells for 2022 and beyond! This is a crazy business, but I do love it. I am working on both fiction and nonfiction and definitely playing with more board book possibilities. Covid-19 has made it harder for me to focus and do creative work, but I'm trying. And my kids want me to get to work organizing my basement! I can always find better things to do than that.
JE: Ha. I hear you! And I have my office torn apart as we speak, ready to attack/jettison piles of clutter.
Thanks for talking with me, Sue!
Sue's website: https://suegallion.com
Lisk Feng's website: http://liskfeng.com
Phaidon's page for all things OUR WORLD: https://www.phaidon.com/store/childrens-books/our-world-9781838660819/#fancyboxPopupSlideshow