Happy autumn, everybody! I know I'm not alone in embracing this as my favorite time of year. Here in the midwest, it means oven-hot summer days have flown the coop, and we can enjoy more time OUTdoors, savoring and storing in our hearts every iconic (but fleeting) fall image and sensation we're able prior to the arrival of the season-which-shall-not-be-named-because-just-the-thought-of-it-makes-me-cringe.
Feast your eyes, if you will, on this just-out beauty from author Elizabeth Gilbert Bedia and illustrator Katie Hickey (Page Street Kids)….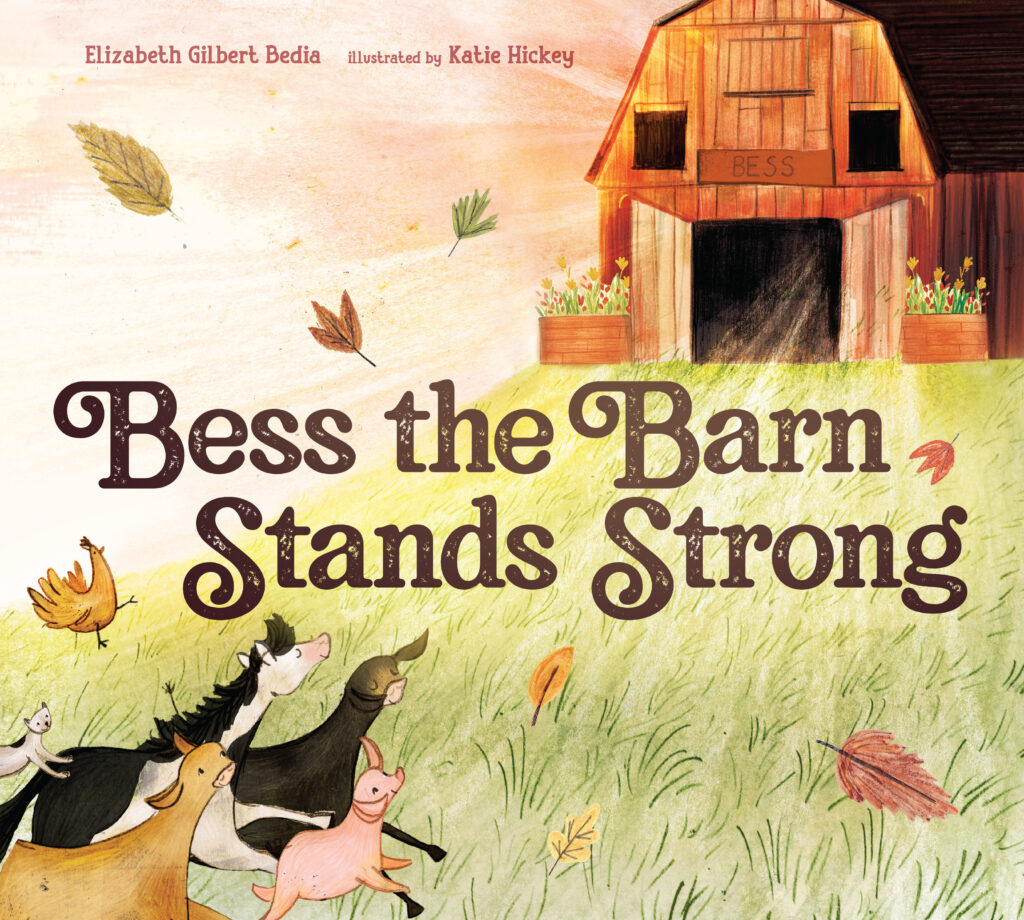 This book warmed my heart like a steamy cup 'o cider. The text and art work together to perform a kind of magic — they make a reader feel cozy and safe. But then, Bess the Barn was built for that. Here's the publisher's blurb:
"Beam by beam and board by board, Bess the barn is built by able hands to keep the farm's animals safe and sound. Through many seasons and celebrations, that's just what she does, until she starts to sag … and creak … and slump. Then new everything comes along: a new farmer and a shiny new barn. A mean storm arrives not far behind, putting both barns to a dangerous test — can old Bess weather this threat to the farm?"
Well, of course Bess is up to the task — and her warm heart inspires a new beginning for her, too!
Author Liz is a long-time friend AND a 2020 debut author. She agreed to chat with me about BESS.
JE: Welcome, Liz! As always, I have to know what sparked the idea for BESS THE BARN STANDS STRONG.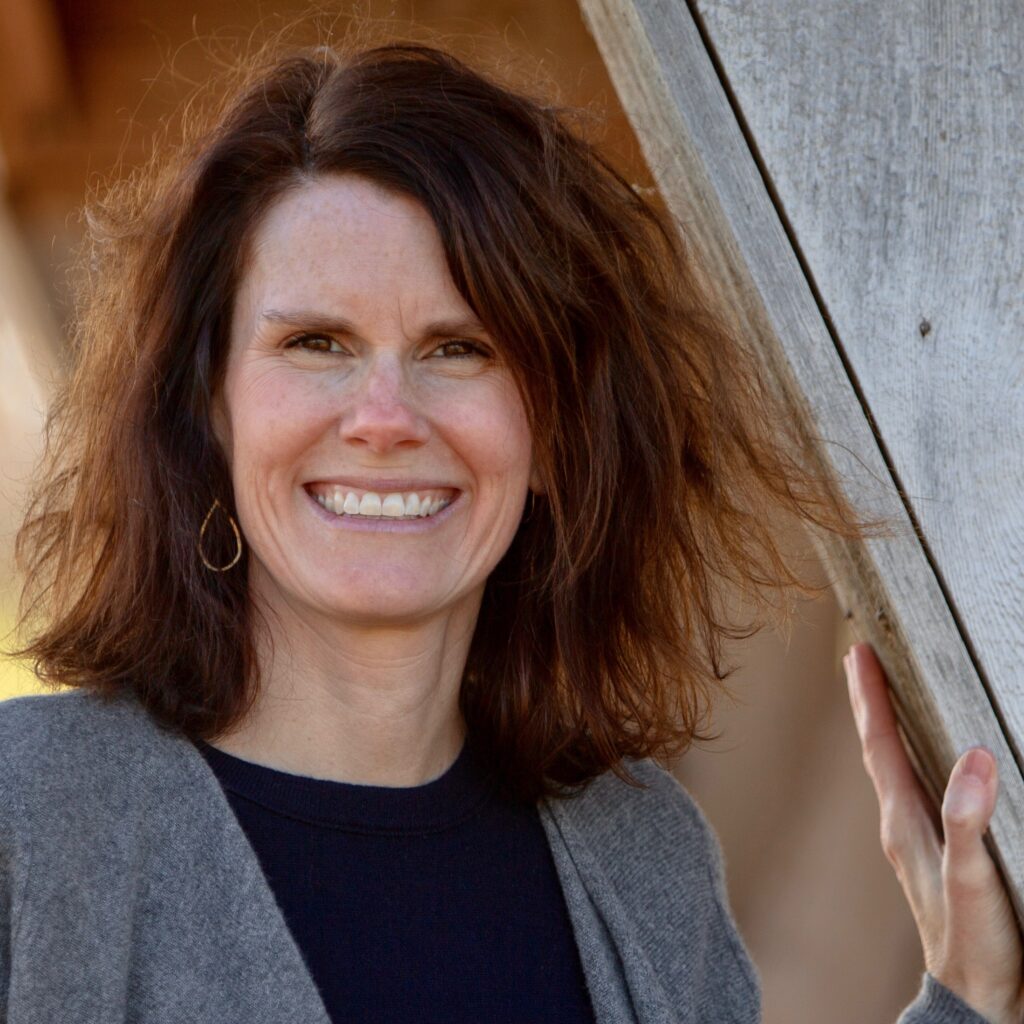 LB: My idea for BESS came from my love of old barns. I have many wonderful memories of being in and around barns. As a child, I loved visiting my grandpa's cows, feeding the mama cat and her kittens in our neighbor's hay loft, watching the mama pigs feed their young, and jumping in the piles and piles of hay. To me, barns were always a safe place to run to as the summer storms rolled in across the prairie. But what I remember most were the sounds the old barns made. With the rain pitter-pattering on their roofs and the wind humming through their boards – I was sure they were singing to me. It was comforting and felt like home. Many years later, there was an old barn that sat perched on a hill on a city street I drove up and down each day. It seemed out of place surrounded by all the new. But for me, it was like seeing an old friend – familiar and comforting – home. Years past and the barn sadly succumbed to the urban sprawl around it. When it did – my heart broke. It left me wondering what stories that barn could have told? What had it seen? Who had it sheltered? What if its story ended differently? And with that Bess's story was born.
JE: Oh, geez. You're already making me weepy, Liz, bringing to mind the HOURS my now-grown kids spent in our old barn, doing exactly those types of things.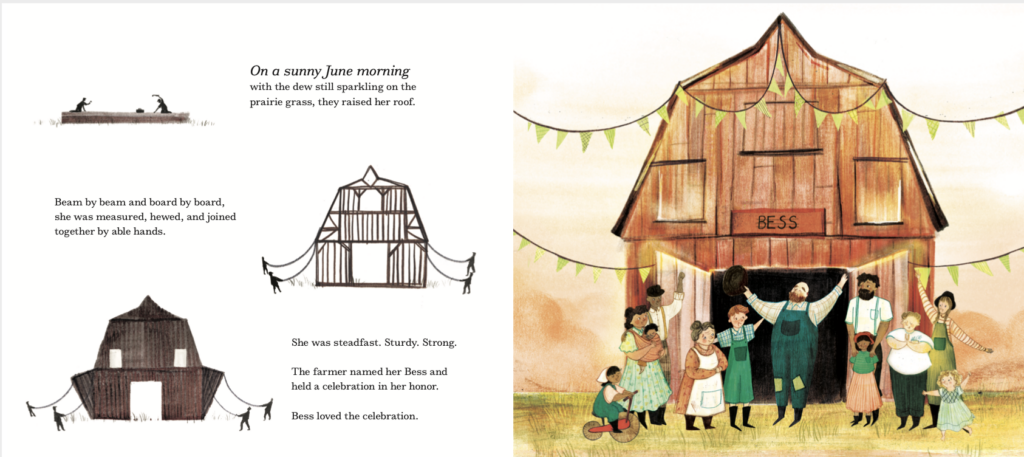 Were there any challenges to writing this book?
LB: My biggest challenge was letting Bess be the main character. I know this seems like a strange statement knowing my love of barns. But initially it didn't dawn on me to have the story from Bess's perspective. I tried to write it from the farmer's perspective. Nope. I tried one of the farm animal's perspectives. Nope. I knew farm stories were perennial favorites in picture books, but could a barn be the main character? The answer. Yes! The moment I started to write Bess's story from her perspective it all came together, because it was always her story to tell.
JE: Writing a story with an inanimate MC is TOUGH, Liz. I think it works so well here because you used third person POV. We readers get to feel her feels without the text veering into cutesy. Clearly, you were able to channel Bess in a deep way.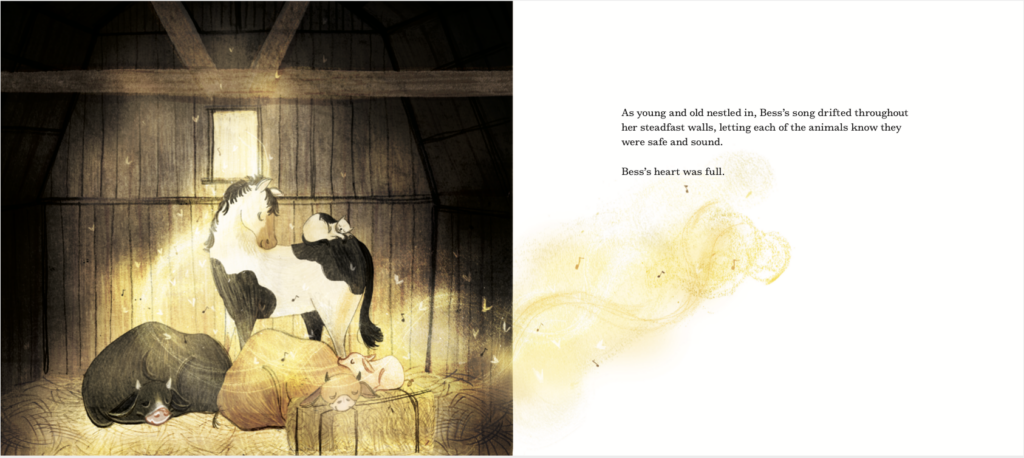 So did you encounter any bumps on the road to publication?
LB: My road to publication was definitely a winding one with some bumps. After working for many years in other professions, I returned to my love of creative writing while raising my children. I wrote my first picture book draft in 2007. It was horrible. I had no idea what it took to write for children, but I was determined to find out. I read and read and read books on craft, and picture books, middle grade, and YA. I attended writing conferences through SCBWI, I actively joined in the wonderful and supportive Kid Lit community, and of course, I continued to write.
When I submitted BESS to Page Street Kids in late September 2018, I had received my fair share of rejections. I was probably at my lowest point in my journey to publication. I was discouraged and frankly, I wanted to quit. I had been actively working on my writing and submitting for about six years. I started to question whether I was cut out for it. I truly believed in BESS and it had received favorable peer and professional critiques, but it wasn't resonating with editors. That was until… Monday, October 15th, 2018. I was waiting for to-go order and my phone buzzed. It was an email from Page Street Kids. I sighed and thought, Might as well get this over with. I assumed it was a "thanks, but no thanks" email. Then, I opened it… "Dear Elizabeth, Thanks so much for sending your manuscript, CELEBRATION BESS, to Page Street Kids….Reading BESS felt like home to me…" It continued and was far from a "thanks, but no thanks" email. It was an offer to acquire and publish my story. I was so flabbergasted, I walked straight out of the restaurant without my lunch and didn't realize it until I pulled out of the parking lot. ☺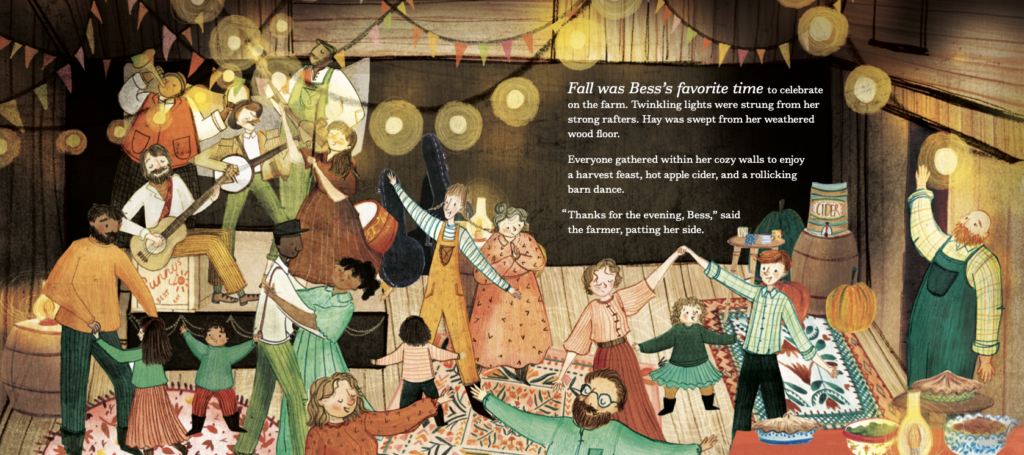 JE: Hahaha! I can just picture your stunned look as you walked out of that restaurant. 🙂
Were there any revisions after an editor showed interest?
LB: Such a great question! While the bones of BESS are the same as when I submitted it to Page Street Kids, there were revisions after my editor acquired it and the art for BESS began to come together. At the time, I freaked out like any good newbie author would do. I thought, These are huge revisions. But in reality, they were minor changes to enhance and help Bess's story become more kid friendly. Some of the edits were geared at taking inferences and making them more relatable. For example, in the original text I wrote, "A little shy and uncertain, the cows warmed to Bess's sweet song" with no reference to where the song came from. As the author, I knew in my mind where it came from… but would the reader and listener? While Bess is a personified barn, there still needed to be a concrete, relatable reason for why and how she sang. As writers, we always try to show and not tell, but when the showing doesn't have concrete support – the story may become confusing especially to young readers. So, my solution was to add a brief explanation where the song came from. This is how the line reads now – "A little shy and uncertain, the cows warmed to Bess's sweet song made by the breeze humming through her strong boards." These types of revisions are common as the parts of the story – both text and art – come together. Every person who worked on BESS had a vested interest in it. As a team, we all wanted BESS to become the steadfast and loving barn we knew she could be.
JE: I remember your initial panic, Liz. And yes, that team approach is absolutely the right way to think of the sometimes-frightening revision process.
Katie Hickey's artwork…oh, my. Phenomenal. The warm color palette and folksy feel (reminds me of P. Buckley Moss) are exactly right for this story. You must have been bowled over. Did you have any interaction while she was working on this project?
LB: Her artwork is gorgeous, isn't it? Katie is so talented! I feel fortunate to have worked alongside someone that cared about BESS as much as I do. I still look at Katie's illustrations and marvel at her "mind reading capabilities," because her illustrations are what I envisioned for BESS – but ten times better. The irony is I didn't have any interactions with Katie during the making of BESS. Our editor communicated back and forth with both of us separately throughout the project. So now you're probably wondering, how could Katie know what I envisioned for BESS? The answer, I believe, lies in working with a fabulous team (editor, art director, design team, illustrator, and author) who all had a clear vision for BESS.
JE: Well, the team's vision really came together beautifully for BESS, Liz. Tell us what's next for you.
LB: My second picture book, ARTHUR WANTS A BALLOON is coming out from Upside Down Books/Trigger Publishing (UK) next month! October 22nd is its publication date in the UK. It touches on mental health and parental depression from a child's perspective. These topics are very dear to my heart. Arthur is a little boy who desperately wants a balloon, but in the end he finds there is something he wants more than a balloon and that is to see his papa smile again. And… there is some exciting news coming soon regarding the US/Canada edition of ARTHUR WANTS A BALLOON, so please stay tuned!!
JE: Wish we could reveal that exciting news, friend, but guess we'll just have to wait until it's official. Fun knowing there WILL be a U.S. edition, though. Thanks, Liz, for visiting Picture Book Builders!
Okay, readers, if you'd like to win BESS THE BARN STANDS STRONG, Liz is giving away TWO copies. Comment below, and you're entered. GOOD LUCK!
You can learn more about Elizabeth Bedia by visiting her website, here.