As you may have guessed by reading my posts, I love funny picture books.
Today I give you The Bear Must Go On written by Dev Petty and illustrated by Brandon Todd.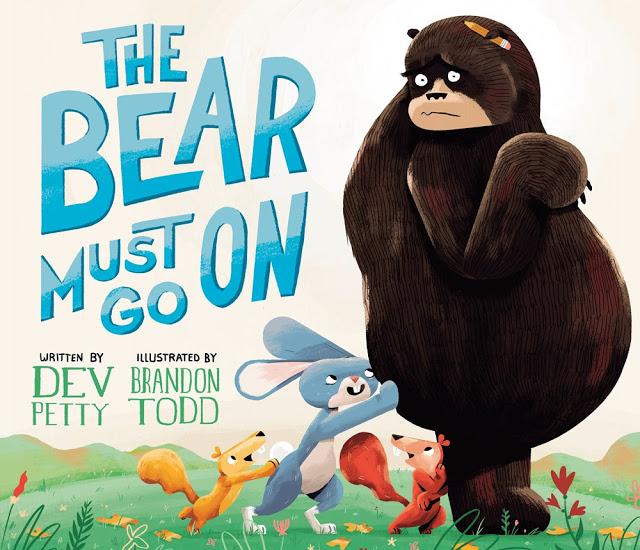 Bear and his woodland friends are putting on a show, and there are lots of plans to be made. Their curtains need sequins! Their hats must be very, very tall! And their tickets have to be shiny! (No one will come if the tickets are dull.)
Behind the scenes, shy Bear takes notes on every detail until his paws ache. But at least he won't have to go on stage. He could NEVER do that!
. . . Or could he?
In this uproarious tale of theatrical mishaps told with hilariously endearing art, four woodland friends bring down the house–and have plenty of fun along the way.
And check out these reviews!
"A snort-inducing lesson of both bravery and preparation." — Kirkus Reviews
"The rewarding finale . . . applauds facing one's fears, being a good friend, and keeping an eye on the big picture." — Publishers Weekly
"Witty and wonderful . . . A cheerful story, conveying the joy of creation, the fun of friendship, and the beauty of stepping outside one's comfort zone." — Booklist
Nice, huh?
Okay, this post must go on.
These are just five of the ways Dev cracked me up in this adorable, heartfelt story:
1. This book starts off funny before you even open it up. Lots and lots of people have heard this line: The show must go on. The title The Bear Must Go On is a play on the familiar.
2. On the first spread, we meet the cast of characters. These are the names:
Bear
Rabbit
Squirrel
Other Squirrel
Other Squirrel?! C'mon! That's brilliant in my book. Well, I mean Dev's book. That unexpectedness gets a laugh.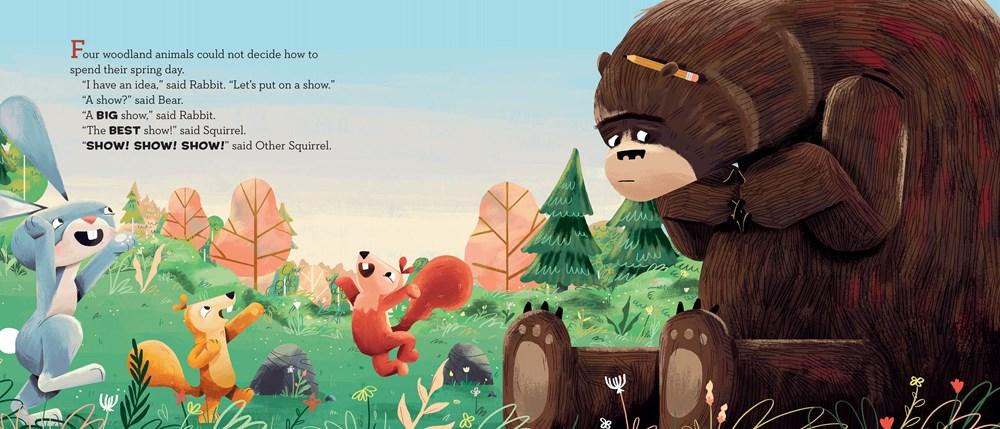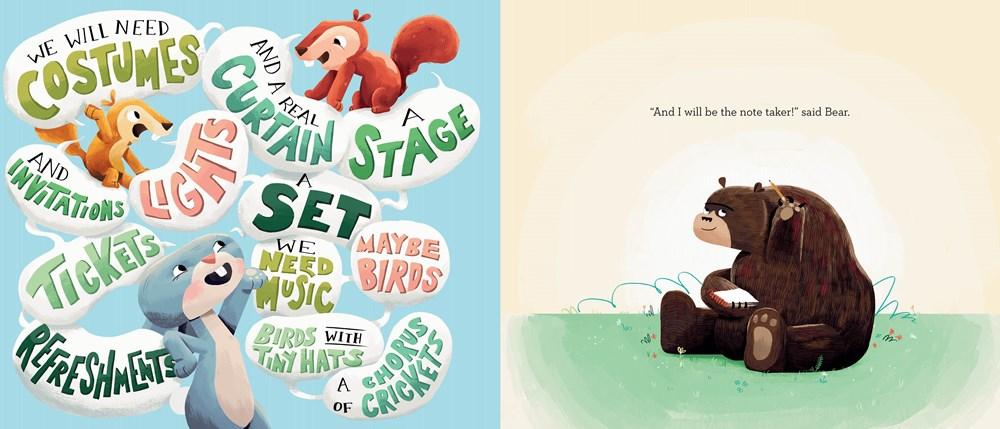 3. The repetition is funny. Whenever one of the characters says, "Write that down!", I want to give Dev a shiny, gold star.
4. There's an entire spread devoted to nuts being served at the show. Goodness gracious! Dev is a genius at pushing a joke to its limit. Later in the book, the nuts are mentioned again. That callback just about kills me. In a good way.
5. Dev is great at finding humor in the specifics. When her characters are determining how many seats to have for the audience, she came up with this line: "And seventeen rows of nine chairs each, they figured, would be enough." So much better than simply saying, "a lot of chairs" or "ten rows of chairs." Plus, "seventeen rows of nine chairs each" just sounds good to the ear!
And if all that isn't enough, Brandon Todd's art is ridiculously fun, engaging, and endearing.

I want an encore from this duo!
Now get a copy of this book, take your seat, and enjoy the show!
What???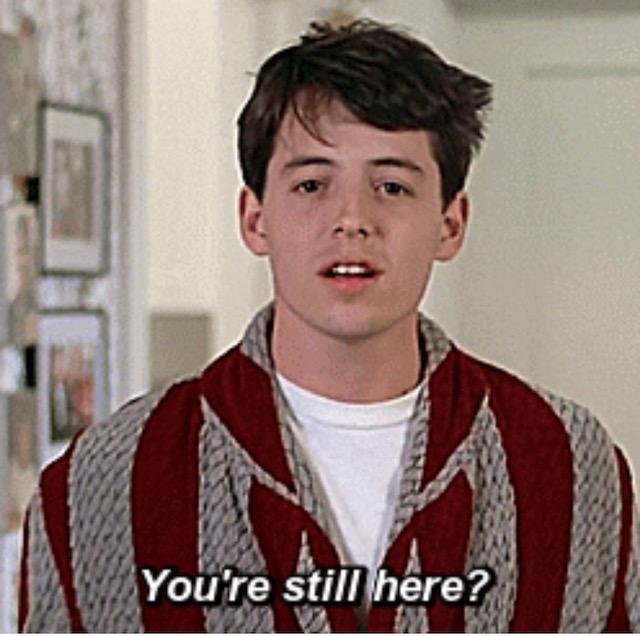 Okay. There's more.
If you want a funny book encore (or fourteen!), check out this guest post by Abi Cushman on Tara Lazar's blog, Writing for Kids (While Raising Them). This post is a double-whammy. It also offers pointers for writing humorous picture books. Ooh!
WINNER:
Congratulations, Melissa Darrow. You won a copy of I'll Meet You in Your Dreams!