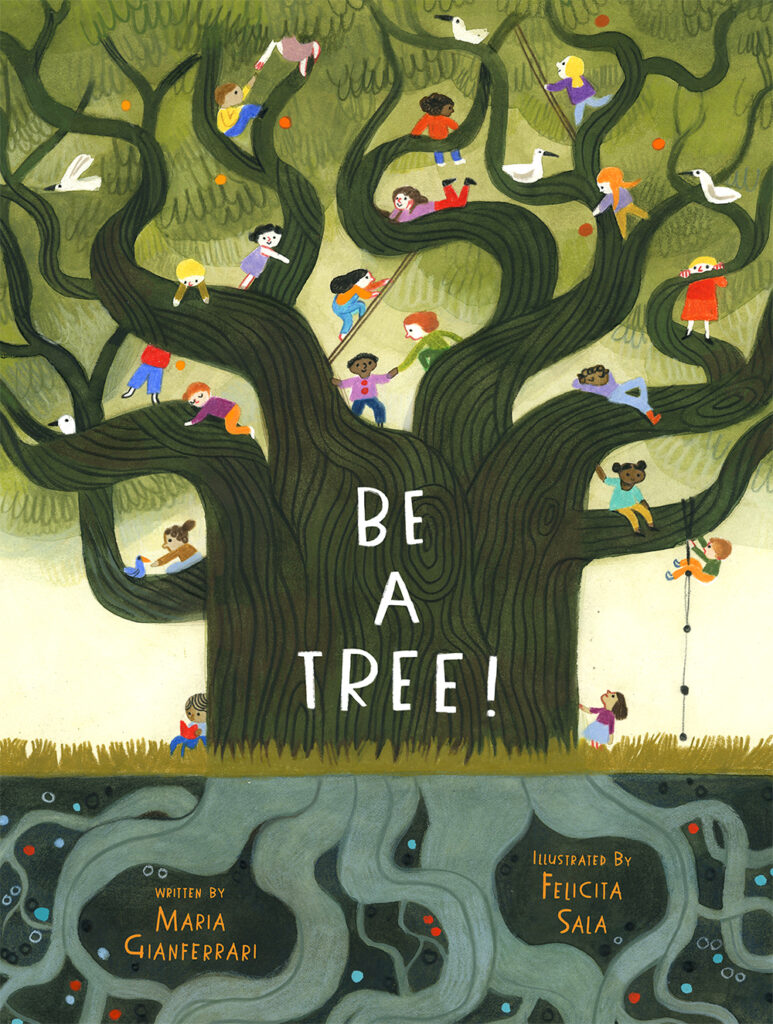 "Maria Gianferrari has climbed fig trees in Italy, stood under stately coastal redwoods and twisted Torrey pines, marveled at mitten-shaped sassafras leaves, colorful coral trees and sawtooth oak acorn nests. She lives with her family, including dog, Maple, in a house encircled by trees."
Jennifer: Maria, your book, Be a Tree, written by you, and lusciously illustrated by Felicita Sala is spectacular. Congratulations to you both!
Maria: Thanks, Jennifer! I'm a fan of your art. I love the new paper mache bird heads you've been making ?.
Jennifer: Ha! It's fun to have a non-book making outlet ?. Thank you so much for taking the time to visit Picture Book Builders and sharing the story about writing this special book with us today.
Maria: Thanks for having me! I'm an avid Picture Book Builders blog reader.
Jennifer: This book feels very whole to me. You have written such a relevant story and used very few, well-chosen, glorious sounding, words. At the back is an informative author's note as well as specific information about trees and an environmental 'call to action'. In your author's note you talk about always loving trees but being particularly inspired by the book, The Hidden Life of Trees by Peter Wohlleben. What gave you the idea to draw the parallels between the physical attributes of a tree and our own human bodies?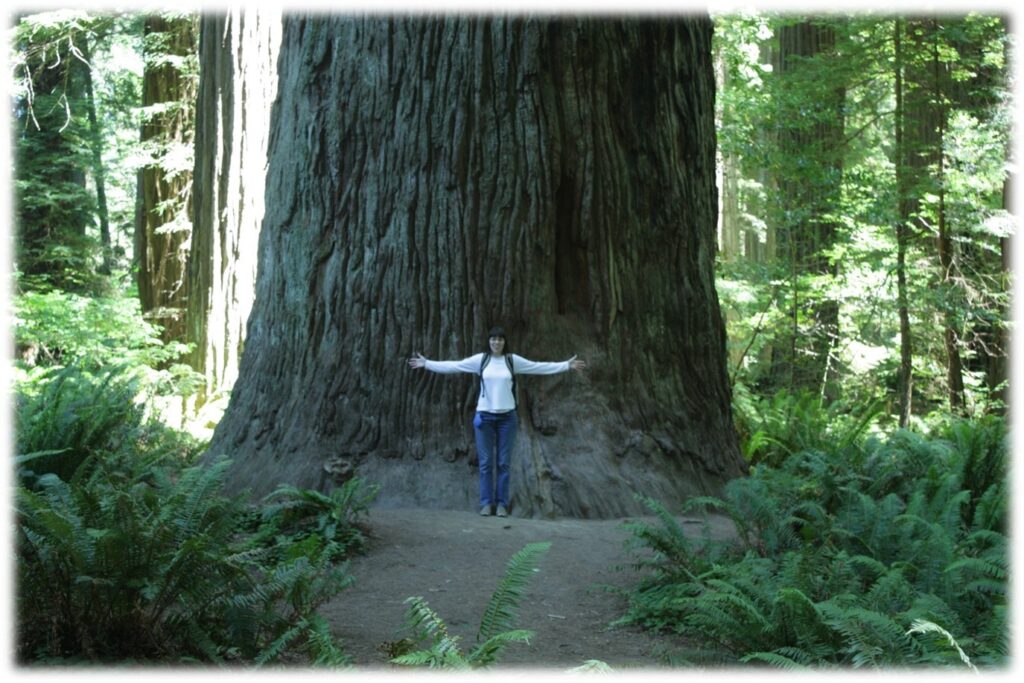 Maria: In Wohlleben's book I learned of the ways that trees in a forest talk to, help protect each other and share resources which got me thinking about the parallels between cultures that might be more individualistic rather than communal. I then began to think of individual trees and how their anatomy sort of lends itself to those comparisons: their bark protects them, like our skin does. Our arms are like their branches, and the trunk acts like our spines.
Jennifer: And part of that question is that it's great when you have a cool idea, but how did you take that idea and come up with a whole story— to make the point that one person makes up part of a community, much like a tree makes up part of a forest?
Maria: It was a pretty logical leap to make the connection between one person/one tree and a forest being like a family. What really brought it to life was when I discovered that different species of trees help each other—so much so that when one species of tree is removed, other neighboring trees are also affected. The different tree species are connected underground by mycorrhizal (Mike-o-RYE-zal) fungi (another amazing thing!) a so-called wood wide web.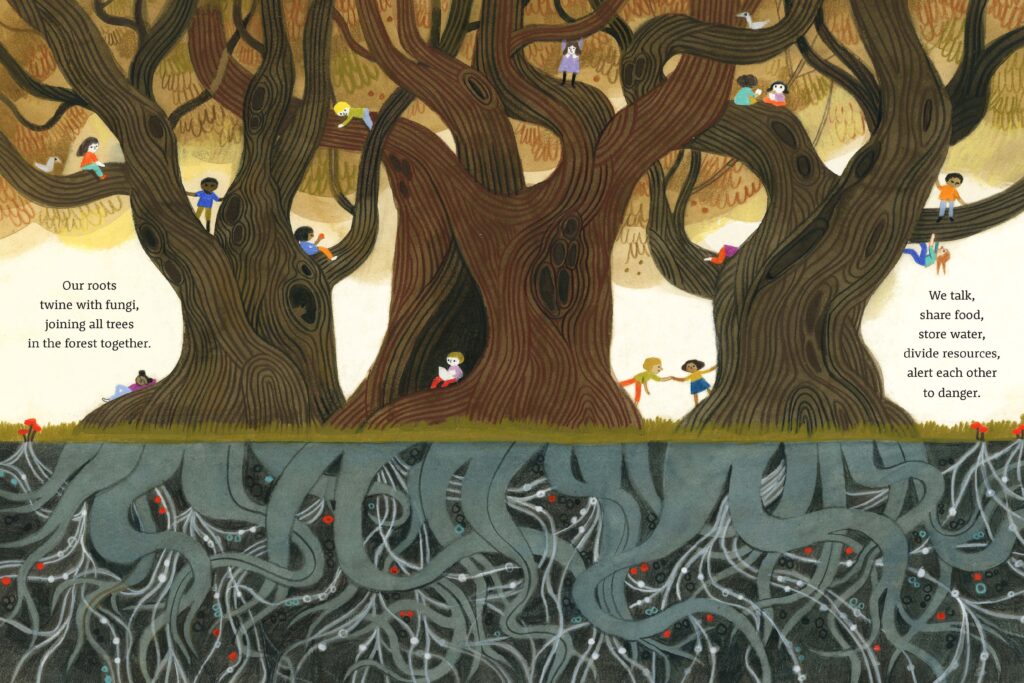 When we as diverse people, from all different races, cultures, genders, abilities and faiths work together, like different species of trees, then we are stronger. When things are more equitable, and resources are shared, then our communities are healthier and happier.
Jennifer: How was the making of this book different from your other books?
Maria: The actual making was not that different from my other books, but this was one of those manuscripts that magically came together—the words flowed out, so that it remained pretty much intact through the revision process. Some of the sections were tweaked and moved around and shifted slightly, but it was more or less like this in its first iteration, which rarely happens.
If you know of my other books, you can easily tell I'm an animal lover—all of my current titles feature an animal of some kind. The fiction books feature dogs and the nonfiction ones focus on wild creatures. Though this is a nature-focused book, it's my first book not directly about an animal. I was happy to see that Felicita peopled it with creatures nonetheless ?.
Jennifer: Your concept is relevant and meaningful. Your writing is poetic and beautiful. And the illustrations are breathtaking. I feel that your book is a great example of a successful picture book being the perfect marriage between text and illustration. Felicita Sala does a terrific job of making and maintaining two main characters in the book. Both the tree and the human are given equal billing. I just love the way she mimics the look of different trees with that of a human. Such as posture, skin tone, etc. Did any illustrations surprise you?
Maria: You are very kind to say that—thank you, Jennifer! For me, one of the most thrilling things about being a writer of picture books is that magical moment when I see my words brought to life in the artist's images. I had long been a fan of Felicita's gorgeous art, so I knew it would be beautiful, but I was still surprised, delighted and wowed by every single spellbinding spread—they were all so enchanting, full of charming details, things like the old man's tattoo, and the carving in the tree.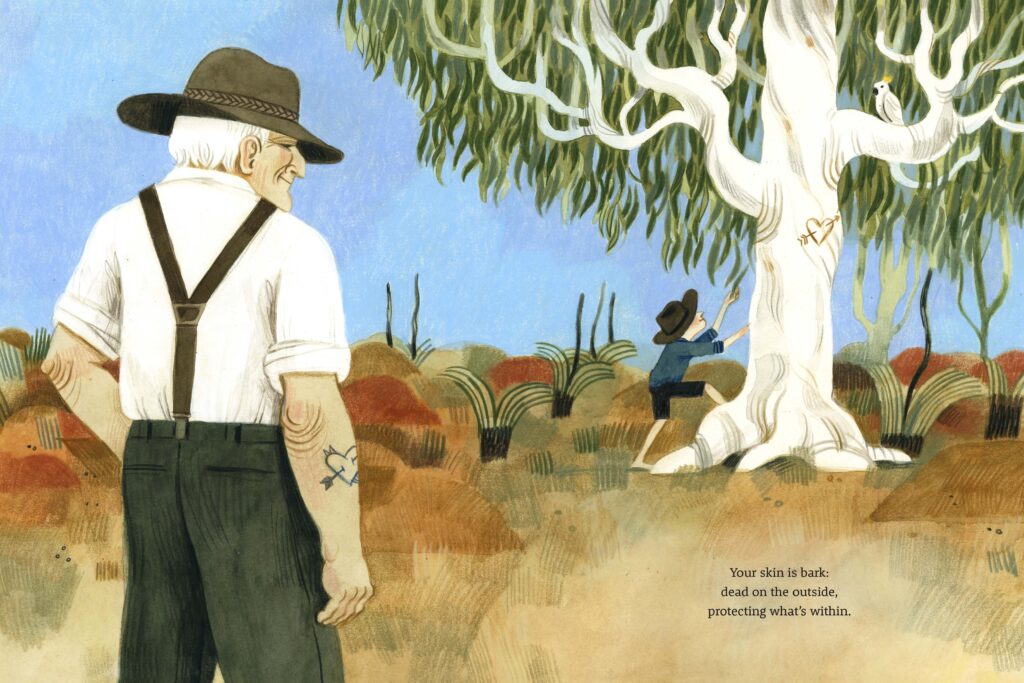 The diversity of trees, places and people really make the book come alive. Felicita's art is so expressive and full of feeling. I am so happy and truly grateful that we were able to collaborate on a book together. It is a dream come true!
Jennifer: Do you have a favorite kind of tree and do any of its attributes match your favorite kind of person?
Maria: Probably the simple and yet elegant white pine. I love its minty scent and whitish-green colored needles and the rusty carpet fallen needles make on the forest floor. White pine people are loyal and trustworthy, confident and yet humble, if that makes sense. They don't need to be the center of attention—they are ordinary and yet extraordinary, like the kinds of creatures I enjoy writing about.
Jennifer: What else would you like us to know about you and your book?
Maria: I grew up in a small town, and climbed many a tree as a young girl. I am still a nature girl at heart. This book is my love letter to trees and forests. I hope that it inspires people to care for and protect trees, to spend time in their calming presence, and to be like forests in their communities, caring for each other and supporting those who are most vulnerable.
Maria, thank you so much!
Maria will randomly pick one (US residents only) winner from the comments below to send a copy of Be a Tree to!
AAAANNNNNDDDDD— I'm announcing my three giveaway winners for my latest picture book, Always by My Side. And they are, Kathy Cannon Wiechman, Rebecca Gardyn Levington, and Debbie Thiel. Please email me with your address and any specific signing info.