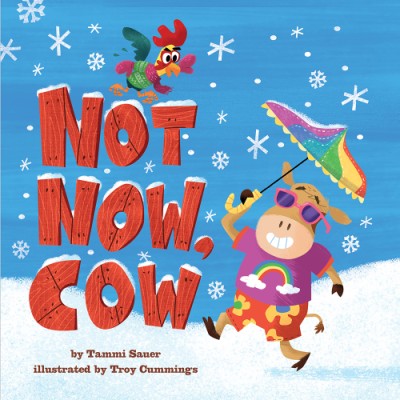 Hello, Picture Book Builders people. I hope you're in the mooooooood for a book that features one cow, four seasons, and lots of silliness. NOT NOW, COW is written by yours truly and illustrated by the one-and-only Troy Cummings.
Rooster and his farm friends are ready for springtime play. But not Cow, who can't seem to dress for the weather. She's decked out in a parka and mittens as the first flowers bloom, ski-pants and a wool hat as the summer sun beats down, and a bathing suit and flip-flops when snow starts to tumble. Readers will love shouting out the catchy refrain "Not NOW, Cow!" while learning all about the seasons!
This is what Kirkus had to say about our book in a starred review:
"Amusing illustrations in bold colors reflect each season's attributes while the succinct and simple rhyming text details the animals' activities. Pure fun; readers and preschoolers will applaud both the silliness and practicalities presented."
Nice, huh?
I invited my pal Troy to join us to celebrate the release of NOT NOW, COW.
Hi, Troy! Welcome to Picture Book Builders.
Tammi! Hello from the socially-safe distance of Indiana.
What was it about the manuscript NOT NOW, COW that made you think, "I must illustrate the antics of this bovine!"?
Oh! It was your jokes. Having worked with you on CARING FOR YOUR LION, I knew I was in for a treat before I even cracked open the COW manuscript. Your animals are so funny—they make ME look funny when I illustrate 'em. (Plus you give me lots of vivid, punchy verbs; I get images in my head immediately from reading one of your manuscripts. You make it easy!)
A typical gag might be structured like this: setup, setup, setup, FUNNY BIT! But on my first pass through COW, I loved that even the "setup" parts were funny and lively. (I wanna do that more in my own writing!)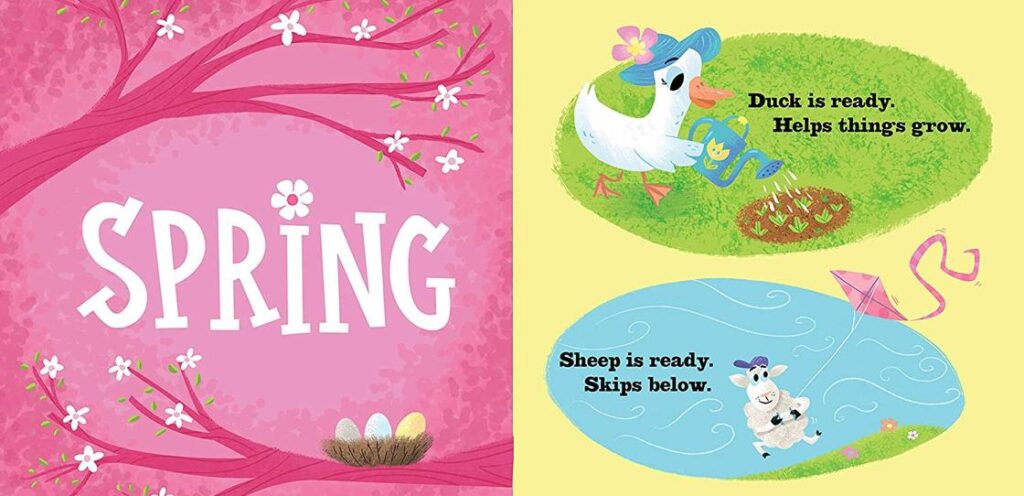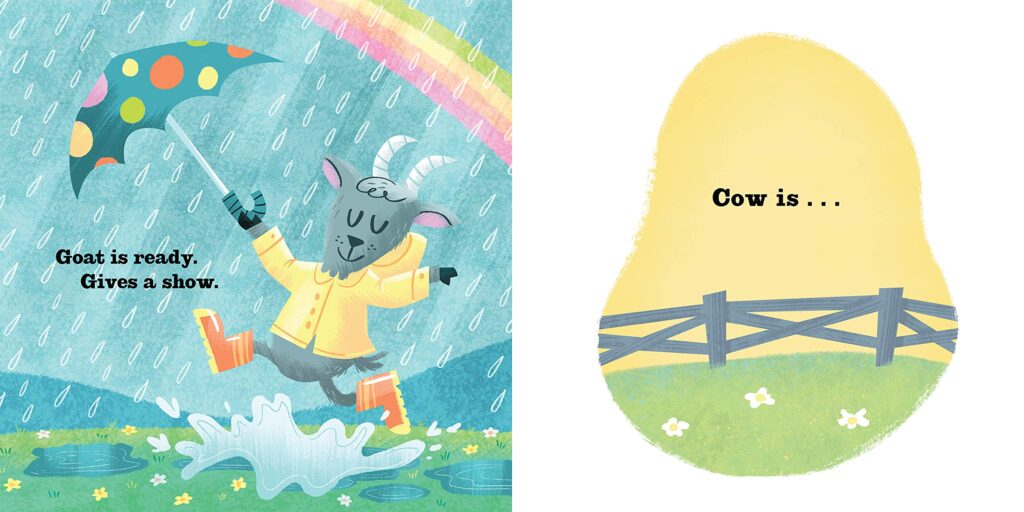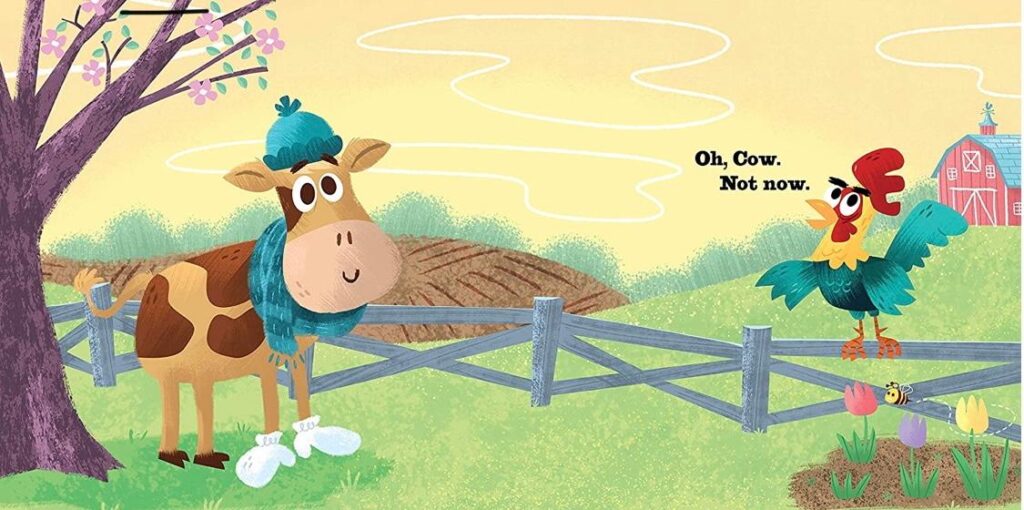 NOT NOW, COW started out as a board book, then the folks at Abrams Appleseed wanted us to extend the story for a young picture book audience. Because of this, we were able to do some back and forth on this book as well as the upcoming ONE SHEEP, TWO SHEEP. I loved getting to collaborate with you in this way! How did you feel about this process?
I loved it, too! It was so fun to actually collaborate, like, for real. Typically, the author will finish her manuscript, and then the editor will fork it over to me, fully edited and ready to go. It's still a collaboration, but I'm doing my part at the caboose of the train.
So it was a real treat to be able to do some honest-to-goodness back and forth; to see the scope of our book expand from a board book to a picture book. I love how you were able to use our extra pages / word count to bring in the rhyming lines, and add a bit more detail/action/character-definition.
Please open up your vault and share some of the early sketches from this book. What is this stage in the process like for you?
Rough sketches are the most fun part of making a book! Everything is wide open, and you can't really make mistakes. And my rough sketches are always so loose! I feel like I'm always trying to hold on to some of that looseness as I go from rough sketches to rough color to final art.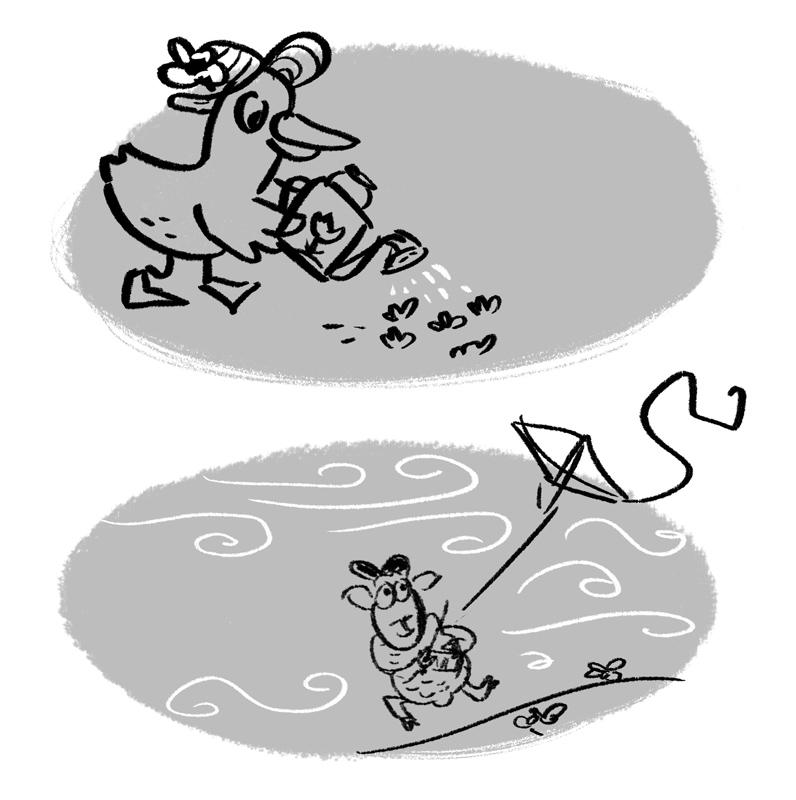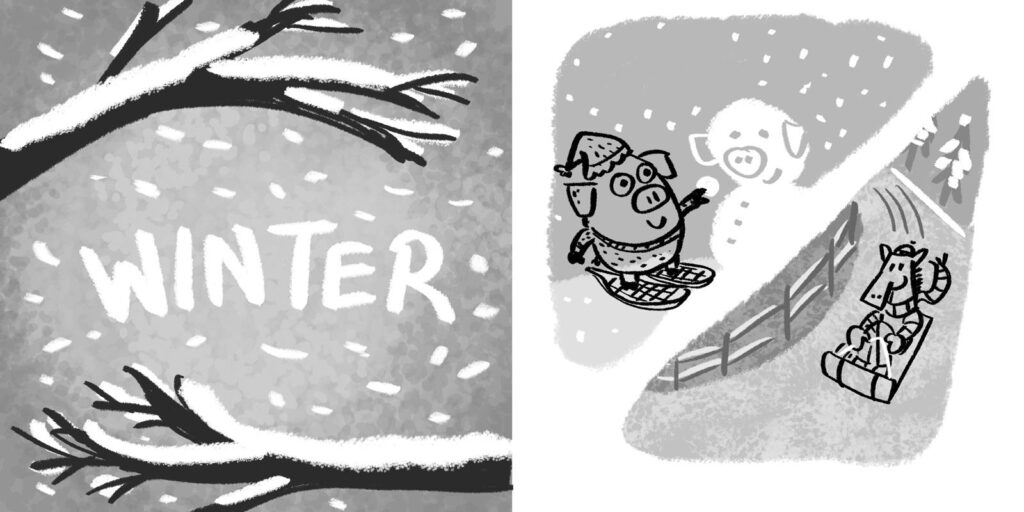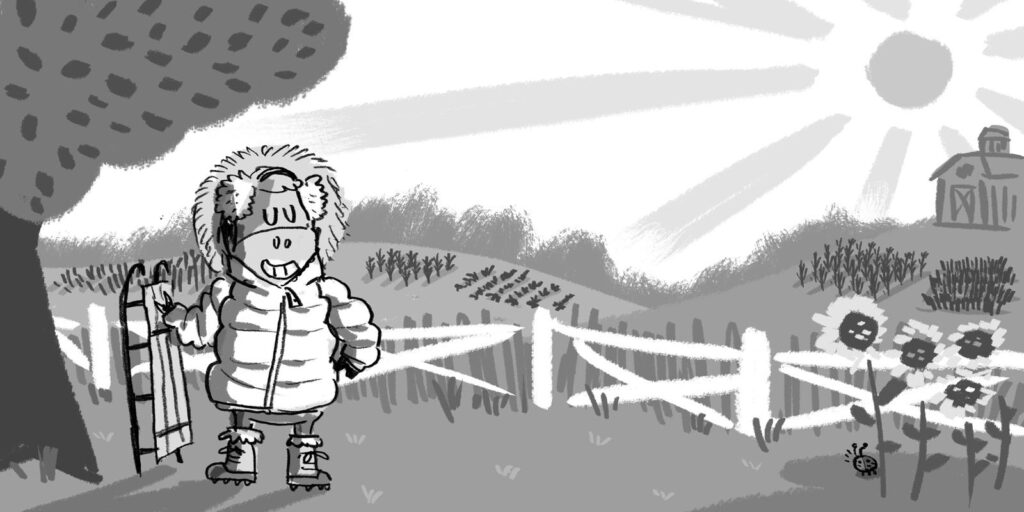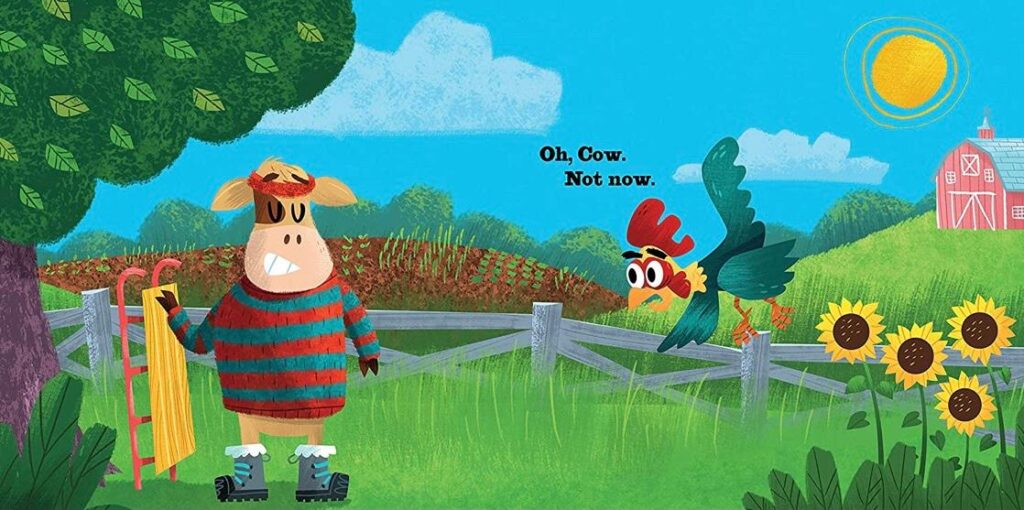 You added another layer to this book by incorporating a variety of palettes. Please explain what you did and how you did it in 834 words or less.
Since the book is about seasons of the year, it was kind of fun to break the book into four distinct "chapters." We gave each season its own title card to establish that we're heading into SPRING or SUMMER, etc. So then it made sense to reinforce each season by giving it a distinct color palette: pastels for spring, saturated yellows and blues and oranges for the summer beach, leafy colors and golden fields for fall, and then cool blues and whites for winter. Ideally you could tell which season we were in just from the colors on a given page.
NOT NOW, COW features a cast of barnyard characters: Cow, Rooster, Duck, Sheep, Chick, Horse, Goat, and Pig. Do you have a favorite? (I won't tell the others.)
Duck is totally my favorite; I love how she's ice-skating proudly in those sparkly leg warmers.
You have so many great qualities as an author, an illustrator, and a human being, but I am particularly bowled over by your ability to brainstorm. My brainstorming output is like a leaky garden hose whereas yours is definitely the full-blast firefighter variety. What is your secret?! Do you have any tips/suggestions/nudges for the rest of us?
Brainstorming is all about making little connections between things. I love playing brainstormy games with grade school students (and grown-up writers!). Here's one that works every time and gets you out of your own head.
1. Take a Pictionary card.
2. Select two words on that card.
3. Make up a quick story concept (or draw an illustration) that connects those two words.
4. Repeat! Do it quickly. Go through four or five cards, and see what you've got. I almost always rattle out some funny gag or setting or character I can use somewhere, if not a whole story concept!
5. EXTRA BONUS BOSS-LEVEL: Make up a story that uses every single word on the Pictionary card.
I think mini-prompts like this are a quick way to practice generating ideas; it feels less like writing and more like solving a puzzle.
Scoop time! What's next for you?
I've illustrated a book by Melissa Martin called THOSE ARE NOT MY UNDERPANTS (May 11, Random House), and I'm working on the third book featuring Arfy, the letter-writing pooch from CAN I BE YOUR DOG? (Arfy gets a job as a helper dog in a school library, where he tries to solve the mystery of a missing classroom pet.)
I'm also teaming up with the inimitable Tammi Sauer on our third collaboration! ONE SHEEP, TWO SHEEP! (October 19, Abrams Appleseed).
Oh, I can't wait for our barnyard cast to return! I'm so glad the world will get more of Rooster and his Eugene Levy eyebrows.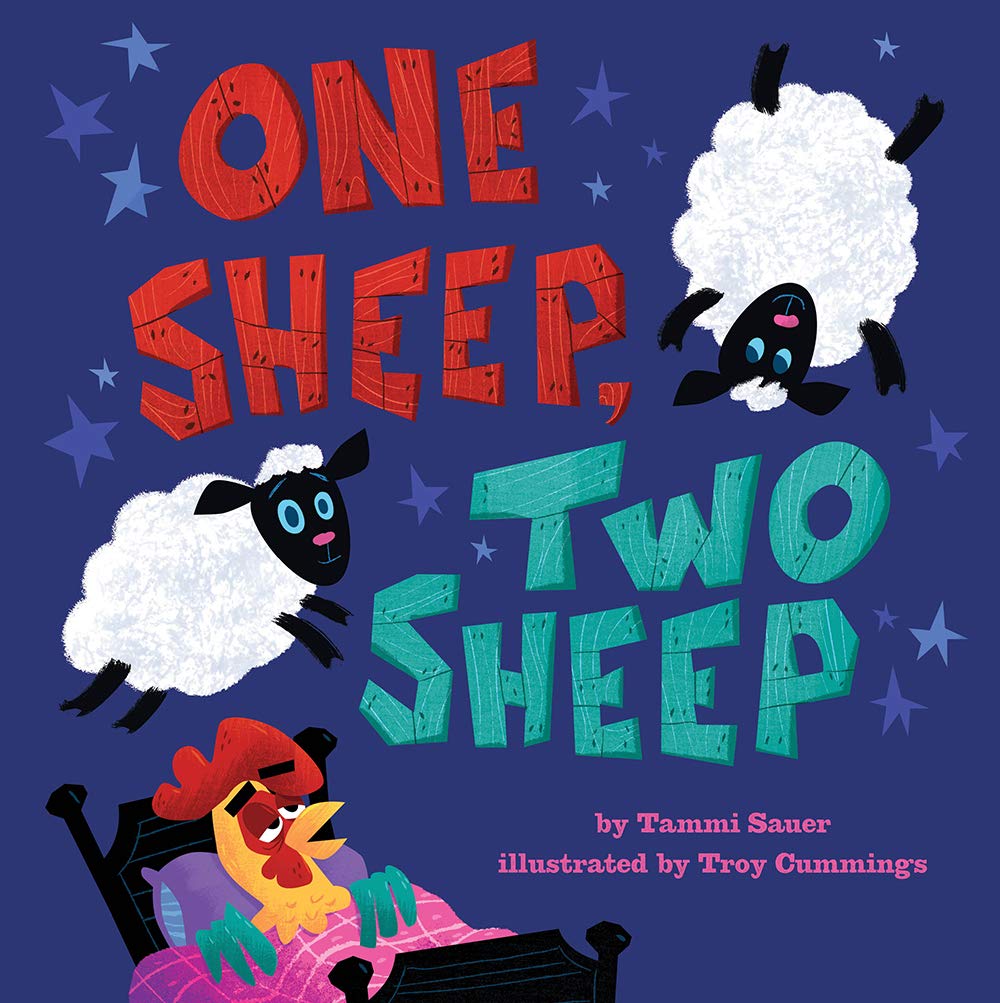 Thanks so much for visiting us at Picture Book Builders!
* * * * * * * * * * * * * * * * * * *
BIO: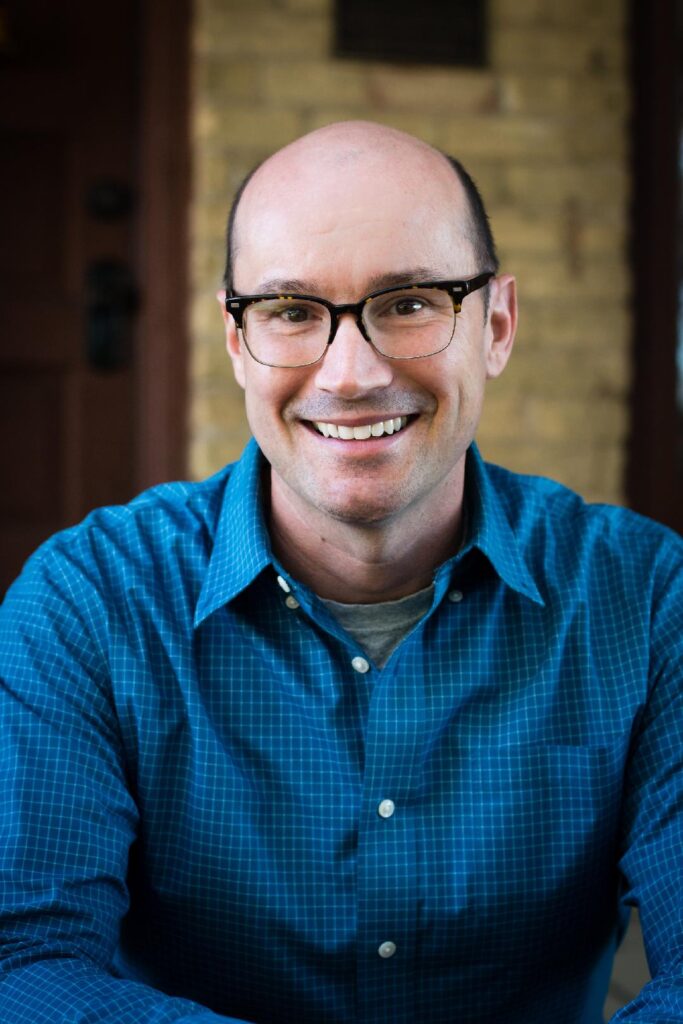 As a kid, New York Times bestselling author Troy Cummings spent all his time writing stories, drawing pictures, and keeping an eye out for monsters. As a grown-up, he pretty much does the same thing. Except now his bed time is 9:15.
Troy has written and illustrated more than fifty children's books, including THE NOTEBOOK OF DOOM series, CAN I BE YOUR DOG?, and THE EENSY WEENSY SPIDER FREAKS OUT (BIG-TIME!). He has also illustrated books by other authors, including CARING FOR YOUR LION (by Tammi Sauer), LITTLE RED GLIDING HOOD (by Tara Lazar), MIGHTY TRUCK (by Chris Barton), and VROOM VROOM GARBAGE TRUCK (by Asia Citro).
His illustrations have appeared in newspapers, magazines, greeting cards, board games, jigsaw puzzles, a French opera, and on the back of a box of fish sticks.
Troy Cummings lives in Indiana, where he steals jokes from his kids, cats, and hamsters.
* * * * * * * * * * * * * * * * * * *
GIVEAWAY: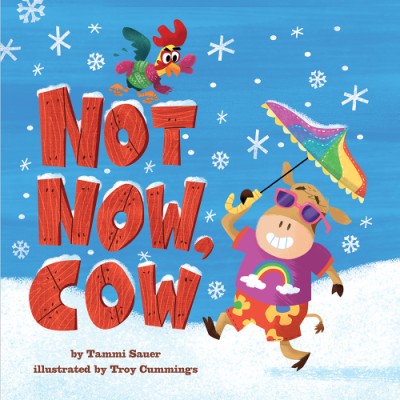 For a chance to win a copy of NOT NOW, COW, please leave a comment. You can get an extra chance at winning by sharing the post on Twitter. Be sure to tag Tammi @SauerTammi and Troy @troycummings.