Christina Soontornvat, a two-time Newbery Honor-winning author, is here to tell us about the creation of THE RAMBLE SHAMBLE CHILDREN! Written by Christina and illustrated by Lauren Castillo, this sweet picture book received starred reviews in Publishers Weekly, Horn Book, and School Library Journal.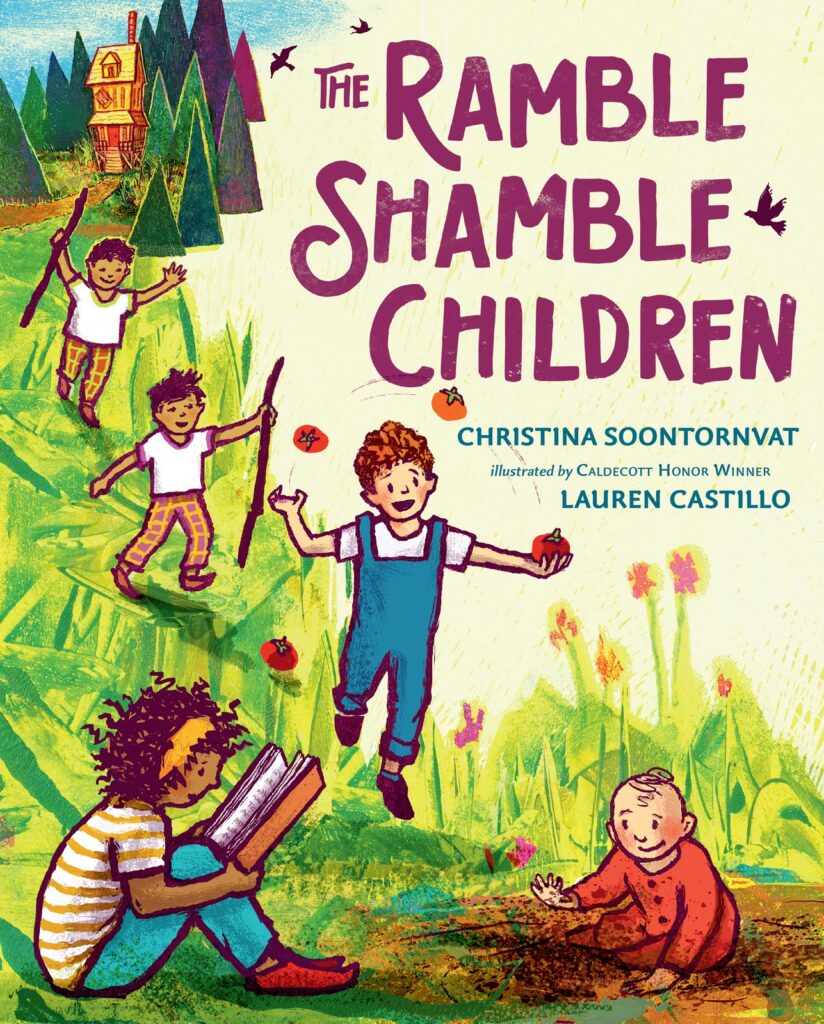 From School Library Journal:
"No need to 'proper up' anything about this winning title. Soontornvat and Castillo have produced a charming tale of 'ramble shamble' delightfulness. . . . Castillo's illustrations, done with ink drawings digitally combined with Gelli monoprints, radiate light, warmth, and coziness. The story elements are perfectly balanced and the sense of community and family makes this a very satisfying book to share. Children love the idea of living on their own independent of adults and this book celebrates that desire with a masterful blend of illustration and story."
Let's hear from Christina!
What was your main inspiration for writing THE RAMBLE SHAMBLE CHILDREN?
The main inspiration for this story came from my eldest daughter. When she was a toddler, she hated riding in the car to school and day care and so I would tell her stories to keep her chilled out in the back seat. She went through this phase where she wanted me to tell her stories "with no grownups", so I would make up these scenarios where she lived in a house in the woods with her cousins. She was entranced, even though nothing intense ever really happened in these stories – the kids would have to bake a birthday cake, or repair a leaking roof, or one time they adopted an owlet. The fun was in learning how the kids would approach the problems, make their own mistakes, and then ultimately figure things out for themselves.
The Ramble Shamble Children was also heavily influenced by my brother-in-law's five children. They live on a small farm in Tennessee, and their parents have taught them how to be very independent. They all have important jobs around their home, like feeding the animals, helping in the garden, and cooking. They've proven to me that kids are very tough and very capable when we equip them to be, and when we believe in them.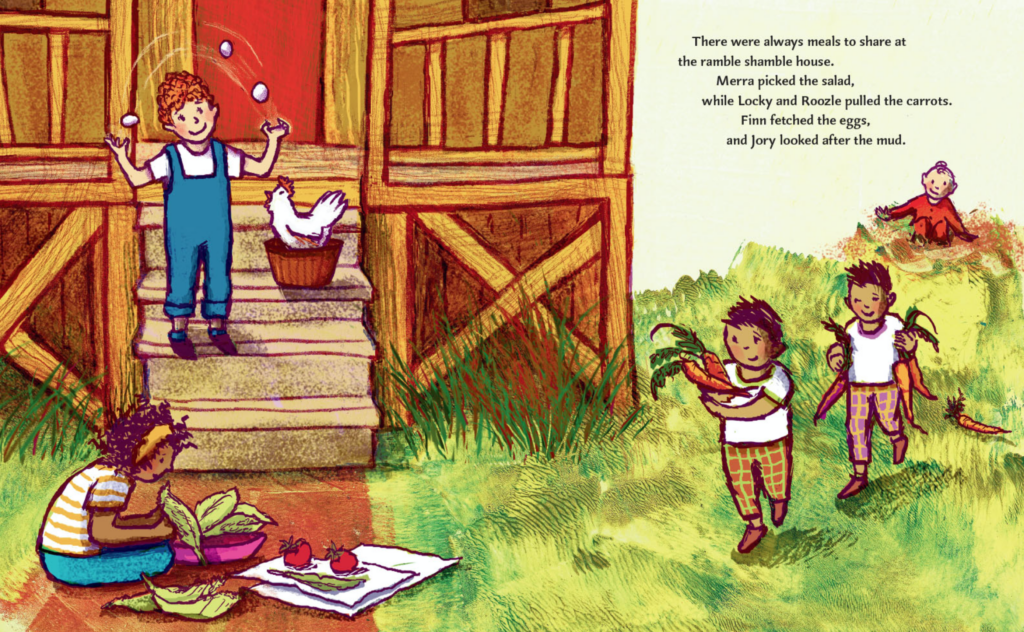 I love that so much – that your daughter was entranced and that the kids on the farm are so independent. Tell us about your writing process for this book. 
I have become a real outliner with my novels and chapter books, but with picture books I typically just sit down and let the story flow. I had been reading a lot of older, lyrical picture books during that period, such as The Ox-Cart Man by Donald Hall and Barbara Cooney. I think those books really seeped into my writing. It's one of the reasons that people often remark that The Ramble Shamble Children has a "classic" or old-fashioned feel to it.  
The Ramble Shamble Children was one of the few books I have worked on that didn't change that much in overall structure from the first to final draft. The opening lines and the closing lines remained the same, which is super rare for me! I think that beginnings and endings are so difficult with picture books (because they are so vital) and so I usually mess with them a lot. Once I had a good draft, I brought it to a picture book workshop/class I was taking with Liz Garton Scanlon, and the class critiqued it. I got such great feedback from the group and from Liz (who is truly a master of her craft). 
She certainly is!
People often ask me where I got the names for the kids. Locky is the name of my brother in-law's old rooster. Roozle is an old nickname he gave to his son, Eoin. I don't remember where Jory came from. I don't think it was from Jory John, but I love his books, so okay we can go with that! And Merra and Finn just seemed to fit with the others. They sounded like the names of older siblings – kids who could take care of themselves. Coming up with names is one of my favorite parts of writing fiction!  
What was it like working with your illustrator?
This is the first book I worked on where I actually knew and communicated with my illustrator during the book-making process. Lauren Castillo and I met up at the Texas Book Festival shortly after we signed the contract for Ramble Shamble Children. Because she had so many other projects lined up ahead of ours, we corresponded for several years before she ever started working on the book. And we developed a great friendship, which has been one of the most special parts of this project. Once she started her illustrations, I tried to keep my distance and give her the space she needed to create. But one awesome thing about Lauren is that she posts her sketches and early paintings on social media. So I couldn't help myself from commenting about how much I loved everything I was seeing! There were tiny little things in her first round of sketches that I communicated through my editor, the wonderful Nancy Paulsen, but really there wasn't much. Lauren is such an amazing artist, and I knew that every single spread was going to be gorgeous (I was right, of course). From the very beginning, she captured the spirit of the children and the look and feel of this slightly fairytale-like story.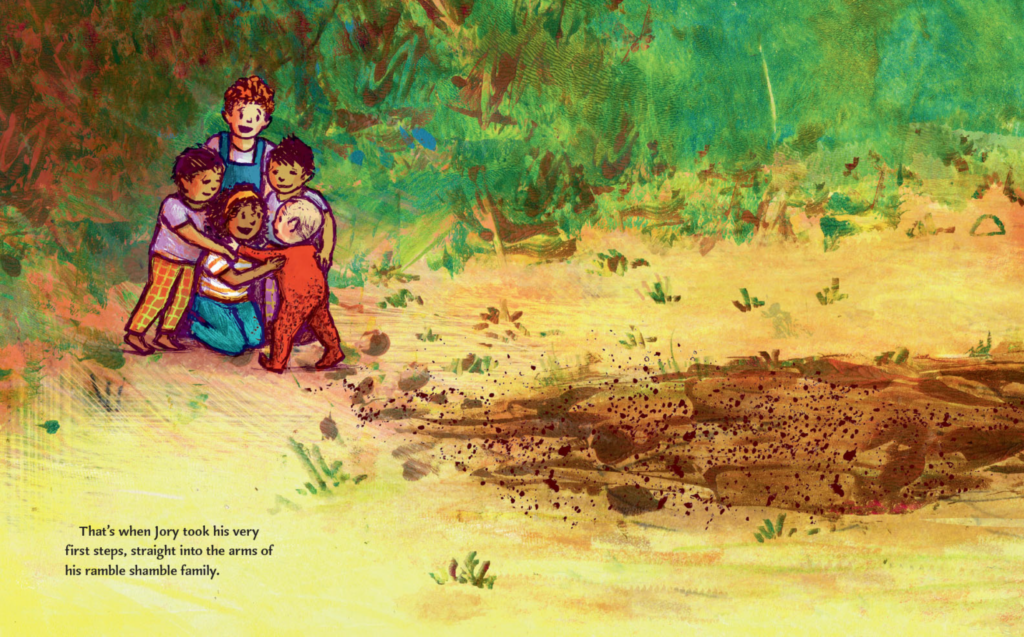 Gorgeous! What are your top 3 tips for writing picture books? 
1. See your story through a child's eye. Never teach, preach, or talk down to your readers. Number one rule is that the kid is king (or queen!).
2. Read out loud to kids whenever possible. Kids are the best, best coaches for how to tell a great story. They will let you know right away if the story is funny, boring, confusing, or enthralling.
3. Consume ten times more art than you create (ten is sort of an arbitrary number, but it sounds more professional than just saying "a lot"). Art is part of a balanced diet for the human brain, whether that is music, poetry, literature, film, etc. And artists need more because they are also producing their own stuff. The more you nourish your artist brain, the better your performance will be.
What's new and exciting?
I am so excited about my next picture book, TO CHANGE A PLANET, which is illustrated so beautifully by Rahele Jomepour Belle. This book is an honest look at what climate change is, what the impacts are on our world, and how humans can work together to address it. It is also very spare, just 150 words, and I hope that makes it a good candidate for reading out loud in homes and classrooms. It is coming from Scholastic in Spring 2022. 
I can't wait!
Christina Soontornvat's website & Twitter
Lauren Castillo's website & Twitter
***GIVEAWAY***
For a chance to win a copy of THE RAMBLE SHAMBLE CHILDREN, please leave a comment by July 23, 2021. I'll announce the randomly selected winner in my next post.
Congratulations to Joyce Uglow for winning a copy of THE FREEMAN FIELD PHOTOGRAPH from my last post.
Thanks for reading & see you next time!
–Michelle