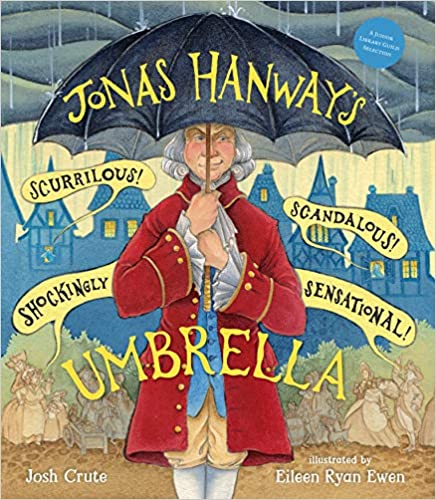 With a title like that I think I could just stop here? ❤️
This wonderful picture book written by Josh Crute and illustrated by Eileen Ryan Ewen is sensational indeed.
In London, back in the way back days in the mid 1700's, men did not carry umbrellas. And therefore, London being London, people spent a lot of time either getting wet, or staying indoors.
When Jonas Hanway was traveling and saw people using umbrellas, he decided that he would shock people and break barriers by carrying and using an umbrella himself.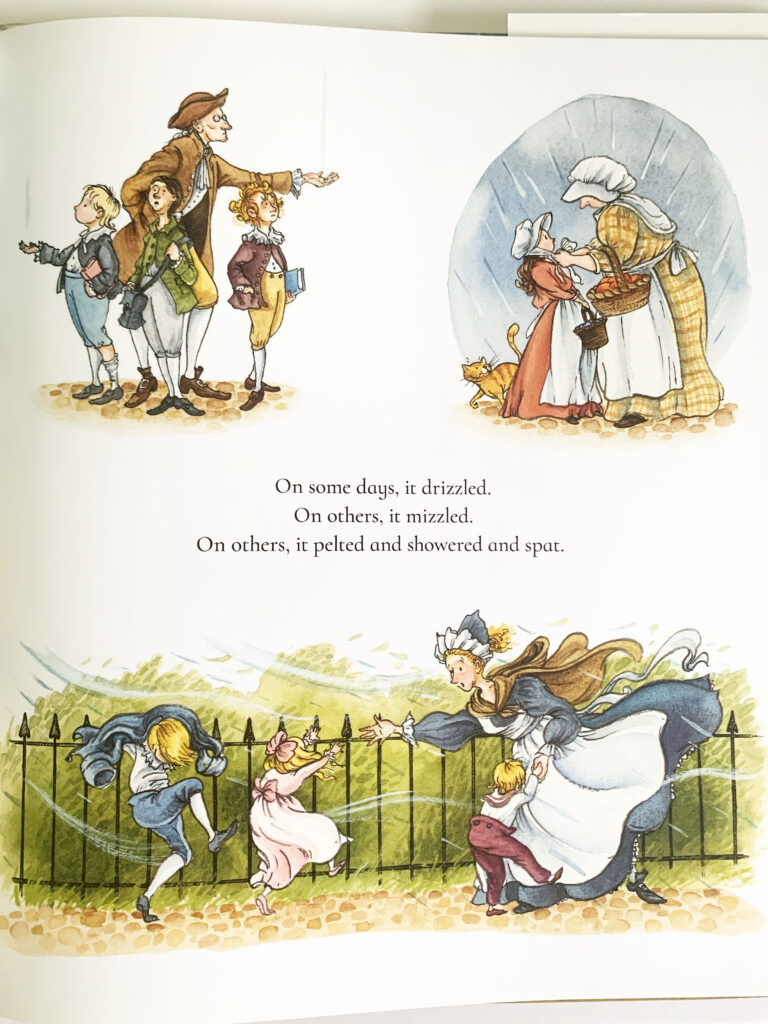 But people carrying umbrellas just was not done, nor accepted in London at the time. The history about why umbrellas were not used (because a wealthy enough individual would be able to hire a coach) is briefly mentioned in the story and explained in more detail in the interesting back-matter pages.
The trick to making a successful non-fiction story is to find a relatable lesson which will keep the factual story interesting and meaningful enough so that a reader wants to revisit the book again and again. In this case the bigger picture (so to speak) is that Jonas Hanway was passionate enough about something to not care what other people thought. He was bullied and ridiculed for carrying an umbrella and yet, he didn't believe that others' had a right to tell him what to do.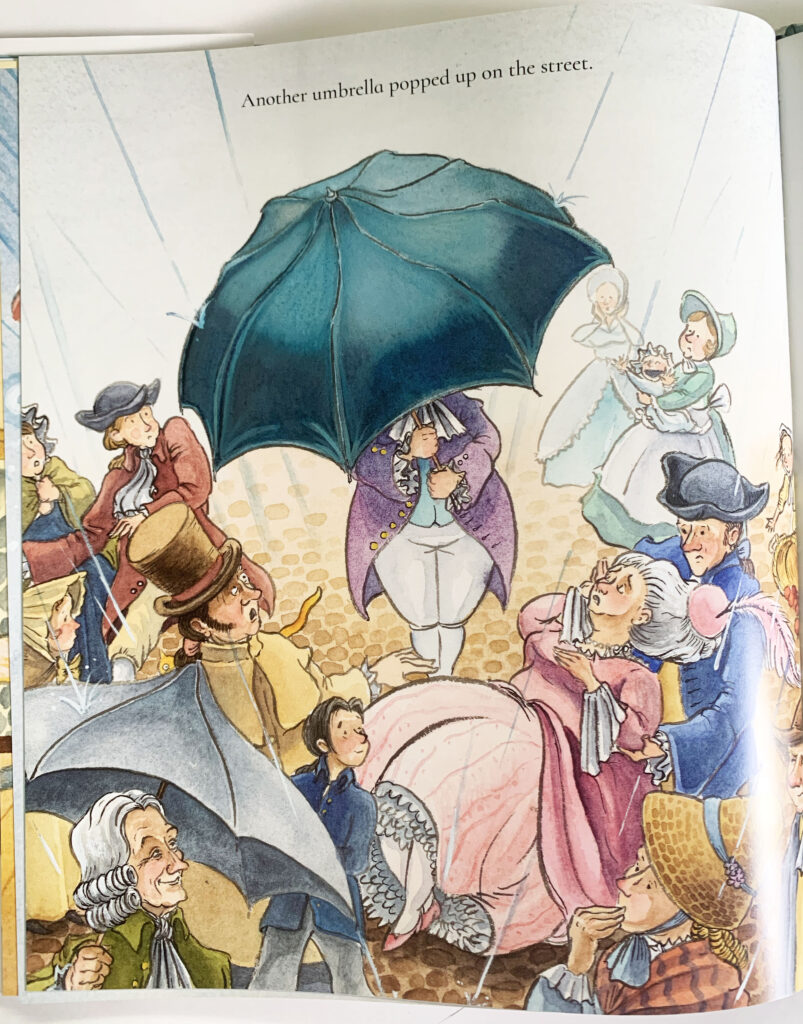 After many years of enduring such unpleasantness, Jonas noticed other men finally using umbrella's as well. Did he discover the umbrella? no. What Jonas Hanway discovered was the solution to a problem and the inner strength to stand up for his beliefs.
The story is peppered with fun word play and clever language. The watercolor illustrations are bustling with action and gorgeously rendered. The spreads are diverse in composition and shift perspectives moving the reader from one page to the next. One of my favorites spreads depicts pudgy mermaids flanking either side of the globe— telling of Jonas' travels.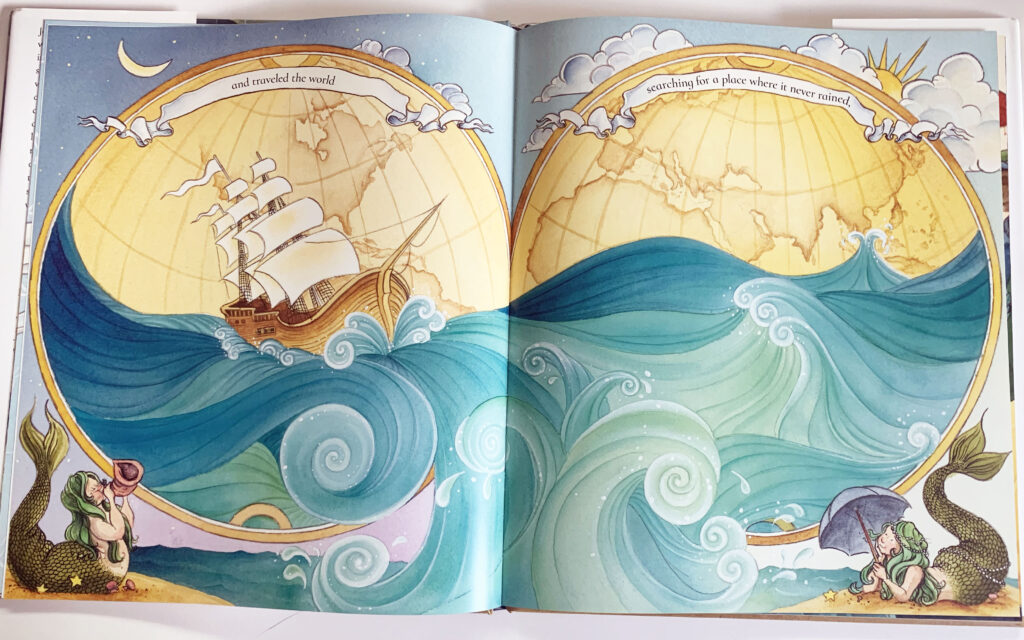 There is a wonderful teacher's guide available on Page Street Publishing's website here.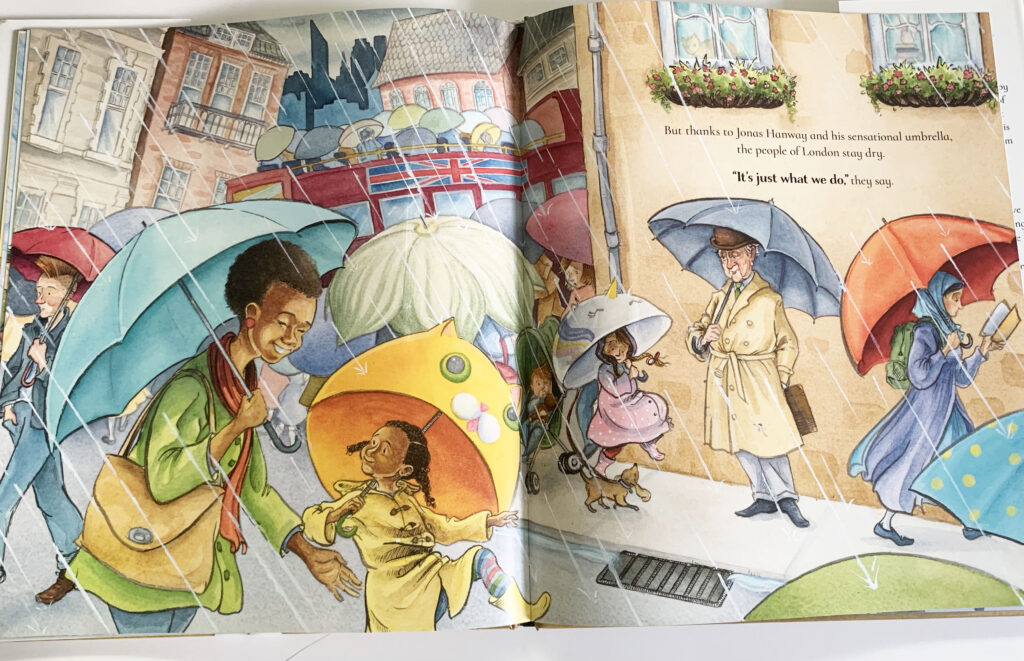 I hope you enjoy this shockingly sensational picture book as I much as I did. Thanks to Josh Crute and Eileen Ryan Ewen, I will never put up my umbrella without thinking about Jonas Hanway again!