This is a follow-up to a post I wrote in August about the importance of picking a structure for your picture book and committing to it. It might be helpful to read that post first, if you haven't.
After my last post about why it's so very important to consciously choose a structure for your picture book manuscript and then fully commit to it, I wanted to share an example of a picture book that does this really, really well.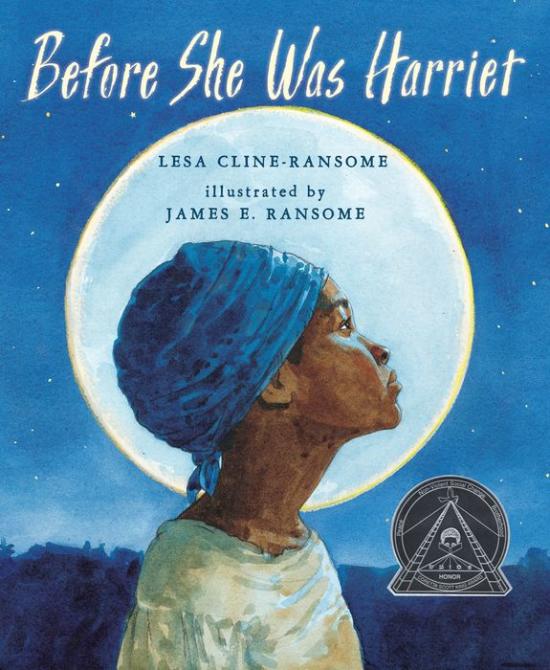 That picture book is BEFORE SHE WAS HARRIET, written by Lesa Cline-Ransome, illustrated by James E. Ransome and published by Holiday House in 2017. A paperback version was released in 2019.
I chose this book because:
It has a structure I've never seen before.
The structure works perfectly for this particular book.
The author adhered meticulously to the structure she chose.
The book is about Harriet Tubman, someone whose name is very familiar and who has had many other books written about her.
The structure
What makes this book, which got four starred reviews, so perfect is how it's structured.
It starts when Harriet is an old woman, and moves backward through her life — in reverse chronological order — to her childhood. As it looks back, it highlights the various names and roles Harriet had throughout her life — suffragist, general, spy, nurse, underground railroad conductor, and slave. And … THEN … it returns to her as an old woman who has achieved her primary goal in life. To be free.
Each section starts with a similar phrase: "Before she was an old woman, she was a suffragist ... " "Before she was a suffragist, she was General Tubman … " "Before she was General Tubman, she was a Union spy … " followed by lovely, lyrical language about her achievements in each role.
Why it works so well
One of the temptations when writing a picture book is too try to include too much. Or do too many things. Especially in a nonfiction picture book biography about someone who lived a long, full and amazing life. There are many cool things you learn as you research. So much you could include. But, if your picture book is going to succeed, you have to edit yourself and only use the stuff that supports your book's structure.
This structure of looking at Harriet Tubman's life through the roles she played and the names she used provides a great framework for determining what's included in this book. If a fact doesn't fit into the structure of her various roles throughout her life, it's not there. And, I'm sure there were facts that would have fit each section that aren't included. Because the sections aren't laundry lists of facts, dates and accomplishments. Each section shows the heart of what she did in each role and why it made a difference. And, each section is written in beautiful, evocative language.
The section on Harriet's time as a suffragist has 39 words. The section on her being General Tubman has 58 words. The gorgeous artwork supports the text perfectly. They way each section is handled is #writergoals.
The structure also works well because it helps the book stand out from others about Harriet's life. There's no point in recreating something that's already been successfully done. This book complements other books about her and can be used in conjunction with them.
Lesa says she chose the structure at the urging of her collaborator/illustrator/husband James Ransome. He thought it would be an interesting idea to tell the story from the perspective of an older woman looking back on her life.
"Initially, I wasn't particularly interested in telling the story in that way," she says. "But, at the same time, my 90- something mother was visiting. And, listening to her reminisce about her early life made me think more about the ways in which we all live many lives throughout our lifetime — if we're lucky — and how the memories of those lives can so vividly reappear as we age. With that, I decided to explore the story of Harriet Tubman, and it worked!"
Does all this mean you should revise whatever picture book manuscript you're currently working on to written in reverse chronological order? No.
It does mean you should carefully look at your manuscript, consider various ways you could tell your story and choose a structure that does that best. This might mean writing several versions in different styles to see what's most effective.
Happy writing!