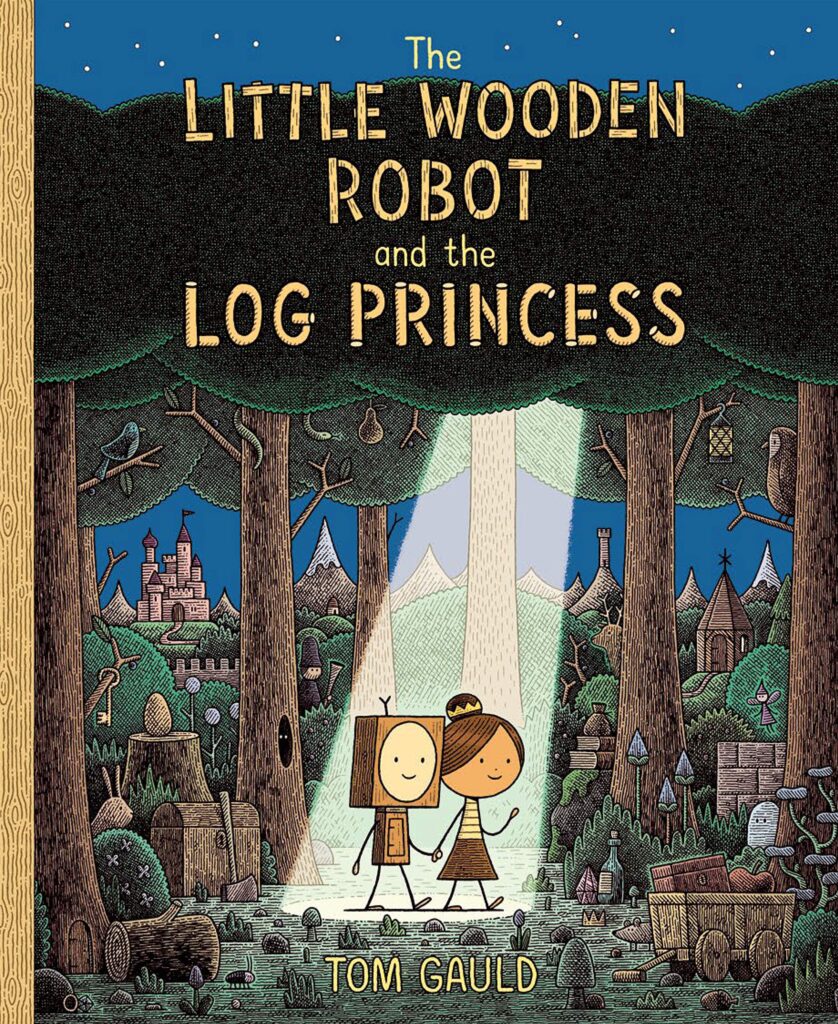 The Little Wooden Robot and the Log Princess is a fun and fabulous fairytale written and illustrated by Tom Gauld.
What an intriguing cover— it feels like a magical seek and find right from the start. Then we move to the incredible end pages and I now have very high hopes for loving this book.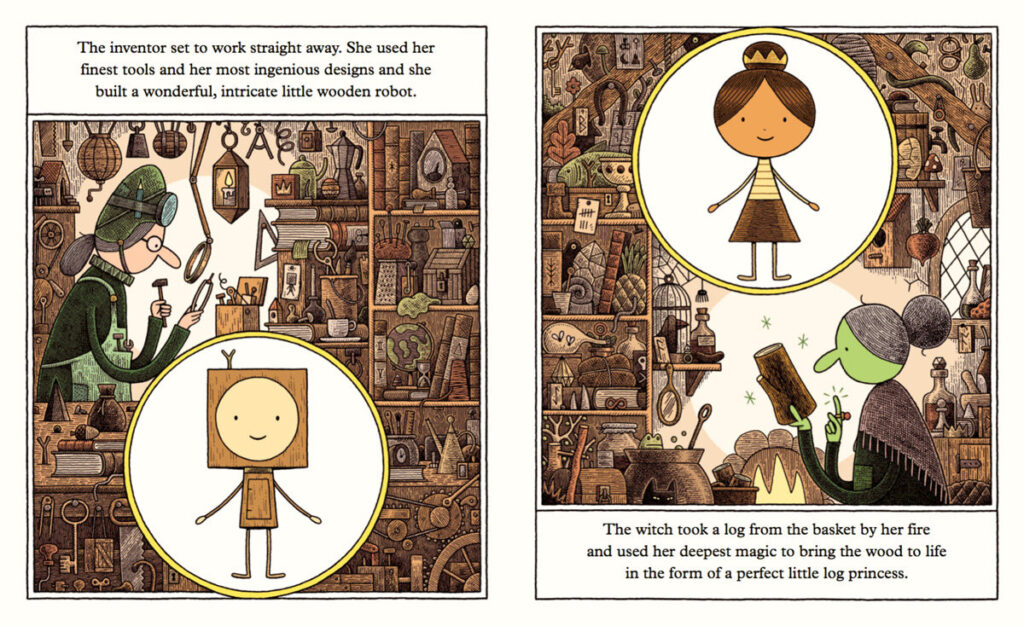 The premise is simple. It's a fairy tale. There is, however, an ease and comfort in that. We sort of know what to expect from the moment we read the cliche "There once lived a king and queen…". It's not a surprise when they desperately want a child.
The king asks the royal inventor for one, and the queen consults a witch. The royal couple are as happy as can be with their two "wood-related" siblings. The slight catch is that the Log Princess turns into a log when she falls asleep and must be awoken by some magic words. This doesn't cause a problem until the Wooden Robot forgets to wake up his sister and she is lost in a sea of firewood. Thus begins his quest to find her.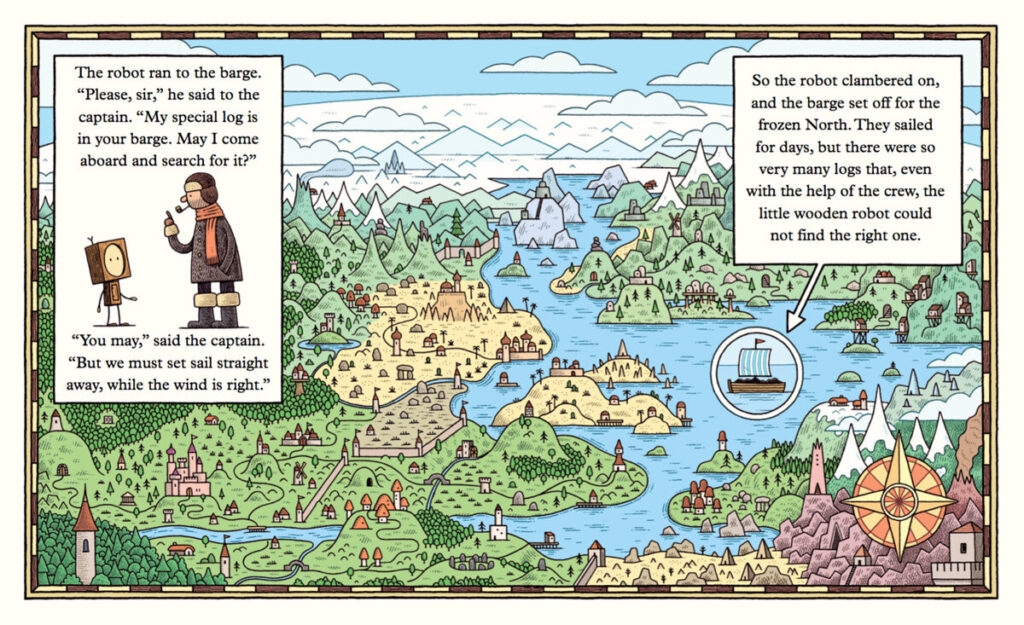 The synopsis that I have just given you could loosely fit many beloved fairy tales. And yet, the brilliance of Tom Gauld's tale is his expert storytelling. Both with his words and with his intricate illustrations.
That same classic fable theme carries into the artwork. His use of decorative borders, insets, and sidebars, is very inviting and refreshing. We don't need to wonder where to look next, we read each page visually just the way the story teller would like us to. Each page overflows with information and little extras. The designs and layouts are very smart, intelligent, thoughtful, just brilliant.
The story is brimming with bits of fun and whimsical details. I don't want to tell you about my favorite little surprise characters and give anything away. You will know what I'm talking about when you read the book.
The siblings care for each other deeply and are very kind. The diverse characters that are portrayed feel natural and not contrived.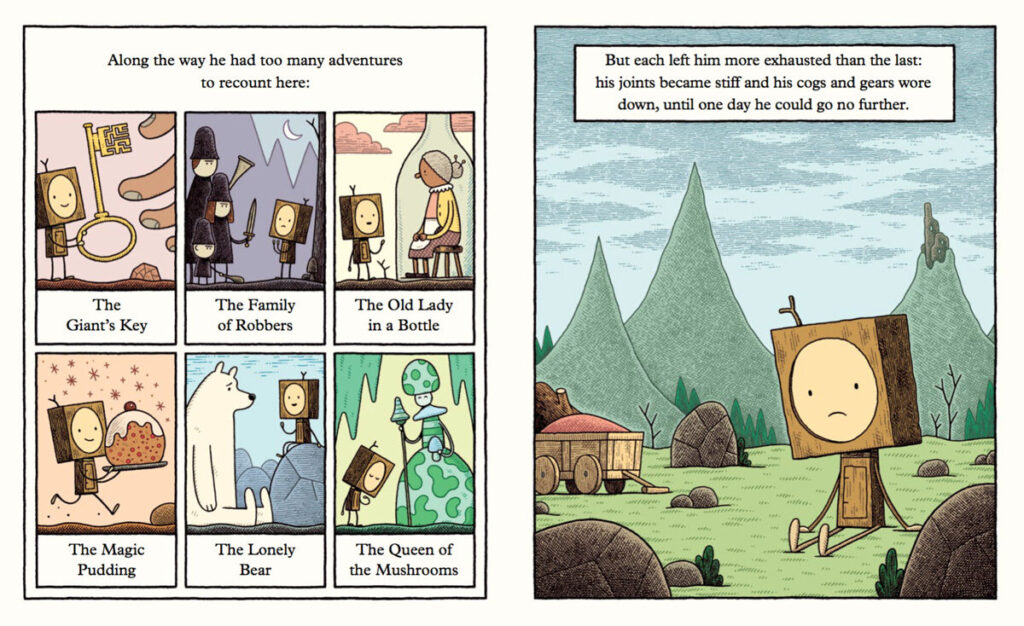 One of my favorite bits that Tom Gauld has given us is a series of 'adventures that didn't happen' for both the Princess and the Robot. These are hilarious and I would love to hear young readers expand on those titles and make up incredible stories of their own. Personal favorite— "The Baby in a Rosebush".
I want to thank my author friend, Tess, for recommending this book to me. It has lots of fun wordplay and wittiness on many different levels.
The Little Wooden Robot and the Log Princess is a warm, detailed, and intriguing adventure that I would like to go on again and again.