MEDITATION STATION is what I call a cutie pie book, which means it's one of the cutest books I've ever seen. It reminds me that I can choose to "stay in the station" and focus on my breathing rather than dwelling on negative thoughts. Being a person with a busy mind that's always going and going, I appreciate the benefits of meditation and mindfulness. This book shows kids (and grown ups!) that thoughts can be like trains that zoom by. And we have the power to let certain thoughts roll right on down the railroad track. The story features soothing rhymes and sweet illustrations by Anait Semirdzhyan. Adding to the cuteness is the size of this book. It's physically small — just right for little hands.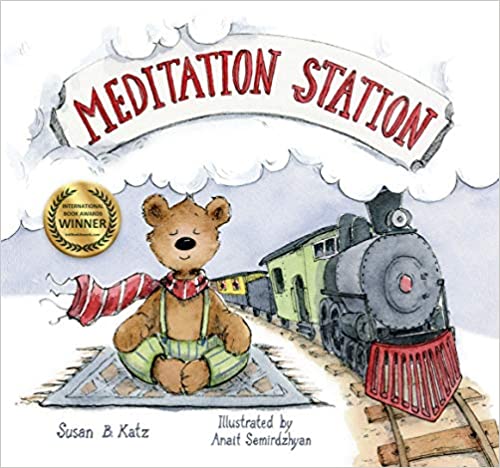 Let's hear more about MEDITATION STATION from Susan!
What was your main inspiration for creating MEDITATION STATION? 
I've practiced meditation for over 25 years. At one retreat, the teacher was talking about how thoughts are like clouds that we can let pass by. I taught elementary school for many years, so I wanted to make this concept relatable for kids. I thought of translating it to trains (and teddy bears!) by making the analogy of "staying in the station" instead of getting whisked away by our racing train of thoughts. We can notice our thoughts or emotions, acknowledge them and name them—but not attach to them or let them derail us.
Tell us about your writing process. 
After attending the retreat at Spirit Rock, I let the concept marinate in my brain for a while. It is, at its core, a meditation technique—to stay detached from thoughts and emotions and focus on the breath. I wrote MEDITATION STATION and sent it to an editor at Bala/Shambhala. She loved the concept. Once it was acquired, we actually met for dinner to work through the revisions. After that, I brought versions of it to my writer's group in San Francisco before sending the final draft to her for approval. I believe I have like Rev 21 on my computer of MEDITATION STATION, so it went through some changes to get the wording and cadence just right. I used to write in the notes of my phone, mostly on planes when traveling. These days, I live on my laptop, especially for the longer chapter biographies I write.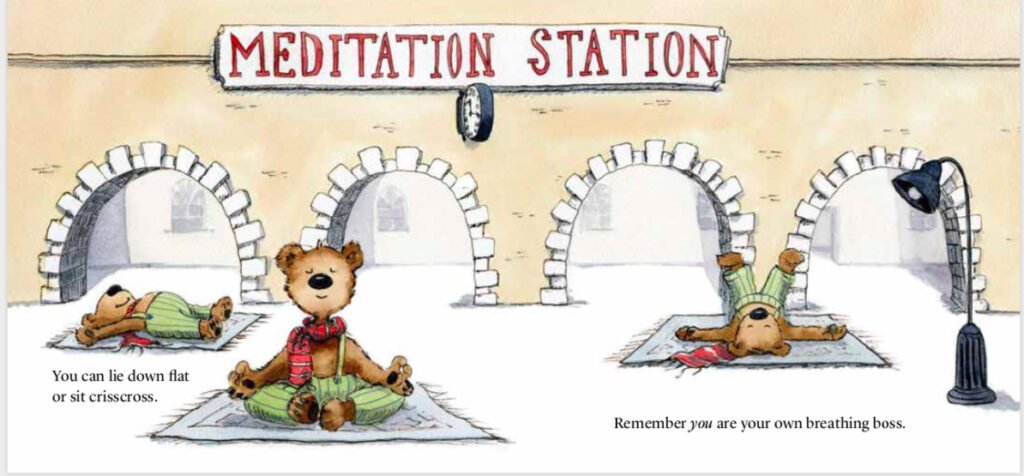 Love this spread. I want to be my own breathing boss! What was it like working with your publishing team? 
The team at Bala was incredible! From meeting in person with my editor, to the fantastic marketing and publicity teams, I truly felt like it was a collaboration to launch MEDITATION STATION. I am so grateful to have been matched with Anait Semirdzhyan. Her talent and tenacity brought my words to life in such a magical way. As most industry folk know, you don't get to communicate directly with the illustrator during the process, but I did get to give input via my editor and the art director. Anait was incredibly open to incorporating any changes I suggested. I couldn't have asked for better partners in publishing this book.
What are your top 3 tips for creating picture books?
Write what you know and/or what you're passionate about. I have a book coming out this year about the Costa Rican rain forest where I worked for my junior year abroad in college (in 1992!) It's a "Spanish-sprinkled" book as I'm bilingual and wanted to share my love of the rain forest animals, Spanish language, and colors with children.
The Four Ps: Patience, Persistence, Perseverance, and PEOPLE!  If a story gets rejected, revise, resubmit, or rethink it all together. This year, the first book I ever wrote in 1996 when I was teaching in Spain, is coming out with one of the big five houses. I never gave up on that book, and I am so excited to see it come to life. You also have to meet regularly with other writers for honest feedback and establish collaborative relationships with your agent and editors.
"Write with Your Hat Pulled Down": I heard this advice at SCBWI LA when I first started out. I wish I could remember who gave that talk, but I vividly remember her pulling down a ski hat over her eyes to demonstrate that we should not critique our first drafts. Just get your ideas down on paper (or in the computer) without questioning them. Let the creative process flow. Then…you can reread, revise, ask for feedback, etc.
Great advice! What's new and exciting? 
Well…at present count, I have 15 published titles and 16 more coming out in 2021! Last year was a whirlwind, and I spent most of quarantine writing — a quintessential author hermit by COVID-default. One forthcoming title I'm really excited about is DEEP IN THE SEA (Little Simon/Simon & Schuster, July 2021) illustrated by David A. Carter. I also have a series of Look Alike Animal books coming out with Capstone (Alligator or Crocodile, Honey Bee or Wasp, Frog or Toad, Butterfly or Moth). THE HISTORY OF PEARL HARBOR pubbed recently with Callisto/Rockridge, and I wrote another historical book in that same series that will come out in November. BROKEN BEAUTY, the life and work of Antonio Gaudí comes out with Nord Sud/North South in 2022.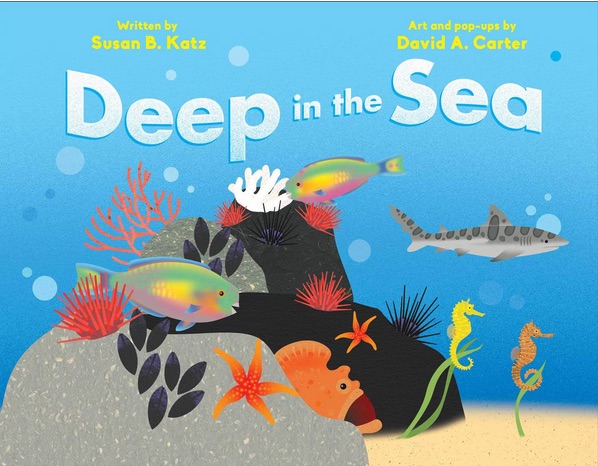 So amazing, Susan! Congrats! Can't wait to check out all your forthcoming titles!
Visit Susan's website and Twitter page.
Visit Anait's website and Twitter page.
***GIVEAWAY***
For a chance to win a copy of MEDITATION STATION, leave a comment by October 15. I'll announce the randomly selected winner in my next post.
Sending you all positive thoughts! Thanks for reading and see you next time!
-Michelle