I have long admired writers whose gifts go beyond writing and creative skills. Because of my own organizational short-comings, I especially admire writers who devise new ways to market their work and the work of colleagues, and even manage to IMPLEMENT those ideas. Julie Hedlund is one such writer. I've watched over the years as she has grown her 12×12 group into a kidlit institution, so I'm tickled to have the chance to interview her here on the PBB blog.
Coming November 9th from Philomel Books is Julie's latest book, OVER, BEAR! UNDER, WHERE?, illustrated by Michael Slack. Since wordplay is my favorite form of entertainment, I LOVE this book, both the concept and execution. The publisher describes the book this way: "A hilariously clever story of wordplay and unexpected friendship, perfect for fans of 7 Ate 9 and Eats, Shoots, and Leaves. Over and Under are two friends, and they're enjoying a day at the park. They go on the swings (Over goes over Under) and the seesaw (Under is under Over). They meet a hot-dog dog (who joins them for a hot dog). And then they spot . . . a bear! (Unbearable!) But is he really the overall scary creature they first understand him to be?"
Praise for Over, Bear! Under, Where?… "I adore this book. Am Over Come with emotion . . . er laughter. It's Jeff Mack on steroids, and every English teacher from kindergarten up to college needs to have it. THAT good." —Jane Yolen, bestselling and award-winning author of How Do Dinosaurs Say Good Night?

"A whimsical 'Who's on First'–like picture book . . . that earns its giggles." —Publishers Weekly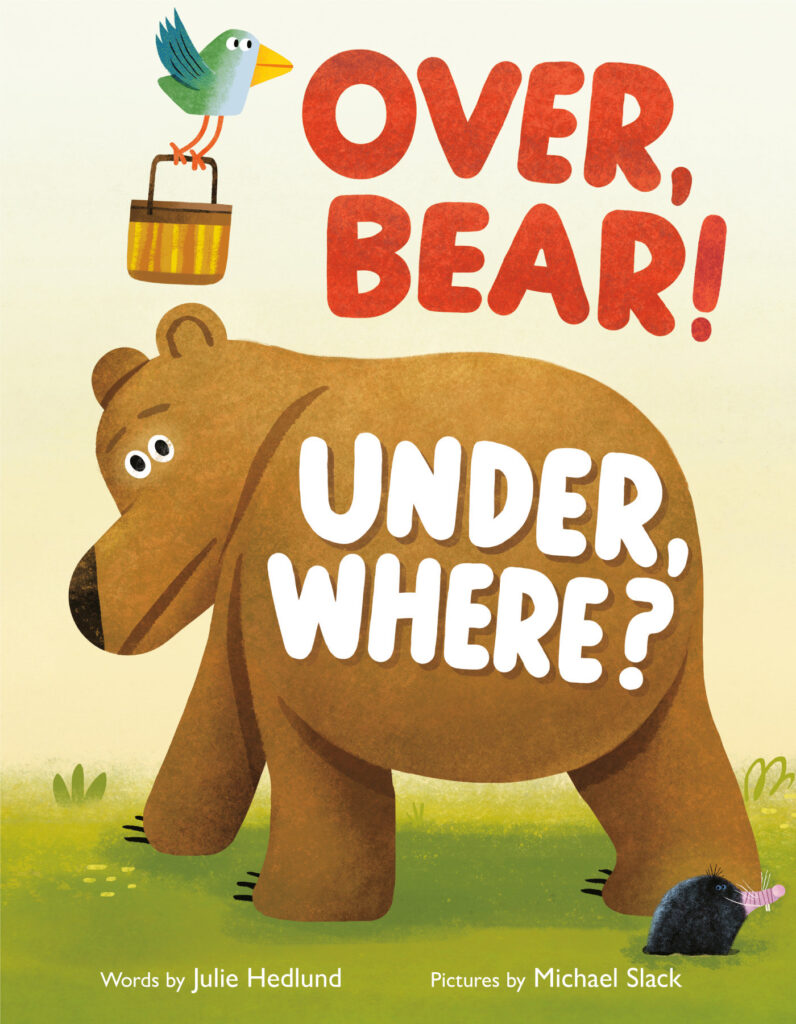 Julie, this is the kind of book that makes my brain pop with accompanying activity ideas. Do you create materials for teachers to use with your books? If so, how do you create and disseminate the materials?
I'm glad your brain is popping! I have to say, developing classroom activities is not my strong suit, but luckily, I have friends who excel in this department. There are several teachers in my promotion group, Picture Book Playground, who have created lesson ideas for the book, and my dear friend Marcie Colleen has also created a more formal Teacher's Guide. These will both be available on my website.
I think one of the coolest parts of the book is that not only did you come up with clever, unusual ways to sort of "reuse" compound words, you also made sure there was an actual narrative, rather than a random collection of phrases. Can you tell us how the story came about for you?
It took plenty of revision and reminders from my agent to make sure there was "heart" in the story. Initially it was just Over and Under playing, spotting a bear, running away and escaping. Once I realized that the real story was that the Bear wanted to be included, it was much easier to make sure the wordplay was in service to the story.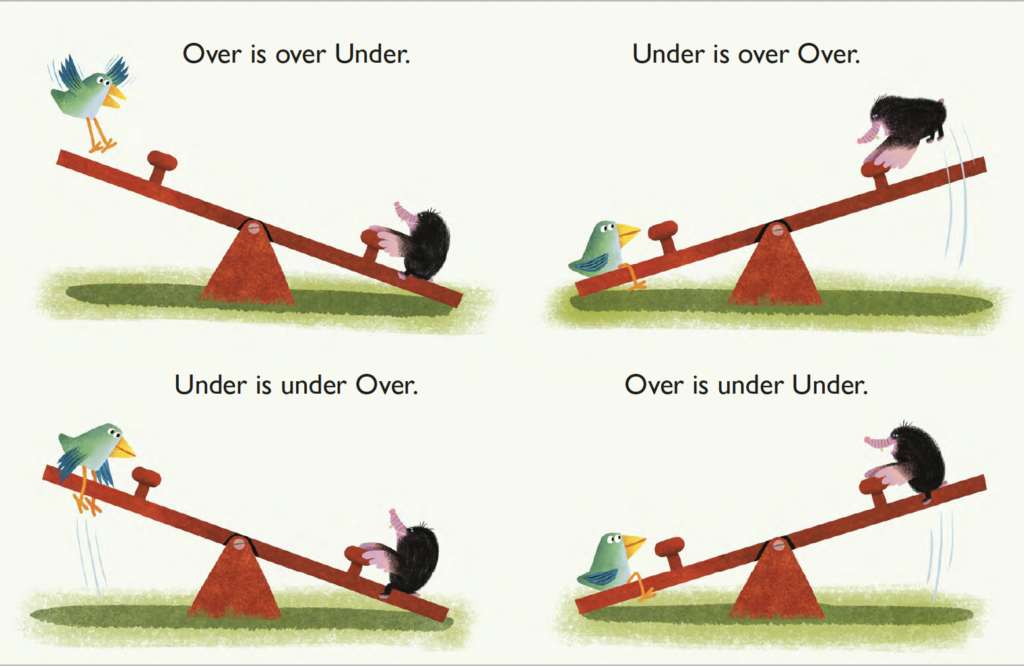 Because I'm a word nerd, I tend to concentrate a lot on the language in a story, but this book has some great characterization. Can you talk about how those characters came about and how much of their personalities, looks, etc., originated in your imagination and where Michael Slack's illustrations took over to flesh them out?
Let's talk about Michael Slack's illustrations first. I gave no instructions in the manuscript as to how OVER and UNDER would/should be illustrated, and it was his BRILLIANT idea to make them a bird and a mole, respectively. I think that works so well given the playground setting and the fact the other two characters (Bear and Hot Dog Dog) are animals.
Like you, I am a word nerd as well. Initially OVER and UNDER were just there for my amusement and wordplay. BEAR, at first, was the villain. But then I realized that BEAR was just misunderstood. She didn't want to eat them; she wanted to play with them! Adding the Hot Dog Dog was critical at that point because it showed how the two friends were willing to include a friend who looked one way, but not another. They made assumptions that turned out to be incorrect. The DOG character is how I deepened the theme of inclusion in the story.
Plus, I love how DOG just gets swept up in this drama without even asking for it – LOL. It added another layer of humor.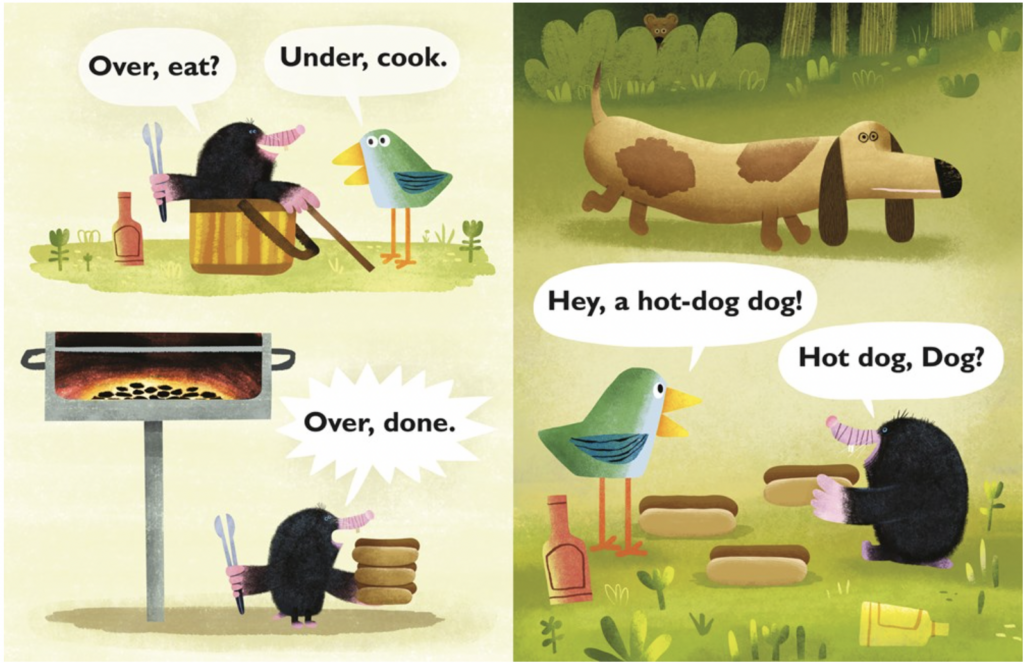 And speaking of Michael Slack, (I love his work; his illustrations for Tammi Sauer's NUGGET & FANG books make me laugh, no matter how many times I read the books), how fun was it to watch him bring your clever concept to life?
OMG! I am so lucky he chose to illustrate this book. I mean, that COVER! He could not have done a better job amplifying the humor and word play of the story.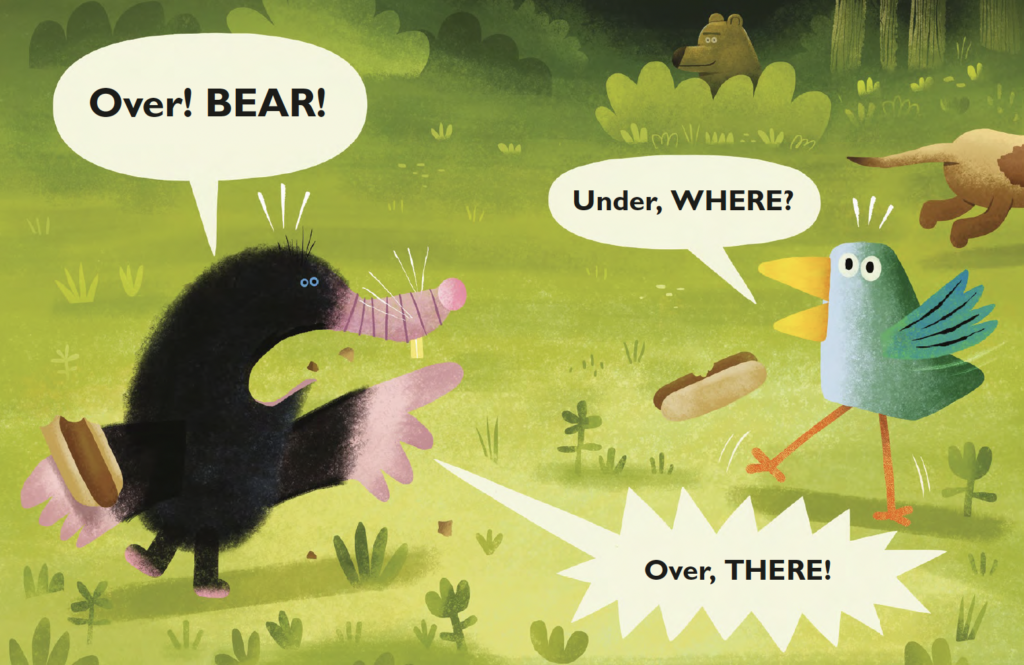 I have always admired your phenomenally successful 12×12 Challenge. Can you tell us a bit about that? How it came about and where it's headed?
12 x 12 came about due to my need to motivate myself to write a greater volume of manuscripts. So I set a challenge to write one a month and invited others to join me. That was ten years ago now and hundreds, if not thousands, of member books have been published since. We will celebrate our 10th anniversary in 2022, and I can't WAIT to see what the next ten years bring.
Mention of your 12×12 site prompts me to mention that I've always admired your promotional skills. Of those skills, which do you think have contributed not only to the sales of your books but to your success as a writer?
Who knows anything about what sells books, right? I do think partnering with bookstores, especially local indies, is key. But in general, I think being engaged with the community is the best thing you can do because it becomes symbiotic. We all help each other out. So perhaps my dedication to the kidlit community is the biggest factor. You spend years helping amplify others' books and one day hope that goodwill comes back to you.
Any advice you can offer the PBB writer subscribers?
To those who are in the query/submission trenches: the only failure is giving up. Everything else becomes a stepping stone to your eventual, inevitable success. Keep writing and creating!
Thanks so much, Julie!
Thank YOU! I am so grateful to be on the PB Builders blog!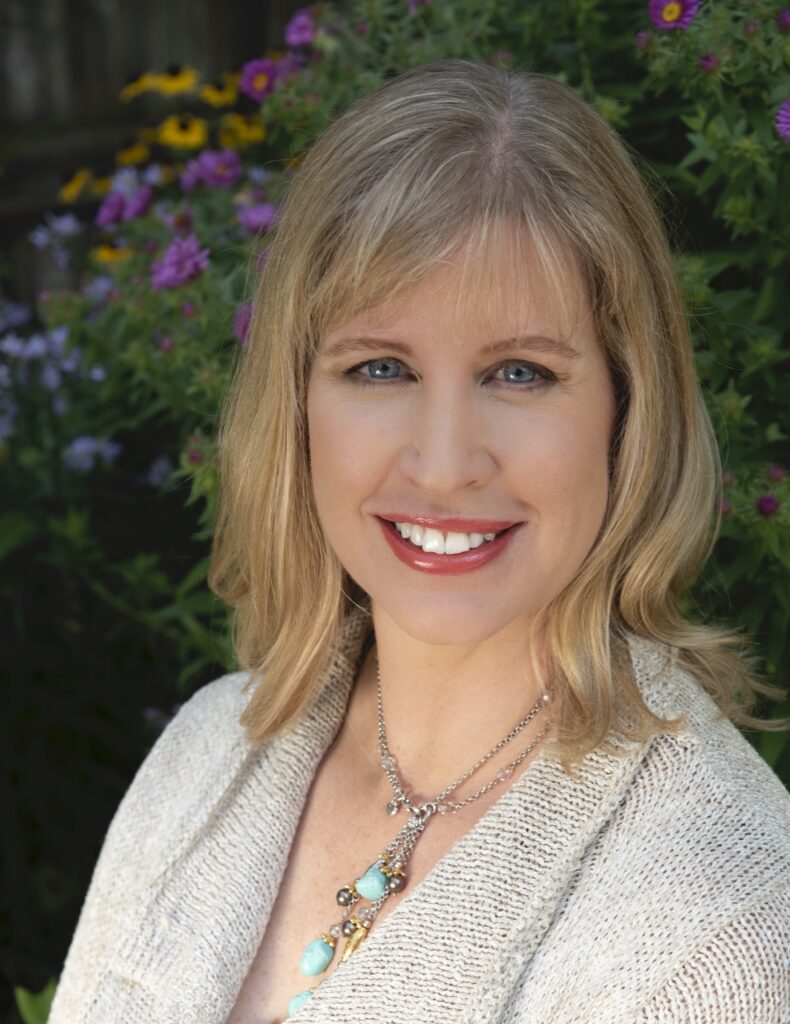 Julie Hedlund is an award-winning children's picture book author who spends much of her time inside her own imagination. Her titles include OVER, BEAR! UNDER, WHERE? (Philomel, Nov. 9, 2021), MY LOVE FOR YOU IS THE SUN (2014) and A TROOP IS A GROUP OF MONKEYS (2013), both published by Little Bahalia Publishing. She is the founder of the 12 x 12 Picture Book Writing Challenge, which boasts more than 1,200 members. She is a co-founder of Picture Book Summit, an annual online conference celebrating its 6th anniversary in 2020, and the co-creator (with Emma Walton Hamilton) of The Complete Picture Book Submissions System.
When she is not writing, you can find Julie on the hiking trails in and around Boulder, enjoying a cup of English Breakfast on her patio, or working on her latest jigsaw puzzle, perhaps accompanied by one of her two teenage children and/or her high-maintenance hound dog, Rocky.
Julie is represented by Erzsi Deak of Hen & Ink Literary Studio. You can find her on Facebook, Twitter, and Instagram, and, of course, on her own website at JulieHedlund.com.