The start of the holiday season has me thinking a lot about home and homecomings. How it feels to leave home, how it feels to return, and especially how it feels when circumstances prevent you from going home or seeing loved ones. So I revisited one of my favorite picture books from this year, which I'd like to share with you — ELEPHANTS COME HOME: A True Story of Seven Elephants, Two People, and One Extraordinary Friendship, written by Kim Tomsic and illustrated by Hadley Hooper.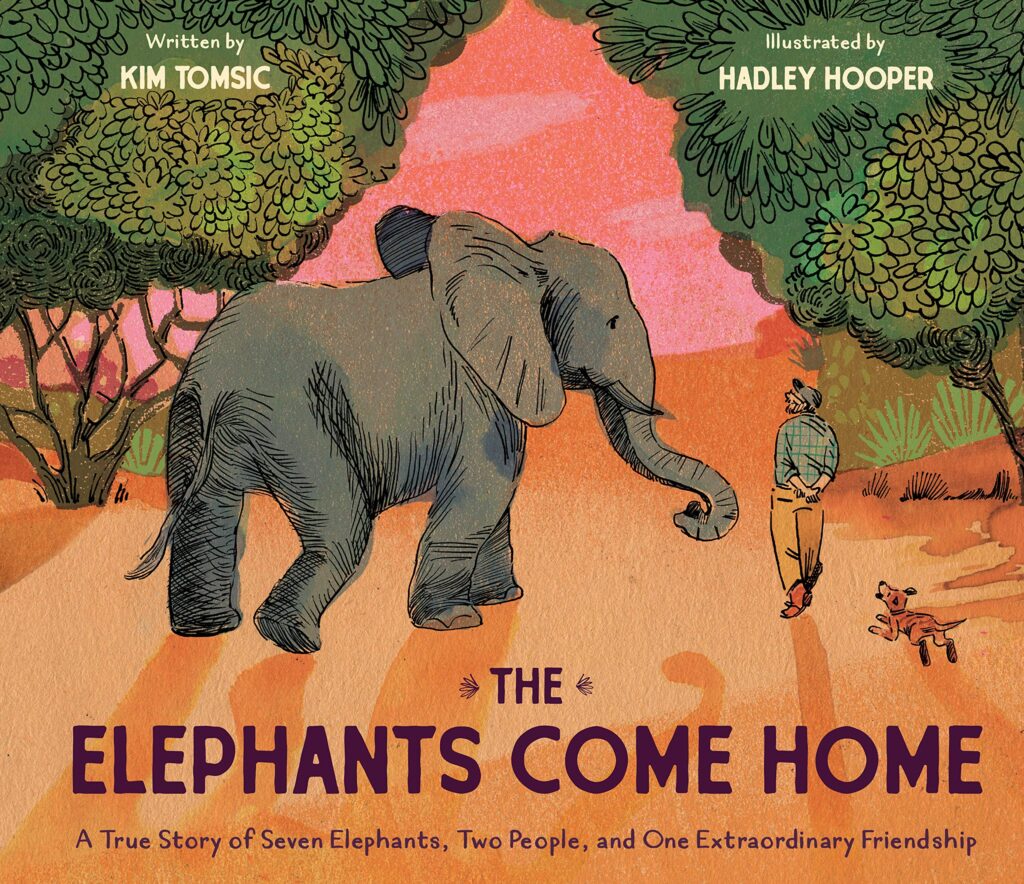 The gorgeous cover immediately drew me in with its vivid colors, African setting, and promise of an unusual friendship between the elephant and the man (and the dog, too). The front flap copy also intrigued me. It's not often that I see flap copy that relies on illustrations.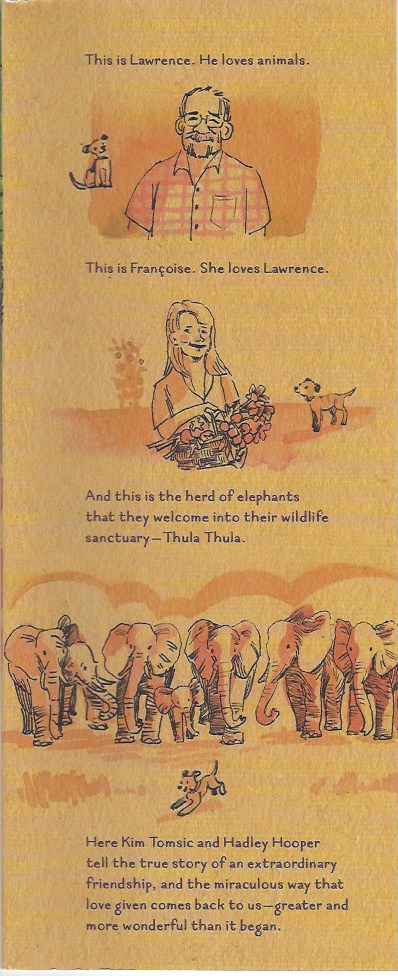 I was taken with Lawrence, Françoise, and their love for each other and for animals. When I read the line, "…the miraculous way that love given comes back to us — greater and more wonderful than it began," I choked up. I knew this was going to be a book that made me cry, and I love those kinds of books.
What I wasn't anticipating, though, was how the story would affect me on such a personal level. I've (sadly) never had a pet elephant, or visited a wildlife sanctuary, or been to Africa.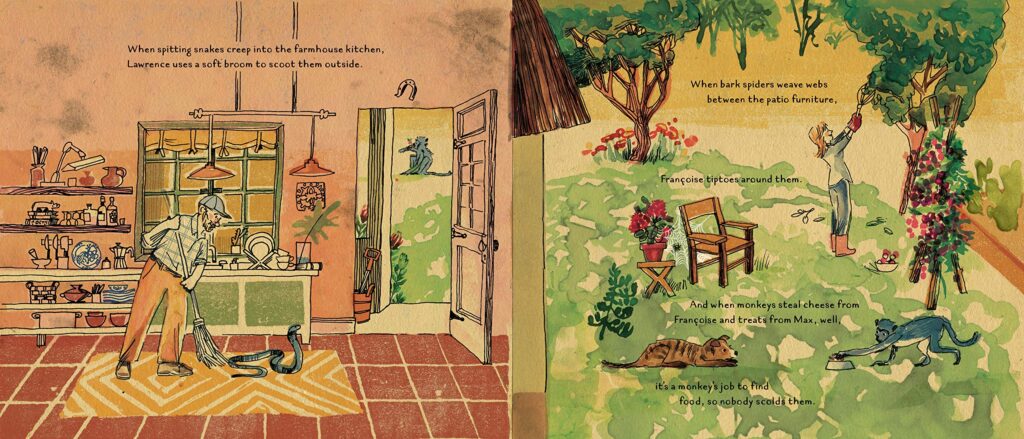 So while the story is about a real life couple, Lawrence and Françoise, the wildlife sanctuary called Thula Thula in South Africa that they run, and the herd of angry elephants that they adopt…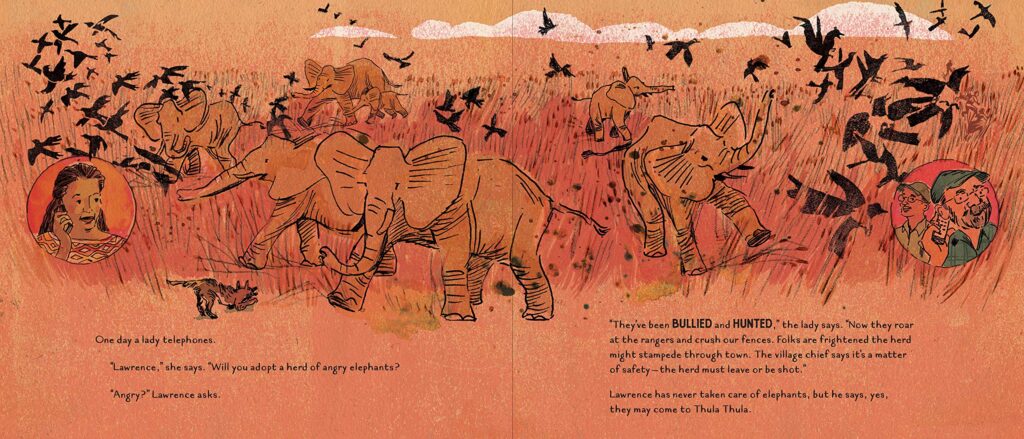 I was struck by the similarities between the elephants and all the people who have been forced from their homelands to seek shelter and refuge in a new place. Like the elephants, many have "been BULLIED and HUNTED."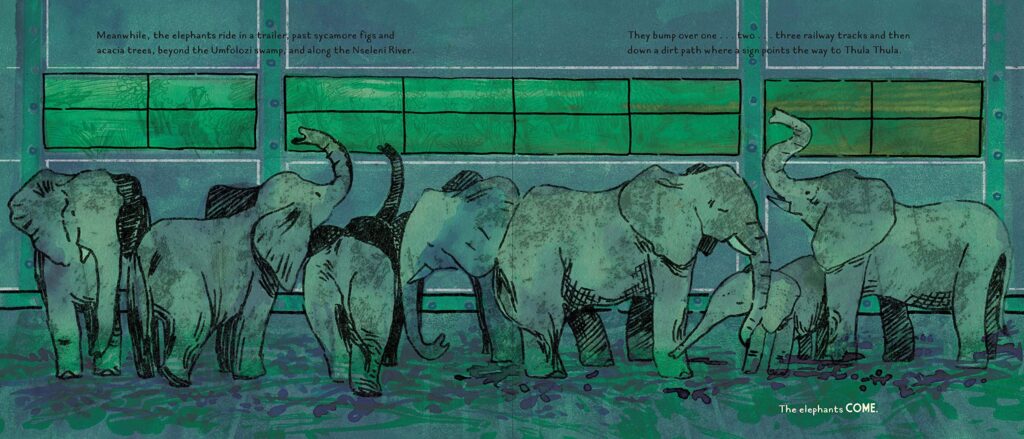 Like the elephants, migrants often endure arduous journeys before they arrive at their final destinations.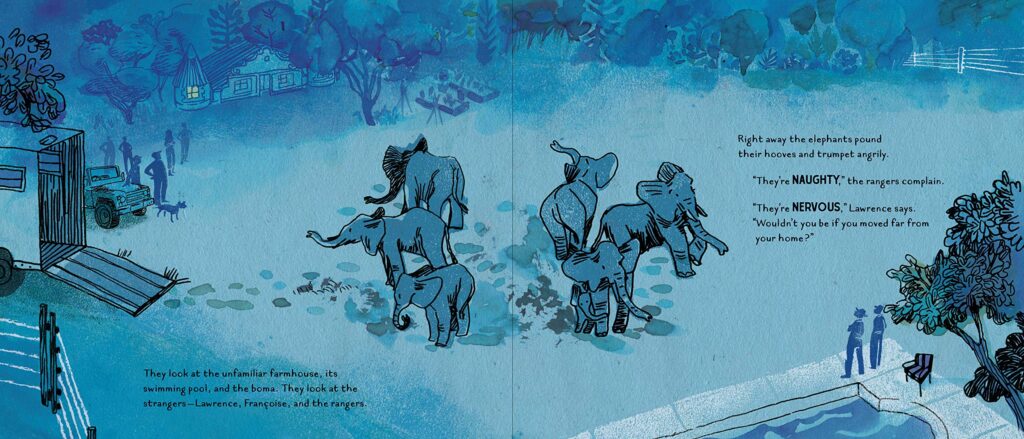 And like the elephants, they, too, are uncertain about what will become of them.
At Thula Thula, the elephants act out, pounding their hooves and trumpeting. The rangers deem the creatures "naughty," but Lawrence is much more empathetic. "They're nervous," he says. "Wouldn't you be if you moved far from your home?" But the rangers aren't convinced. After the elephants break out of the sanctuary, putting themselves at risk from hunters, the rangers insist, "They're dangerous." Lawrence, though, knows they're "still scared." Once the herd is safely back at Thula Thula, Lawrence pitches a tent and camps beside the elephants, singing and reading to them, slowly gaining their friendship and trust. He tells them that they'll never be alone again.
The bond between Lawrence and the elephants runs so deep that the herd senses whenever he's about to come home from a business trip and meet him at the gate. Over time, the elephants settle into the vast sanctuary lands and spend their days living a 12-hour walk away. Until years later, on the exact day when Lawrence passes, the elephants begin the long trek back to the main house. There, they camp out, mourn their friend, and make sure Françoise knows she is not alone.
This poignant and beautifully-illustrated book can be read and used on many levels: to introduce STEM topics like habitats and biomes; to spark discussions about conservation; to create wonder about the deep and long-lasting connections between people and wildlife; and, I hope, to inspire compassion for all those who have been displaced from their homes — human, elephant, or otherwise.
You can hear more about the elephants of Thula Thula, Kim's inspiration for the book, and a reading of the book by Kim here.
Congrats to Judith Aplin, who won a copy of Beth Anderson's TAD LINCOLN'S RESTLESS WRIGGLE!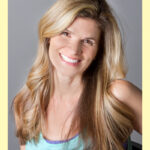 Kim Tomsic is also the author of the nonfiction picture book Guitar Genius: How Les Paul Engineered the Solid-Body Electric Guitar and Rocked the World, and the owner of one sweet dog named Sushi. In the past, she has housed cats, rabbits, hamsters, gerbils, hermit crabs, tadpoles, geckos, lizards, and even a snake named Snaky. Kim is the mother of two children and divides her time between Boulder, Colorado, and Scottsdale, Arizona. She serves on the board of her father's charity, The Friends of Haiti (www.tfohi.website); is an active member of the Society of Children's Book Writers and Illustrators; and is working on her MFAC at Hamline University. Visit her online at www.kimtomsic.com, on Twitter at @bkshelfdetectiv, and on Instagram at @kimtomsic.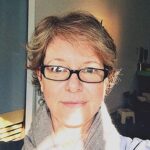 Hadley Hooper is an illustrator and painter. Some of her previous books include the award-winning The Iridescence of Birds: A Book about Henri Matisse and Mabel and Sam at Home. This is her eighth picture book. She lives in Denver, Colorado, with her partner, Hugh, and dog, Augie. Elephants are her favorite animals, but dogs are a very close second. Visit her online at www.hadleyhooper.com, on Twitter at @hadleyhooper, and on Instagram at @hadleyhoo.