I Do Not Like Yolanda By Zoey Abbott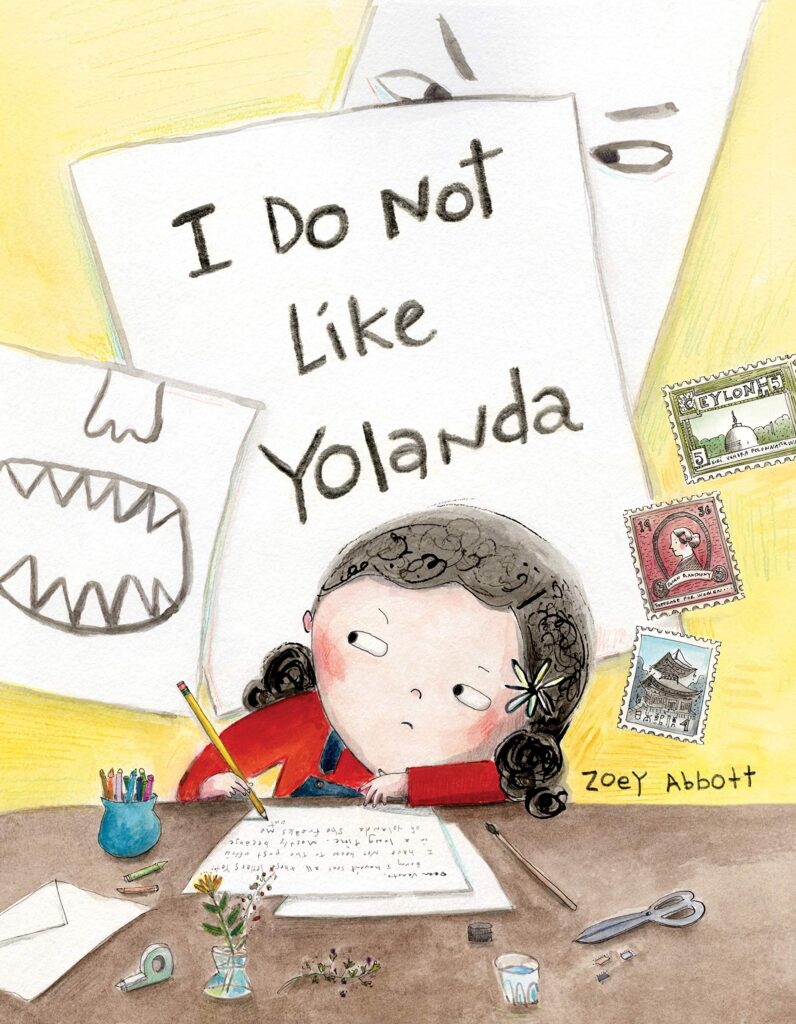 Behold the power of a great cover— a mysterious title + a side-eyed glance = is what made me pick up this winner of a picture book.
Bianca loves to write letters. On the front end pages we see some of Bianca's illustrated notes to her Grandmothers. Bianca loves to collect stamps. Her Grandpa gave her a box of them.
But Bianca does not like Yolanda. Yolanda works at the post office which, obviously being a fanatical letter writer, Bianca often frequents.
In one of my all-time favorite picture book spreads we read the text,
"I don't think Yolanda likes kids very much. 
Or adults for that matter… 
One time I spent an hour on my envelope drawings." 
On this left-hand page, we see an envelope with a sweet illustration at the top. Obviously, Bianca took a great deal of time and care to create such a masterpiece. At the bottom of that page, the text reads,
"My letter was a little heavy, so Yolanda weighed it…
At the top of the right hand page, we see Yolanda's curly, red, pointy-nailed hands (Bianca refers to Yolanda's fingernails as talons) sticking a strip of meter tape for the additional postage, directly over Bianca's beautiful drawing. At the bottom of the page, Bianca's little hands are frozen in helplessness and shock. The text above them reads simply, 
"… and this happened!"
This moment was so powerful. I don't believe I've ever read a pb that took me back to a feeling like this. Remember those times in your life that you felt small and powerless? Had Bianca been an adult, she would have spoken up, but as a little girl, she felt shocked, hurt, and taken advantage of by an adult. And, as I remember doing in my own childhood, I channeled all that disappointment into dislike of that person. Turning that person into my arch enemy and nemesis.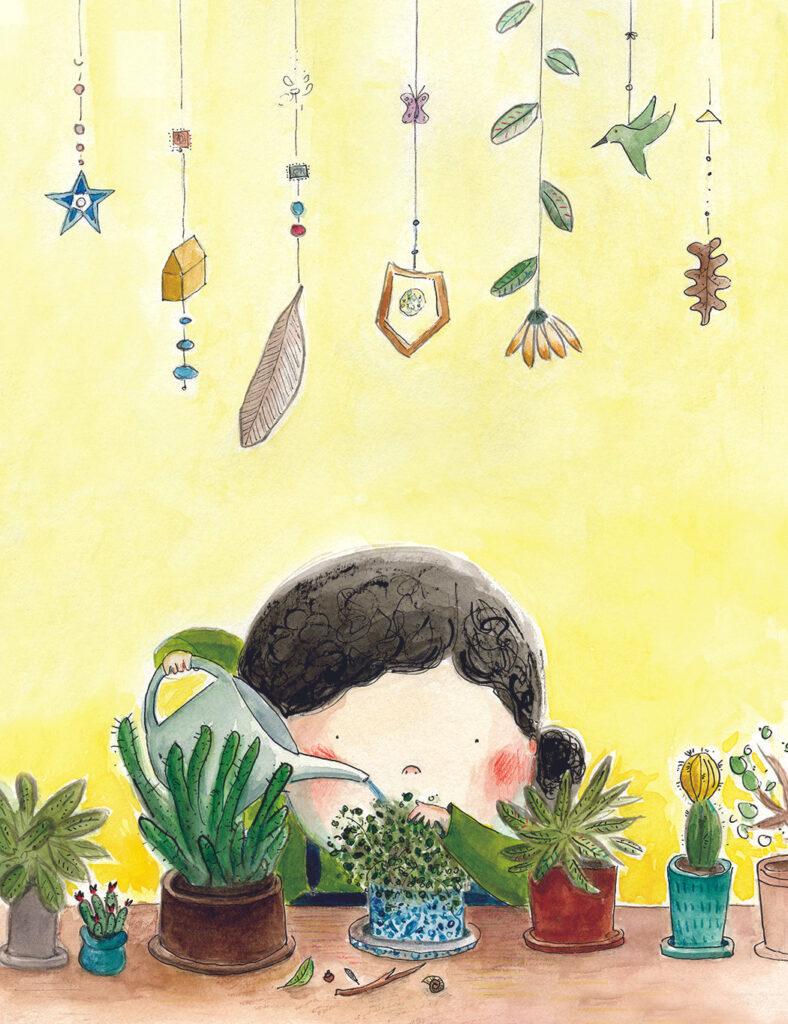 This is the reason that Bianca does not like Yolanda. But Bianca still needs to go to the post office. When she does, she avoids getting into Yolanda's line. The illustrations throughout the book are full of clever and humorous details. In one illustration, Bianca is convinced that Yolanda wants to 'eat her up'. A mouth with teeth borders the page as inside happy folks wait in line at the post office. Bianca stands holding her mail and "crossing everything"(eyes included) in the hope of not having to have Yolanda wait on her.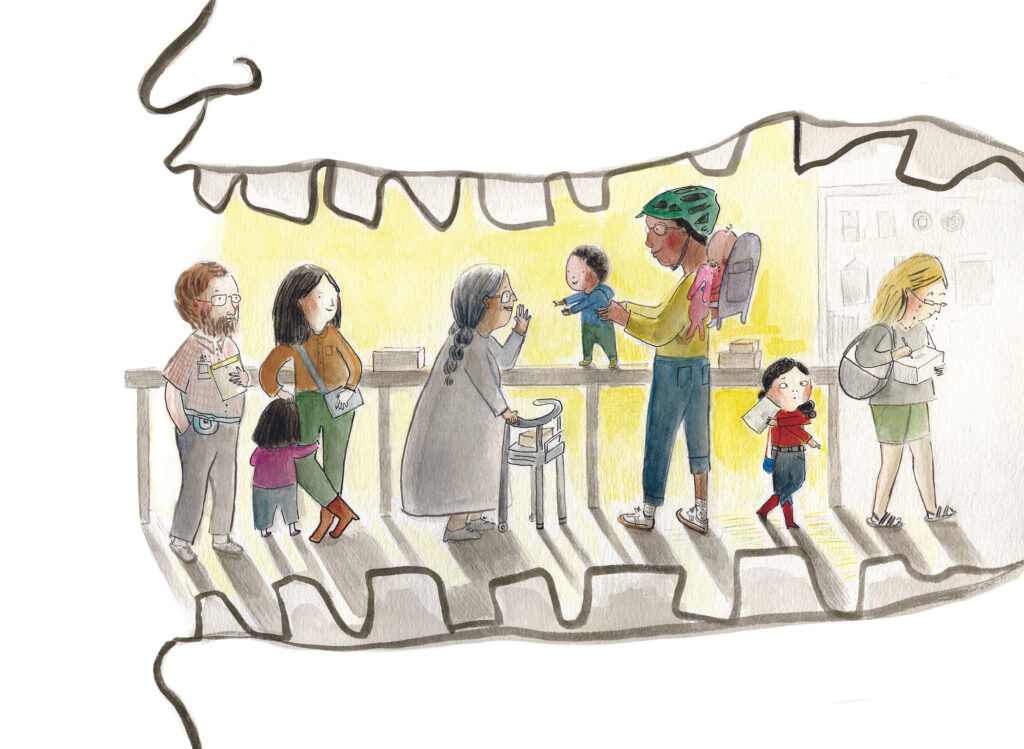 On a happy "five letter day" Bianca heads to the post office only to discover that to her horror Yolanda is the ONLY postal worker. And just as Bianca closes her eyes and awaits the kill, Yolanda speaks to her, 
"Well, I just served one of the most delightful meals that anyone has ever prepared." 
And, magically, Yolanda's curly claw hands are prettier. Her smile and eyes are kind. She and Bianca have a nice conversation and Bianca looks forward to asking Yolanda questions next time she goes to the post office. 
This happy ending is reinforced by a letter on the back end pages which is addressed to Yolanda, telling her about the yummy food that Bianca and her father prepared.
This story was full of surprises for me. Simple on the surface, but it had such emotional impact. It took me back to those (unpleasant) childhood memories and the sometimes unfortunate, powerless side of being a youngster. It also reminded me how we can, as children and adults, form assumptions and blow them out of proportion. Negative thoughts can grow bigger and bigger until they lose all basis in reality.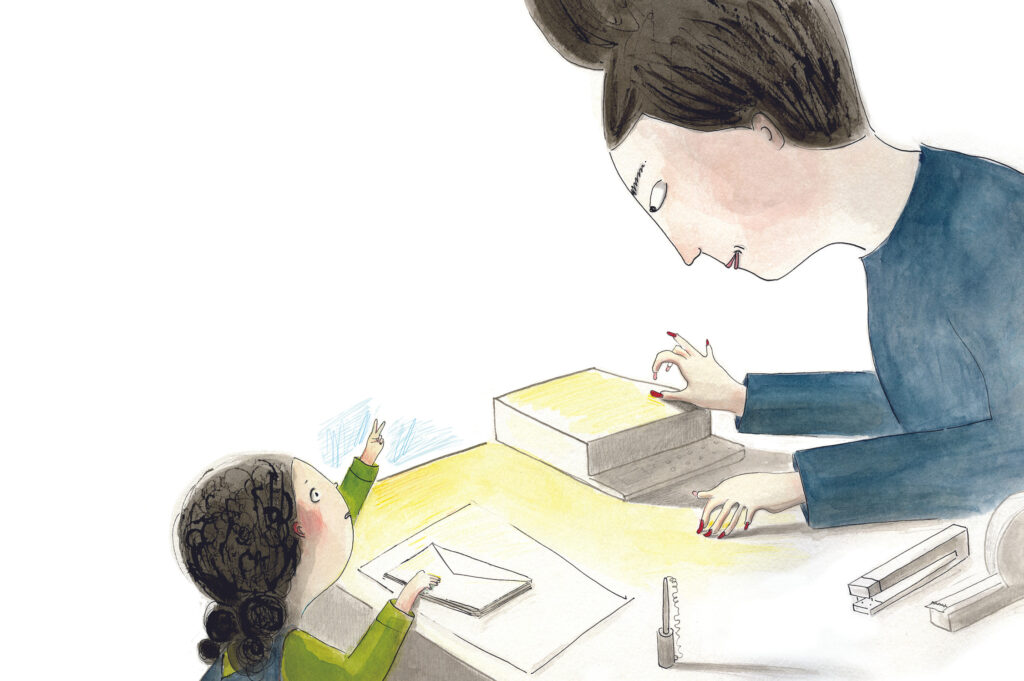 I hope that you find this book and that you Do Like Yolanda as much as I did.
This is my last post before the new year. Happy and safe holiday wishes to all of you. Thank you for visiting us and sharing your love of picture books!