It's nearly Valentine's Day and la-la-la-la-love is in the air!
Evidence: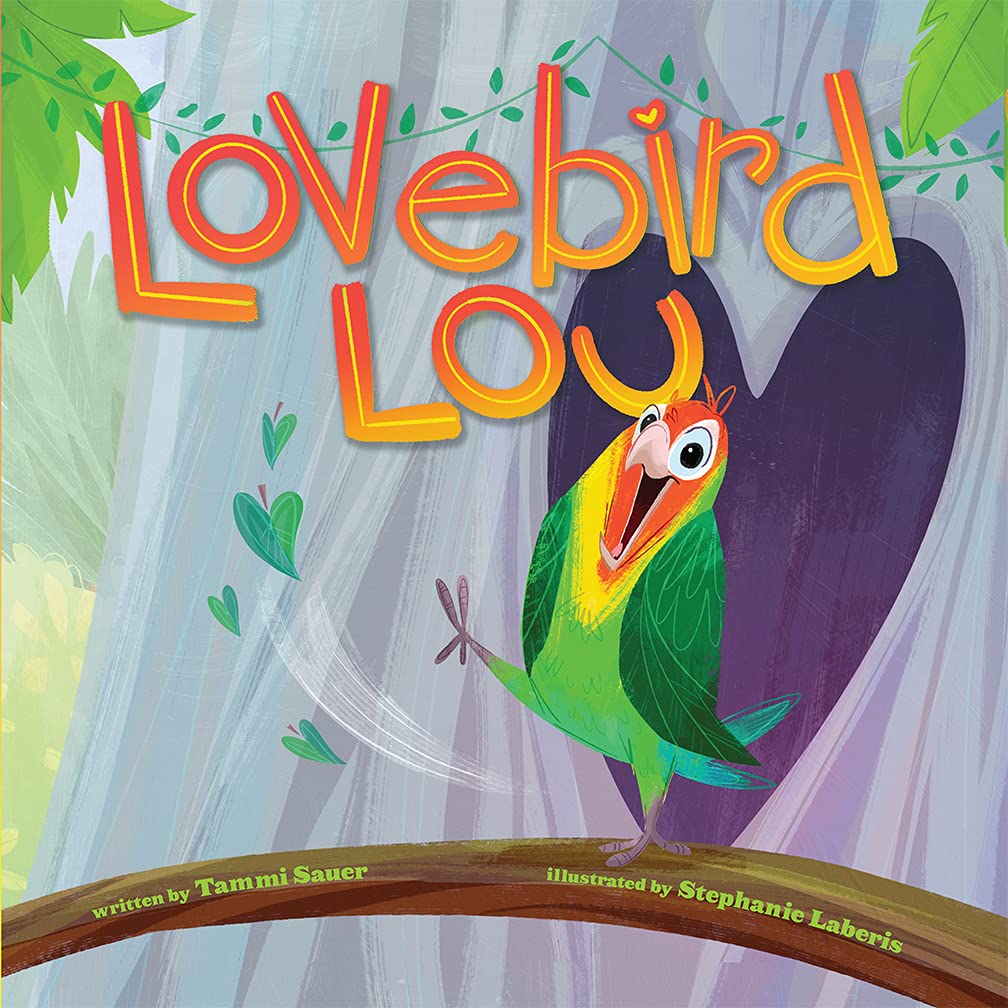 Lovebird Lou, illustrated by Steph Laberis–and written by yours truly–stars a little lovebird who is learning to embrace who he is.
This is what Kirkus had to say about our book:
"This entertaining picture book would be a wonderful read-aloud and discussion starter for early grade schoolers. The bright and colorful illustrations sparkle with humor, and many young readers will readily identify with Lou's identity crisis. A funny but touching story about learning to accept who you are."
Nice, huh?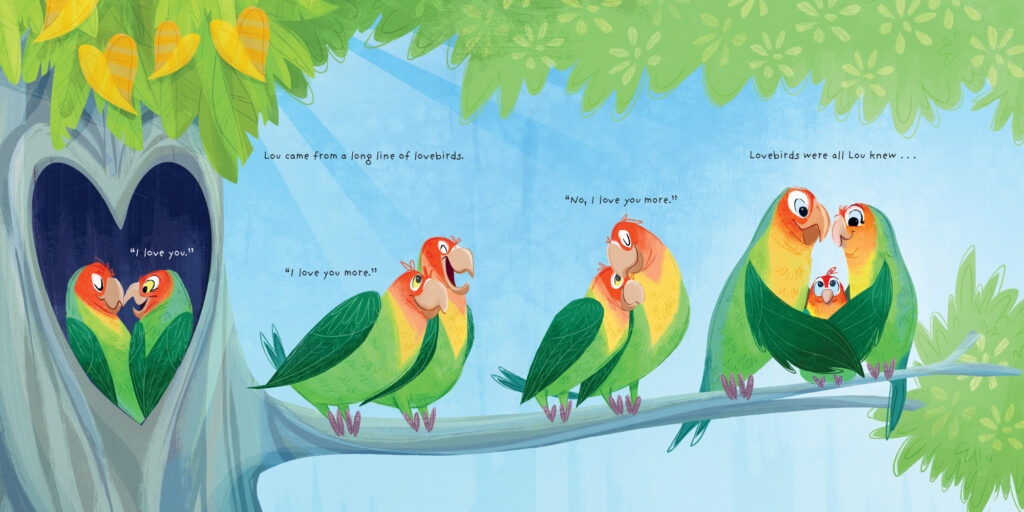 I invited Steph to join us to celebrate Lou and the rest of his crew.
TS: Steph, welcome to Picture Book Builders! You have illustrated many, many wonderful picture books. What was it about this manuscript that made you say YES?
SL: Thank you so much for having me! Lovebird Lou was an easy decision for me; Lou's charming, determined little spirit leapt right off the page, & I could envision his character almost right away. I also adored Lou's flock, with their unwavering support & unconditional love. I wanted to take part in a story like this, that could reach kids that are maybe feeling a little lost or discouraged in figuring out who they are. And on a more technical level, I haven't illustrated any books that focus on birds, so I also thought this would be a great set of new challenges for me.
TS: Please give us a tour of your studio. (You get bonus points if you include a bird somewhere in the scene.)
SL: Sure! My studio is a little room in the back of my house, with a window right by my desk in which I can watch our daily backyard visitors & get a little up close & personal with some of the more "assertive" regulars! I keep things pretty simple in here otherwise: I'm mainly found at my computer workstation, where I do all of my illustration digitally on the Cintiq. I have an at-home print setup here as well since I sell prints of my artwork online. I've got a desk for working with traditional paints & clay, but, unfortunately, I haven't had much time in recent years to use that particular space. I've got a big bookshelf packed with reference art books, ranging from other kid-lit illustrators, animation art books, anatomy books & video game art books. Finally, I have a little easy chair where I can take breaks & decompress at the end of a work day…when it's not occupied by my cat.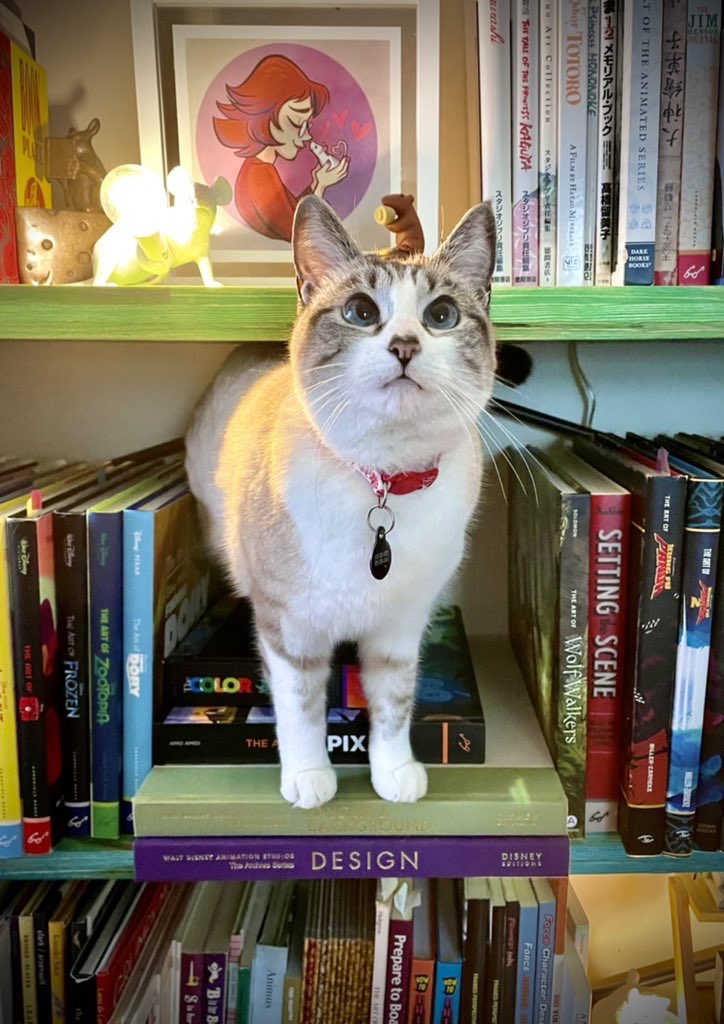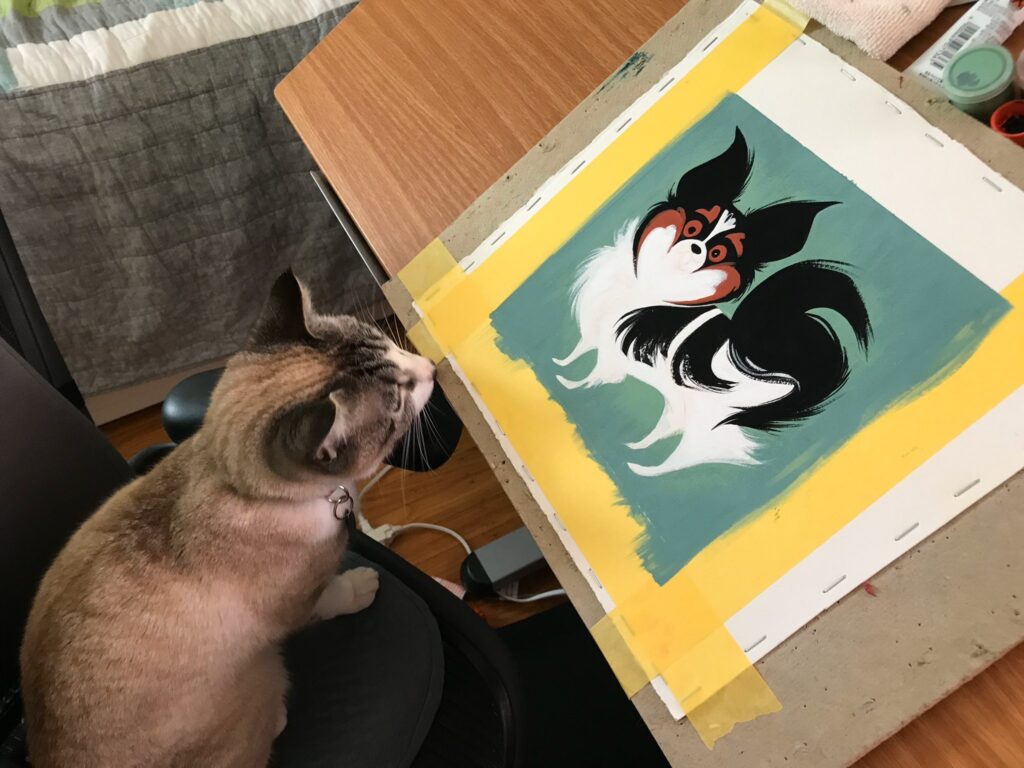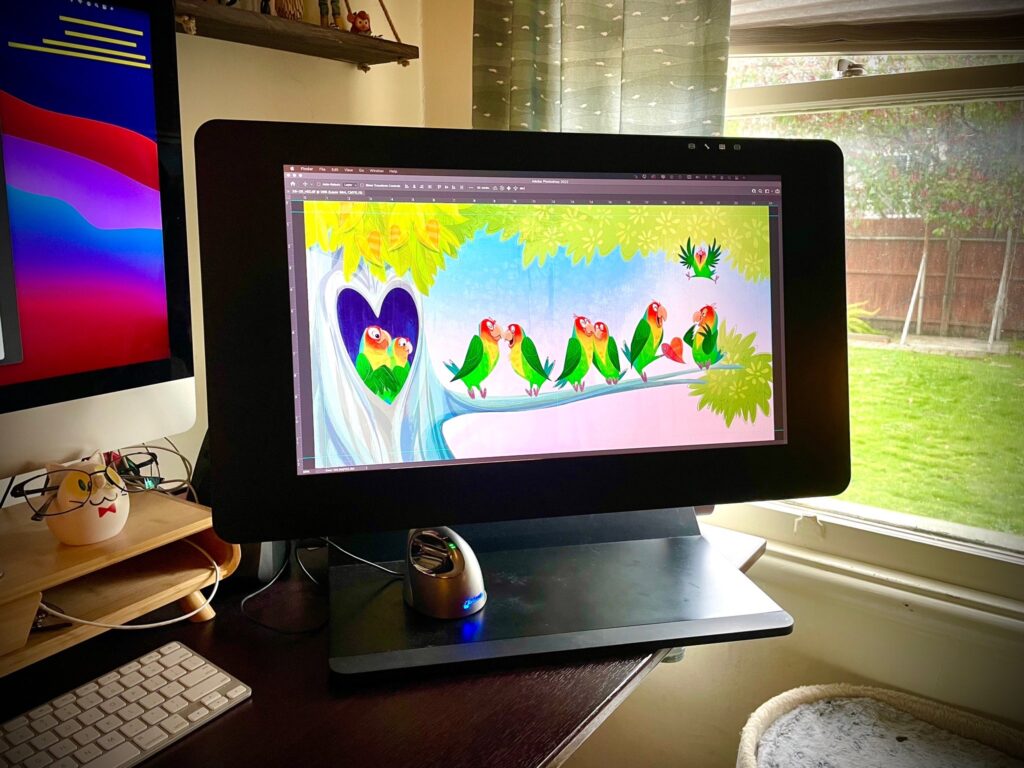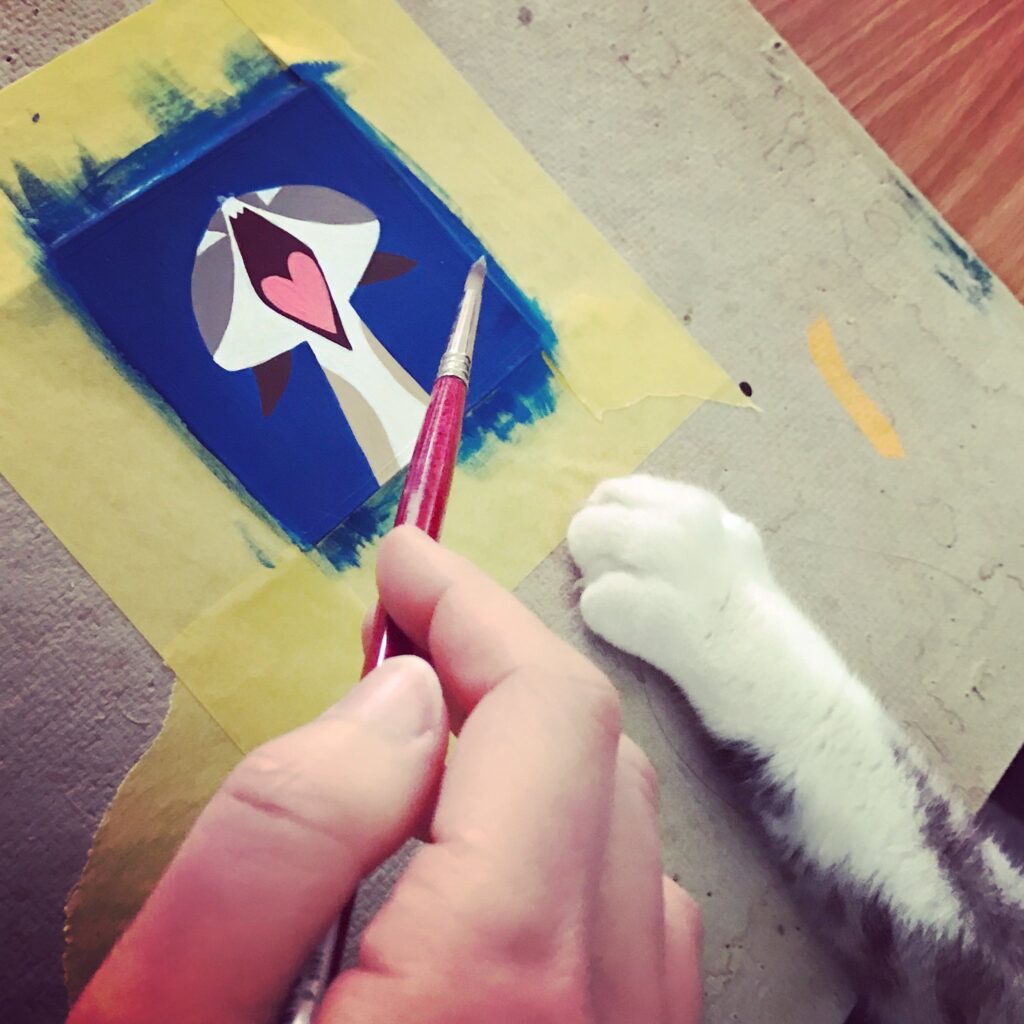 TS: While Lovebird Lou is a book about important things like community, family, and self-discovery, it is also funny. You brought an extra layer of humor to the book through your art. Do you have any tips or suggestions on creating just the right expression or body language for a character?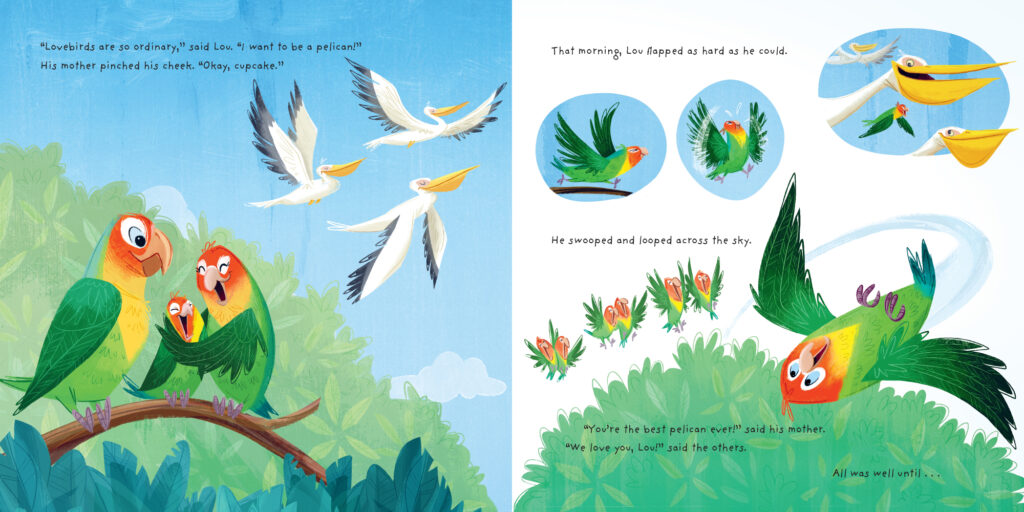 SL: I think when it comes to expression & body language, it's best to take to heart what I learned from working in animation: act it out! Get up, stretch, ground yourself in your body & strike those big poses in front of a mirror or better yet, a camera! The same goes for facial expressions. Capturing an expression is about feeling it on both an emotional & somatic level. And once you think you have it down, push it up a notch. When Lou is happy, he's REALLY happy – he levitates, his mouth stretched all the way down to his belly. He's a little bird with big emotions & his poses needed to reflect that!
TS: Lovebirds aren't the only birds in this book. Pelicans, flamingos, and nightingales also make an appearance. How did you go about bringing these various birds to life? Did you dig out the "B" volume of the 1987 Encyclopedia Britannica? Did you become the local bird-watcher? Did you travel to a tropical island?
SL: Haha! Oh my gosh, Encyclopedia Britannica, that takes me back – I can just smell the public library & the Xerox machine now! You are on the right track though, I used a LOT of reference, though it was all through the internet. Any time I take on a new project, I spend a day just gathering photo reference from online. I compile what I think I can use into a layered PSD file & will refer to it throughout the book, more often than not adding to it with more photos as I work through the book spreads. I am so lucky to live in this day & age where so much reference is available in an instant! Of course, I need to make sure that I don't precisely copy any photo I find – just because I found something on the internet doesn't mean there's no copyright! I let my reference inform my decisions & then I figure out how to personify & exaggerate the various species I am looking at. That said, I wouldn't have minded traveling to a tropical island to gather my own first-hand reference. Maybe someday!
TS: Please share some of the early sketches.


TS: At one point in the book, Lou gets so discouraged with the business of being a bird, he decides to just be a rock. He looks funny and endearing next to that #1 Rock sign. It's my favorite image from the book. What's one of your favorites?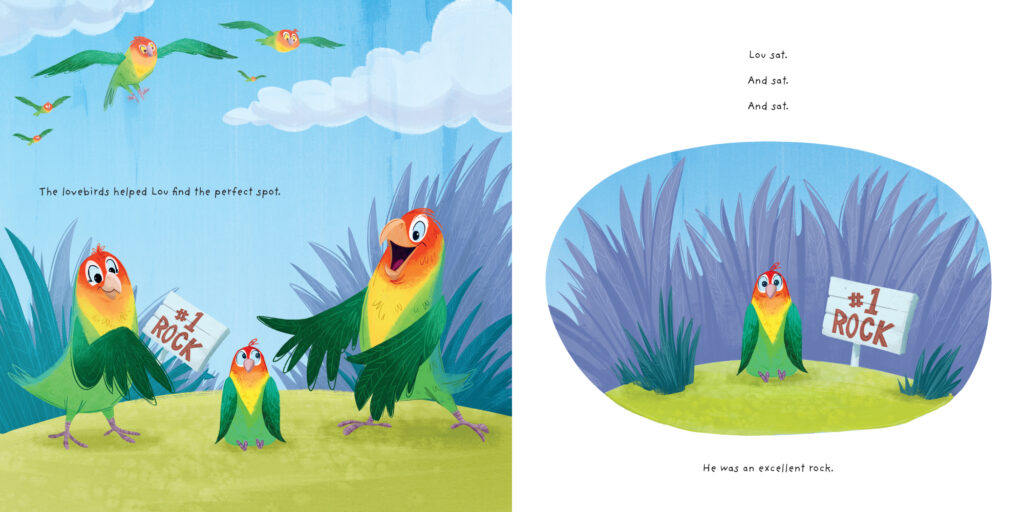 SL: Oh thank you! The rock illustration was one of my favorites, too. I wanted it to be sort of a deadpan humor moment in the story. I'm partial to the first & last spreads actually; seeing his whole flock together, doing what they do best (la-la-la-love!) was how I wanted to both open & close the story. These are the sort of spreads I think would make nice prints or posters!
TS: If you had one key piece of advice for illustrators, what would it be?
SL: Hmm, good question. One of my favorite sayings is "Luck favors the prepared." So many of the opportunities I've been given had an element of luck to them. It wasn't so much a case of being in the right place at the right time (though that's still a factor), but being the right artist at the right time. I had to work for years to hone my skill set to become the artist a particular publisher was looking for, if that makes sense, but I also had no foresight over exactly who would want to work with me or when. So if you find yourself working hard but still aren't getting the results you hope for, remember that luck is a factor, but that you can also influence your luck by building a skill set that helps your work to stand out.
TS: Scoop time! What's next for you?
SL: Oh, I wish I could spill all the beans, but some things fall under NDA. I can say that I have a few more animal-centric picture books that are coming out in 2022 (one of which revolves around…poo!–Poo-Dunit? A Forest Floor Mystery by Katelyn Aronson) & that I am currently illustrating 3 more books for 2023. I am also back to working full time at an animation studio as a character designer on something very exciting – but also very secret! I know it's no fun to leave out the details, but all will be revealed when the time is right!
TS: Ooh. The drama! The intrigue!
BIO:
Steph Laberis is a character designer & illustrator specializing in animation & children's publishing. Her work is known for its sense of whimsy, humor & expressive (usually animal!) characters.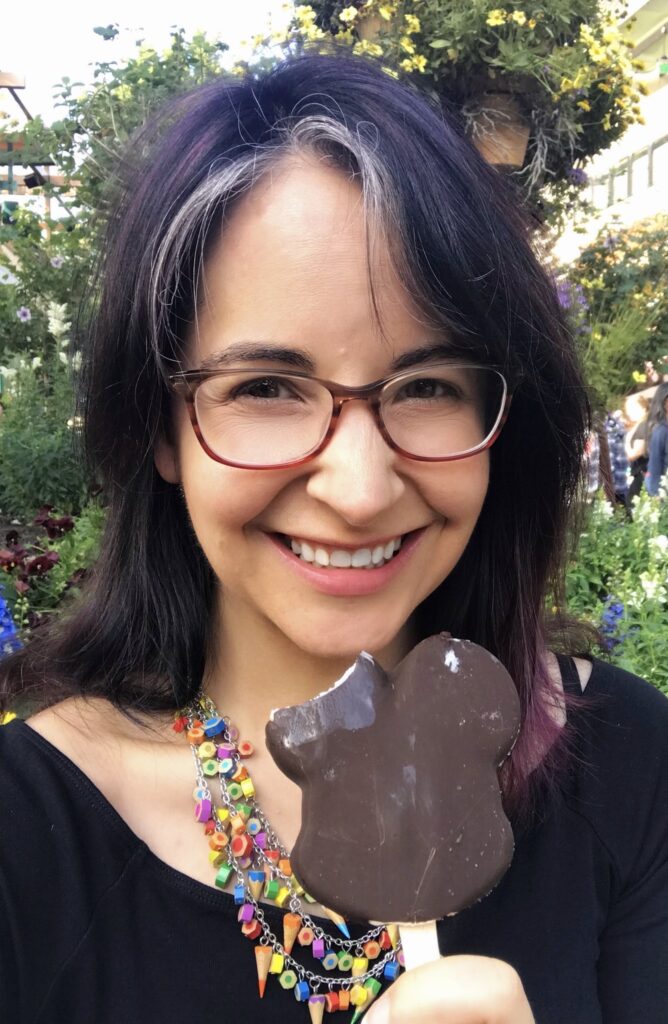 GIVEAWAY: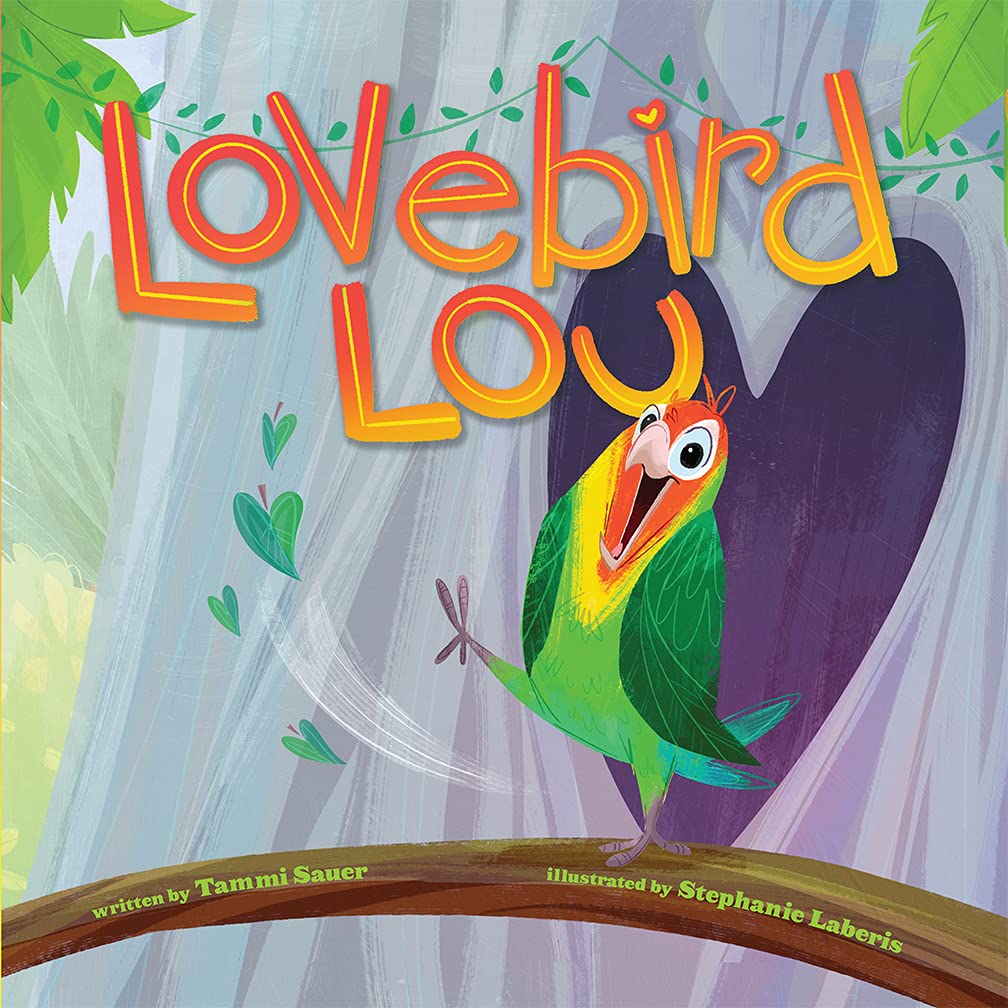 For a chance to win a copy of Lovebird Lou, leave a comment on this post and/or share a link to the post on Twitter. Please be sure to tag @stephlaberis and @SauerTammi.