I read a lot of picture books in 2021. And, I talked about some of them on this blog. But, as I looked back on the year, I found three books I truly meant to talk about, but did not.
So, now seems like a great time to highlight these books that I don't think you should miss. Let's start with …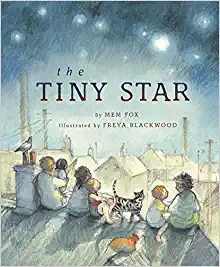 THE TINY STAR by Mem Fox and Freya Blackwood (Alfred A. Knopf). I'm a big fan of Mem Fox's work. When my kids were small, several of her books were in our regular rotation including POSSUM MAGIC, KOALA LOU, WOMBAT DIVINE and TIME FOR BED. Mem is also the author of the adult book READING MAGIC: WHY READING ALOUD TO OUR CHILDREN WILL CHANGE THEIR LIVES FOEREVER.
But, I hadn't seen anything new from Mem for a bit. Until THE TINY STAR appeared in December. Based on the title and the release date, I thought this was a Christmas book. But, no. It's about a regular, everyday, non-divine baby. Who, of course, is anything but regular to the people who love it.
I knew this was going to be good from the book's first line:
Once upon a time, although this happens all the time, a tiny star fell to earth
and turned into a baby.
The rest of the book is a tribute to the circle of life — and not in a "Lion King" way. The simple and lyrical language shows the baby growing up, living a full and happy life, loving and being loved by others, and then returning to the sky as a star. (If you want the story behind the story, read Mem Fox's blog post about why she wrote the book.)
The artwork adds depth. It's not overly cute or sweet which I think was totally the right call for this book. Freya Blackwood uses muted colors to show a diverse community that loves and supports the baby throughout its life.
The book is absolutely lovely, and you should check it out.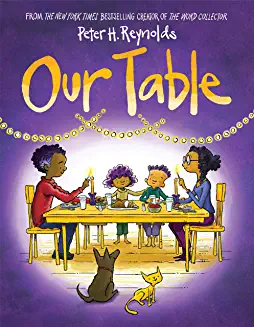 OUR TABLE by Peter Reynolds (Orchard Books). I'm also a big fan of Peter Reynolds. His art is always amazing, and he's one of the simplest, clearest, cleanest and most heartfelt picture book writers out there.
When I first saw OUR TABLE, I thought, based on the title and the release date, this might be a Thanksgiving book. But, no. It's about a family, like many others, that is so caught up in phones and computers and TV programs, that its members no longer connect with each other.
The main character, a small girl named Violet, notices this and sets out to fix it. This book's structure is sublime. Dad likes TV. Mom likes her phone and Brother likes his computer. So, Violet meets them where they are at to get them involved in her attempt to build a new family table for them to gather around. And, her strategy works.
This book also has a killer first line:
Violet fondly remembered the table.
(An aside: I like to go back to lines like this when I'm struggling with my own writing. They remind me that the simplest way to say something is often the best.)
Some of the art in this book — where Violet is missing her family members — is done totally in shades of purple. Other pages — where the family comes together — are full color, with purple highlights.
The book has a bit of unexpected magic in it that surprised me at first, but ended up working out well.
I highly recommend!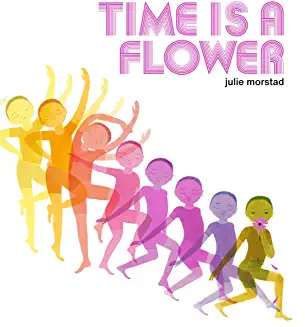 TIME IS A FLOWER by Julie Morstad (Tundra Books). Until I saw this book, I was not familiar with Julie Morstad's work, although she's written and illustrated lots of books. This is an oversight I plan to rectify, because Julie can write and draw. Excellently.
This book did not make me think it was a holiday book. Instead, the cover reminded me of a 1970's record album — in a good way. The inside of the book continues with the retro colors and is a visual delight.
The text is a lyrical poem about time that uses familiar objects to explain the concept– a flower, a caterpillar, a seed and other items. It begins:
Time is the tick tick tock
of the clock
and
numbers and words
on a calendar.

But what else is time?

This book doesn't have a plot in the traditional sense. It's more the exploration of a idea. And, full disclosure, I like books like this. They ring my bell. (There's a quote from author and food critic Laurie Colwin that says: "If people like that sort of thing, this is the sort of thing they will like." It quite applies here.)
But for books like this to work, they have to clear a lot of hurdles. They need a strong universal theme. They need lovely language. They need a kid-centered world view. They need to be open to possibilities kids might come up with on their own (not just trying to teach the reader one answer or approach) and they need a fresh or unexpected take. Hmmm … I may need to write a future blog post about this.
This book, in my opinion, meets all those criteria. I hope you agree — and like it, too.
Happy reading!