Okay, first of all, NO, ballet does not rhyme with giveaway! Interviewee Renée M. LaTulippe and I have spent a lot of time over the years explaining the reason why two such words do not rhyme. We'll get to that later in the post. First, let me introduce Renée's book, CRAB BALLET!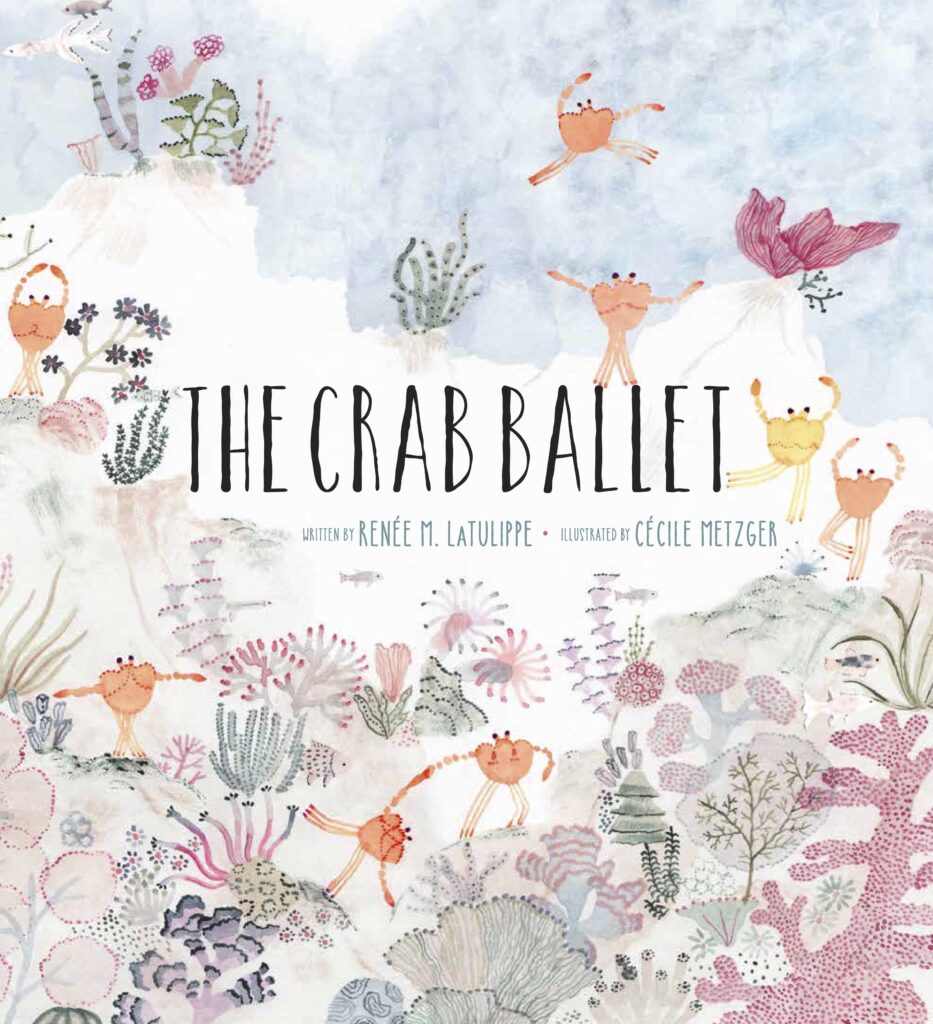 Releasing next week (March 8) from Cameron Kids, illustrated by Cécile Metzger, CRAB BALLET marks Renée's picture book debut. Here's a little of what Kirkus has to say about the book: "LaTulippe weaves plenty of French and English ballet terms (pas de chat, arabesque, fifth position, etc.) into the text and defines them in a skillfully child-friendly closing glossary. Metzger's delicate watercolor illustrations use a palette dominated by the trademark elegant pinks of ballet costumes and have all the softness of ballerina tulle… A fun introduction to ballet that will also inspire an appreciation for marine life."
Although this is Renée's picture book debut, it is not, by any stretch, her PRINT debut. She has co-authored award-winning leveled readers, and her poems have appeared in numerous anthologies. Writers by the thousands have benefited from her "Lyrical Language Lab" courses and YouTube videos. I first encountered Renée when our mutual friend Sylvia Liu (who co-hosts the amazing Kidlit411 with Elaine Kiely Kearns) encouraged me to pop in on a virtual critique session Renée was hosting from her home in Italy. By the end of the session, I think I had given myself an overuse injury of the neck from nodding so often. While I'm an innate rhymer, Renée not only knows all those big poetry words like "anapest" and "trochee," she also knows how to use them in a sentence. I kid, but honestly, I am always awed by her ability to kindly but concisely point out why a rhyme is not working. (Spoiler: usually it's the meter, but not always.)
KN: Welcome, Renée! First, tell us about yourself. How'd you end up in sunny Italy?
RL: Thanks for having me on Picture Book Builders, Kim!
As for Italy — oh, you know, it's your typical girl-meets-boy tale! After some years studying theater and dragging along my own little theater company in NYC, I decided to get my MA and become a HS teacher. I'd just finished my second year of teaching English, theater, and public speaking and I was wiped out. Hardest thing I've ever done. So I took off for Siena, Italy with some teacher friends. It was blazing HOT in the city so I went to the bus station and said "Please send me to the sea," and the guy gave me a ticket to this gorgeous medieval town with sea, sand, sun, and a castle. I met my future husband that day on the beach and six months later I moved to Italy. That was twenty years ago, and here we still are in our house by the sounding sea.
This is my warm-weather office.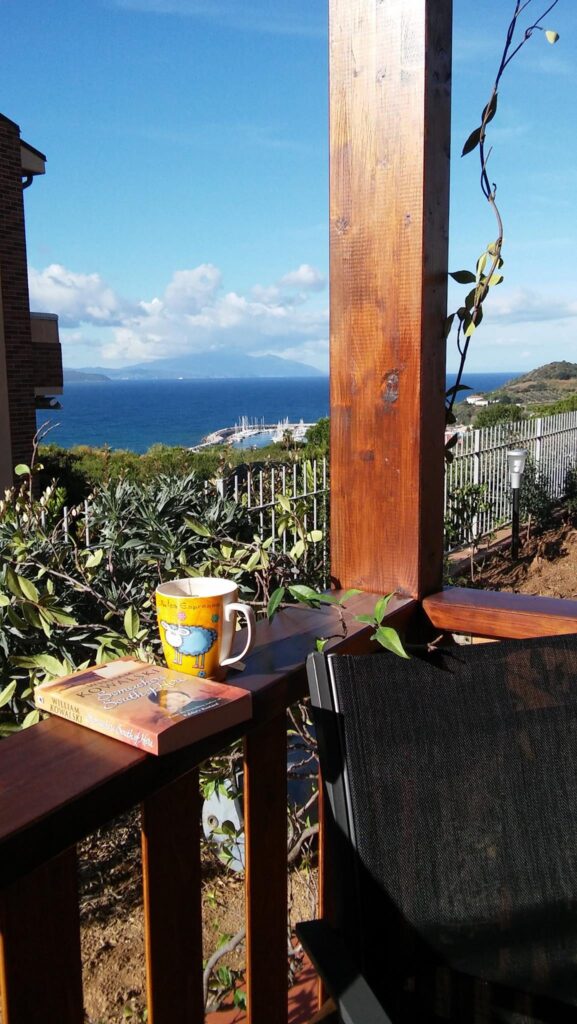 KN: I know you and I share a common love of theater. But now, reading CRAB BALLET, I'm pretty sure you have a lot more experience with dance than I do. Has dance been a big part of your life?
RL: Not even a little bit! And I say that with regret, since it's one of those unrealized dreams in the drawer, along with figure skating and playing piano. During my undergrad theater days, I did take a few tap and jazz classes, but those things were expensive and I was a starving artist, so I couldn't sustain it. I got by being one of those "actors who move well" — or so I thought until I decided to try a ballet class! Oh my, it was like someone had strapped cement blocks to all my appendages — I'd never felt so galumphy in my life!
So although I don't have much personal experience, I do have a lifelong love of all types of dance. I remember going to see Romeo & Juliet at the NYC Ballet and crying from start to finish because it was too beautiful to bear. I was wowed by performances from Baryshnikov's White Oak Dance project and Alvin Ailey's American Dance Theater to the hip hop dancers in Times Square. You can imagine my delight when So You Think You Can Dance first aired! I've always thought dancing must feel like flying, and I have so much respect for the craft, dedication, and sacrifice it takes to be a dancer.
KN: I LOVE that even if a reader (like me!) wouldn't immediately know how to pronounce some of the words (because they're all from the French, correct?) it's brilliant that the rhymes immediately help me know how to say the word. You must have had fun with that.
RL: You know what? That's just a happy accident. I can't take credit for doing it on purpose! The rhyme scheme of this book is a beast, so fitting those French ballet terms in there took equal measures of hyperventilation and luck. It certainly helped that many French words have the accent on the last syllable — et voilà, a gift to my meter!
But you're not the first to tell me that the rhyme scheme helps with the pronunciation of some of those terms, so I'm grateful for that. The English language contains a ton of loan words from French in particular, but also from Italian, Spanish, Latin, German, and other languages. I think it's important to mine the language for all its riches, and that certainly includes these loan words.
Just for kicks, here are the permutations of the dolphin stanza…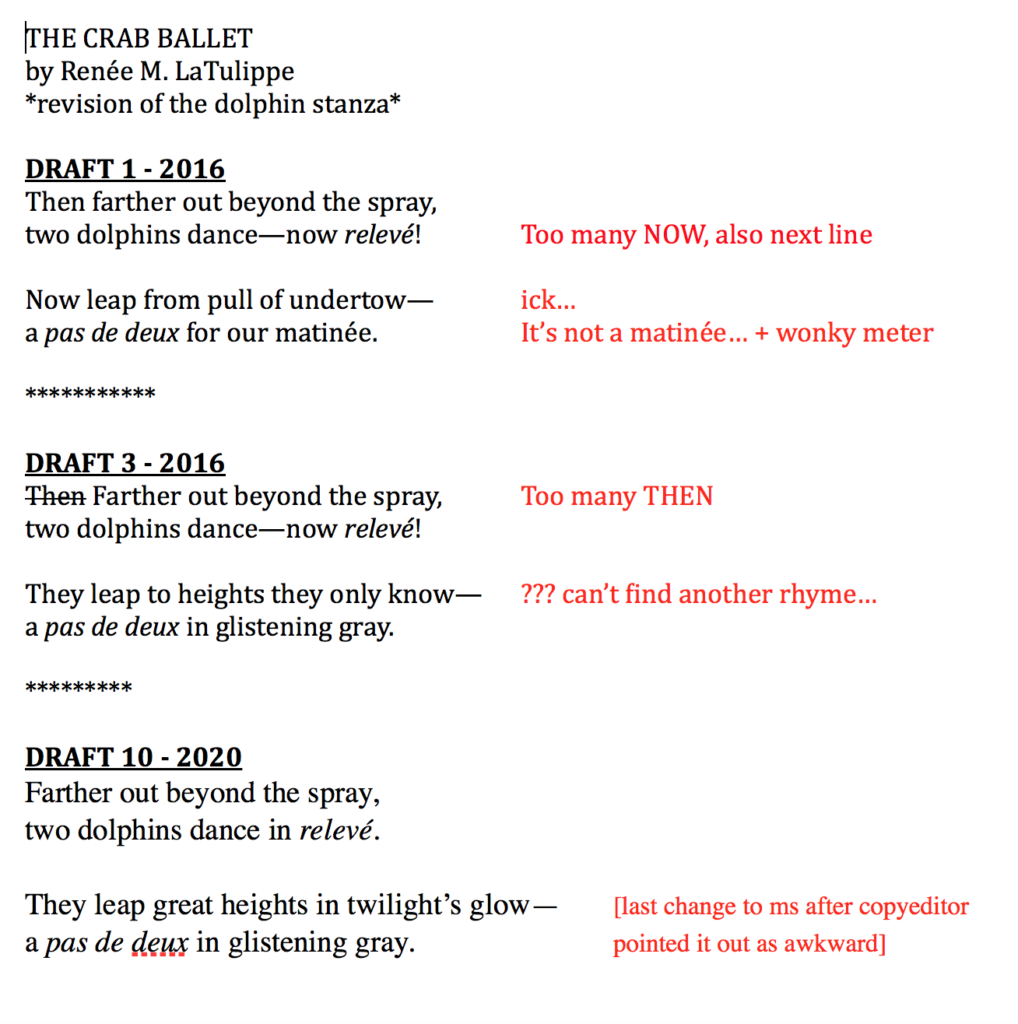 KN: Oh GIRL! I can SO relate to overusing small words like "then" and "now" to help with the meter. I always enjoy a text that goes beyond mere end rhyme to tickle my ears WITHIN the lines as well. Lines like your description of the sea urchin as "a tiny, spiny dynamo." Can you talk about your process of taking your words to the next level this way?
RL: Oh, it's my favorite part of the writing and revision process! And it's really the heart of what I teach in my Lyrical Language Lab course — finding the music in the language. That music comes from poetic devices like alliteration, assonance, consonance, internal rhyme, slant rhyme, and onomatopoeia. [[Kim interjecting to say, "See? TOLD ya' she knew all those big, beautiful poetry words!"]] The phrase "tiny, spiny dynamo" uses internal rhyme and assonance, and I admit I was tickled when it popped out! It's one of my favorite little bits.
While many of these things just come intuitively, I certainly do read my work aloud over and over to hear where it's musical, where it's blah, and where it's hitting sour notes. I can't stress enough how important it is to say it out loud a thousand times — and not just for rhyming texts. It's equally important for prose to find pleasing rhythms and sounds. [[Kim again: there she goes, giving me another head-nodding injury!']] Then when I come to those off-key parts, I hit the thesaurus and Google images for inspiration. My goal is always to create very specific images, so finding just the right words is essential. Then I read it aloud again, top to bottom, several times, and then repeat the process until I have something lovely.
I took this pic in 2016 when I was struggling with a revision my agent had asked for before going on submission. So many lists of words!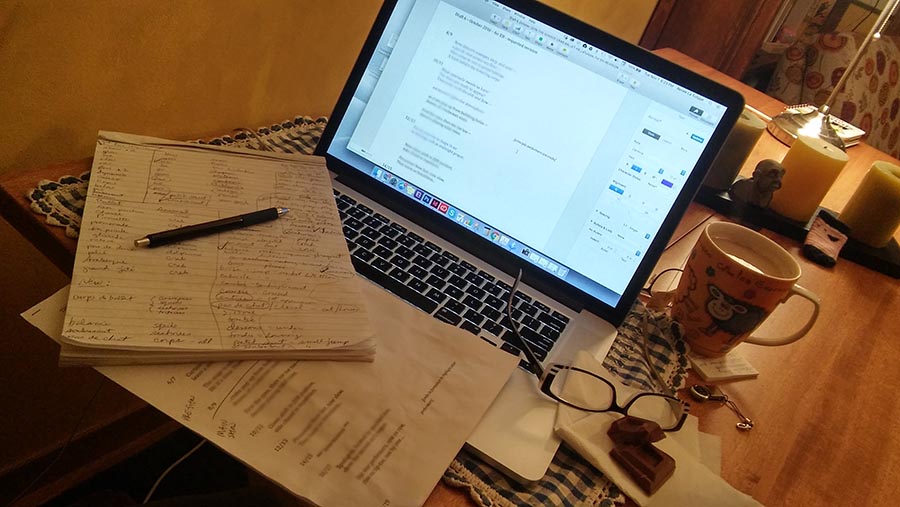 KN: While I write rhyme and meter innately, I seem to have no space in my head to remember the names of metrical feet. Which is why I always send budding rhyme writers to the Youtube videos in your Lyrical Language Lab. (And that's not just because you said such nice things about my GIVE ME BACK MY BONES!) You are so dang good at explaining why the meter does or doesn't work. How do you DO that?!
RL: Haha, I have no idea. How does a fish swim? I mean, I have been teaching Lyrical Language Lab since 2014, so I've had more practice than the average bear. And I do love teaching, so it may be a combination of knowing the material really well and knowing innately how to break concepts down into easy-to-learn bits.
I know several writers like you who are amazing at rhyme but have no idea what an iamb is — and that's okay! I don't think it's even necessary to know these things if you just do it naturally. But for mere mortals who might need a helping hand, this knowledge is essential for learning to recognize the difference in meters, to hear the various rhythms, and to understand when something is not working and how to fix it. Having a common vocabulary is also very helpful if you're critiquing rhyming texts.
KN: (Who now, aside from that neck injury, is also nursing a stress fracture from containing the urge to insert an "iamb" pun.) Renée says she's often curious about what else people would be happy doing. Iamb, too! (Sorry. My late father would never have forgiven me if I'd left that pun on the table.)
RL: So let's talk about … missing the boat. I'm always interested in lost opportunities. As in, is there a skill or career path you think you would have excelled at if you had 1) known it was even an option and/or 2) you'd made different choices. (And here I pause to say this always reminds me of Lady Catherine de Bourgh in Pride and Prejudice who says, referring to playing the piano: "If I had ever learnt, I should have been a great proficient.")
I have two of these, actually. One is that I got the wrong master's degree. My aunt the missionary nun always told me that since I loved language and wanted to live overseas, I should get a degree in TEFL. Did I take this excellent advice? I did not. Instead I got the degree in teaching English in secondary schools, and it simply did not ignite my passion.
The more exciting one is that I should have gone into theatrical costume design instead of directing/acting. I adore costuming, and it would have allowed me to have a creative career in theater.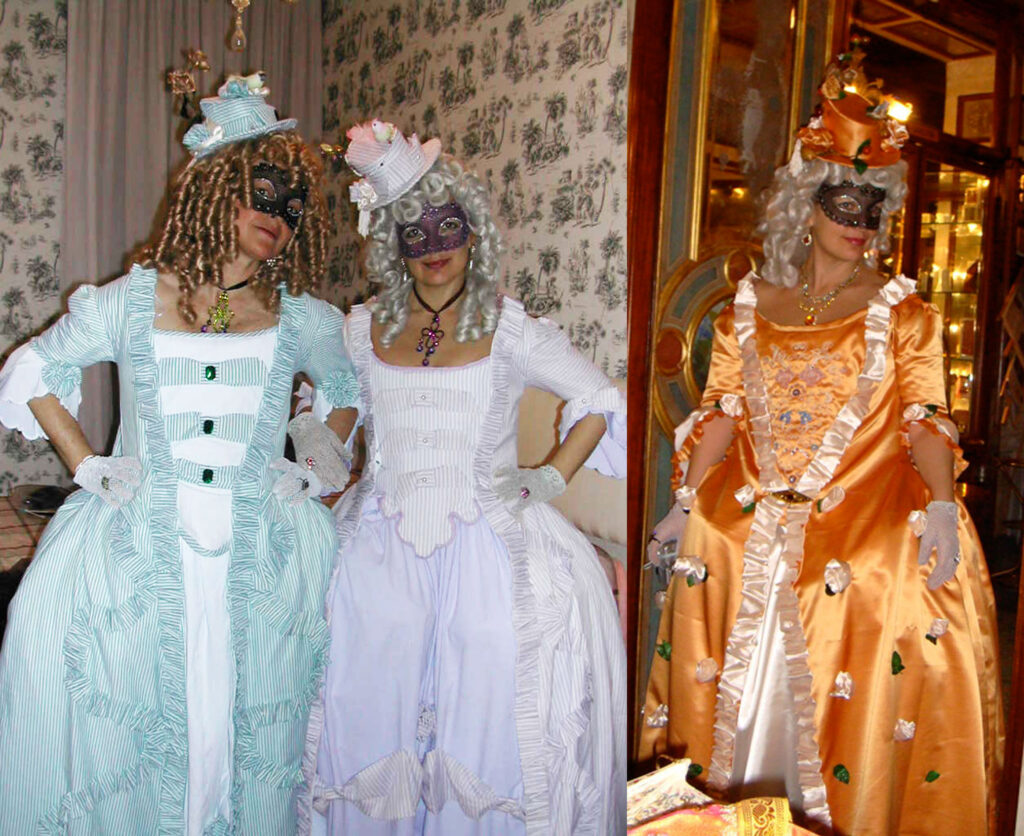 Here are some daywear/evening wear 18th-century costumes I made for Carnevale in Venice some years ago, including hats, panniers, and boned corsets, completely hand sewn and embroidered following a pattern from the time period. Had I ever learned to sew, I should have been a great proficient.
What about you?
KN: How kind of you to ask! Oddly enough, I think I would have enjoyed a career in science. I'm a science podcast geek. I think the perfect field would have been the study of language, melding my love of words with science. These days, I get my science fix from phone calls with my younger son, who's working on a chem doctorate from Wake Forest… although half of our phone calls fly right over my head! Renée, thank you so much for spending time with us on the PBB blog!
Oh and as promised, revisiting my first sentence about WHY "ballet" and "giveaway" do not rhyme: Renée did a "book look" at my own GIVE ME BACK MY BONES in the Lyrical Language Lab. Cross my heart, I'm not sharing this particular video because she called me a genius. (Although I'm pretty danged flattered!) She does an incredible job of explaining how rhyme relies on METER as much as SOUND to make a perfect rhyme. She always explains this stuff better than I do! Here's the link: BOOK LOOK
[[Final edit and interjection, I promise! Renée, who really does possess greater knowledge about this stuff, has gently pointed out to me that "ballet" and "giveaway" DO rhyme because "way" gets a secondary stress. I think I say the word so quickly that the entire latter half of the word gets buried under the heavy stress of "give" but then… I'm from the south, where "ghee-uv" gets a whole 'nother syllable. (winky emoji.) See how tricky this rhyming biz can be?!]]
READERS, be sure to pop in with a comment below for a chance to win a copy of CRAB BALLET! Here's a comment idea: Tell Renée what career boat you think you might have enjoyed besides the ride you're sailing now.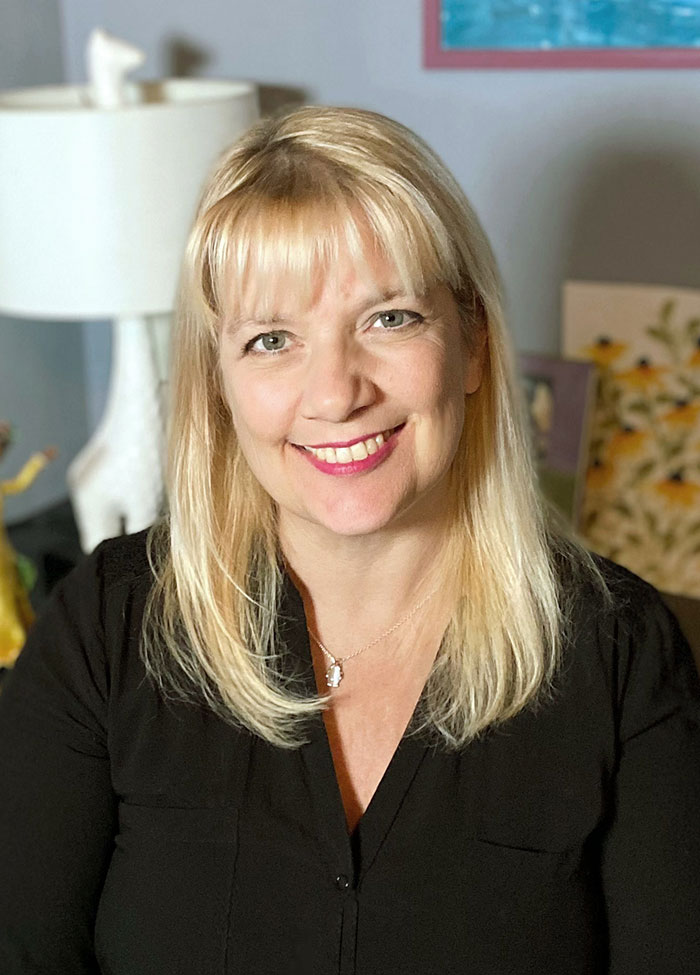 Renée M. LaTulippe is the author of The Crab Ballet (Cameron Kids/Abrams, 2022) and Limelight: Theater Poems to Perform (Charlesbridge, TBA) and has poems published in many anthologies.
Renée developed and teaches the online course The Lyrical Language Lab and provides free lessons and critiques for children's writers on her YouTube channel. She has a BFA in acting/directing and an MA in English Education. She lives by the sea in Italy with her husband and three children.
She is represented by Elizabeth Harding at Curtis Brown.
Website: www.reneelatulippe.com
YouTube: Lyrical Language Lab
Instagram: @renee_m_latulippe
Twitter: @ReneeMLaTulippe