I'm excited today to welcome back our own Suzanne Slade (PBB blogger from 2015-2021), who's here to give us a sneak peek of her upcoming picture book for older readers, the beautifully told, vibrantly illustrated Blast Off!: How Mary Sherman Morgan Fueled America into Space (Calkins Creek, April 12th). Look at this cover: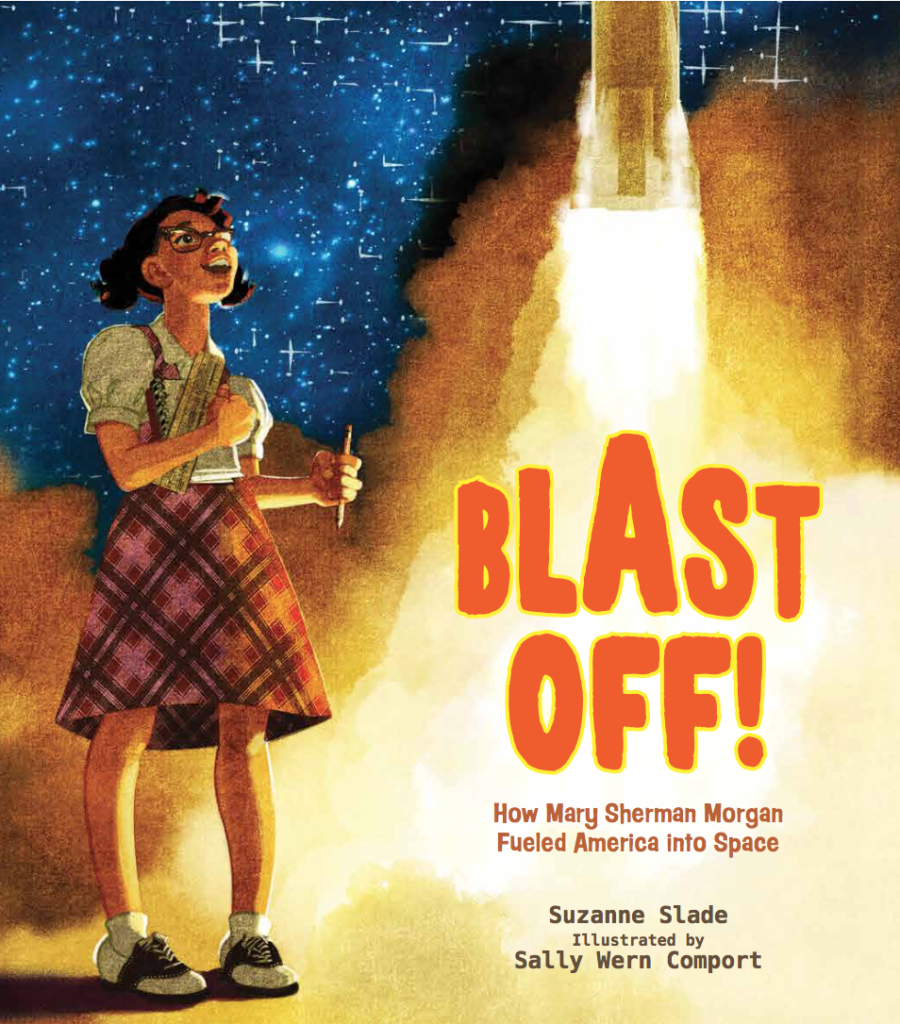 The first two spreads give us a glimpse of Mary's farm roots, just enough to give kids a fact they'll have a hard time believing: Mary didn't go to school until she was 8 years old, and that was only when the sheriff and social services forced her parents to allow it! At that point she didn't even know the alphabet.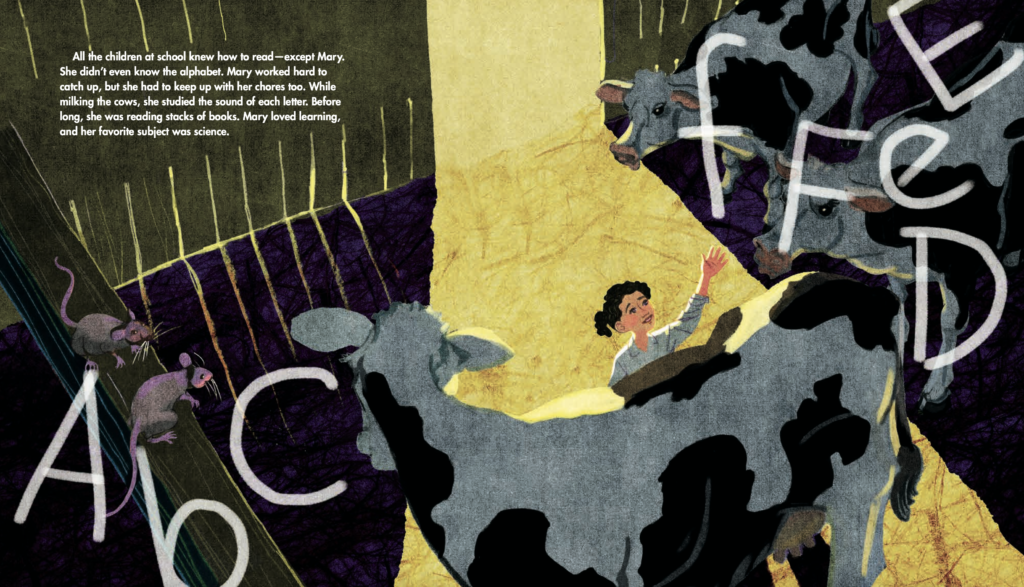 Yet she went on to put herself through college (partly, anyway) to study chemistry and, finally, come up with the fuel formula that rocketed our first satellite into space. But lest you think that was a quick and easy process Suzanne's just-enough text and Sally W. Comport's illustrations capture the frustration of failure after failure.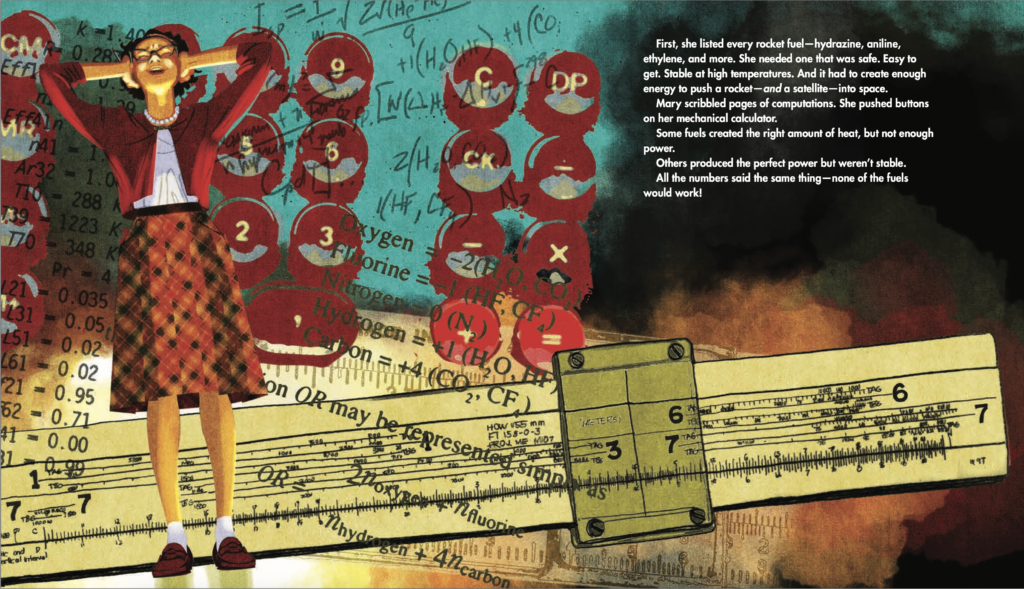 What an amazing and driven woman. And Suzanne agreed to tell us more…
JE: I loved your author's note, Suzanne, because it brings to light a problem many of us comes up against when writing biographies. Tell our readers how you came to the conclusion that a purely nonfiction treatment simply wouldn't work for this one…and what kept you pushing onward while writing Mary's story.
SS: Well, after exhausting all research avenues I could think of (including corresponding with Mary's son), I came to the realization that I wouldn't be able to find all the facts I'd hoped to uncover. (Unfortunately, historians seemed to focus on the accomplishments of men, but often overlooked women's contributions to science and other fields.) Anyway … I was faced with two options. One, abandon Mary's story. Or two, continue with the project using the facts I had and creatively fill in a few details as needed. In the end, I felt Mary's story was very inspiring and her contributions to America's space program needed to be shared. So I dug in and kept going.
JE: I was awed by Mary's determination. Seems she was always coming up against people who wanted to hold her back, especially her parents and male co-workers. Yet she never let them stop her. What a terrific example for kid readers! Tell us about writing the passage in which she fails and fails and fails to find the correct chemical combination to launch a rocket. I can't even imagine the pressure she must have felt from her co-workers…and the pressure you felt to get it exactly right in the fewest words possible.
SS: Mary showed a great deal of persistence when her fuel concoction (called hydyne) didn't burn properly in early engine tests. I'm sure the pressure to succeed, especially as the "space race" heated up, was enormous. Yet Mary's struggles and failures make her eventual success—the triumphant launch of American's first satellite—all the sweeter.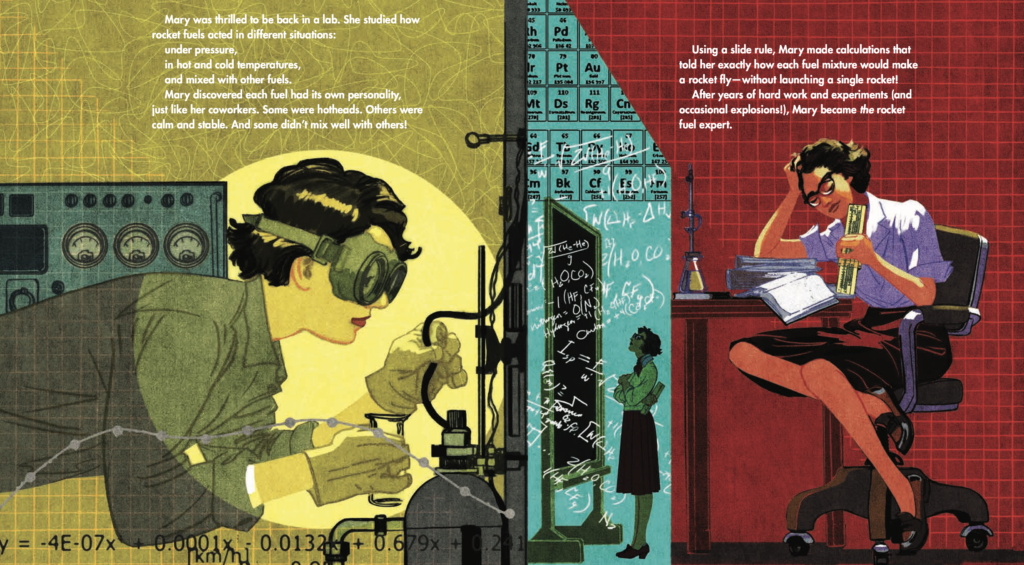 Getting the science details in this story right was particularly challenging. As a mechanical engineer who worked on rockets years ago, I have some aerospace knowledge which was helpful, but I had to brush up on my chemistry to make sure the text about Mary's work as a chemist and various fuels was correct (and understandable for young readers!) I also consulted a few experts to double check the science content.
JE: I'm grateful for you science-y writers who can make sense of topics like this for kids! Did you have a say in Sally Wern Comport's art style? It seems perfectly matched to your dramatic text.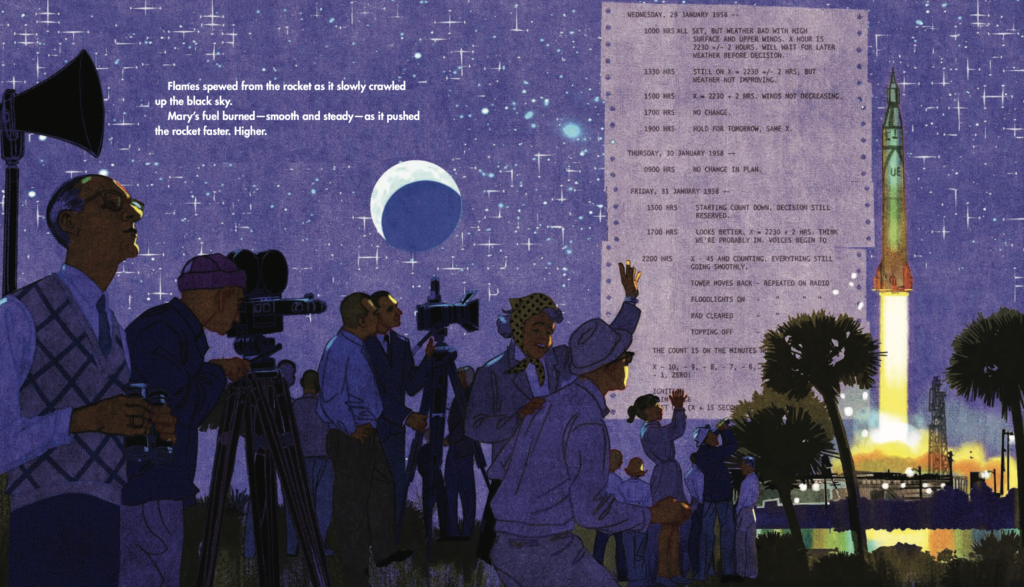 SS: Sally's colorful, contemporary, techie style is spot on for this book! (I couldn't even begin to think of anything as fantastic as this.) Sally did a great deal of her own research which shows in the artwork. I really can't say enough about her incredible illustrations. What I can say, though, is that all the chemical diagrams, formulas, and equations which appear in various spreads are correct and directly related to Mary's work, as I helped provide many of those.
JE: The whole package really is excellent. Tell us about your upcoming books!
SS: My 2022 books are an exciting mix of various topics. BLAST OFF! HOW MARY SHERMAN MORGAN FUELED AMERICA INTO SPACE (Calkins Creek) is first out of the gates, releasing April 12. Next is THE NEW KID WELCOME on July 19 (Random House.) This unique book contains 2 stories. After reading the first story, you turn the book around to find WELCOME THE NEW KID, where you read the same lines backward. They tell a completely different story about friendship. On August 2, DR. FAUCI: A LITTLE GOLDEN BOOK BIOGRAPHY releases. My last book of the year is DAZZLIN' DOLLY: THE SONGWRITING, HIT-SINGING, GUITAR-PICKING DOLLY PARTON (Calkins Creek) comes out Sept. 20.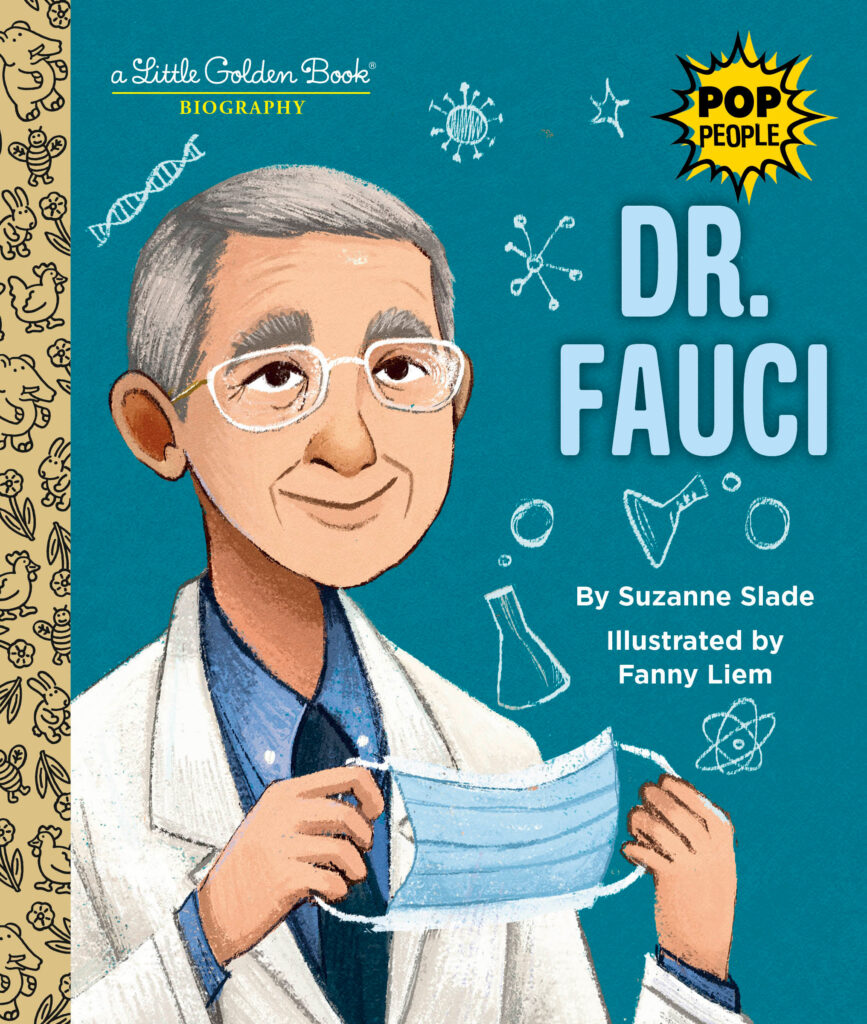 JE: Okay, all of these sound wonderful, but THE NEW KID WELCOME … wow. What an intriguing concept. Can't wait to see how you made it work! Readers, learn more about Suzanne and her incredible books by visiting her website, here. And how cool is this trailer, debuting TODAY: https://youtu.be/rfT6pUOx60g