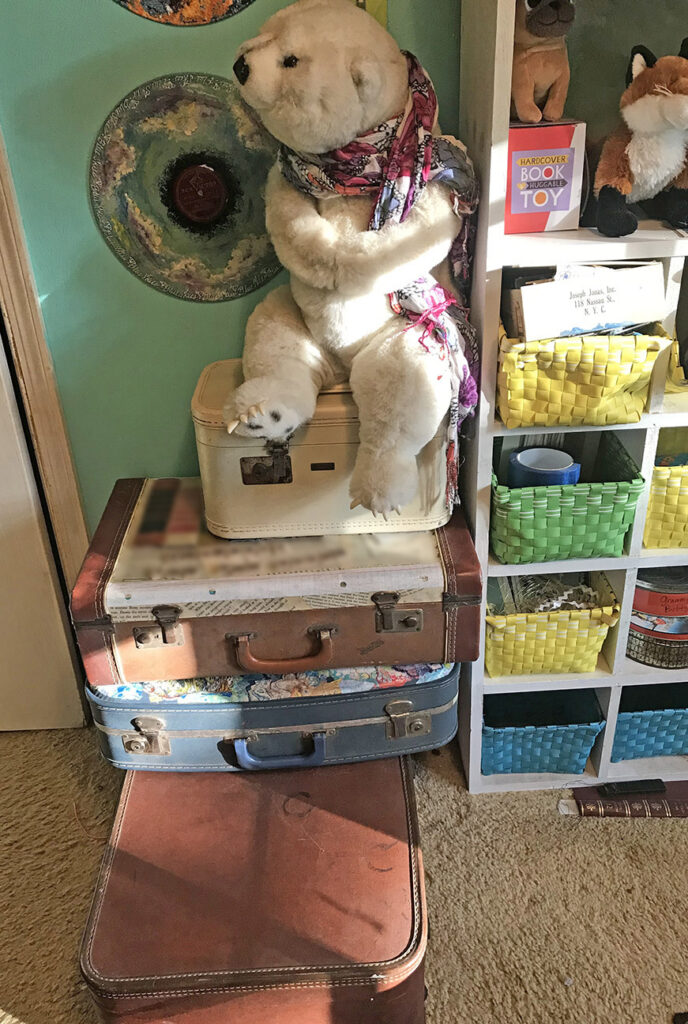 Confession time: I'm an office hopper. By that, I mean I've never had an "officey" office, or even managed to store all my writing/art related tools in a single space. That's partly because our house is small, but also because I'm organizationally challenged. Or maybe I enjoy the hunt, trying to remember where I stored some elusive item.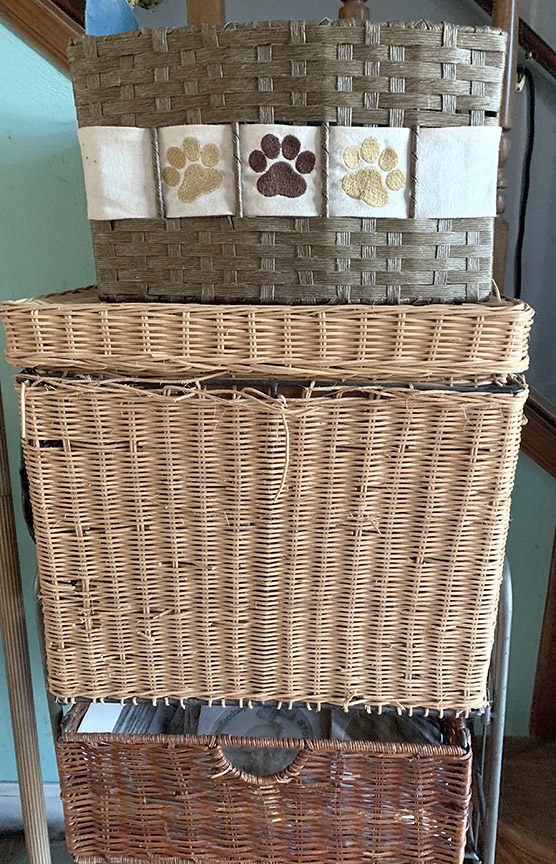 I've tried various storage methods over the years. There were the wicker years. This one, ratty but still intact, was a catalog gift from my mother. Remember Lillian Vernon? It's still full of hanging folders stuffed with half-finished stories and shot records of kids who've flown from the nest. Now serves one purpose: a drop station for items headed for the second floor.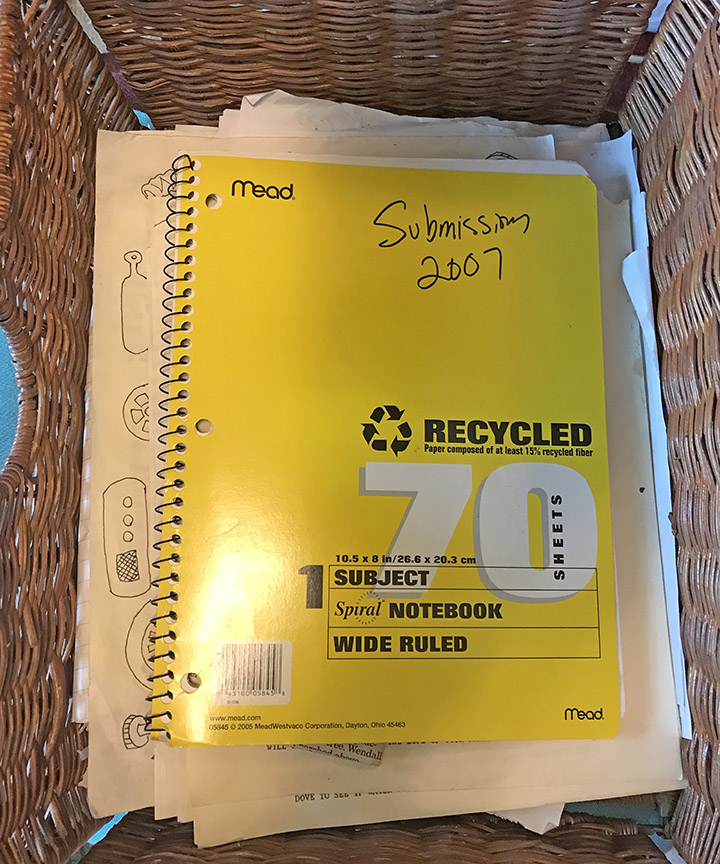 Notebooks, of course. Soooo many notebooks. The submission records are long torn from this one, now simple blank pages ready for action — piled inside another relic of the wicker years. I used to try to keep all the jottings from any one pic book manuscript in a single notebook. One notebook per story. I think I only managed it for Crocodaddy, which did sell fairly quickly on a cold query, so maybe I should have tried harder to maintain that habit.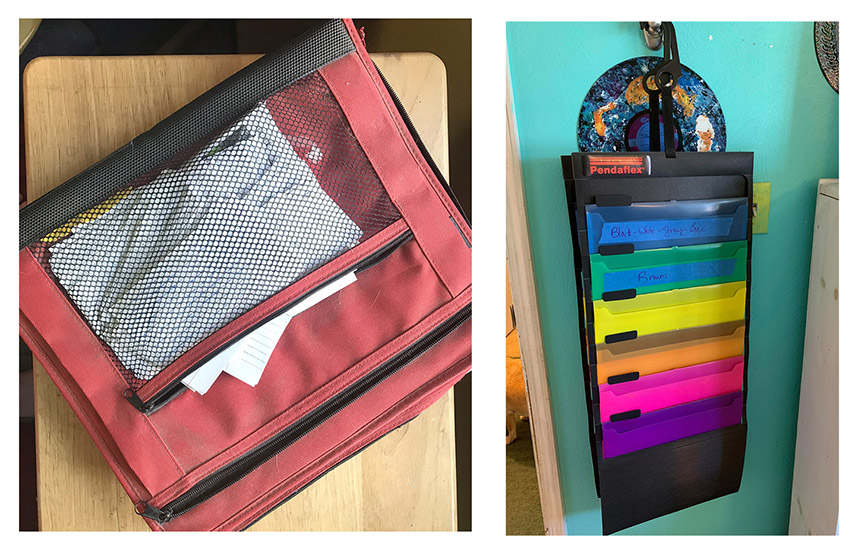 Remember Trapper Keepers? I keep thinking they'll be good for longer works. But no. I've still never managed to turn in that novel I keep promising my agent. It would probably help if I ever managed to get past three chapters before turning to a shiny new idea.
Then there were the Pendaflex hanging folders. Those actually worked pretty well for keeping track of editorial correspondence, one folder per story. I owned more than one set because… try try again. Probably obsolete in this digital world, so I donated them to my church.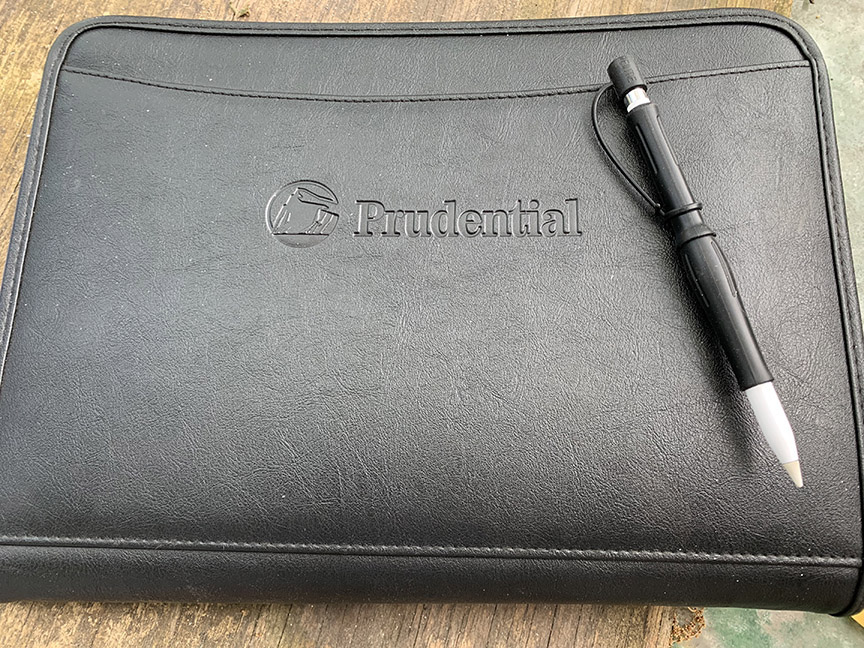 Similar to Trapper Keepers, but something that actually works. (Thanks, Dad!) Inside, there's a big flat pocket, open at both ends, perfect for slipping in an iPad, which was a Jettson-era dream when my dad sold insurance in the 80s. I carry it out to my "porch office" nearly every day. I wish it were a "funner" color, but I guess 1980s office supplies in lavender were hard to come by.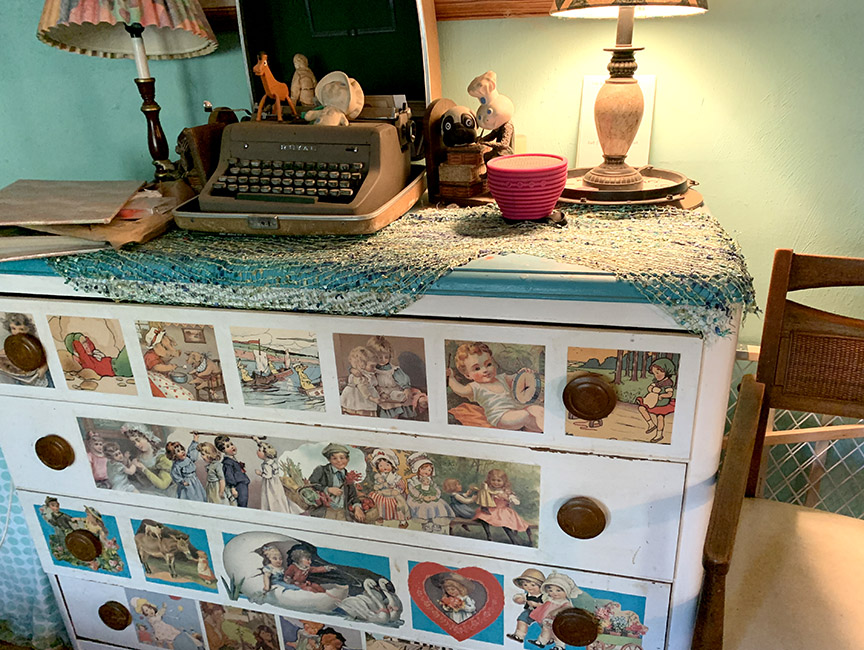 Document storage: This old dresser decoupaged with vintage illustrations. Still holds royalty statements and… notebooks, of course. And drawing supplies. And thrift store books that still spark joy… if I happen to open that drawer. (Fun fact: I paid five bucks for that mid-century chair to the right. A friend who deals in those items told me she would have asked at least a hundred for it. Score!)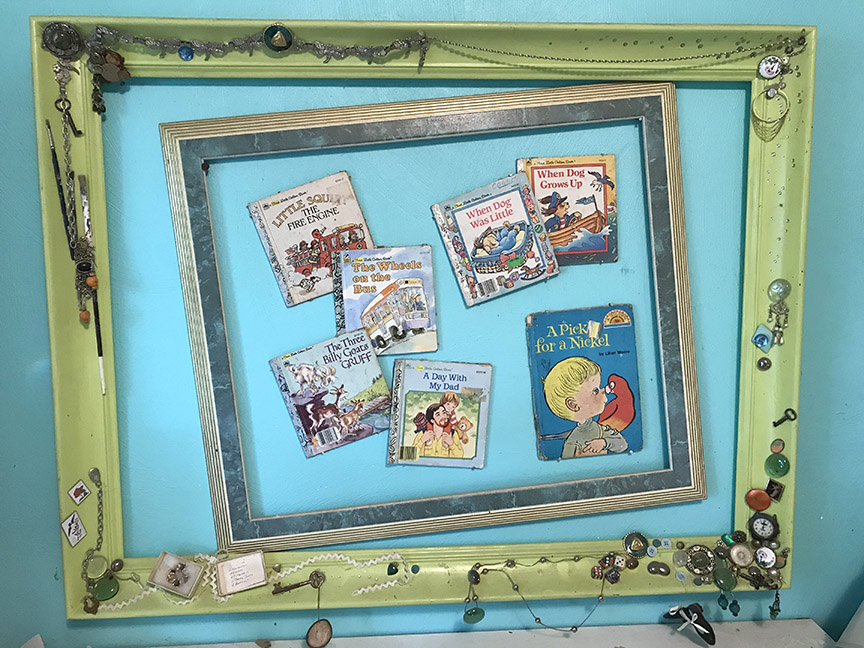 Speaking of thrift stores, they've been the source of most of my pic book collection. A few of the most beloved from my kids' childhoods I turned into wall art, trimmed with some of my grandmother's jewelry, over the drafting table in my art room…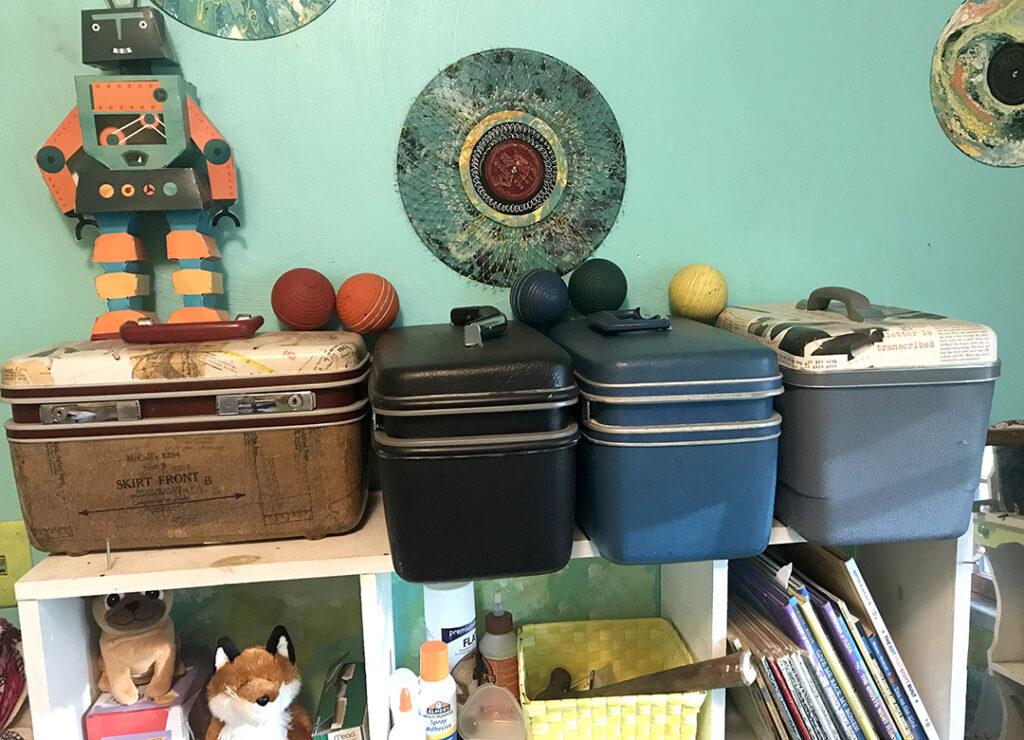 … which also houses some of my vintage luggage collection. I love repurposing old "train cases" (makeup cases.) I own the suitcases both my mother and my mother-in-law carried to school in the late 40s & early 50s. Pretty cool, huh?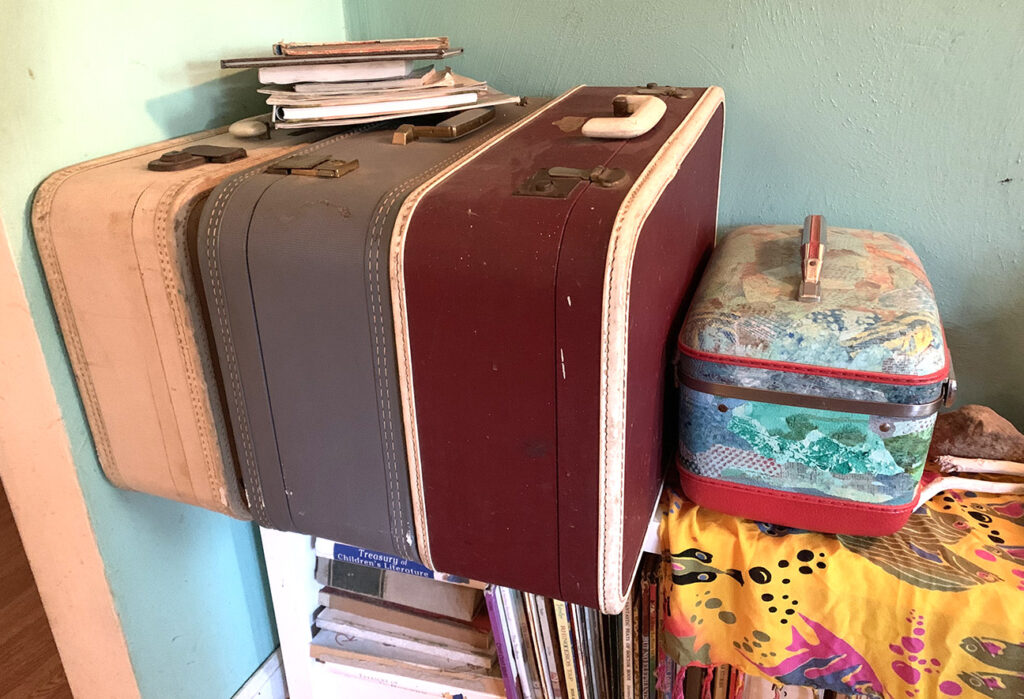 The downside to Pinterest-worthy vintage luggage: you can't see what's inside, so things can disappear. Like ALL my colored pencils. For nearly a year. (I have mentioned my organizational challenges, right?)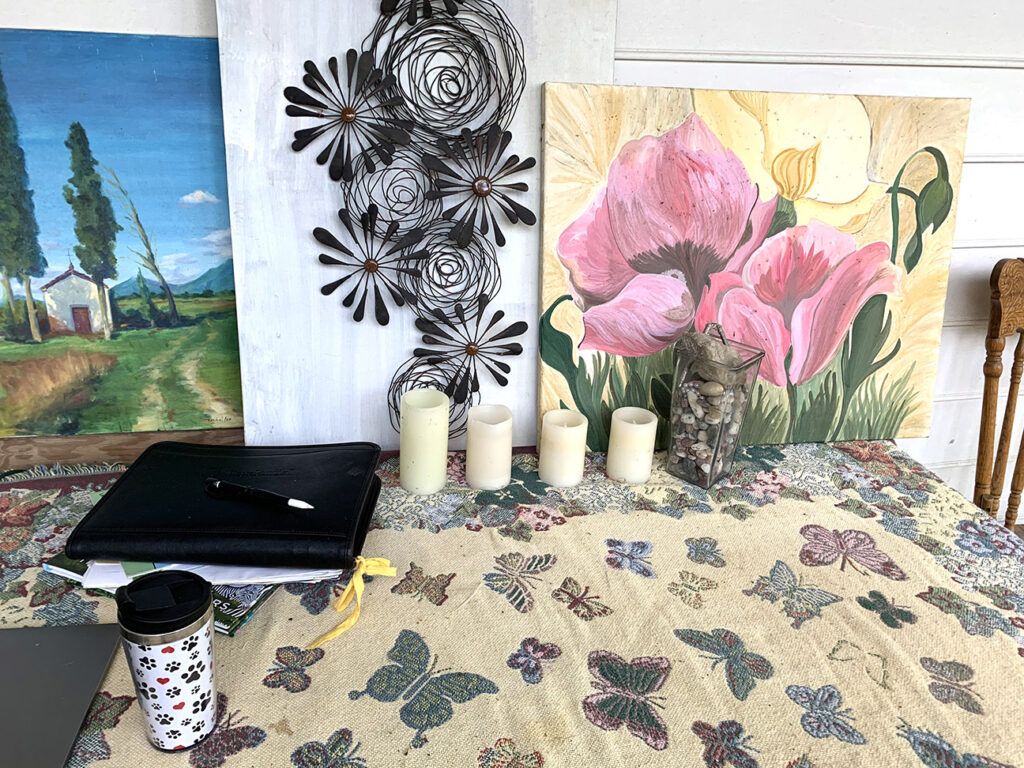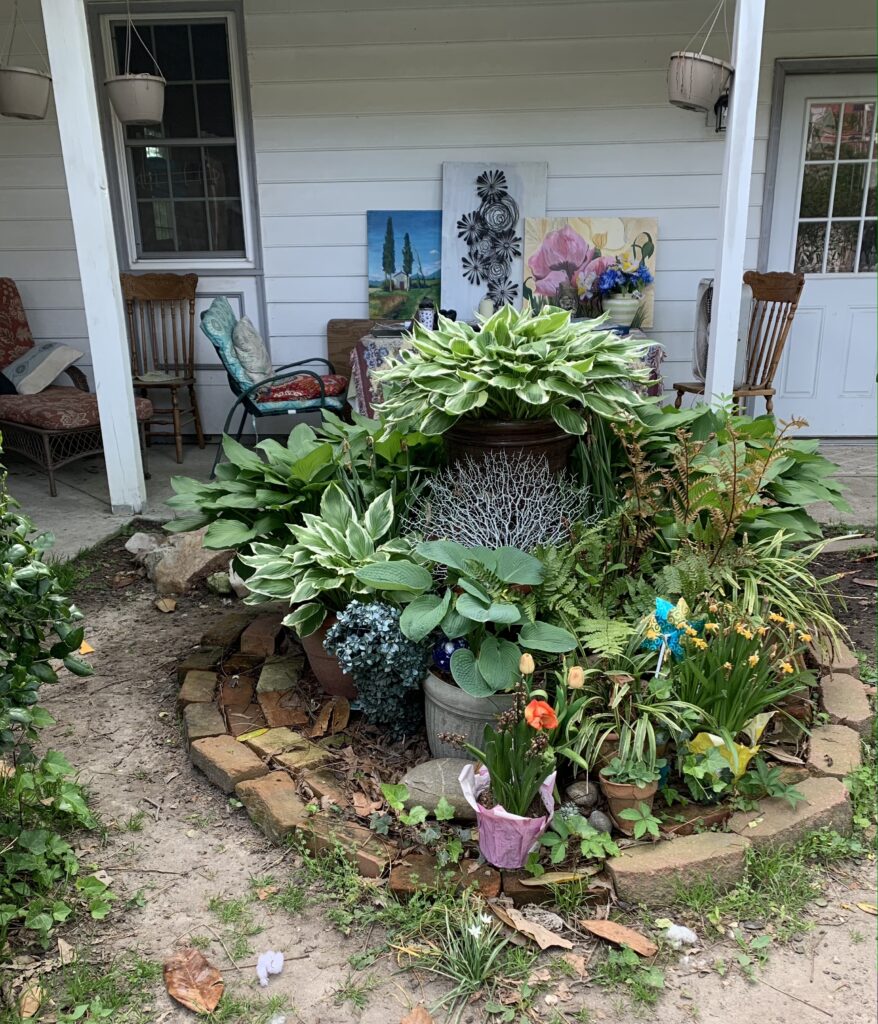 Writing spaces themselves travel around the house or even to a nearby park. (Thank you, portable laptops and iPad drawing apps!) This time of year, my favorite workspace is at an old table on the porch, flanked by rotating thrift store art impulse buys. We call it "the Frugal-heim Exhibit." Snort!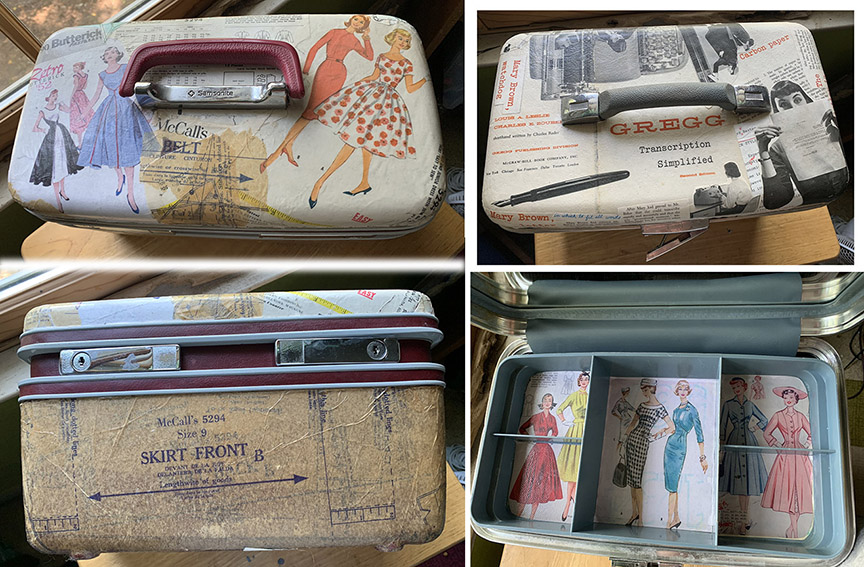 So when am I going to get to the GIVEAWAY part of this post? Right NOW! I've recently started volunteering at a charity thrift store where I lucked into a couple of "new" train cases for my collection. (Middle two cases on the shelf with the robot, a few images up.) Here's a closeup of my favorite two repurposed cases, one with a vintage dress pattern theme and one with a vintage office theme, using the pages of an old Gregg Transcription instruction book. I haven't done one in a while, so why not give myself the incentive to repurpose one of my new ones by offering it as a giveaway to one lucky Picture Book Builders reader?! Fair warning: they all retain a faint essence of perfumed makeup. That's not a bad memory, right? To be entered into a random drawing for a Kim-Norman-repurposed-train-case, comment below with a office/art-studio tip/reminiscence. It'll be one of the two I pointed out above, in the robot picture… design & theme as yet to be determined.
Since I've traded with Andrea and won't be doing a May post, I'll do the drawing for the winner on May 24, 2022. So be sure to drop a comment by then. Good luck!
Congratulations to Brigid Finucane, winner of last month's giveaway of Liz Dubois' DUCK AND CLUCK book. Congratulations, Brigid!