When I got my first look at Matt Lilley's DEBUT book, GOOD EATING, the Short Life of Krill, I knew I had to talk about it here. Why? Because it's beautifully done, for one thing–informative, light, voice-y and engaging, and illustrated to perfection … but also because I'd once had the fleeting thought of writing about krill … but then couldn't decide how to approach it. So I'm really excited that somebody did. And WAY better than I could have.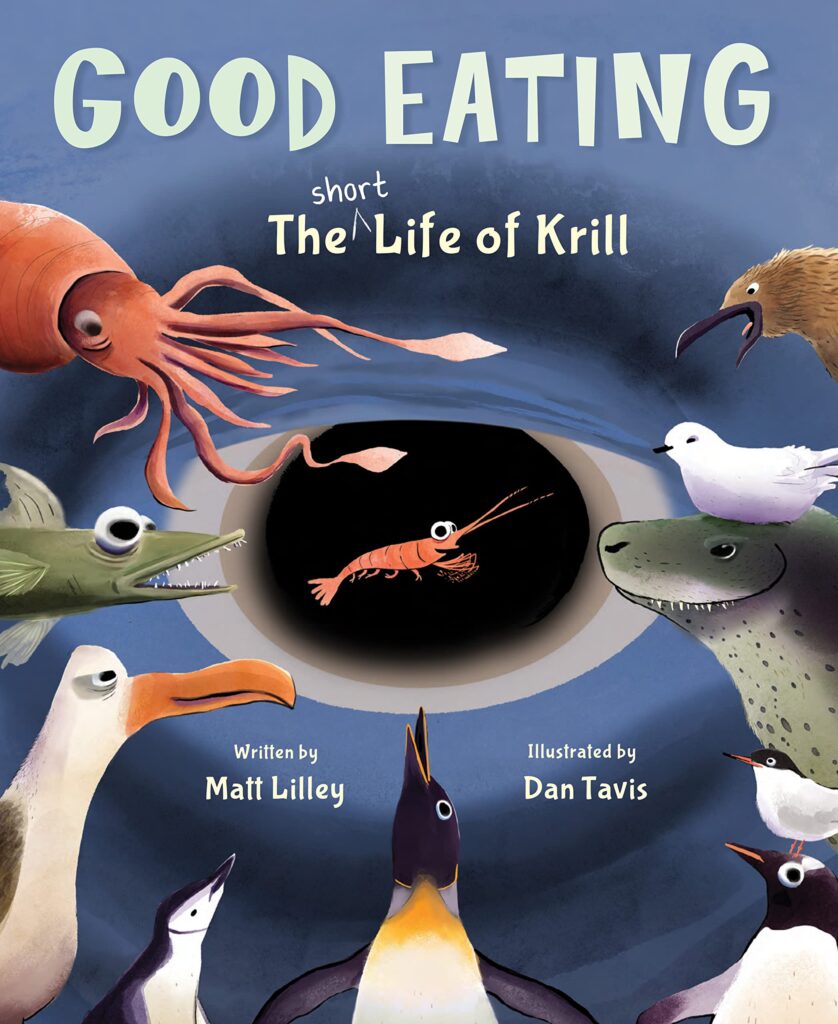 By the way, this cover should sport a sticker designating the book a Junior Library Guild Gold Standard Selection! It's a superlative STEM title, and teachers, you can find a Reader's Guide, coloring page, and activity on Matt's website (below).
Anyway, we all know whales eat krill, right? And, um … what else do you know about these teeny little buggers? Not much, I'm guessing. So you might think Lilley would begin with what we know and expand from there. Nope. Whales don't come into the picture until late. Instead, he begins by putting us eye to eye (so to speak) with one big orange-y egg–the beginning of one solitary krill. And you're right there with it as it sinks for days, sinking a mile or more, until it hatches and begins sprouting arms and all the rest. But we readers don't just stand and watch from the sidelines. Nope, we ARE the egg. That blew my mind … and made me want to paddle-paddle-paddle my little krill feet when I felt that whale's approach. Yikes. Immersive, that's what this book is.
You know what? Since the book came out in January, there have already been some TERRIFIC reviews on other people's blogs. Rather than repeat what's already been said, feel free to go read a couple of those …
…then come back and read my chat with Matt.
Jill: First, I have to ask: Why krill?
Matt: Because krill are awesome! Actually, it took a lot of writing to get to krill. I love writing about nature, especially birds and cold-weather creatures; things like seals, snow petrels, whales, and, of course, penguins. If you research Antarctic creatures much, you inevitably end up learning about krill, because they are so essential. Once I knew about krill, I knew that they deserved their own book. Then I just had to write it.
Jill: 2nd person POV! After reading about half this book, I couldn't imagine it written any other way. I mean, talk about getting a reader invested! Tell us about having the idea for this book and getting started. Was its engaging, fun voice there from the outset, or … not?
Matt: It was definitely…not. I wanted the book to be nonfiction, so first person wasn't an option. The first drafts were all in third person. The story followed the same arc as the book, from the egg to the encounter with a blue whale. Those drafts were OK, but they never felt right. So, I just kept researching and trying to think of how I could improve the story. I have to admit, I got some help for the idea to change it to second person. While researching krill I came across a video that Lisa Roberts made about their lifecycle called "How Do Krill Grow?" In that video, the krill asks how it grows, and an unseen narrator answers the krill's questions. A few days after watching that video (I can be a little slow), I had the epiphany: "Write it in 2nd person!" And that was it. The next draft was very close to the final version.
Jill: Slow on the uptake is something I definitely understand, Matt. What was your biggest challenge in writing this book?
Matt: Realizing I should switch to 2nd person was probably the biggest challenge. The next biggest challenge was the research. When I first wrote it, there were zero non-academic books published about krill. The first was published a few years ago, for grown-ups (Stephen Nicol's The Curious Life of Krill: A Conservation Story from the Bottom of the World – great book!). Good Eating is the first krill book for kids. To find out about things like the larval stages of development, I had to find the primary-source science papers. For example, I had to track down a used copy of "The Natural History and Geography of the Antarctic Krill (Euphausia superba Dana) (Discovery Reports Vol. XXXII)" from 1962. This book is 464 pages and pretty rare. When I finally found a copy of it, a previous owner had written "whale food" on the cover. When I saw that, I thought, "Wow! They summarized my whole book in two words!"
(I just love the contrast between this massive scientific document and the two simple words, scratched at the top, that sum it all up.)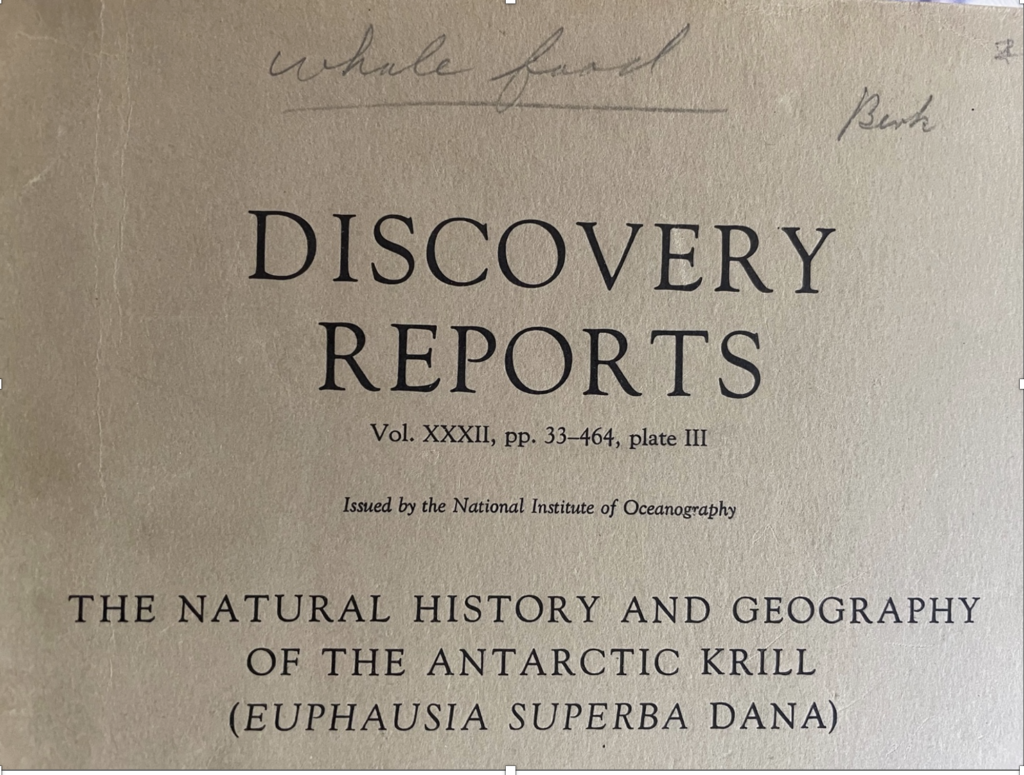 Jill: Haha. Guess those researchers could have saved A LOT of paper! So, Matt, your text is short, yet riveting. Tell us about your day job and how that may have trained you to write "precise and concise."
Matt: I'm trained as a technical writer. I have an M.S. in Scientific and Technical Communication. Technical writing is all about taking a complex topic and making it easy to understand for a specific audience…sounds a lot like writing for kids, doesn't it? The fact is, writing for kids is harder, because you have to make it clear and interesting. Writing for kids is also more fun, because I get to learn about all kinds of cool stuff too.
Jill: Yes! Way more fun. We have to talk about Dan Tavis's illustrations. They're bright and whimsical, amazingly detailed, and so! much! fun! Yes, these little critters will likely end up on some whale's menu, but meanwhile they're relatable, adorable, irresistible. I think it's those buggy little eyes! How did you feel when you got your first peek?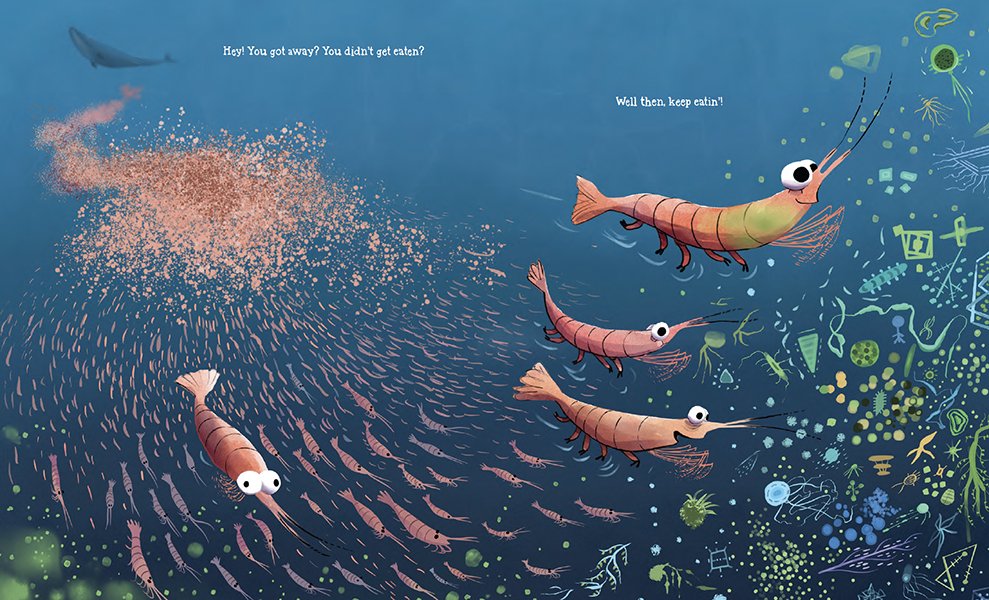 Matt: I was thrilled to get to see pictures made to go along with my words! That is one of the best parts of writing picture books; when you actually get to see the process. I immediately loved Tavis's illustrations. We did have to make some adjustments though. Larval krill are pretty strange creatures. Dan worked hard to make them look friendly. I felt like the first images didn't look enough like the real thing. Dan very graciously re-did them. I think the final versions are still friendly looking, but also look more like real krill.
Jill: They DO look friendly, and that helps pull in readers. Sure worked for me! According to your bio, you work on your own projects at night. Tell us how you manage your time when you must have dozens of ideas in your back pocket.
Matt: I wish I could say I do a better job getting it all done. It is always a struggle to make time to write on top of everything else. I do have lots of ideas that I try to get to. I try to focus on the ideas that seem the most fun and interesting to me. Having a project that sparks my own imagination is a pretty good motivator.
Jill: I'm going to close with a shot of the endpapers. Just taken w/my phone, but too cute not to share.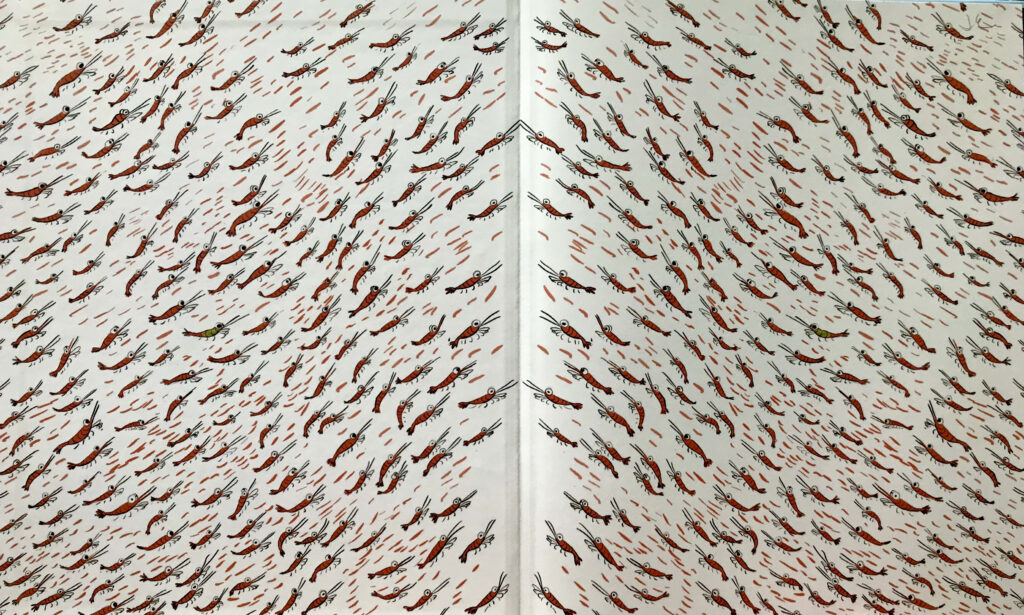 ---
I know I'm not the only one looking forward to more titles from Matt! Readers, please check out these websites and, if you don't see GOOD EATING at your library, ASK FOR IT!
Meanwhile, how about a GIVEAWAY! If you'd like a copy of GOOD EATING to share with your little fishies, simply comment below, and we'll put you into the drawing. Readers will be contacted August 5th. Thanks!