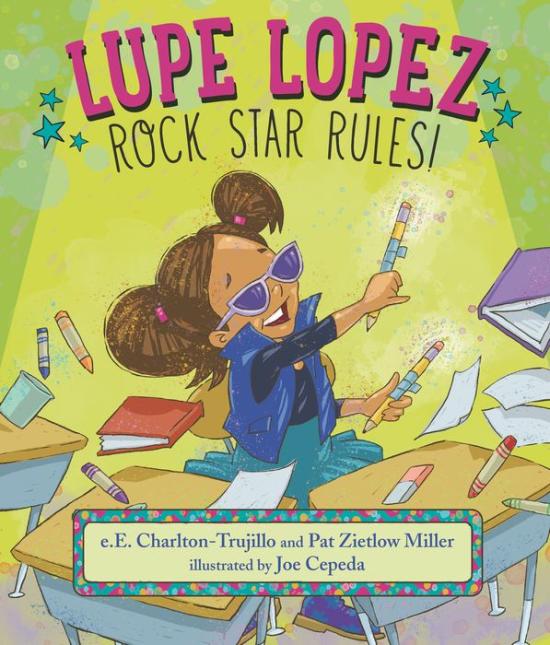 Are you a rock star? Either in reality, or secretly deep inside? If so, you might like LUPE LOPEZ: ROCK STAR RULES, a new picture book from Candlewick Press written by e.E. Charlton-Trujillo and Pat Zietlow Miller and illustrated by Joe Cepeda.
The book is a story about Lupe, a kindergartener who is a drummer and KNOWS she's a rock star. But the rock-star rules she lives her life by don't match up with her school rules. What's a future rock star to do?
Today, e.E. Charlton-Trujillo joins us on Picture Book Builders to talk about the real-life story that inspired this picture book.
Like many awesome picture books, LUPE LOPEZ: ROCK STAR RULES started with a real-life memory. Tell us about that.
The origins of Lupe's story are torn from the playbook of my rambunctious childhood growing up in small-town south Texas. Like Lupe, I strutted into kindergarten in mirrored sunglasses, but that's where some of the details differ. Determined to be the future drummer for the band KISS, I proudly carried a metal KISS lunchbox (for food and impromptu drum sessions), wore a shiny KISS belt buckle, T-shirt, and necklace. During my strut of stardom down the halls of Weber Elementary, a teacher called out, "Take off those sunglasses."
And I turned and said, "Can't do it. I'm a rock star."
Next thing I know, I'm pleading my case to the principal. So was the beginning of my first day of kindergarten.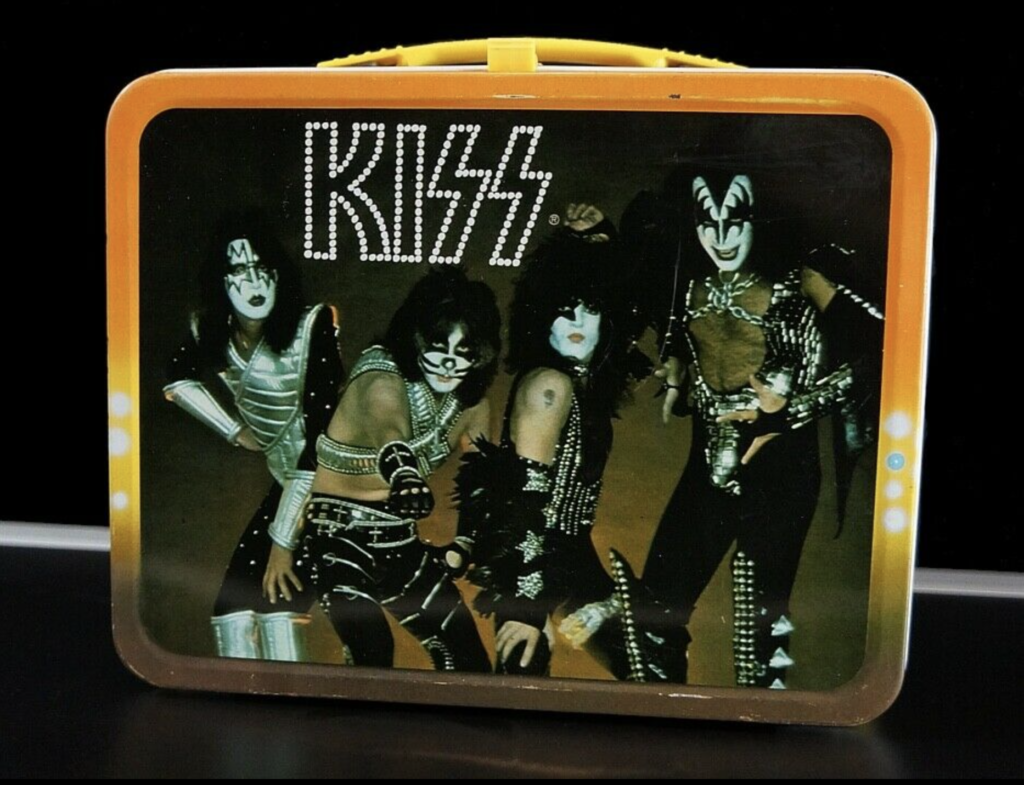 Writing fiction inspired by actual events can be tricky. How did you decide what parts of the story to keep true-to-life, and which parts to take artistic license with?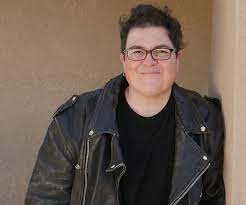 For me, books are written in revision. A big part of that process is looking at what serves the story best. For instance, I didn't attend Hector P. Garcia Elementary, but there was a wonderful opportunity in setting the story there. For those who might not know Dr. Hector P. Garcia's contributions to the Mexican-American community, there can now be a moment of asking, "Who was that? What does it mean to attend a school in his name?"
Then there is my childhood dream of being the drummer for KISS verses Lupe's largely solo act approach. While important to my personal narrative, I had to ask myself would it lessen the story's impact to leave KISS out? And that's the thing about writing picture books, middle grade, YA and verse. Asking does a certain plot point fill in the blank, propel the story forward, satisfy the momentum, or elevate the overall impact? If it doesn't, it's gotta go, a.k.a. kill your darlings. I have numerous Word documents of darlings for things I've written. The losing of those treasured phrases feels easier if I know they exist somewhere.
Picture books that rock always have heart — some sort of universal emotion that readers of all ages can relate to. What is the heart of Lupe's story that makes her so relatable to readers?
Lupe's relatability is in her confidence, her quick wit, and her passion for proving that she is a rock star. We are drawn to people with this kind of personality because they inspire us, they excite us, and they often invite us to self-reflect. I think young readers will find a friend and a hero in Lupe. They'll find someone to laugh with and root for. A girl almost leaping off the page ready to "drum on anything at any time."
Lupe has tons of personality. How do you hope she inspires young readers? And, which other picture book characters do you think she might be friends with?
I hope Lupe inspires young readers to be proud of who and what they are. To see their challenges as a chance to grow. To see that finding the people who get them is one of the best things in life. And for kids who don't want to be a rock star in the traditional sense, I hope they realize that there are a lot of ways to shine. We all have the ability to showcase the best parts of Lupe whether we are on a stage or showing up for someone having a bad day.
As for picture books characters she might be friends with, I'd choose the entire neighborhood featured in Boogie, Boogie, Y'all, Daisy Ramona from My Papi Has a Motorcycle and Evelyn in Listen: How Evelyn Glennie, A Deaf Girl, Changed Percussion. (Don't tell a drummer "can't!" Just sayin'.)
You're very well known for your young-adult fiction — the FAT ANGIE series — and your ALA Stonewall Award for the first FAT ANGIE book. What made you decide: "Hey, I want to write a picture book?" And, how is the writing process similar to and different from writing for older readers?
First, I nerd out over picture books. Pat has spent many a FaceTime hour in shared picture book adoration, even reading books to each other (yup, the cat is out of the picture book bag). Outside of oral storytelling, picture books are the introduction to story. To humor, to heart, and to humanity. Many people carry picture book lessons and laughs, loves and measured losses into our adult lives.
While writing picture books differs from middle grade and YA, they each share core elements in how we create character, utilize language, and approach compelling narrative. And I can say that writing picture books has made me a better novelist and filmmaker. Plus, I get to celebrate a part of my childhood with young readers in a way that honors strong, positive, compelling Mexican-American and Latinx characters. I am every kind of there for that!
Want a copy?
LUPE LOPEZ: ROCK STAR RULES is available in English and in Spanish. You can find copies at your local library — and fill out a request to have the book added to the collection if it isn't already there.
You also can purchase copies from:
An indie bookstore near you. Signed copies are available from The Twig Book Shop.
Check it out and access YOUR inner rock star!