It's summertime, summertime, sum-sum-summertime!
If you jotted down a list of things that tie into this time of year, I'm pretty sure two of the items on your list would be outdoor adventures and bugs.
Lucky for us, my critique buddies, Dianne White and Catherine Bailey, have new picture books on those very things. Go grab a tall glass of lemonade, get settled on your favorite lawn chair, and let's dig in, shall we?
Let's begin with Look and Listen, written by Dianne White and illustrated by Amy Schimler-Safford, and, next month, we will explore Hustle Bustle Bugs written by Catherine Bailey and illustrated by Lauren Eldridge.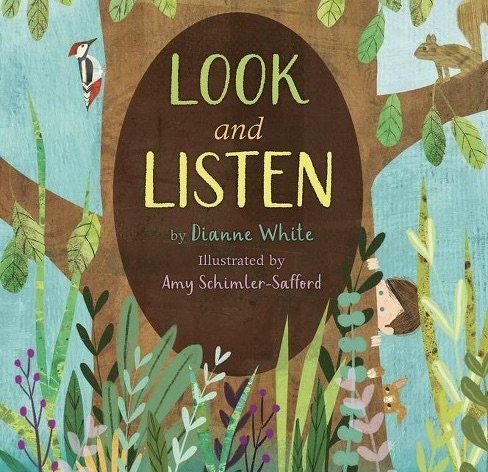 I think this book is perfectly LOVELY, but I thought it would be good to hear from the author herself.
TS: Hi, Dianne! Welcome to Picture Book Builders.
Tell us about your latest book, Look and Listen.
What was the initial inspiration?
DW: Thanks for having me!
Look and Listen is a picture book about stopping to notice animals, sounds and all that surrounds us in nature. The initial inspiration was a walk with my grandson through our neighborhood. He was three at the time and we had been reading the kinds of picture books I call "old favorites," books like Brown Bear, Brown Bear by Bill Martin, Jr. and Eric Carle and I Went Walking by Sue Williams and Julie Vivas. With bright illustrations and short repeating lines, these books provide a scaffolding that helps kids learn how to make sense of print, as well as practice identifying color words and animal names.
I wanted to write a similar kind of story. One that celebrates the small things we notice when we slow down to "look and listen,"as well as a guessing game in which color words, description, and rhyme help kids predict what comes next.
TS: This book has so many layers! You incorporated a fun and energized exploration of a variety of outdoorsy animals and bugs, a celebration of colors, and a guessing game. Plus, you included some detailed back matter. What is your secret?!
DW: The secret is what we, as writers, already know. We write what speaks to who we are, those core things that interest, inspire, or define us in some way. Having spent many years as an educator, most of which were in the primary grades teaching reading to students for whom English was a second language, it's easy to see how my time in the classroom spills into my writing. Slowing down to notice the things around us in nature is another thread that weaves its way into many of my books. Even colors make an appearance in much of my writing. All are things that bring me joy, so it makes sense that, to one degree or another, they've become part of my picture-book-writing voice.
TS: The illustrator, Amy Schimler-Safford, created artwork that beautifully and seamlessly complements your text. Please share your favorite spread. What made this spread in particular such a standout to you?
DW: Isn't Amy's work amazing? It's always a delight to see the final art of a book for the first time.
I love the double-spread on the "buzzing" page. The bright colors of the flowers are warm and friendly. The companion page, with the bee buzzing among clover, is also a favorite and reminds me of the line in the Emily Dickinson poem about needing"a clover and one bee."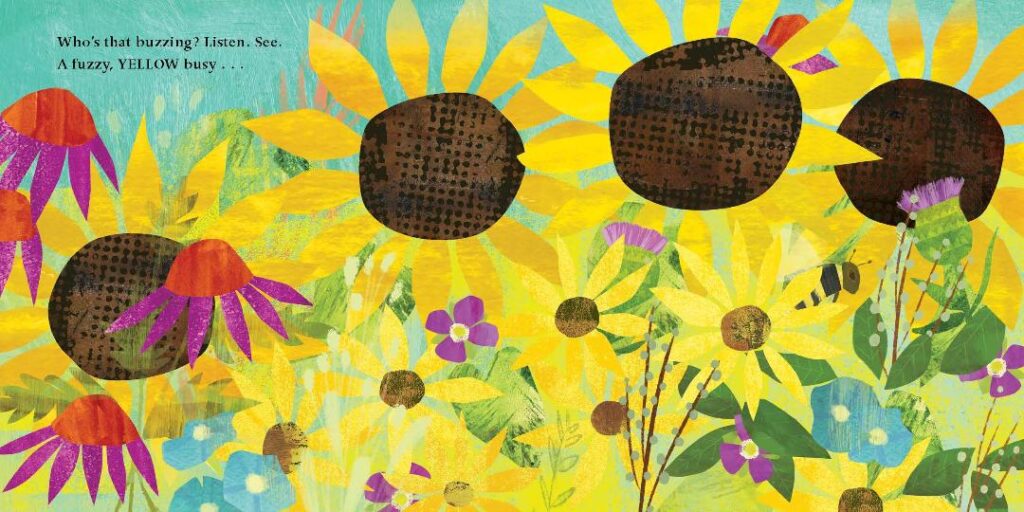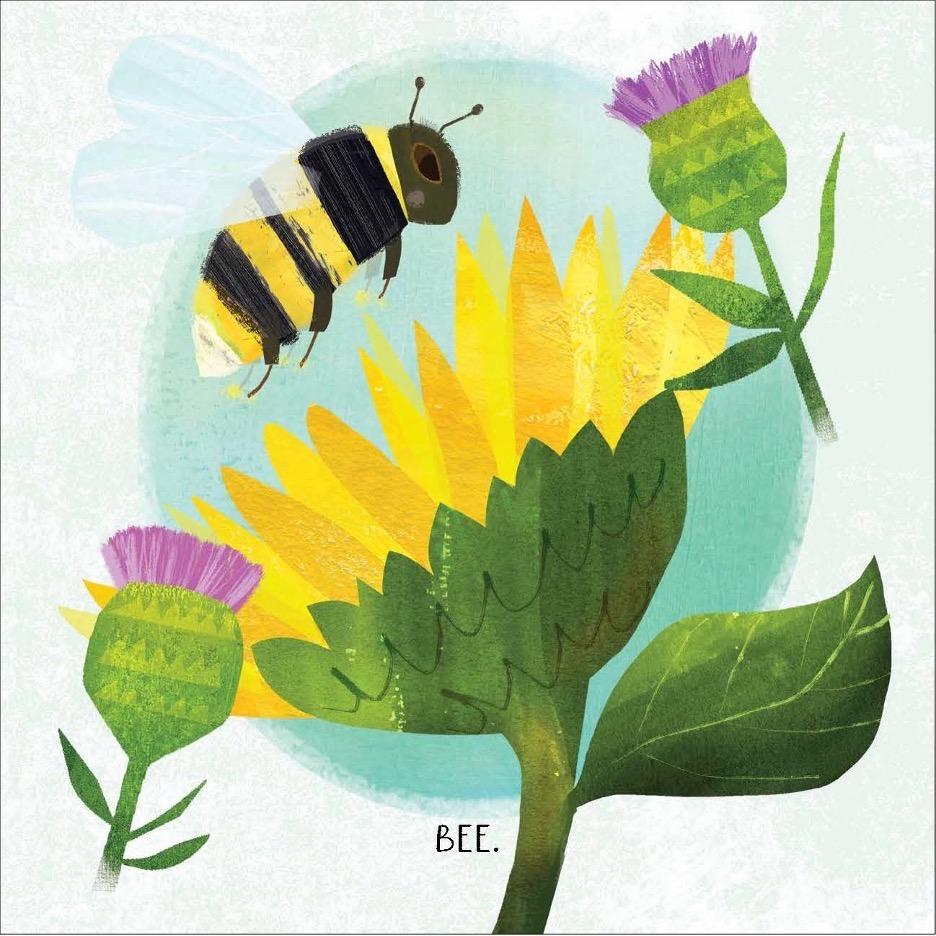 TS: You have a solid gold gift when it comes to rhyme. If you had one key piece of advice for writers who want to write a rhymer, what would it be?
DW: Thanks, Tammi. We've all heard the adage that editors don't buy rhyming stories. Of course, that's not the case. Plenty of rhyming picture books are published each year. But rhyme that doesn't serve the story is merely window dressing. It's easy for rhyme to "drive the bus," so writers need to know *why* they've chosen to tell their story in rhyme and check to make sure there really *is* a story. Give a manuscript the "prose test,"meaning: write the story in prose. Only then can a writer decide if 1st: there's a meaningful story and 2nd: the story would be stronger told rhyme.
TS: That's great advice! Annnnd…I discovered that you will be doing an entire webinar on writing in rhyme. I'm just going to include information about that right here.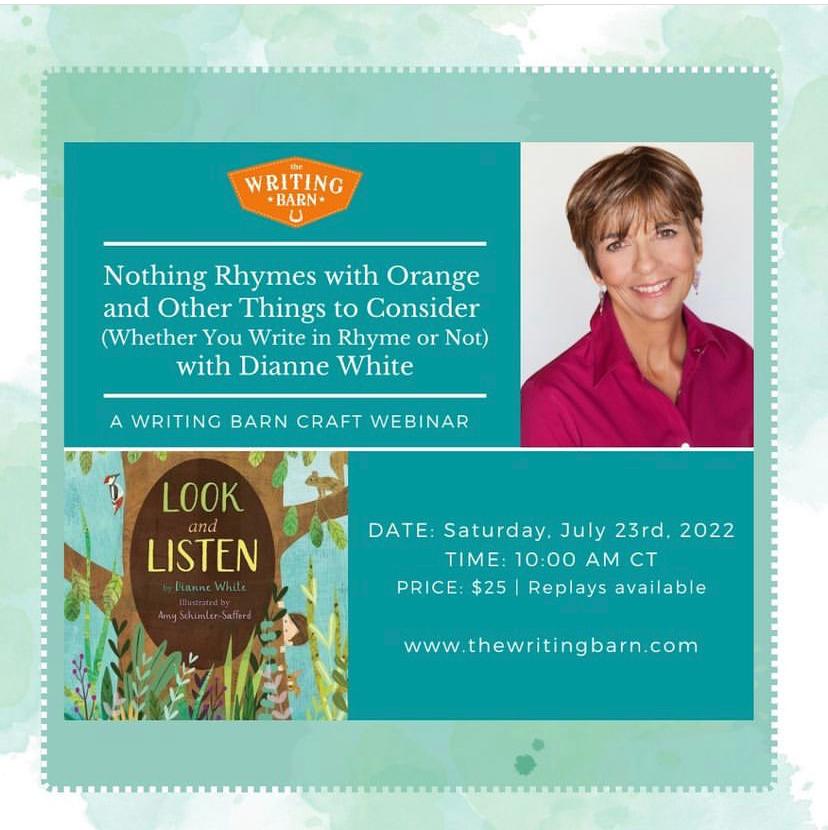 TS: Scoop time! What's next?
DW: Dark on Light, illustrated by Felicita Sala, is the third companion book in my color series with Beach Lane (Blue on Blue and Green on Green were the first two). Readers can find it on shelves on Nov. 1, 2022. Also: The Sharing Book, illustrated by Simone Shin publishes next summer (2023) from Holiday House/Ferguson Books.
Thanks for having me on Picture Book Builders!
Bio: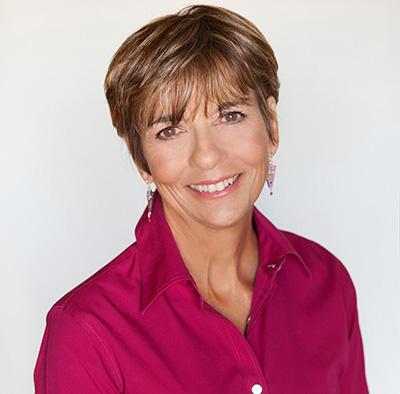 Dianne White is the author of numerous picture books, including the award-winning, Blue on Blue, illustrated by Caldecott medalist Beth Krommes, and Green on Green, illustrated by Felicita Sala (Beach Lane/S&S). Recent and forthcoming publications include Winter Lullaby, illustrated by Ramona Kaulitzki (Candlewick Press), Look and Listen: Who's in the Garden, Meadow, Brook? illustrated by Amy Schimler-Safford, and Dark on Light, illustrated by Felicita Sala (Beach Lane/S&S, Nov.1, 2022).
GIVEAWAY: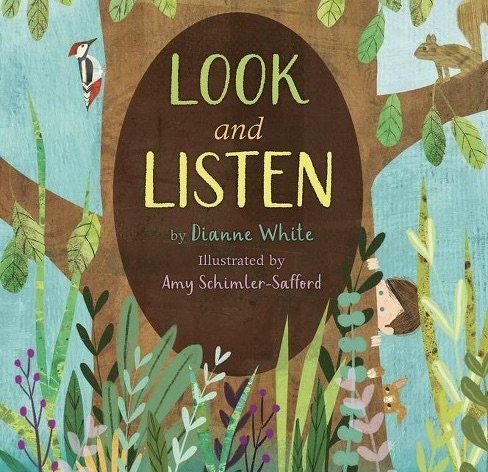 Dianne is giving away a copy of Look and Listen! For a chance to win, please comment on this post and/or share the post on Twitter. Be sure to tag @diannewrites and @SauerTammi.
For an EXTRA chance at winning, simply follow Picture Book Builders on Instagram and like the post for Look and Listen.