I'm thrilled today to have Suzanne back in the house! And, boy, does she have a fun new book to share with us. It's the durn near perfect story of superstar Dolly Parton.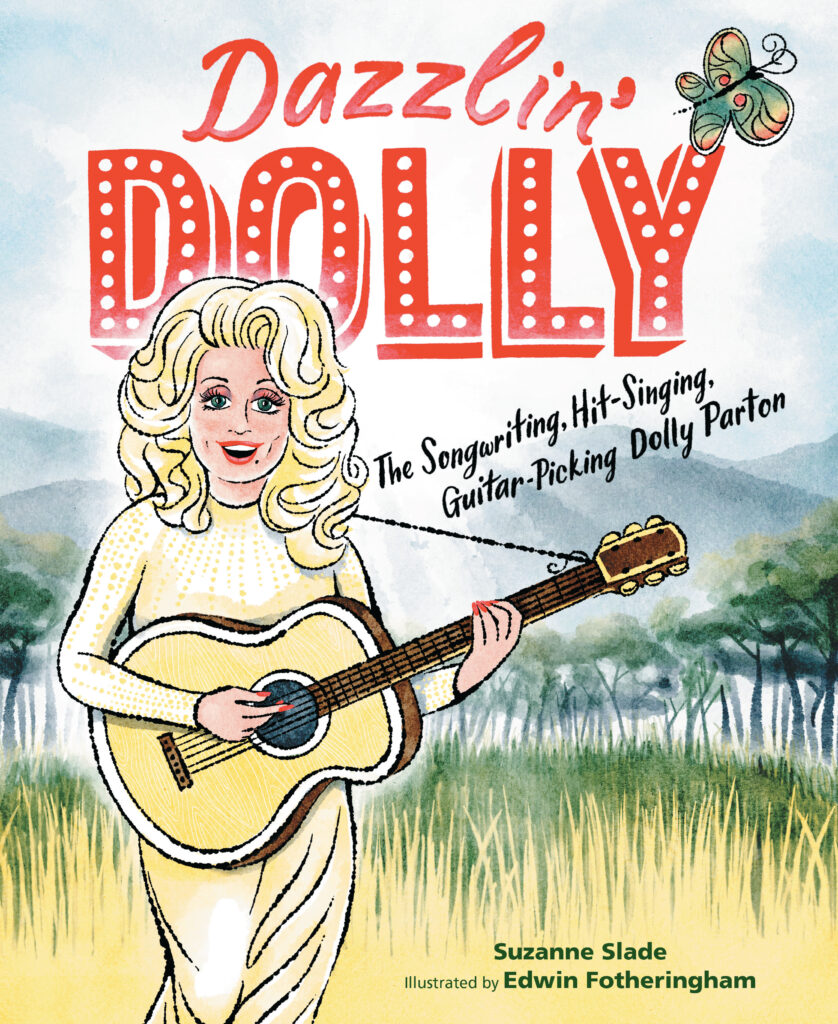 There are so many superlative elements in this book that I wasn't sure where to begin. Highlights: inspirational quotes from Dolly, down-home language that absolutely sings (appropriate!), just-right illustrations with real kid-appeal by Edwin Fotherinham, one determined little girl with a big dream, music at the heart of it all … the list goes on and on. I'm just going to chat with Suzanne and put in a few illustrations so you can get the feel of this gem for yourself.
JE: Wow, Suzanne. This is a stellar presentation. First of all, what made you want to write about Dolly's life? I'm a fan, but it never occurred to me to write about her, even though her childhood is tailor-made for a picture book.
SS: As we all know, Dolly is absolutely fantastic for many reasons: her singing, incredible songwriting, business savvy, acting talent, kind heart, philanthropy work, sense of humor, style, genuine warmth, and more. One day, a very smart person suggested I write a book about her. Immediately, I knew it was the best idea ever and wondered why I hadn't thought of it.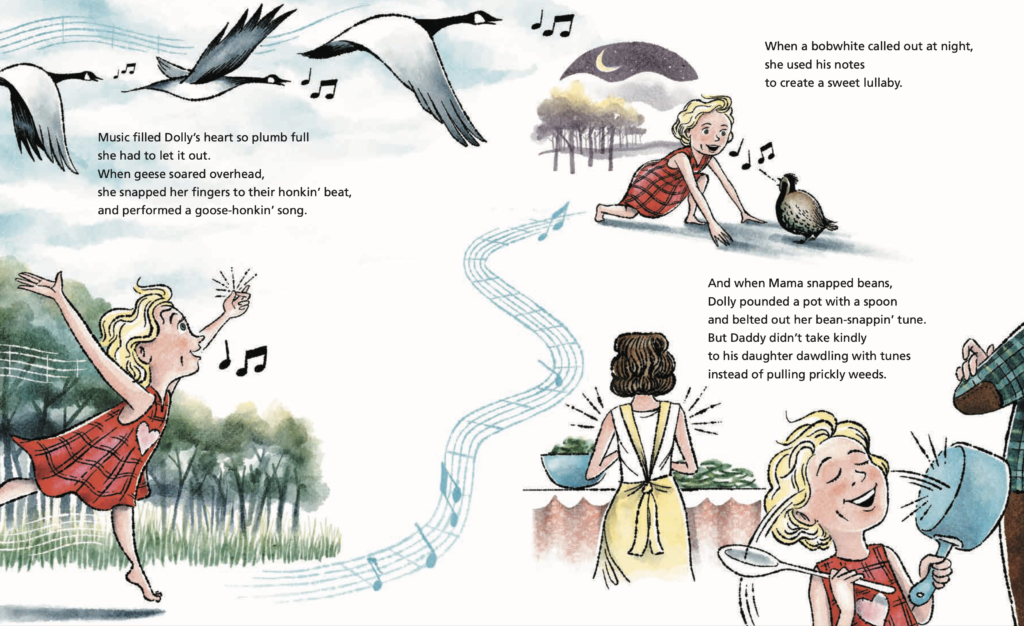 JE: Nice to have somebody put a bug in your ear that led to this beauty. (Could you send him/her my way?) Tell us about the research that went into this project.
SS: Research is such a vital, massive, yet unwieldy part of creating a book, so I always struggle to describe that process. The research for this book had several unexpected twists, plus some fun and not so fun surprises. Basically, I started by studying Dolly's wonderful biography, Dolly: My Life and Other Unfinished Business, watching documentaries about her, reading recent articles about her performances, awards(!), philanthropic work, and business dealings, etc. Later, I corresponded with experts such as David Dotson, head of Dollywood and Dolly's Imagination Library, and Dr. Lydia Hamessley, music professor and author of Unlikely Angel: The Songs of Dolly Parton.
As I discovered new details about Dolly, one little-known fact shocked me: Dolly battled stage-fright as a girl. Since many children deal with the fear of speaking or performing in front of others, I thought sharing how Dolly dealt with it would be helpful to many readers. Plus, her story reminds us that people who are very successful and seem to have easy, charmed lives, face real struggles and challenges just like everyone else.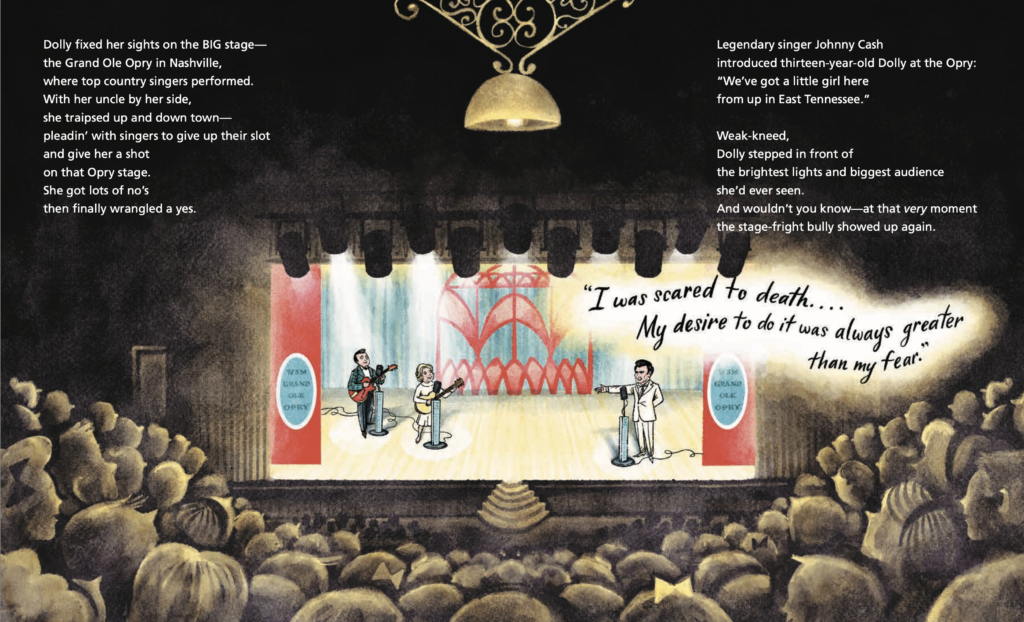 JE: Stage fright: the perfect springboard! The dialect used throughout the story feels natural and completely Dolly-like. It adds immeasurably to the fun factor here. How did you decide how much to use? As a writer, I know it would be so easy to get carried away with it, but you have just enough to add flavor to the story and make it sound hill-sy, without it ever becoming annoying. Just wonderful!
SS: I gave a lot of thought to language and word choices. As you mention, finding an authentic-feeling, not-over-the-top "voice" for a story can be tricky. When I read Dolly's autobiography and listened to her speak in interviews, I jotted down unique terms and objects specific to the area where she grew up. The goal of the list wasn't to find phrases that Dolly used and include them in the book, but to create a think-tank where I could consider terminology to help convey the feeling and lifestyle in the "holler", the place where she grew up, and Nashville, where Dolly lived after graduating from high school.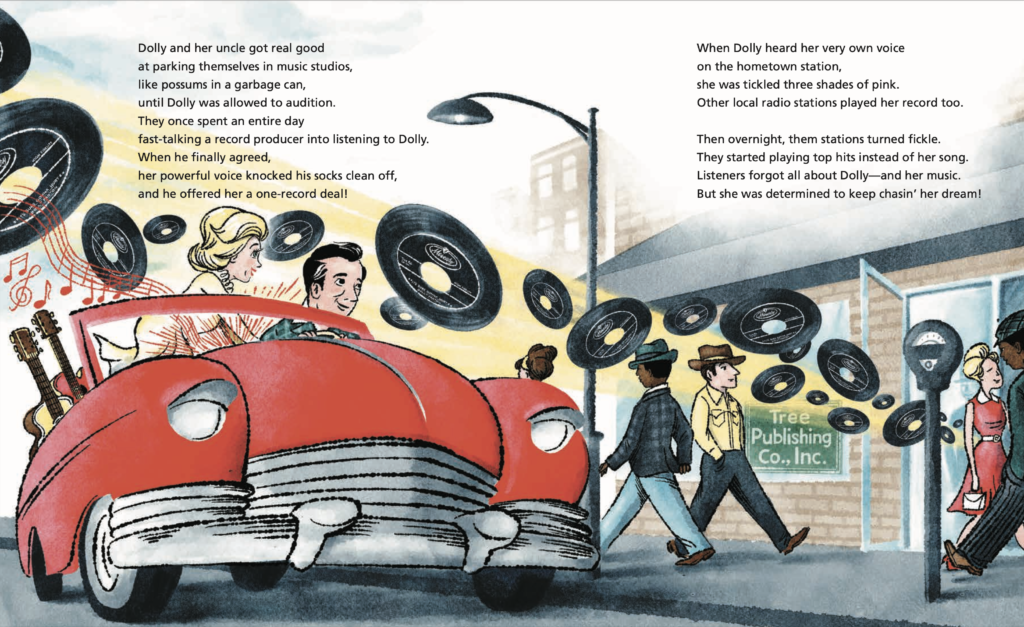 JE: I know you like to stay busy, so … what's up next for you?
SS: My upcoming book list includes a variety of topics. Next year: a picture book called, Behold, The Octopus, and a bio. about the incredible astronomer, Vera Rubin. After that, 2 books that will be "companions" to previous picture books (something I've never done before), a couple of space books, and a few other projects.
JE: Oooh, companion books … sounds intriguing. Best of luck with all of your new projects, and THANK YOU for taking time to hang out with us, Suzanne!
---
As mentioned in the title above, Astra Books is ready to send some lucky winner their very own copy of DAZZLIN' DOLLY! All you have to do is leave a comment below by September 30th. GOOD LUCK!!!
———————————————————————————————————-
More personally, my next picture book (May '23) officially has a cover, and I've been encouraged to share it. The official reveal (and backstory) will be next Tuesday on Tara Lazar's Writing for Kids blog, but, to give you a sneak peek…