I've been thinking a lot about picture book structure lately.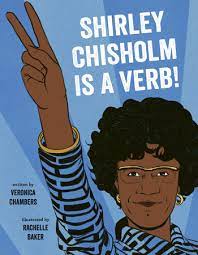 In fact, I wrote two Picture Book Builder blog posts about it not so long ago. Here's one. And, here's the other.
I've become a firm believer that the best picture books have a very solid structural foundation that elevates them past others that don't. The creators consciously decided on a structure and then wrote a story that stuck to that structure without anything extraneous.
A recent book with a superior structure is SHIRLEY CHISHOLM IS A VERB, written by Veronica Chambers and illustrated by Rachelle Baker. It was published by Dial Books for Young Readers
The title sets everything up. The structural focus of this story is on verbs — all the actions Shirley Chisholm took in her life from her childhood to her work as a congresswoman to her run for president in 1972. Shirley Chisholm, as the book says, "chose her verbs carefully."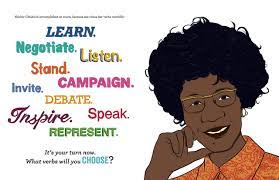 The book is written in sections with each section's featured verb listed in all caps. Strong transitions between each section make for a smooth read. And, then, at the end, there's a great page that takes ten verbs from Shirley's life and presents them as a graphic followed by a question to the reader: "It's your turn now. What verbs will you choose?"
This book works for several reasons. It:
Does what it says it will. It tells the story of how Shirley Chisholm was a doer and an action-taker throughout her life. The reader knows what to expect.
Has a strong voice and is fun to read. One of my favorite lines is: "Verbs are words that move the world forward."
Is also educational. You're almost guaranteed to learn something new. Shirley did a lot during her life and earned her place in history.
Directly encourages readers to set their own goals. They can take their own actions and also become doers.
Lets teachers remind students what a verb is. So … this book could fit in history and language arts classes. (If I were a teacher, I'd encourage students to create their own list of verbs that describe them!)
And, because I'm a child of the '70s, I can't talk about verbs without sharing this. I think Shirley Chisholm would have approved.
A NOTE: There are several Shirley Chisholm picture books. It would be a fun case study to look at them all and see the structure each author chose and which aspects of Shirley's life were included. (Because you can never fit everything in a nonfiction picture book biography.) Check out NOT DONE YET: SHIRLEY CHISHOLM'S FIGHT FOR CHANGE by Tameka Fryer Brown and Nina Crews and SHIRLEY CHISHOLM DARED by Alicia D. Williams and April Harrison.
A REMINDER: If you're a kid-lit lover, you might want to nominate books for the annual Cybils Awards. Anyone can nominate books they loved from the past year in categories ranging from board books to young adult in fiction, nonfiction and graphic novels.