The Tower of Life: How Yaffa Eliach Rebuilt Her Town in Stories and Photographs, a stunning biography written by Chana Stiefel and illustrated by Susan Gal, hit shelves this week. Yaffa Eliach grew up in the Polish town of Eishyshok, helping her grandmother in her photography studio. When Nazi soldiers invaded her home, Yaffa and her family fled. As an adult, she devoted her life to searching the world for photographs and stories of the Eishyshok she remembered. Using what she was able to recover, Yaffa created The Tower of Life, a U.S. Holocaust Memorial Museum exhibit, and a testament to survival and hope.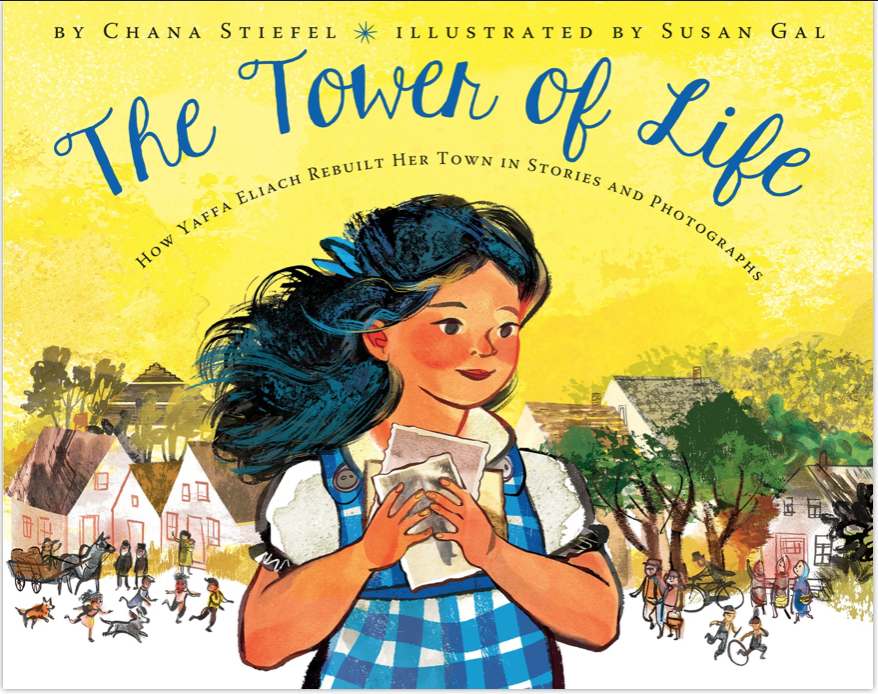 Today we are lucky to have both Susan Gal and Chana Stiefel on Picture Book Builders. Welcome Susan and Chana!
SARA: Chana, what sparked the idea for THE TOWER OF LIFE?
CHANA: I first learned about Yaffa Eliach's life and legacy when I read her obituary in the New York Times in 2016. I was incredibly moved by her strength and resilience in the face of unbearable tragedy. I remember cutting out the article and reading it several times. I knew I had to share Yaffa's inspiring story with children.
SARA: Susan, what compelled you to take this project on as an illustrator?
SUSAN: When I read Chana's manuscript I was in awe of Yaffa's story. Included with the manuscript were copies of some of Yaffa's treasured photos. The image of young Yaffa making faces among her grandmother's chickens touched my heart. I felt an immediate connection to her innocence and humanity. Chana's writing was wonderfully rich and vivid—an illustrator's dream! I couldn't wait to get started and learn more about Yaffa and her extraordinary life.
SARA: What was your research process in telling Yaffa Eliach's story? Where did you hit roadblocks?
CHANA: I started by reading Yaffa's book There Once Was a World: A 900-Year Chronicle of the Shtetl of Eishyshok. It is an 800-page monumental work that includes histories of all of the people of her town, nearly all of whom were murdered by the Nazis. Yaffa traveled the world for 17 years, collecting 6,000 photographs and stories. Many of the photos in the book appear in her Tower of Life at the US Holocaust Museum. Yaffa paints Eishyshok as the paradigm of a Jewish town that existed throughout Europe for nearly 1,000 years prior to World War II—a way of life was destroyed by the Nazis.
I knew that I wanted to receive permission from Yaffa's family to write her story, but I wasn't sure how. And so I procrastinated. But there's a Yiddish word, "bashert," which means "meant to be." At the time, I was working at a Jewish girls' high school as Director of Public Relations, and I was told that Prof. Smadar Rosensweig, Yaffa's daughter, was coming to speak to the students on the anniversary of her mother's death. I was shocked. It was definitely a sign. That evening, I introduced myself to Smadar and told her that I was hoping to write a book about Yaffa. We later met at her office and she gave me permission to write the story. Smadar was a tremendous resource for fact checking and she filled in gaps in my research.
Throughout the next several months, I read articles, transcribed interviews with Yaffa from YouTube, and watched a PBS documentary called "There Once Was a Town," narrated by Ed Asner, whose father was from Eishyshok. I looked at many photographs in Yaffa's archives online at Yad Vashem, Israel's Holocaust museum. I also visited the US Holocaust Memorial Museum in Washington, DC, to see the Tower of Life for myself. It is made up of more than 1,000 photos of the people of Eishyshok, soaring three stories high. It left me shaken and in awe of Yaffa's vision and determination. Yaffa's mission was to restore humanity to the victims of the Holocaust. In her words, "It's a memorial to life, not death." She hoped that all visitors would see themselves in these photos of people living their daily lives. And in this, I believe she succeeded.
Yaffa wrote in the introduction to her book, "I hope that…the portrait I have drawn will bring back to life many of the shtetl's admirable traditions; that it will offer knowledge of the past and hope for the future; that it will build bridges between the world that once was and the world still to be; and that the world of the future will be a better one because of those bridges." We still have a lot of work to do, but my hope is that by sharing Yaffa's story, her legacy will continue.
SUSAN: Like Chana, I started with reading There Once Was a World to gain an understanding of the history of Eishyshok and its people. The most significant research came from the online archives from the US Holocaust Museum. I gathered as many photos as I could of the people of Eishyshok and scenes of life in their shtetl. It was very important to me to correctly capture what life was like in Eishyshok, how people dressed, etc., so that the reader would feel a connection to the time and place. All of the photos from that era are in black and white so I had some freedom to experiment with a palette that was modern yet also reflected life at that time. Most importantly, I wanted to honor Yaffa's desire that all people would see themselves in the people of Eishyshok.

The most difficult part of my research was the necessary need for images of Nazi soldiers and weaponry of WWll. Naively I thought that the photos I would find would be images of the past; that the horrors of that time were behind us. My initial searches revealed not just WWll imagery but images of modern-day Nazis. I was not prepared for the depth of Neo-Nazism that continues to exist in our country and abroad. I became even more determined to put everything I had into bringing Chana's words and Yaffa's story to life. I whole-heartedly agree with Chana that Holocaust education and speaking out against all forms of hatred is now more important than ever.
SARA: What advice do you have for authors and illustrators researching tough topics?
SUSAN: It takes several months to design and illustrate a picture book. I loved drawing and painting the spreads that portrayed the deep affection that Yaffa had for her shtetl and its people. Working with the terrible images of war, Nazis, and the destruction of an entire way of life gradually took me to a dark place. I struggled with how to illustrate the terror that Yaffa, her family, and her fellow Eishyshkians experienced in a way that was honest yet manageable for young readers. Chana was so thoughtful with the language she used to describe the war. It was my job to do the same with the artwork.
One archived photo that I found deeply disturbed me. It showed a woman alongside a trench trying to shield two children from the gunfire that was aimed at her. I read that bullets were not "wasted" on children; they were simply thrown into the trench with their loved ones.That image is one of the reasons of why I chose to depict the Nazi soldiers as faceless silhouettes in red and black. Anyone that is able to commit such atrocities has lost their humanity.

There were many times I was brought to tears while painting the spreads of the men, women, and children of Eishyshok. Most of the archive photos that I was working with had captions about the people in the photos. Studying those faces and knowing their fates took a profound emotional toll on me. I knew that Chana had to push through in writing Yaffa's story. As I worked with her words it reminded me that Yaffa's story was a story of compassion, determination, resolve, and triumph. It lifted me and inspired me to do everything I could to honor Yaffa and her legacy. I genuinely feel honored to be a part of the team that created The Tower of Life. As Chana so beautifully states at the end of the book, "May her spirit and legacy continue to shine forever".
CHANA: I never set out to write a book on a topic as difficult as the Holocaust. But I was so gripped by Yaffa's story that I felt a strong responsibility to tell it. The last remaining Holocaust survivors are passing away. It is up to writers of our generation to share their stories and make sure they are not forgotten. Holocaust denial is widespread. The need for Holocaust education and teaching children to speak out against hate in all forms is more relevant than ever. So while writing on a difficult topic is hard, I knew I had to push through.
One thing that made the process more manageable is that I was writing one woman's story, not a complete history of the Holocaust. I think that children can relate to this heavy topic more when the story is personal and relatable. And ultimately, Yaffa's story is uplifting.
I also drew strength from many other beautiful picture books on the Holocaust, including The Whispering Town by Jennifer Elvgren, illustrated by Fabio Santomauro, and Benno and the Night of Broken Glass by Meg Wiviott, illustrated by Jose'e Bisaillon. I included a list for further reading in the backmatter of my book and in this blog post.
I definitely cried a lot while working on this book. For me, the Holocaust is personal. Tragically, my family tree is missing many branches. Crying helps to release the tension. And finally, it's okay to take breaks and walk away. As long as you come back to share your story.
SARA: Can you share a favorite anecdote or fact that you came across in your research but were not able to include in the book?
CHANA: Remember that word "bashert" or "meant to be"? There were so many bashert moments when writing this book! When I told my children that I was working on a book about Yaffa Eliach, my son Judah said, "Oh, Liam Eliach [Yaffa's grandson] is my chemistry lab partner." I was floored. Then my daughter Abby said, "Smadar Rosensweig, Yaffa's daughter, is my college professor. And Noah Eliach, Yaffa's granddaughter, is a friend of mine from camp." The girls were in college together. This past summer, Abby attended Noah Eliach's wedding. If this isn't Jewish continuity, I don't know what is.
SARA: What's next for you both as book creators?
SUSAN: I'm currently putting the finishing touches on Dear Stray, a heartwarming picture book written by Kirsten Hubbard for Nancy Paulsen Books, publishing summer 2023. I'm also excited to team up once again with author Lesléa Newman. I'll be illustrating her picture book, A Joyful Song, publishing spring 2024 with Levine Querido.
CHANA: I'm excited to have three more picture books in the pipeline. MENDEL'S HANUKKAH MESS UP, co-written with my husband Larry Stiefel (a first for us!), illustrated by Daphna Awadish (Kalaniot), launches on October 25th! My next funny, punny picture book BRAVO, AVOCADO!, illustrated by Anna Sussbauer, will be published by HarperCollins on March 28, 2023. And LET'S FLY!, co-written with Barrington Irving, the youngest and first Black pilot to fly solo around the world, illustrated by Shamar Knight-Justice, comes out from Dial/PRH in 2024. I'm also working on my first middle grade novel—historical fiction based on my childhood.
SARA: Thank you so much, Chana and Susan for sharing how this beautiful book came to be!