When my students saw The Courage of the Little Hummingbird: A Tale Told Around the World on display in the classroom, they demanded an immediate read aloud. I'm not surprised. When I came across the cover for the first time, I was immediately pulled in too, first by the lush art, and then by the title. What did the Hummingbird do? Why was she courageous? But because of pesky things like time constraints and carefully crafted lesson plans, the children had to survive a brief wait to hear the story and I got to enjoy their loudly expressed opinions about this wait.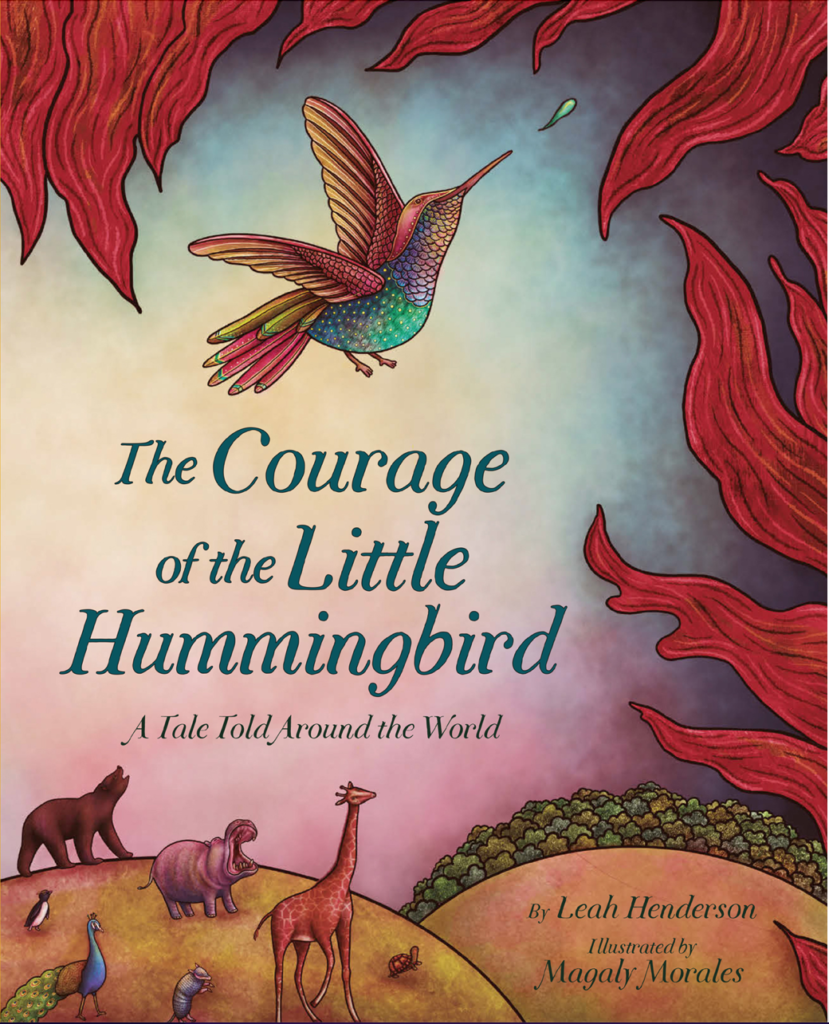 Well, the wait is over, and The Courage of the Little Hummingbird was a hit! In this fable retelling, written by Leah Henderson and illustrated by Magaly Morales, a fire tears through the Great Forest. After the animals flee, a little hummingbird decides she will try to extinguish the flames one tiny beakful of water at a time. At first the other animals think she's foolish and resign themselves to the fire's destruction, but the little hummingbird eventually inspires her fellow creatures to join together to save the forest. My students loved the abundance of animals (there are so many the odds are good a kid will spot their favorite), the engaging art, and the hopeful ending. I loved how the message connects to the way we frame caring for the environment, especially leading up to our Earth Day celebrations. To paraphrase the little Hummingbird, we do all we can. Messages run the risk of talking down to children, but this one lifts them up.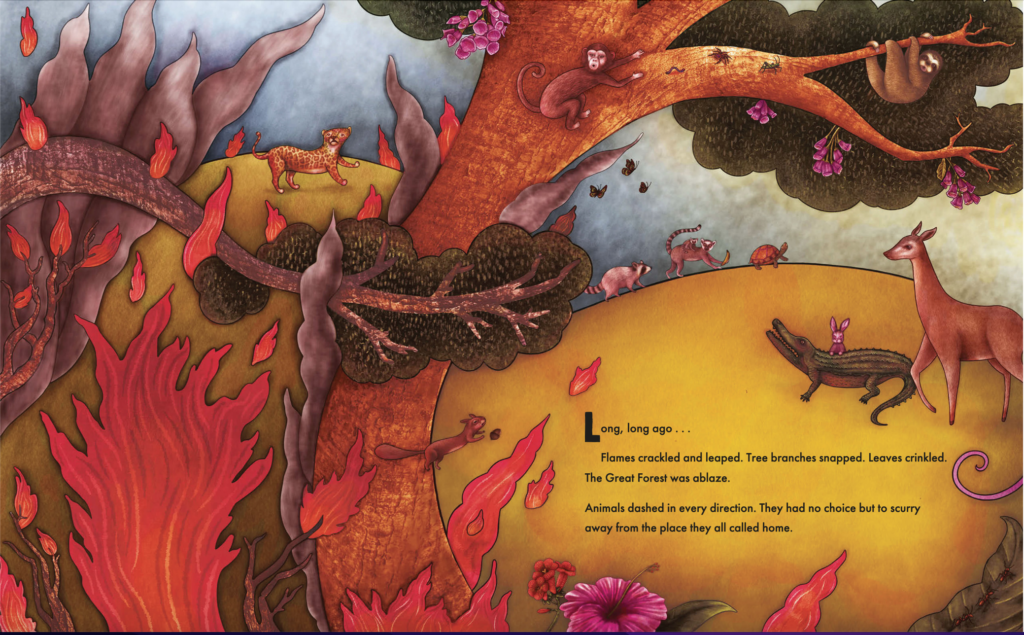 We are lucky to have author Leah Henderson on Picture Book Builders today to talk about her beautiful new book.
SARA: Welcome to Picture Book Builders!
LEAH: Thanks so much for having me and for sharing a little bit of my work.
SARA: We're so glad you're here! You mention in your author's note that you first heard this fable as a child. Did you always know that you wanted to retell this story?
LEAH: I never really thought of writing a retelling before this. A few years ago, it was honestly the words of the little hummingbird that I needed to hear and remember. You know how that goes sometimes. A picture book can be an awesome place to find the answers we need. But I know you all know that.
It was a time where I doubted if what I was doing could really make a difference. But that little hummingbird got me to pull out a napkin and write (I was on a plane at the time). I attempted my own version of her story.
So, this is a project I truly wrote for me. To help me keep going when I thought my efforts might not be enough.
SARA: How did the process of writing a retelling differ from your experience writing other types of picture books? How did you balance honoring traditional versions of the tale with sharing your unique vision?
LEAH: Since I was pulling from my memories, I started there. The first draft had no influences. I just wrote what I remembered. And it has basically stayed the same since those early drafts. Once I had something down, I did go in search of the origin story, as well as more retellings. One thing I noticed was that the retellings I found often centered where the storyteller was from in terms of the animals who were represented. In one version, the star of the show so to speak wasn't even a hummingbird, but a parrot. What was important to me above all else, was that I showcased animals from all over the world. I wanted my Great Forest to be truly great, a place where penguins met with lions, sloths, and foxes. Like in life, so many things will require a global effort.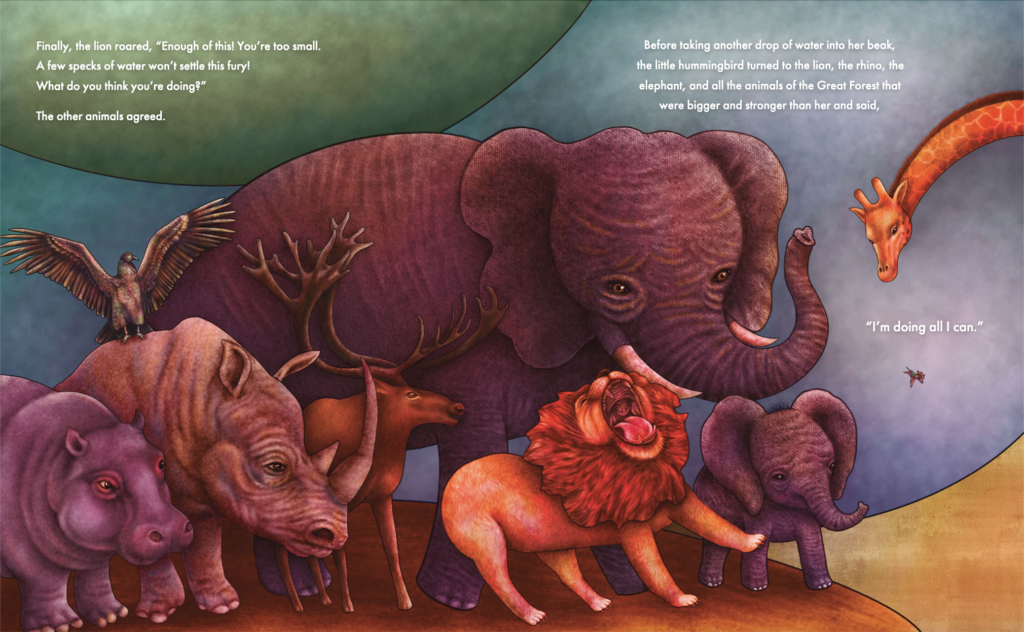 SARA: As a teacher, I found your explanation of the Great Forest in the author's note and the section of back matter clarifying where each of these species really lives to be very helpful. And as someone who used to live in Congo, I was thrilled to see an okapi featured. What advice do you have for authors interested in retelling old tales?
LEAH: With older tales, there was always a message woven in, so I think it is important to think about how much or how little you want to lean into the message. In my case, it was central, but in another retelling it may not be. The people, or the situations they find themselves in maybe the most important. It is also very important to credit the origins of the retelling, whether you stray from it or not. There is always a place, community and reason these early tales were told—honor them. Then have fun with it, and explore all the possibilities that particular retelling might hold, don't be constrained by it, use it as your way into and through your story.
SARA: What do you hope children will take away from The Courage of the Little Hummingbird?
LEAH: The same thing I needed to be reminded of—that no matter how insignificant we believe our efforts will be, we should always do all we can. Otherwise we will never know how great or small the outcome. But whatever it is, it is almost always better than doing nothing. And may just be the effort that is needed.
SARA: It's an empowering message for children, especially as it's the smallest creature in the forest who inspires action. What's next for you as an author? Do you have any forthcoming books we can be on the lookout for?
LEAH: Who really knows what's next for me. That's part of the magic in what we do. There are discoveries to be made around every corner.
But I do have a few forthcoming books, not all of them are announced yet, but I am excited about a picture book I have coming out next year in time for election season. It's called YOUR VOICE, YOUR VOTE (HarperCollins), illustrated by Keisha Morris. I can't wait for readers to meet Quetta Little, her mom, and grandma, and join them on Quetta's journey to learning all about the importance of voting and its history.
SARA: I can't wait to meet Quetta as well! Thank you, Leah, for taking the time to share your journey with us.
LEAH: Thanks so much for letting me stop by!