My author friend Linda Skeers is always on the lookout for great nonfiction picture books, and when she brought this one to our Whispering Woods Picture Book Retreat/Workshop last month, I liked it so much I had to buy my own copy.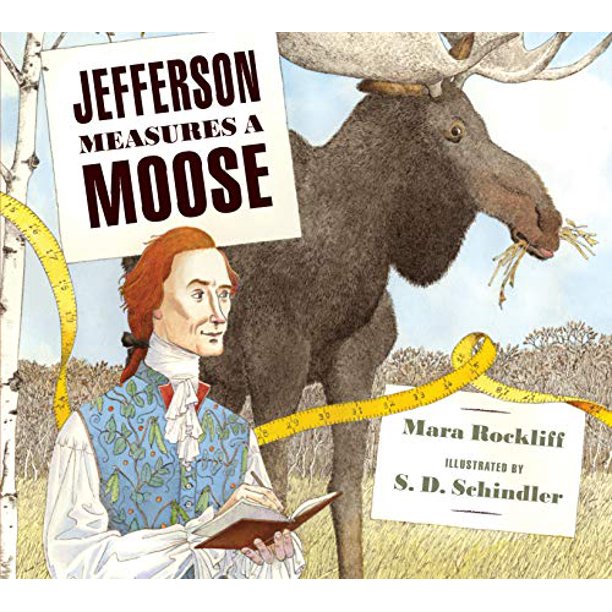 How often does that happen? Not often. But I love an engaging, well-written historical pb, and this one ticks all the boxes for me. Here's a bit from the publisher's description:
"Thomas Jefferson was wild about numbers. He was constantly counting, measuring, and observing things that caught his interest. He loved sharing his discoveries and reading the discoveries of others. But when a famous Frenchman published a book about America, Jefferson was appalled: all the information in the book was wrong. The author insisted that America was a wretched, dismal place, where birds could not sing, dogs could not bark, and everything and everyone was puny and weak."
Can you imagine how those claims–made by someone who'd never visited America–would rankle Thomas Jefferson … or any proud American?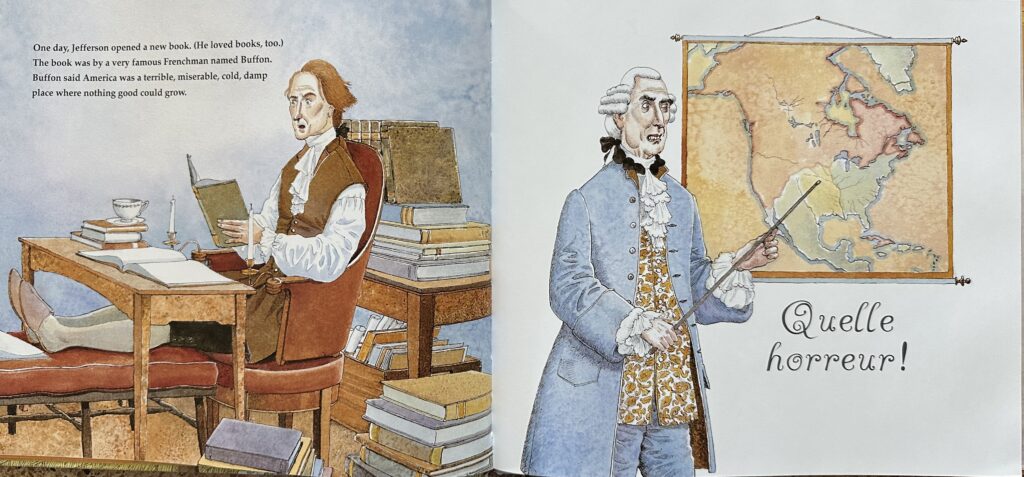 Let's back up a sec. I had no idea Jefferson was a numbers nut, but Mara Rockliff does a beautiful job of SHOWing readers his obsession, jumping right to the point on page 1: "Thomas Jefferson loved asking questions about NUMBERS." She proceeds to illuminate us with a series of kid-friendly examples, like: "He knew how much it cost to see a monkey and how hot it was in Philadelphia on July 4, 1776."
To counter Buffon's ignorance, Jefferson wrote his own book that included real, true measurements and information about America. He even had a friend show it to the French author. Didn't change the guy's mind. Did Jefferson give up? Nope. To say he went to absurd lengths to prove his point would be an understatement. It wasn't just American pride at stake, though. According to Rockliff's author's note: "If they thought nothing good came from America, then they would not be interested in trade agreements." Or lending us money. Or moving to such an inhospitable place. A lot on the line!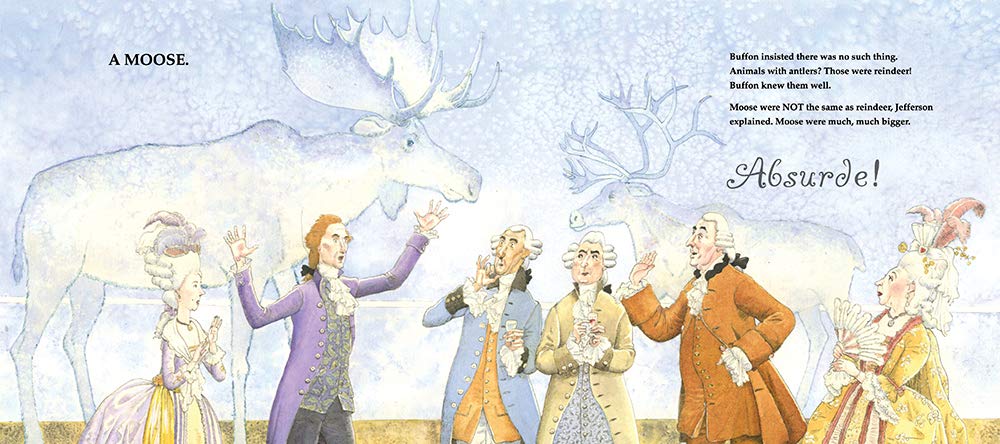 I'm not going to give away the whole book, but really, DO find a copy and take a look for yourself. It's charming, fast-moving, and uses science to disprove misconceptions.
From Candlewick Press.