My friend Sarah Glenn Fortson has a new nonfiction book perfect for October. From Sarah, illustrator Kris Aro McLeod, and Peter Pauper Press, I give you:
I found this entire book fascinating from cover to cover. It's geared toward independent readers, but an apple-loving younger kiddo would get lots from it, too.
I'm going to do something new: give you a link to the book's Amazon page so you can read the synopsis and see FIVE spreads there, rather than take pics with my phone that don't do the book justice. Take a few seconds to head on over and check them out. https://www.amazon.com/Granny-Smith-Was-Not-Apple/dp/1441339442/ref=sr_1_1?crid=A9AMAJJ0JUDB&keywords=granny+smith+was+not+an&qid=1697216101&sprefix=granny+smith+was+not+an+%2Caps%2C112&sr=8-1
I'd never heard of Maria Ann Smith before, but wow, was she an independent, determined, feisty woman! She had to be to keep her family alive in a time and place in which every scrap of food was hard won. Only the tough could survive.
I found Granny Smith's story is so interesting that I wanted to talk with Sarah about it.
JE: Welcome back, Sarah! Tell us what sparked this idea.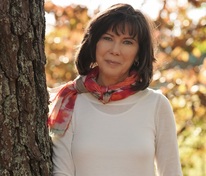 SGF: When my daughter comes to visit from Denver, she always requests Cream of Wheat with Granny Smith apples. No other apple will do. When she was very young that's how I first prepared it for her and she's never let me forget it. So, when she was coming for a visit, I went to the grocery store for her Granny Smith apples. When I picked one up, I stood there looking at it, thinking "I wonder why they call it Granny Smith." I went home and started my research. 
JE: Nothing says home like our favorite comfort foods! Tell me about the research process, Sarah. Many people give up on a biography subject if they can't find much about their childhood. Yet you didn't need details about Maria Ann Smith's early life to make her story compelling.
SGF: I was very fortunate to find the Local Studies Librarian, Angela Phippen, of the City of Ryde, Australia who knew an elderly descendant of Maria Ann Smith (Granny). I communicated with her by email many times. It was one of the highlights of my journey. In addition, I was so excited to see the actual "manifest" of the ship (featured in a sidebar of the book), showing the family had indeed been aboard. 
JE: That's the kind of thing that draws me in, too. And down the rabbit hole you went! 🙂 There are so many little extras (sidebars) in this book. Each does two jobs: helps move the story forward and aids understanding. Were they your idea?
SGF: As I worked through the story, I realized there were many aspects of the text-content that a 7-year-old would not have been exposed to, like "grafting" or "pollination." That's when I decided to add "sidebars" to help the young reader understand the concepts.
JE: I love that they're clearly sidebars and aren't confused with the main text. (I just saw a book in which the sidebars looked like main text, which got confusing in a hurry.) This is a wonderful biography, Sarah. Do you have more in the works?
SGF: At this time, I don't have another biography, but I do have an historical story based on a young boy's encounter with a zeppelin that just happened to veer off course and fly over his farm in Illinois.
JE: Intriguing! So, a question we sometimes ask: Where do you do most of your writing?
SGF: This is a strange answer, I know, but when I first start a story much of the writing is done in my head while I walk or take a shower! When I'm finally ready to write it down, I sit on my screen porch that looks out on the woods, with mountains in the background and type on my laptop.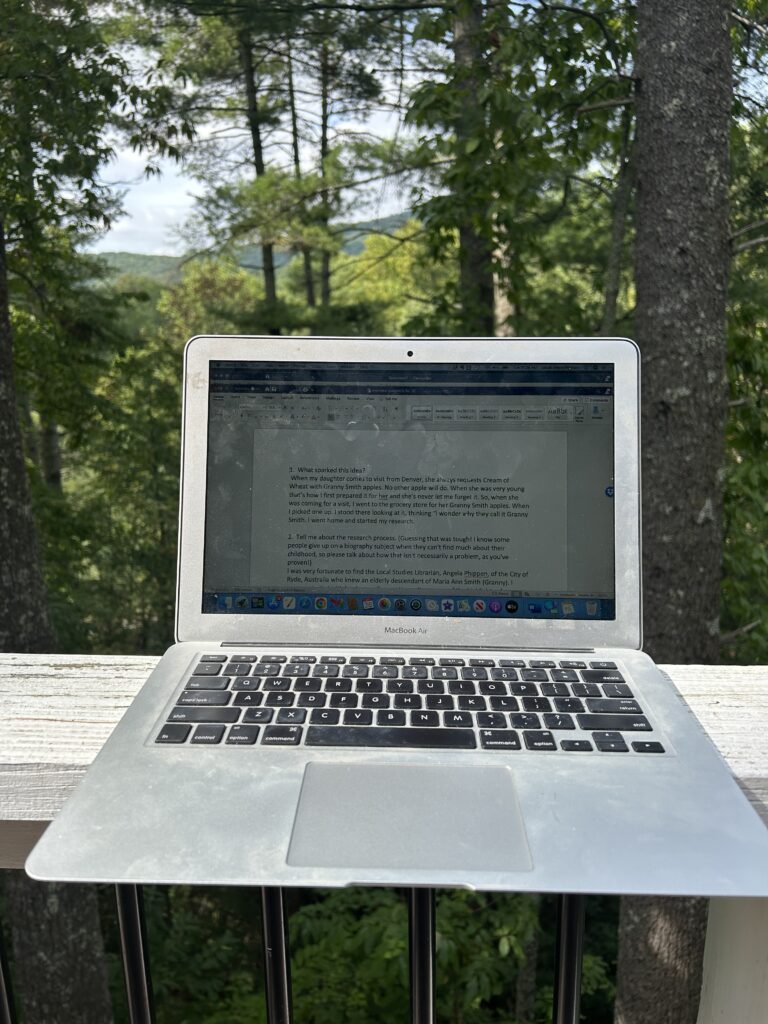 During the winter, I'm in front of the fireplace.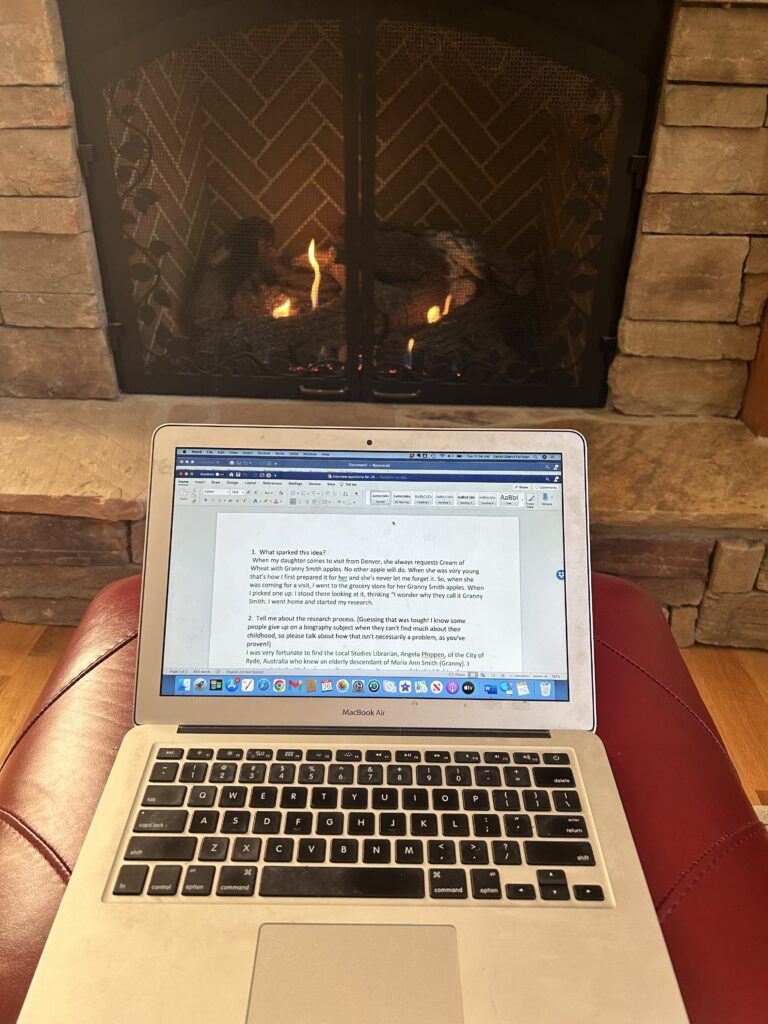 JE: Wow, I'm not sure which looks better to me. I'm a mountain person myself, but that fireplace… 🙂 Readers, for more information about Sarah and her books, visit her website, here.
Thanks for chatting with us, Sarah!