Hello, Picture Book Builders people.
Are you ready for a warm and wonderful book that celebrates both friendship and community in an entirely unique way? Great!
Willow and Bunny, written by Anitra Rowe Schulte and illustrated by Christopher Denise, offers all of that and more.
But I'm not the only fan.
This is what Publishers Weekly and Booklist had to say:
"This tale provides a vehicle for conversations both about weather catastrophes and, more generally, about strong bonds that endure through change." ―Publishers Weekly

"The cozy, kindhearted story is beautifully told, mixing moments of sweet simplicity and light peril with a gentle hand. Gorgeous digital illustrations glow on the page, capturing nature's elemental extremes while also intimating the quiet rapport between the bunny and the tree. A gratifying glimpse of generous friendship." ―Booklist
Nice, huh?
Today, Anitra is joining us at Picture Book Builders. Let's ask her some questions, shall we?
TS: Welcome, Anitra! Please tell us what inspired this beautiful-in-both-text-and-art book.
AS: Hi Tammi! It's so awesome to be visiting with you here! I adore the stories of the Picture Book Builders, they've played a huge role in my picture book journey. Thank you so much for your kind words about our new book, WILLOW AND BUNNY. The story arrived in my imagination a few years ago. I was driving around in our family van, listening to news radio, and reporters were sharing details from an awful event that had happened in our country. When I got to my destination, I pulled over, put the car in park, and just wept. My heart was broken. I imagined if my daughters, who were very young at the time, asked me how something like that could happen…what would I say? On the back of a receipt, I started scribbling. What could I promise them was good and beautiful in this world? And how could I also explain how darkness manifests and moves into our places of safety? Was there a way to express these things truthfully, while also caring for their emotions and sense of safety? As I found my way through, I was struck by the certainty of one thing: No matter what trouble enters our lives, we will do everything in our power to support those we love, and they will do the same for us, when they are able. When you read this woodland story, the source idea isn't particularly evident. But at its core, WILLOW AND BUNNY is about moving through difficult things together, and in love.
TS: Caldecott Honor-winning Christopher Denise illustrated Willow and Bunny. What was your reaction to seeing the art for the first time? Do you have a favorite spread?
AS: Oh, I melted. Just turned into a pool of mush! Already an enormous fan of Christopher's work – GROUNDHUG DAY and KNIGHT OWL are big time favorites – I knew it would be gorgeous and tender. And heavens, is it! I was so taken aback by the scale and mood and relationship he created through his compositions. They are each so precisely perfect, in ways that my imagination could never have fathomed. I had the chance to meet Christopher and his amazing wife Anika in Chicago at ALA, so I could share in person how awed I was, and continue to be, by the emotional journey of the art and the singular way that Christopher focuses on the emotional heartbeat of each moment. My favorite spread changes every time I read it, but I have two favorites today: First, the opening spread, where Bunny is bathed in the glow of the wood. And second, when the animals are all huddled together under Willow's canopy – their eyes convey so much to the reader in that scene. I can scarcely believe that this beautiful object is here in the world and am so glad that Christopher's art will hold young readers' hearts through every page turn.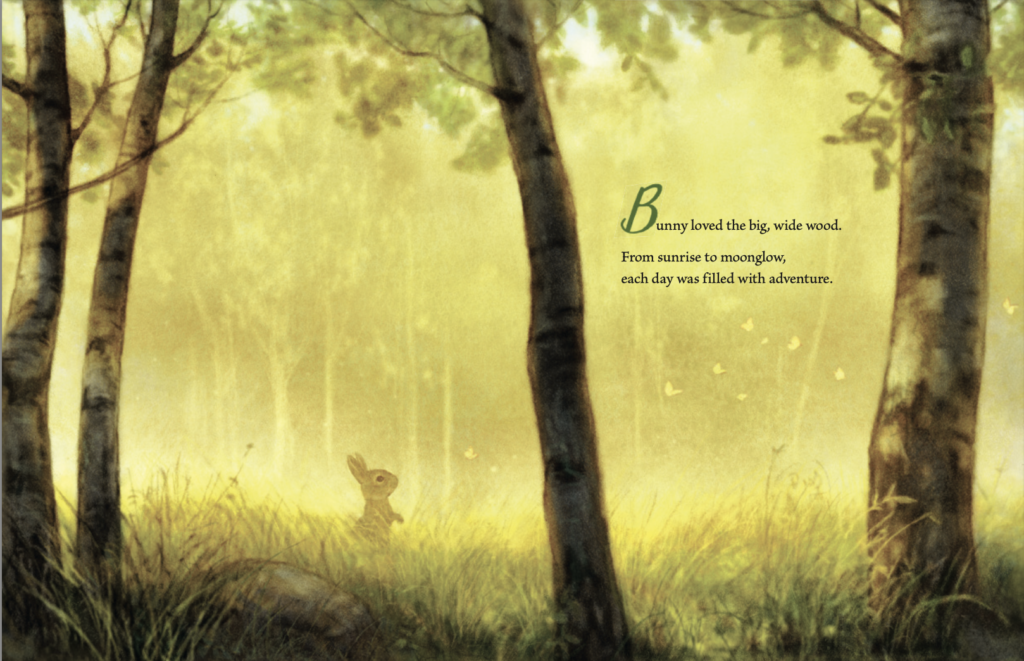 TS: Willow and Bunny has multiple layers! It uses lyrical language! It has heart! Clearly, a lot of thought, time, and energy went into creating the text for this book. Please share a couple of your revision strategies.
AS: Pardon the blushing over here – thank you! WILLOW AND BUNNY definitely evolved over time, from a raw and emotional series of questions into a gentle woodland story. Some things never changed, while others increasingly came into focus. One of the constants was the refrain: Bunny and Willow, Willow and Bunny. That sang in my ear from the start. Did you happen to have a friend growing up, whose name was always said along with yours? For me, it was my best friend Sarah. Anitra and Sarah, Sarah and Anitra. We were inseparable – quite different, but completely complimentary. I felt that repetition as a touchstone early on. To make sure that the relationship between the two main characters was fully developed, I increasingly deepened their expressions of affection and protection through personification, giving Willow, in particular, more gestures and emotive moments. Also, in previous drafts, the other animals of the forest had more prominent roles. To make sure that the story really centered on the two main characters, the cast was narrowed, and Willow and Bunny were given more space and time together.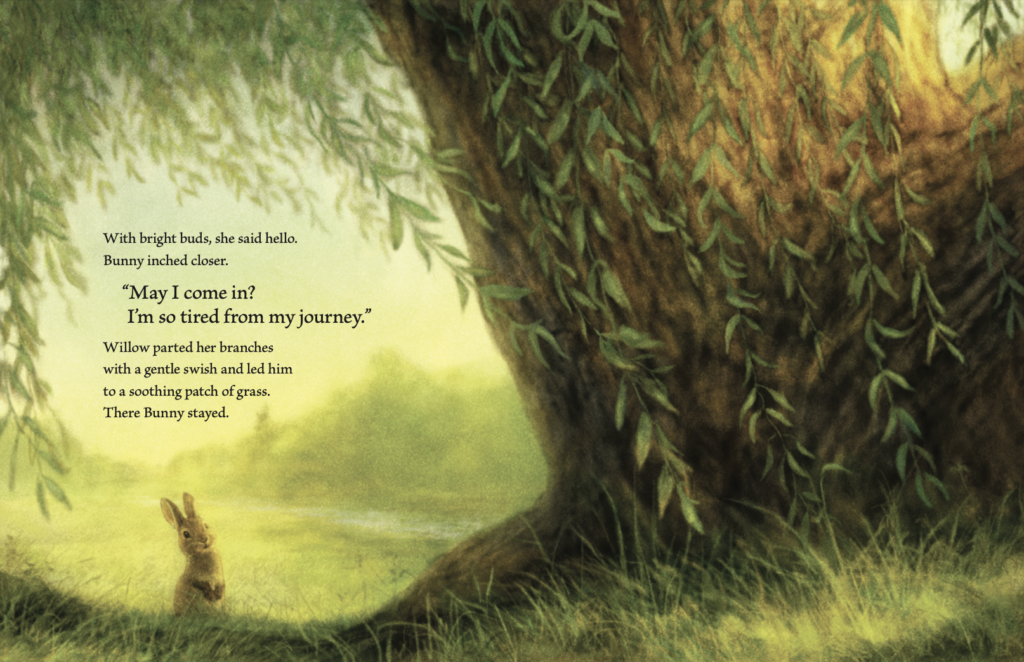 TS: What would you like for young readers to take away from Willow and Bunny?
AS: I once heard an editor say at an SCBWI conference that picture books can be written as enduring letters to someone we love. When I wrote this story, I held my daughters and young readers close at heart. I hope that they discover that when extraordinarily difficult things enter their orbit, sometimes without any warning at all, that they can trust the voice inside of them – the one that alerts them to seek shelter and safety. I hope that they accept and make room, within those places, for others who have that same base need of protection. And, when the darkness passes, and they are left in a place that feels unstable and uncertain, that they recognize that they have friends and family around them, who will sit in the starlight with them and wait for the sun. And – one thing more! – that they can be that friend, too. They can help a Willow in their world pick up her branches and find a way to sow love again.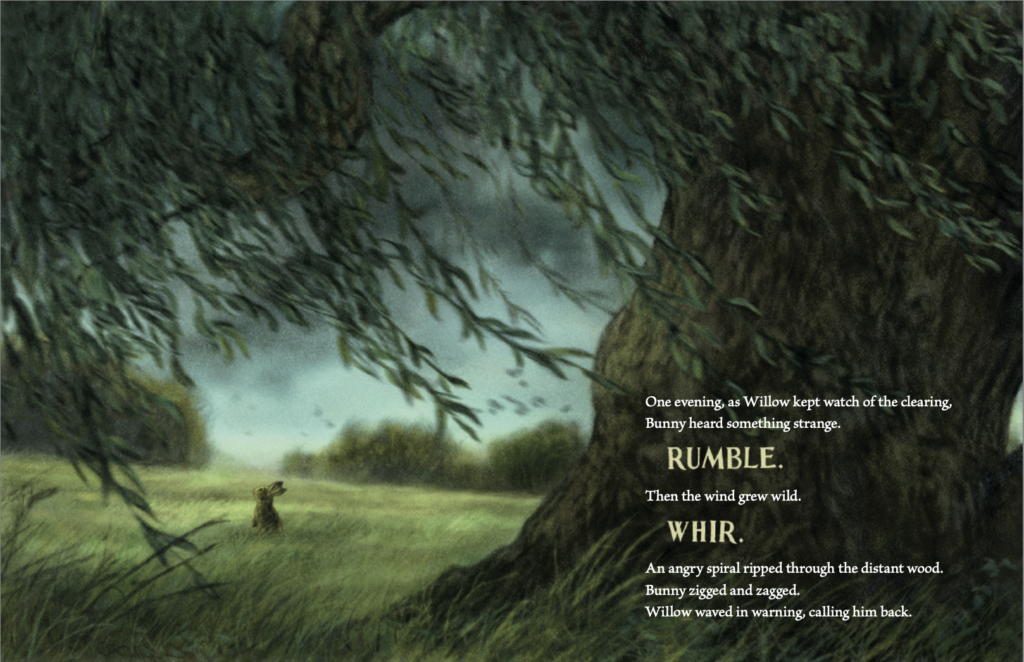 TS: Scoop time! What's next?
AS: I'm so excited for this fall! I'll be visiting bookstores in Nebraska, Missouri, New York, and Illinois. (Picture Book Builders readers, if you happen to live nearby, please come say hi! Details here!) My chapter book series STARLIN, illustrated by Katie Crumpton, will be coming very soon. I'm so excited for readers to meet this character. Starlin is super fun and theatrical and imaginative, and I'm over the moon to be working with Beaming Books and Katie to bring a disabled main character into the spotlight in the chapter book space. Readers at school visits often ask if I have any chapter books, and soon I can say, "Yes!" I also have lots of picture book messages-in-a-bottle out at sea. Here's to hoping they wash ashore in their meant-to-be place soon!
BIO:

Anitra Rowe Schulte is the children's book author of two picture books and a forthcoming chapter book series. Her first picture book, Dancing with Daddy (illustrated by Ziyue Chen), was awarded Christopher and Dolly Gray awards and named to Kirkus and Bank Street's best books of the year lists. Her second picture book, Willow and Bunny (illustrated by Caldecott honor and New York Times bestselling artist Christopher Denise), released on Oct. 10. Anitra lives with her husband, three children and cat Pancake in Chicagoland.
GIVEAWAY:
Anitra is offering a signed copy of Willow and Bunny! For a chance to win, leave a comment. For an additional chance, please share the post on Twitter. (Yes, I still call it Twitter). Make sure to tag Anitra (@anitraschulte) and Tammi (@SauerTammi).