If you've been trying to write picture books, you've probably heard that they ought to be short: 800 words, 600 words, 500 words. Or even LESS.
This can seem scary. But it can be done without sacrificing plot or story. In fact, many pre-published manuscripts I see could lose 200 words and be better for it. The keys are:
Paring your story to its essence. What is it about at its heart? Anything that doesn't support that can go.
Letting illustrations fill the gaps. They explain a lot so you don't have to.
Choosing the best possible words. Here's where being picky and thoughtful pays off.
One book that does these things frighteningly well is ZOMBIE IN LOVE, by Kelly DiPucchio. It tells a complete, satisfying story in less than 400 words.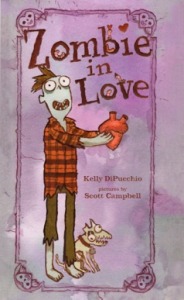 Here's how:
You immediately know what it's about.
Readers know what the problem is the first three words. DiPucchio says: "Mortimer was lonely." No more is needed. It's an emotion everyone can relate to. The next sentence provides the context that drives the rest of the book: "Cupid's Ball was just a few weeks away, and he didn't have a sweetheart."
From there, every scene in the story shows Mortimer pursuing his goal of finding a sweetheart. He tries meeting girls at the bus stop, the diner, the park and the gym. To no avail.
Through all this, notice what's not there. Backstory. DiPucchio doesn't waste words on Mortimer's past. We don't know why he's a zombie, how he manages in a human world or how long he's been alone. It's doesn't matter.
There's also no unnecessary detail. DiPucchio doesn't name all the girls who decline Mortimer's advances or explain why they don't return his feelings. The looks on their faces say it all. Which brings us to …
Its pictures are worth … well, you know.
The illustrations say a lot in this book. DiPucchio writes: "He gave the girl at the bus stop a fancy box of chocolates." Scott Campbell's illustration shows Mortimer offering a box of chocolates shaped like a coffin with worms crawling over them. Adding that in the text would have slowed the story's pace considerably.
And in one of my favorite spreads, DiPucchio simply says: "Mortimer smiled. Like this." Then, the illustration shows the full extent of Mortimer's dental issues. That's much more effective than if she had spent 15 additional words describing what Mortimer's smile looked like.
Each word has earned its way into the manuscript.
Some people think writing short means you can't show any personality. Not true. DiPucchio has fun choosing the perfect words for her zombielicious tale. The personal ad Mortimer places is a hilarious take-off on "Escape" (The Pina Colada Song) by Rupert Holmes. And, Mortimer's eventual date is describe as "drop-dead gorgeous."
Because she's picked the perfect words, DiPucchio's story flows smoothly from one part to the next.
Picture book writers who write short well spend a lot of time making sure each word has earned its place in the manuscript. The result is a clear, easy-to-read story that never bogs down. Which is what every reader wants.
What might your story gain … by losing?
(Note: If you want to keep up on Mortimer's love life, DiPucchio and Campbell have a sequel coming out in January that's available for preorder now: ZOMBIE IN LOVE: 2+1.)
— Pat Zietlow Miller