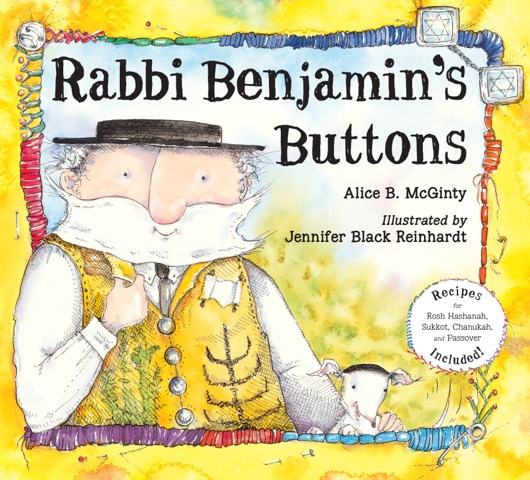 Welcome, Rabbi Benjamin's Buttons!
I just got to celebrate a book birthday. Rabbi Benjamin's Buttons, written by Alice B. McGinty, published by Charlesbridge Publishing, launched just a month ago.
Books take so darn long to make ( I was offered the manuscript on my own birthday,  in October, 2011), holding the finished product in your hands is such a happy day!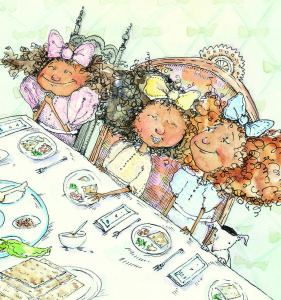 Rabbi Benjamin loves his congregation, he adores the beautiful vest that they made for him, and he thoroughly enjoys all the fabulous food that comes with each holiday celebration! So much so, that as he goes through the year his sunshine-colored vest gets tighter, and tighter… until… pop!
Alice McGinty's story is overflowing with a sense of caring and community.  It also has some terrific recipes in the back (her family recipes disguised as those of the characters in the book).
I thought I'd take you on a little trip down Rabbi B's  illustrative path…
 This is my very first doodle for Rabbi B.
He needed to start thin, and then get fat. He needed a beard, but what color? (Dark ones made him look like a villain) And how to keep him from looking like Santa Claus when he plumped up? (I think it was in the shape of the beard and having him wear a hat whenever possible)
Closer and closer… then I found him!
(His hat changed in the end.)
Now that I had Rabbi Benjamin, what about the other 17 characters? (YES, 17 characters!) They needed to be grouped as families and look as though they belonged together. So, just like a writer has a backstory for their characters as they write, the illustrator creates backstories to help them with visual continuity.
There was a Mrs. Bergman, her boys, and no Mr. Bergman. I imagined that  she would wear an apron and sneakers, trying to keep up with her sons and keep them fed. The Muchnick's have wispy hair and the Goldwassers all love bows ( the author didn't mention any of this, I got to make it up— which is one of about 3,246 reasons why being an illustrator is so fun). Here are a few of the early character sketches…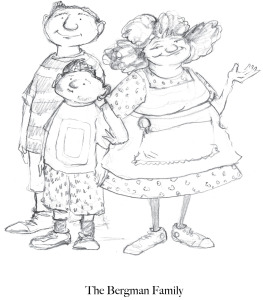 And after lots of sketching,

and lots of painting,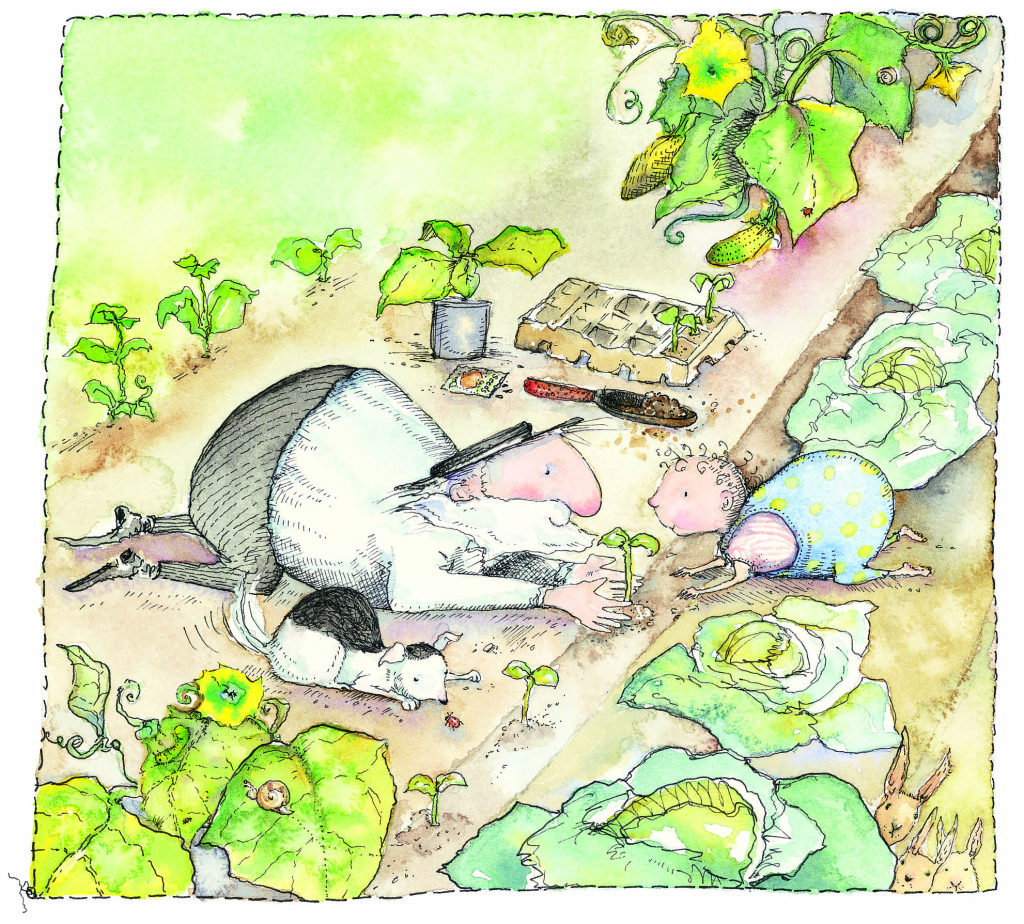 and lots of time,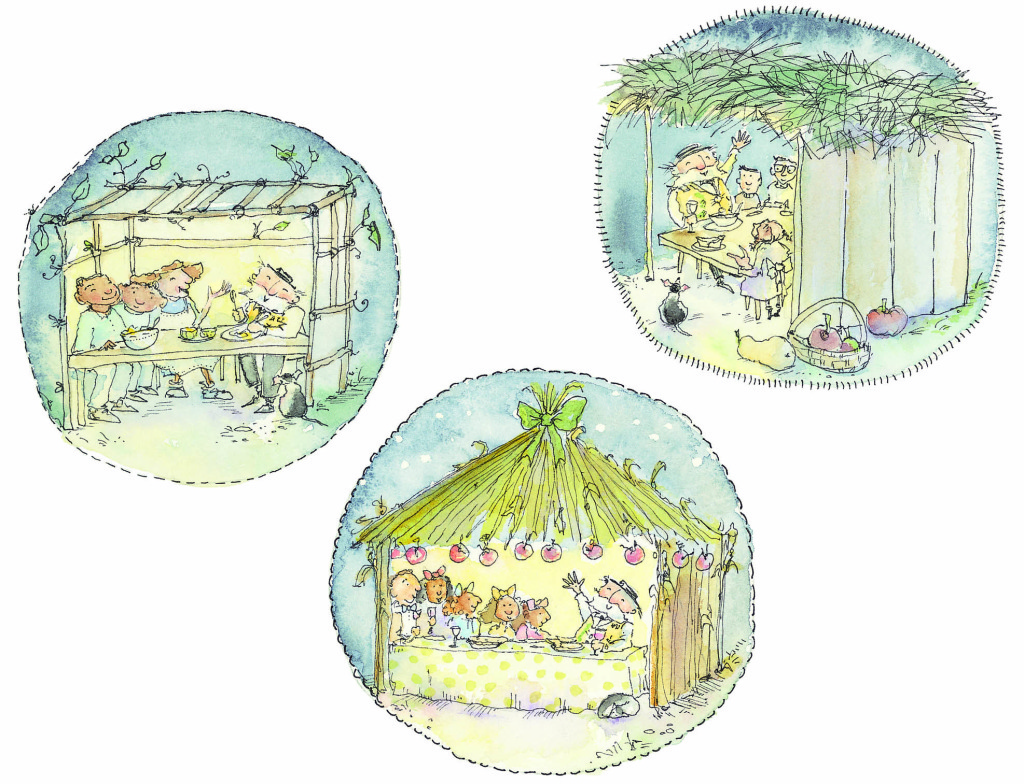 this is what my picture book looked like… until a month ago.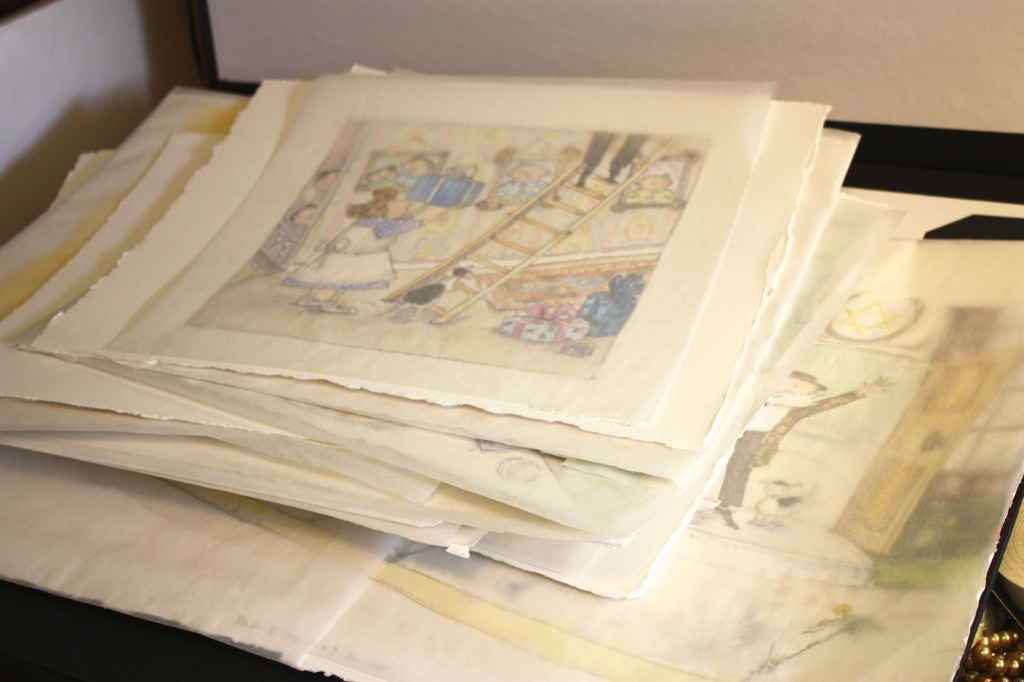 That is why getting to have a book birthday is such a happy time. RABBI BENJAMIN'S BUTTONS has just received a starred review from Publisher's Weekly— a pretty terrific birthday present!
---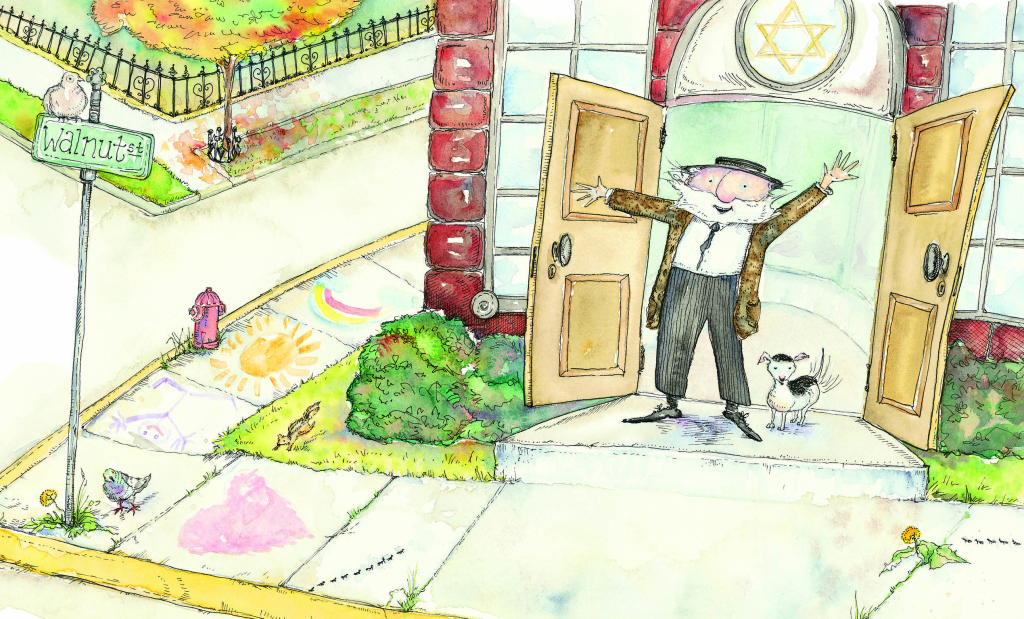 GIVEAWAY TIME!!!!!!
I would love to send a copy (signed if you'd like) of the book to a random winner. Please leave a comment telling me that you'd like to be entered— something like, "Oy Vey, of course I want this fabulous picture book!" I will randomly pick a commenter and announce that winner in my next post in a few weeks.
Again, thanks for visiting our blog, and for celebrating with me!
Mazel tov!
---