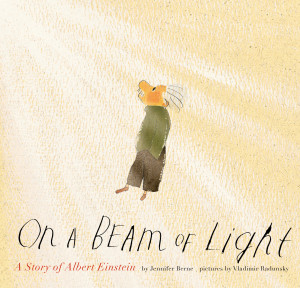 Long before I wrote picture books, my sons literally had to beg me to take "true" picture books out of our library. I assumed picture book nonfiction was a shorter version of a social studies text. It didn't take long before I found myself rereading these books after my boys fell asleep. How was the story moving along so quickly? How did the words work with the pictures? How did the authors and illustrators turn facts into art? Now as a picture book writer I still love reading closely to find out how the best nonfiction or historical fiction picture books work.
One of my recent favorites is "On a Beam of Light, A Story of Albert Einstein" by Jennifer Berne with pictures by Vladimir Radunsky. Jennifer and Vladimir manage to convey the world's biggest ideas (time, space, relativity, quantum physics, theoretical math) as well as Albert Einstein's life from birth through old age, from obscurity to fame. How? SIMPLY.
Jennifer brings the cosmos into little Albert's birth, "Over 100 years ago, as the stars swirled in the sky, as the Earth circled the sun, as the March winds blew through a little town by a river, a baby boy was born. His parents named him Albert." In one sentence, she gives Albert a place in the universe and the universe a place in this story. Notice what's left out too…the year of his birth, the names of the country, town, river, his parents or whether Einstein had siblings. On that same spread, Vladimir's art is a scribbly line drawing of a black and white town, but the drawing of baby Albert is in shining color, subtly emphasizing exactly who is the star of this story.
On the next pages, Jennifer uses variations of the simple phrase "And didn't say a word" as well as the rhythm of the page turns to get Albert from birth to school age, from general curiosity to specific thoughts about the mysteries of the world of science. Vladimir manages to convey what isn't in the text: the time frame, Einstein's economic circumstances, the parents affectionate marriage strained by Albert's oddness, as well as Albert's emotional life and driving curiosity. Don't even get me started on the brilliance of the art director (the unsung hero of the publishing world!) The super readable typeface changes color when Albert displays his curiosity and showcases the most important ideas in the text. While the treatment is childlike, it's also sophisticated and brilliant (just like Albert.)
Einstein led a long, complicated life creating and studying ideas that most of us can't even really understand—so of course, this picture book biography is short, human and as simple as can be. Which, as the book continues, turns out to be exactly like Albert too!
Barb Rosenstock