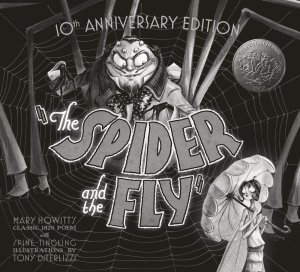 With Halloween approaching, I thought it would be a fitting time to reflect on Tony Diterlizzi's fabulous black and white picture book "The Spider and The Fly" from Simon and Schuster, 2002. Many writers and artists dream of creating dark picture books, and Tony's illustrations perfectly embrace this retelling of the classic Victorian poem by Mary Howitt.
An artist has to have a good reason to make a black and white picture book – it's been said that they're harder to sell amidst shelves of beautiful colors (a characteristic definitive of the picture book genre). In fact, at the 2012 SCBWI Summer Conference, Tony said that he was pressured to create this book in color for that reason. But he had a concept that was worth fighting for.
Tony gave this story a 1930's, silent film look – visual inspiration that is quintessentially black and white. Each image is composed and lit cinematically, with perfect silent film characters – a fragile flapper fly pitted against a velvet coat, top-hat-wearing spider. The opening scene reveals the full scale of this villain, and we know right away that the little fly is doomed. Even though the visuals are dark, and the poem cautionary, the treatment of both are playful.  The characters are exaggerated and humorous. Even in the last scene you can't help but chuckle, seeing the silhouette of the spider (with knife and fork) looming over the bound-up fly, wide-eyed and still clutching a hand-bag in one of her four hands.
The page turns reveal gorgeous 'wide-screen' spreads, or single page illustrations paired with a page of text, styled like silent film cards. Can you imagine this working as well in color? The risk was well worth it, and earned Tony Diterlizzi a Caldecott Honor award. Working in black and white must have been a fun challenge, one that I hope to have a chance with someday in the picture book format!