Many of us are drawn to writing children's books because we want to share some hard-won wisdom or help kids deal with a difficult situation or emotion. But how do we do that without sounding overly message-y and preachy?
Try humor.
Let's take, for example, Unicorn Thinks He's Pretty Great (Disney-Hyperion, 2013). Here, author/illustrator Bob Shea takes on some intense emotions—inadequacy, jealousy, resentment—and manages to turn them into a funny story.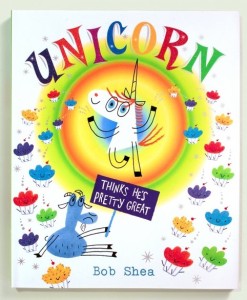 How? Let's start with a quick summary:
For Goat, life was pretty good until Unicorn moved in. But now, everything he does, Unicorn does better—more grandly, stylishly, impressively (he's magical, after all). Goat, feeling inferior, resents the interloper—until, that is, Unicorn points out Goat's many talents and his own frustrating shortcomings. Goat sees himself—and Unicorn—in a new light, and the two become great buds.
What, exactly, makes this book so funny? And what strategies can we apply in our own work? A few thoughts:
Offbeat characters. We start with a mopey goat and a charismatic unicorn. The fact that unicorns are mythical creatures with magical powers adds to the contrast and humor.
Funny visuals. Goat break-dances; Unicorn prances on rainbows. Goat expertly head-butts a soccer ball; Unicorn's "pain-in-the-neck horn" pierces it. All make for funny images, but I found Goat's mocking impression of Unicorn—complete with toilet-plunger horn—particularly hilarious (click on images to enlarge).
Bob was kind enough to share an early sketch dummy with me for the book. For those who, like me, love seeing how someone's work evolves, I've included the sketch for this illustration below. Interestingly, the plunger was a later inspiration.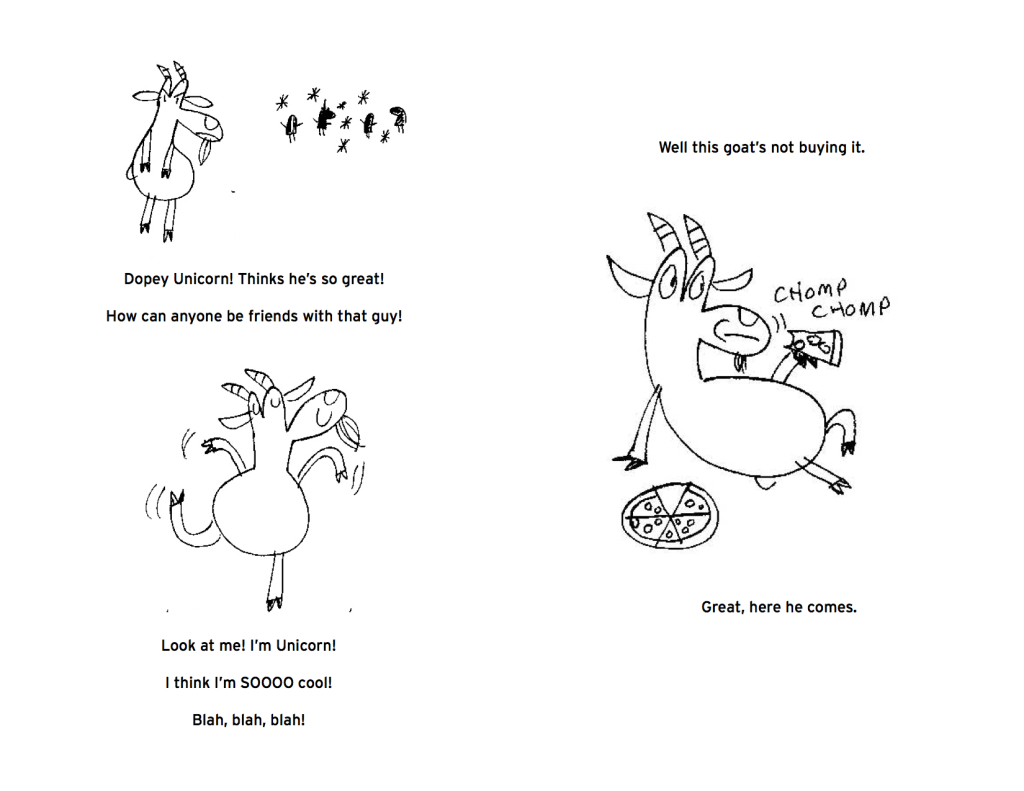 Humorous voice. The story is told entirely through dialogue, and the voices of the characters are very kid-like. For example, when Goat finally meets Unicorn, it's Unicorn who's impressed:
Whoa!
What is up with your hooves?
Those things are out of control!
Oh, these?
These bad boys are "cloven."
It means they're split at the end.
Silly language. The cloven hooves exchange sets us up for my favorite line in the book: Taste my cloven justice! (definitely one for the family lexicon). Now that they've become friends, Unicorn and Goat imagine teaming up, super-hero-like, to take on bad guys.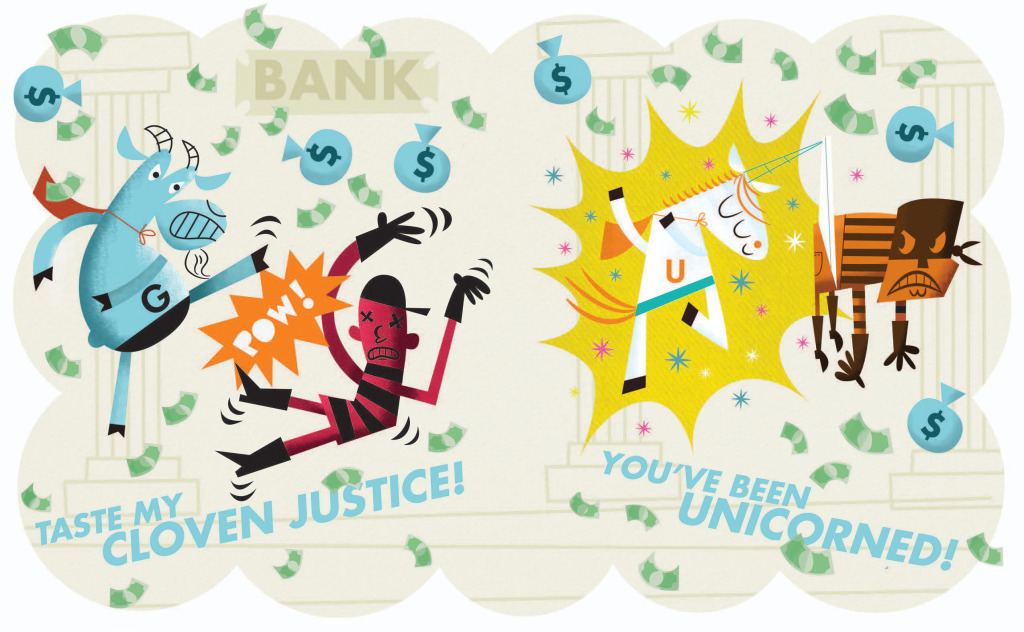 Ending with a wink. I often say that picture books basically have three types of endings: the "Ah," the "Aww" and the "Ha!" In his early sketch dummy, Bob had a wrap-things-up-nicely "Ah" ending:
Boy, Unicorn, you sure make it easy to be friends.
But somewhere between the dummy and publication, it changed to:
You know something, Unicorn? I had a feeling we'd be friends. 
The difference is subtle but important. Given Goat's initial resentment, the last line has a touch of irony that makes it funnier and more satisfying than the earlier version.
Despite the book's silliness, it addresses some very real and powerful emotions, offering an opportunity to discuss those feelings. Not that you need to have those discussions—it's also just plain fun to read. (You can check out more interiors from the book at Bob's website.)
Speaking of comparing ourselves to others—and, typically, finding we come up short—Emma Dryden recently wrote an excellent post for writers on exactly that topic: I Want What She's Got: The Disastrous Comparison Game.
So what do you think—about using humor to soften messages, about jealousy, about cloven hooves? I'd love to hear.