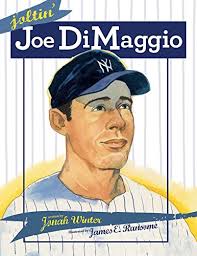 Jonah Winter's first picture book biography came out around 20 years ago. He has done another fine book in Joltin' Joe DiMaggio illustrated by the great James E. Ransome. Winter breaks the "rule" of staying under 1000 words (I quickly counted between 1300-1500, plus an author's note.) Why? To tell a thorough life story of Joe DiMaggio (including the Marilyn Monroe era!) and, well, yeah…he is Jonah Winter.
All picture book "rules" can be broken… BUT, not before you know what they are and WHY they exist. In terms of nonfiction, historical fiction and biography, here's my simple take on the "rule" of length. It's there to remind you not to bore the pants off your readers.
Us research-loving types tend to want to throw every little (and big) thing we learn about our subjects/story into our manuscripts. In writing picture books though, a constant stream of information can bog down a story arc, while a tangent, no matter how fascinating, can break it all together. Is it hard to leave out the facts you fall in love with as you are researching and writing? Yes. (oh yes, it is soooo hard!)
Most inf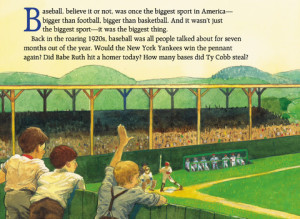 ormation is best kept in your file folders, not in your manuscript. If I had to guess, my own information ratio is 80:20. 80% of what I know about the subject stays out, but the 20% that goes in is super specific to THIS story. In other words, you're looking to include tight details rather than the broad birth-to-death information found on Wikipedia.
I've written first drafts of picture books as long as 2000 words. While it is a happy day when a draft is done and the story has a shape, it is almost always mixed with pain after a glance at Tools – Word Count. For me, there is a minute (or more honestly, three or four days…) when I think, "Half the words? I give up! It can't be done!"
Yet, it (almost) always does get done. How? By repeatedly asking: How does this page, paragraph, sentence or word contribute to telling this story? Only words that move the story along are invited to stay, the rest are cut. It's an exclusive guest list. If you can throw a complete party with 250 words, great, if it's 700, fine, but if it is 1400 words, your reasons for inviting that many should be airtight. Once an editor (the person paying for your party) reads your manuscript, you will be justifying each one.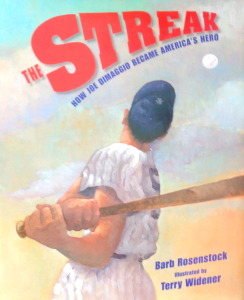 If you're interested, check out Winter & Ransome's Joltin' Joe DiMaggio and my own book The Streak: How Joe DiMaggio Became America's Hero, illustrated by Terry Widener, to read two styles of biography published in the same year on the same subject. And learn to be ruthless with your guest list—invite the number of words you need, and not one more.